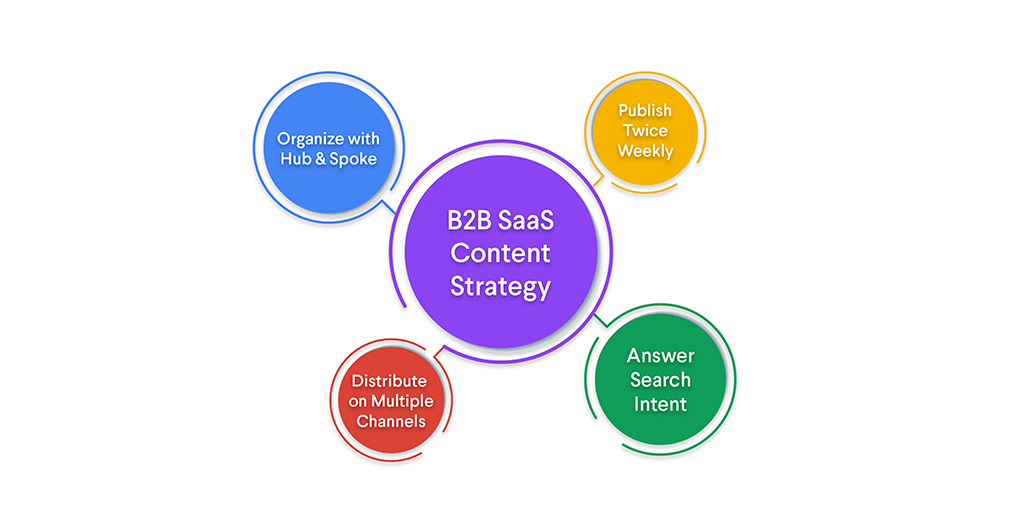 Best B2B SaaS Marketing Strategies In 2022
Introduction
In today's business world, B2B SaaS marketing is booming.
In fact, B2B SaaS marketing is expected to grow 600% faster than the rest of the global economy in 2022.
But with so many experienced SaaS entrepreneurs across the world.
How to make your business stand tall?
Wondering how to promote your SaaS products?
Or how to build the best b2b saas market strategies for your saas product?
Before we move ahead first let us understand b2b SaaS marketing.
What is B2B SaaS marketing?
B2B SaaS stands for business-to-business Software-as-a-Service.
It encloses cloud-based software used by businesses for various tasks,
Such as
Accounting,
Office productivity,
Customer relationship management (CRM), and
Other work-related activities.
Here we highlighted the best B2B SaaS marketing strategies to leverage in 2022.
Firstly, use B2B SaaS marketing techniques that are already tried and tested.
Secondly, seek expert advice to find out effective ways to market SaaS products.
Thirdly, check useful tips that help you grow your business quickly.
Lastly, gain insight into the trending B2B SaaS marketing agencies or organizations that help to stay ahead.
Things to Keep in Mind
Here we highlighted the following things to keep in mind before Implementing b2b SaaS Marketing Strategies.
Know your customer
The first step is to understand your target audience which is very important for any SaaS marketing strategy.
Secondly, understand your customers' needs and pain points.
Thirdly, create buyer personas such as age, gender, income level, location, and job title.
Fourthly, note down the common challenges and goals your audience faces in their work or personal lives.
Lastly, understand the types of content your audience consumes and how they spend their time online.
Once you understand your target audience, you can start using strategies to reach your customers and engage them effectively.
Now the question arises.
How to market saas?
Consider the following points:
Firstly, update your website with engaging content to provide value to your customers.
Secondly, create social media ads for a particular audience.
Thirdly, partnering with other brands or influencers to promote your product or services.
Understand your competition
To stand tall in the b2b SaaS industry,
The first step is to analyze what your competitors are doing.
Secondly, Inspect their marketing materials to check what they're doing and how could you improve.
Thirdly, you can also this data to become a better option for potential customers.
Here we highlighted some best practices for researching the competition including:
The first is to analyze blog, and social media profiles to get a vivid idea of your competitor's messaging and positioning.
Secondly, identify areas where you can highlight your strengths or improve upon any weaknesses.
Thirdly, check out the latest industry trends and news, as well as monitor competitor activity.
Lastly, read case studies that provide insights about success and failure and how to overcome them.
Provide a unique selling point
To make your b2b SaaS marketing successful,
Firstly, you need to have a clear perception that makes your product or service unique.
Secondly, Your Unique selling point allows you to set yourself apart from the competition and align with your target audience.
Check out Some examples of USPs in the SaaS industry include:
You have to make sure that your SaaS customers will be able to maximize their experience and that you'll be there to help them in all steps.
Making use of innovative technology for your product and services that other competitors don't have access to, can be a key differentiator for the potential audience.
Providing excellent customer support will help you to stand out from the competition.
By developing an accurate and compelling USP.
You can further refine your strategy and reach more potential audiences.

Top 5 B2B SaaS Marketing Strategies
Embrace B2B Saas Content Marketing
When designing your content strategy,
Firstly, create quality, relevant, and engaging content.
Secondly, content should appeal to your customer and help them solve their problems.
Thirdly, all your content should be well optimized.
Offer Free SaaS Trials
You can offer a free trial to entice users to sign up and help drive conversions.
If the product suits your customer,
You may see lead conversions to paid SaaS subscriptions happen with minimum effort.
Improve domain authority
When it comes to enhancing your brand's visibility, one of the most effective ways to do so is by
Firstly, create high-quality referrals and links to your site.
Secondly, creating engaging content that people will share with their networks.
Lastly, distribute this content across different channels, such as social media sites and industry-related blogs and forums.
Leverage SaaS Review Sites
One of the best b2b marketing saas strategies is to
Firstly, utilize the power of SaaS review sites.
Secondly, It allows you to connect with potential customers.
Thirdly, showcase the quality and value of your products and services.
Additionally, SaaS review sites offer beneficial marketing tools such as search optimization and paid ads to reach even more customers.
Refine Call To Action
One of the most efficient ways to get more SaaS customers
Firstly, simply ask your customers what they want.
Secondly, Review your overall b2b SaaS marketing strategy.
Lastly, render the next steps you want your site visitors to take.
Wrapping up
B2B SaaS marketing strategies are crucial to the success of any SaaS industry.
To effectively sell your SaaS product or services, it is important to understand what B2B SaaS marketing encloses as well as key strategies that can help you achieve your business goals.
https://www.bigscal.com/wp-content/uploads/2022/09/Best-B2B-SaaS-Marketing-Strategies-In-2022.png
532
1030
Shalu Vashisht
https://bigscal.com/wp-content/uploads/2018/03/bigscal-logo1.png
Shalu Vashisht
2022-09-20 12:34:39
2023-03-29 12:40:51
Best B2B SaaS Marketing Strategies In 2022