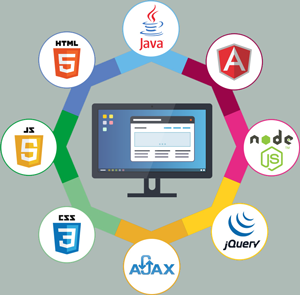 Significance Of Front End Development To Promote Your Business
The significance of front-end development to promote any business is not less than any other factor. In this competitive era, we need to be up to the best in all possible areas which can put my business on top.
A successful business requires a functional, clean and attractive website to appeal to clients and maintain their interest. The Front-end development of a website is crucial to this concept. An organization's website, mobile app, or mobile sites are the public faces of the brand. Moreover, each business needs a functional, clean, and attractive interface to make that first impression right and appeal to its stakeholders. The end goals for each brand may vary, but the ultimate objective is to hook your visitors and serve them well enough to stay. Front-end development is critical to the success of this purpose. It has a significant role to play in creating an immersive user experience – one that lures users to spend more time on the website and fulfill their intent.
Front-end was known as "client-side" programming which is what unfolds in the browser, that is – everything the users interact with. Front-end technology has significantly evolved over the past 10-15 years with the surge in the popularity of JavaScript. Now, there is an emergence of front-end frameworks like Bootstrap, Angular, React, and Vue.js. For businesses, this means more choice and flexibility to develop genuinely modern, intuitive, and seamless user experiences. However, how can enterprises make the most of these powerful capabilities? Let's find out why front-end technology can empower your business success:
Responsive And Mobile-first Websites
Mobile phones and devices dominate a large chunk of the digital landscape and businesses need to have a mobility strategy. Front-end development plays a crucial role in developing user-friendly mobile solutions – be it responsive websites, apps, or mobile websites; and also in propelling enterprise mobility by creating intuitive enterprise mobility solutions. Modern and cutting-edge front-end technology provides a flawless and optimized user experience across devices and channels.
Quality Front-end Interface Leads To Higher Conversion
The end goal of all front-end development is to translate the client's vision and purpose online to increase user adoption and lead to higher conversion. Front-end development offers the best form and function, to enhance the usability of your website or app by several notches. Ease of navigation, the overall layout, information architecture, and several other user interfaces and user experience elements, rely heavily on front-end technology's ability to deliver.
Front-end Marketing Through Storytelling
Content is king and at the forefront of an organization's marketing and stakeholder-relations efforts. How each group chooses to tell their story, and their crucial message for customers is tied in very closely to the front-end execution of that content. Everyone from institutional investors to eCommerce customers use the company's website as part of their research process. A recent, much-talked-about trend is that of brand storytelling – getting your audience to relate themselves to the values and experience of your brand.
Performance
The load time of a website or an app has a direct relation to the bounce rate and abandonment. Simply put, speed matters. Users leave if the web pages and applications are heavy, taking ages to load. Front-end technology can optimize the overall performance, reducing page-load times and delivering fast, light, and SEO-friendly websites and apps.
Website Complexity And Out Of The Box Toolkit
Great business ideas need landing gear as well as wings. Execution is crucial for breathing life into the business's vision and expectations. Enterprises can now indeed build sophisticated web apps and websites with highly dynamic interfaces, thanks to modern, cutting-edge front-end frameworks. Many of these new technologies such as AngularJS, and ReactJS deliver out-of-the-box developer tools that help build highly interactive and innovative interfaces, which are stable, fast, and consistent.
Final Thoughts:
Users who experience sluggish websites, run-time errors, poor design, and graphics will lose interest and are unlikely to return. Well-designed interfaces instill trust and confidence in your brand and help achieve your communication goals leading to higher traffic and conversion. BIGSCAL Technologies leverages front-end frameworks to enable you to develop your digital estate quickly and efficiently, providing a seamless and engaging user experience.
https://www.bigscal.com/wp-content/uploads/2018/05/unnamed-file.png
295
300
Ketan
https://bigscal.com/wp-content/uploads/2018/03/bigscal-logo1.png
Ketan
2018-05-31 01:12:39
2023-03-31 11:04:45
Significance Of Front End Development To Promote Your Business