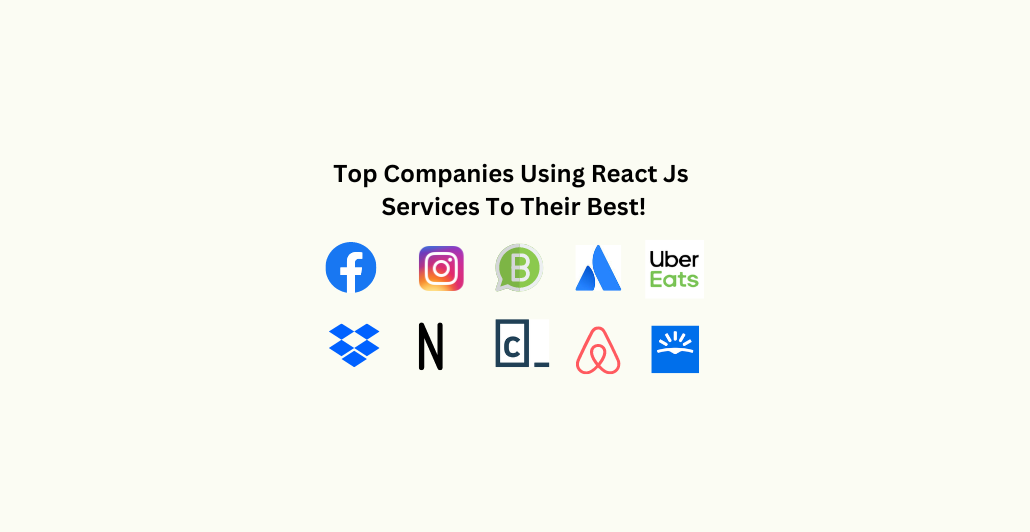 Top Companies Using React Js Services To Their Best!
It is difficult to select the best tools or frameworks for developing a web and mobile application for your next business idea. There are so many options on the market that developers struggle to choose which one to use. People who want to take their idea online usually start with
the React framework
.
React js services
have grown in popularity among companies seeking long-lasting, high-performance, and dependable applications. Many people have ascended to the summit by employing the best React js services.Continue reading because this blog will provide you with many insights and tricks that these businesses have used while using react for their business. In this list, we will look at all of the top companies that use React js services and learn why they chose the React tech stack for their business and how it works on React js.
What exactly is React js?
The most recent version of React.js is 16. X. Developers can use the framework to create modern single-page applications of any scale and size. Developers can easily manage data and content on any website by utilizing this technology.
What is the appeal of React js?
According to some survey results, React js services ranked first in terms of awareness, interest, and satisfaction among many experts.


The Top Companies That Are Using React Js Services
Below are some of the most popular companies that are using react js services:
Facebook
Who doesn't knows Facebook? Everyone is well aware of Facebook. React js was originated by Facebook to create uninterrupted applications for users. Moreover, you can say that Facebook was the reason why react js became so a popular choice for application developers. Facebook has currently the most active users and has been updated with a beta version recently.
Instagram
Instagram is also owned by Facebook and this has many active users. Moreover, this is known for the creation of content and sharing purposes. Those who use Instagram are well aware of the fact about how Instagram works. Furthermore, Instagram is compatible with both android and IOS versions and gives great UI and UX to the users.
Whatsapp
When you compare WhatsApp with other applications you can easily get to know that no other application is as popular as WhatsApp. Currently, Whatsapp is using react as its primary technology. With billions of active users around the globe, no other application can beat Whatsapp when it comes to uninterrupted messaging and calls.
Atlassian
Atlassian is a well-known Australian company that owns products such as JIRA, Confluence, Bitbucket, Trello, and Hipchat. Moreover, Atlassian used key React functions to easily implement changes across all devices, including desktop, Internet, and mobile. According to Atlassian experts, React has an exciting future ahead of it, both in terms of opportunities for developers and growing interest in it.
Uber Eats
Uber eats may not be as popular as Instagram and Facebook but definitely uber eats the latest popular application made using react j services. Furthermore, the company has created a dashboard that helps restaurants to access from any device including mobile phones and tablets. During the creation of uber eats, the main priority of the company started from placing the order to execution of the order. React was the best-suited one for this purpose and hence today uber eats has the best UI and UX when compared to other applications.
Airbnb
The reusability of components was also a factor in Airbnb's decision to use React. Airbnb developers contributed actively to the development of the entire React ecosystem, which resulted in the creation of React Sketch. app library. It is a library that aims to act as a support bridge for the collaboration of some design and programming works. React components are in charge of rendering documents in Sketch.
Dropbox
Dropbox's developers began making improvements to the service in 2012. One of the issues at the time was that many engineers contributed to the codebase, but only a few were aware of what was going on within the website. Have you noticed how quickly you can preview any file on Dropbox? React analyses the number and size of pages when gathering file data, displaying a preview as the page is scrolled down. To ensure smooth operation across all browsers, the Dropbox team used a combination of React and other JS tools.
Netflix
The undisputed market leader in its field. Netflix used React to redesign its user interface in 2015. The website has undergone numerous changes and updates over the last five years, but React remains the primary tool for creating its front end. You can easily go through the authorization and logging-in process thanks to the user-friendly interface, and the intuitive website design, as well as the convenient filtering, to help users find what they are looking for.
Codecademy
The company provides coding courses in languages such as Java, Python, SQL, and C ++. It is an established educational platform. React is an essential component of the library. According to Codecademy, the benefits of using React include its ease of use, SEO friendliness, and flexibility. Furthermore, it is ideal for front-end development and JavaScript interface development. Furthermore, it should be noted that animations are also created with React, and it is important to note that they will appear with minimal coding.
Skyscanner
Moving on to design, another example is a website – specifically, a large internet search engine – that is enriched with information about flights all over the world. Skyscanner decided to redesign so extensively in 2019 that the development team created an entire design system called Backpack. The developers' primary goal was to create a consistent, clear interface for all users. The programmers desired a flawless UI/UX design and brand appearance.
Conclusion
In conclusion with this blog, you observed that there are many popular companies that are using react js services. It is very simple to plan to create your own digital product using React js. You can hire react js developer for having seamless react js services. Bigscal, a software development company, has a team of skilled React developers who have successfully launched dozens of React js based projects, and we can help your company succeed as well.
https://www.bigscal.com/wp-content/uploads/2022/12/Top-Companies-Using-React-Js-Services-To-Their-Best.png
532
1030
Bakuli Chavan
https://bigscal.com/wp-content/uploads/2018/03/bigscal-logo1.png
Bakuli Chavan
2022-12-22 14:34:38
2023-04-24 10:33:39
Top Companies Using React Js Services To Their Best!