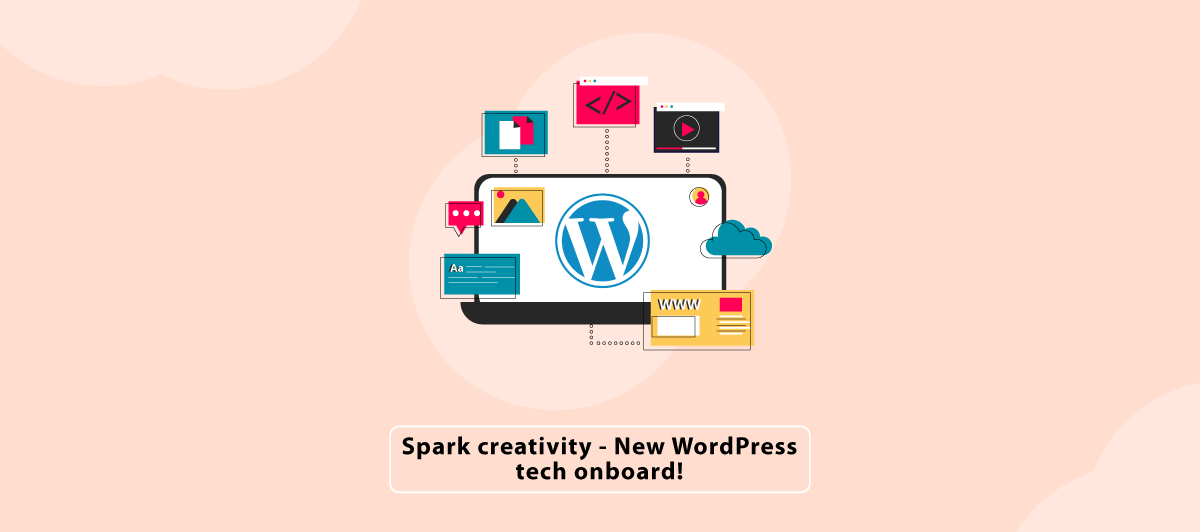 Quick Summary: Discover the latest advancements in WordPress technology with the introduction of WordPress 6.0. This update brings a game-changing feature, the WordPress Query Loop Block, allowing effortless creation of dynamic content layouts. Enhanced Block Editor, Global Styles, and native WebP image support enhance design and performance. WooCommerce 6.0, the e-commerce plugin, also shines with improved speed, a user-friendly checkout, advanced product variation management, and customizable email templates. These innovations cement WordPress' position as a dynamic, user-centric platform, catering to diverse needs seamlessly. Embrace the future of web development and e-commerce with WordPress 6.0's exceptional features.
Introduction
In web development, WordPress has stood still as the dominant force that has continuously evolved to provide changing needs to its vast user base. With the release of WordPress 6.0, many features and enhancements are strengthening its position as the leading CMS- Content Management System.
This time, the whole focus on developers is to eradicate complexities and improve the user experience. It offers 292 improvements, 354 editor bug fixes, and 11 new features. WordPress 6.2 is poised to revolutionize the field of development.
We would like to clarify the groundbreaking addition of WordPress features and the latest advancements in this article. It will also clarify your need regarding which WordPress Development Services you choose.

What is WordPress and its features?
Millions of users use the open-source WordPress platform to build stunning websites and blogs. The usage of themes and plugins allows for extensive customization.
Over 25% of websites on the planet are powered by WordPress. With WordPress, one has access to uncountable themes and plugins to choose from. It has been around 14 years. WordPress is among us as a robust CMS, and it continues to grow steadily and surprise WP lovers and web developers with its regular updates.
We learn about various WP techniques and trends introduced for business website welfare every year. Even from the past few years, you might have observed the growing popularity of PSD to WordPress conversion in the industry. With such popularity and demand, WordPress enjoys domination across the digital market.
So, if you are a WordPress connoisseur with an eye for detail, you probably have noticed a few changes in the platform. In addition to those few, many new trends are currently running across the market and are expected to be in demand.
Exciting WordPress Trends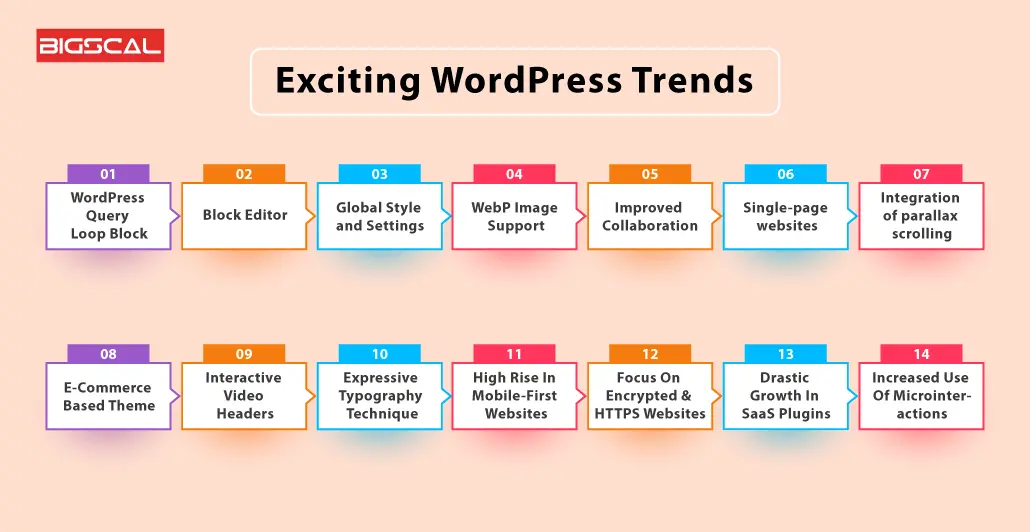 Let Us Have A Look At Some Of The Unbeatable WordPress 6.0 features.
1. WordPress Query Loop Block
The query loop block of WordPress has tended to be a game change in the 6.0 version. Additionally, it has empowered users to create intricate layouts by displaying dynamic content based on particular criteria.
As a result, the developers and content creators can easily manipulate the display post pages' custom post types more efficiently and flexibly.
Its features streamline the process of designing diverse templates without extensive coding, making it a valuable asset for beginners and seasoned developers.
2. Block editor
In WordPress 6.0, Gutenberg (or block editor) has received significant enhancements, refining it with block patterns, intuitive drag-and-drop functionality, and a vast library of blocks. But the process of creating material is now smooth and immersive.
Due to this, the users can craft visually stunning pages and posts easily, fostering a more intuitive and user-friendly interface.
3. Global style and settings
The global style and setting feature that WordPress introduced gives users greater control over the visual aspects of the website.
It consists of typography, color palettes, spacing options, and maintaining a cohesive design language across the website to become effortless. Moreover, it not only increases the standards of websites but bolsters brand identity and user experience.
4. WebP Image Support
WordPress introduces the latest trends in web optimization, such as supporting WebP images. It is a modern image format that gives superior compressions by maintaining exceptional image quality. In addition, it translates to faster loading time and improved website performance by contributing to an engaging user experience.
5. Improved collaboration
The team members can easily collaborate by introducing collaboration features in version 6.0. It can leave comets on individual blocks with a Block editor so teams can communicate easily, share ideas, and make decisions quickly in the content creation process.
6. Single-Page Websites
The secret to anything having high usability is simplicity. Web owners prioritize creating simple web layouts to attract users instantly.
A single-page website is a beneficial WordPress update or trend for individuals and companies dealing with a single product. Apart from being excellent in appeal, these websites are effectively conducive to storytelling, making visitors stay on that page for a long time.
7. Integration Of Parallax Scrolling
Parallax scrolling has existed for some time, and it is likely to be on-trend in the upcoming times.
Single-page websites can take advantage of this new trend as it effectively creates an immersive impression on visitors and enhances customer engagement by reducing bounce rates. You might enhance the visual attractiveness of your WordPress website by utilizing this trend.
8. E-Commerce Based Theme
Due to the popularity and success of WordPress, many e-commerce businesses are increasingly shifting towards the WordPress platform. Hence, WordPress e-commerce plugins are top-rated. Additionally, many flexible WP themes contribute considerably, allowing designers to integrate several features and functionalities as per needs.
WooCommerce is one of them, which provides users with an online shopping platform to explore various products from different destinations.
9. Interactive Video Headers
WordPress comes with a new default theme every year. This year, it has appeared with a default theme namely "Twenty Seventeen" which has the feature of Video Headers.
Although in the web market, video headers are not a new concept, previously it was as popular among users as there has been hardly any WP theme supporting this feature. This year's default theme has new features which depict that in the future all WordPress websites would have video headers.
10. Expressive Typography Technique
Before, web designers could only use typefaces sparingly for their websites. Web developers may now use Dynamic fonts with the help of expressive typography.
This successful approach produces fashionable fonts that grab visitors' attention right away. These expressive typefaces may give their primary headers and front pages life. The WP typography style is anticipated to be a vital web design trend.
11. High Rise In Mobile-First Websites
Currently, most people prefer using their mobile phones for online shopping, accessing & browsing many things, and keeping in touch with social media networks.
Smartphone usage has been increasingly increasing, and it seems that users can see a massive expansion in the ratio of mobile users. Therefore, WordPress developers or users must follow this trend and focus on building mobile websites and layouts.
12. Focus On Encrypted & HTTPS Websites
Website security is the prime concern in this fast-growing market. Due to the adverse results and theft, Google intensely forces and encourages website owners to add additional security features to their WordPress websites. As a result, most web owners have secured their websites by converting their websites from HTTP to HTTPS.
Google said that in the upcoming year, it would be mandatory for all website URLs to be started from HTTPS. Switching your website from HTTP to HTTPS isn't easy, but considering the security aspects, this trend looks beneficial.
13. Drastic Growth In SaaS Plugins
The term "SaaS" might be traditional for some users, but it has developed a software-as-a-service business model in WordPress. This model offers cutting-edge capabilities at reasonable costs.
This trend may be a new approach for WordPress users. But it is in high demand, and a large WordPress crowd is using it. For instance, OptinMonster allows users to use various products on a subscription charge basis, which lessens the bar and increases profits in terms of excellent sales.
14. Increased Use Of Microinteractions
Creating micro-interactions in the web pages is of great use as these make the user interested in the page he is going through.
This trend will continue to be popular in web development and design. These small yet engaging micro-interactions are everywhere in the form of animated moving images and essential visual feedback. Along with the page design, they provide alluring highlights regarding the content. They also keep visitors on that page for a long time.

Conclusion
WordPress 6.0 has emerged with many advancements for meeting the platform's commitments to innovate user-centricity. However, incorporating WordPress Query Loop Block with its groundbreaking features has created sophisticated websites without coding knowledge.
WordPress maintains its leadership position as the digital world changes. It is changing and improving its capabilities to meet the various demands of businesses, developers, and content creators. The features introduced in WordPress 6.0 and WooCommerce 6.0 testify to the platform's dedication. Additionally, it drives excellence in web development and e-commerce, ensuring a bright future for users across the globe.
Going through the WordPress above trends, we can clearly state that website designing and development will be fine-tuned in the upcoming time. Further, it is worth mentioning that one should always follow the latest and proven trends to make their websites look wonderful. Ultimately, your aim should be to create something innovative that provides a better user experience and helps achieve outstanding business results.
FAQ
What are the new features in WordPress 5.8?
WordPress 5.8 introduces several exciting features, including the Template Editor, which allows you to create custom templates for different parts of your site without touching code. The new Widgets Block Editor enables easier customization of widget areas. Also, the Query Loop Block lets you display dynamic content effortlessly.
How does Full Site Editing enhance WordPress technology?
Full Site Editing, a major feature in WordPress, empowers users to design entire websites using the block editor. With the Site Editor and Global Styles, you can visually create headers, footers, and other templates. This advanced technology streamlines the design process and offers more creative control.
Tell me about the new WordPress Core Web Vitals integration. WordPress now
integrates Core Web Vitals, which are crucial for user experience and SEO. With Web Vitals, you can assess your site's loading speed, interactivity, and visual stability. This integration helps users optimize their websites for better performance and higher search engine rankings.
What is the significance of the WordPress Application Passwords feature?
The Application Passwords feature in WordPress is a security enhancement. It allows you to generate unique passwords for applications and services that interact with your website's API. This minimizes the risk of exposing your main account password and enhances overall security.
How does the new WordPress auto-update technology work?
WordPress now offers more refined auto-update options. With this technology, you can enable automatic updates for plugins and themes individually, ensuring that your site stays secure without disrupting customizations. This feature simplifies the update process and helps maintain the stability of your website.
https://www.bigscal.com/wp-content/uploads/2023/09/WordPress-New-Feature.png
532
1200
Ketan
https://bigscal.com/wp-content/uploads/2018/03/bigscal-logo1.png
Ketan
2018-05-24 00:11:26
2023-09-18 10:05:17
WordPress New Feature