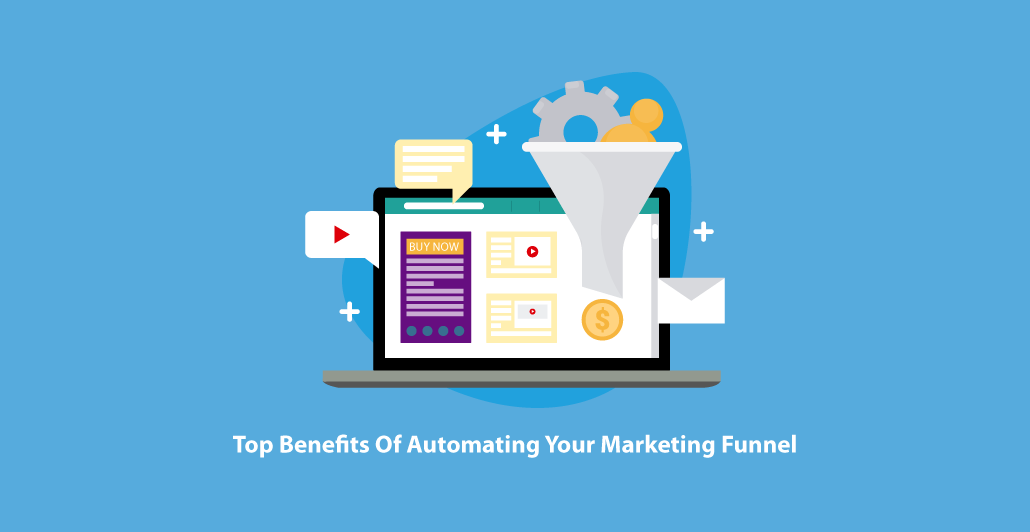 Top Benefits Of Automating Your Marketing Funnel
Marketing automation can be very beneficial for businesses looking to optimize and streamline their marketing efforts. Whether you own a small business or work as a marketing professional for a large corporation, automating your marketing funnel can benefit your company in a variety of ways.
Recent technological advancements have been influencing how businesses are approaching marketing. Professional marketers use social media marketing and smartphone advertising in addition to emails and website promotion.
Marketing automation software development company brings to help with designing to track, automating, and streamlining your marketing operations in order to make campaigns more operationally effective. These systems help both large and small businesses to achieve a variety of business goals, such as increasing marketing ROI, gaining more clients, and increasing productivity.
What Is Marketing Automation?
It entails using various tools and technologies to automate repetitive tasks like email marketing, lead generation, and customer segmentation. Marketing automation can assist businesses in increasing efficiency, and productivity, and driving better results from their marketing efforts.
How Marketing Automation Can Benefit Your Business?
Marketing automation can provide numerous advantages to businesses of any size or industry. Businesses can benefit from streamlining and simplifying marketing tasks in the following ways:
Increase efficiency and productivity
Automation processes can save time and effort, allowing resources to redirect to more strategic and creative tasks.
Improve the effectiveness of their marketing efforts
Businesses can deliver more targets, and effective marketing campaigns by automating processes such as email marketing, and customer segmentation.
Improve customer experience
Businesses can provide a more personalized and consistent customer experience by automating processes such as email marketing and customer segmentation.
Optimizing productivity
Marketing automation can assist businesses in optimizing their marketing efforts, resulting in higher conversion rates, improved customer engagement, and increased revenue.
Benefits Of Automating Your Marketing Funnel
Enhanced Efficiency
By automating repetitive tasks like email campaigns, social media posts, and lead nurturing, you can save time and resources that can be used for more important things. Additionally, automated marketing eliminates the possibility of human error, ensuring that your campaigns are consistent and delivered on time.
Improved Customer Engagement
Customer engagement can be improved by automating your marketing funnel. You can send targeted, personalized messages to your audience at the right time with automated email campaigns, increasing the likelihood of conversions. Furthermore, automated social media posts enable you to reach your target audience at the most effective times, maximizing your reach and engagement.
Lead Generation And Nurturing Have Improved
Automation of your marketing funnel can also aid in lead generation and nurturing. You can streamline your sales process and ensure that your leads receive the right message at the right time by automating lead capture forms, lead scoring, and lead nurturing. This can help you close more deals by increasing your conversion rates.
Data Analysis and Reporting Improvements
Improved data analysis and reporting are other advantages of automating your marketing funnel. Marketing automation platforms collect and store massive amounts of data, allowing you to track and analyze marketing performance in real-time.
Savings on expenses
Finally, automating your marketing funnel can save you a lot of money. Automation of your marketing can help you save time and resources that can be redirected to other important tasks by reducing the need for manual labor. Furthermore, many marketing automation platforms have affordable pricing, making them accessible to businesses of all sizes.

Key Components of Marketing Automation
Email marketing automation enables companies to send targeted, personalized emails to customers based on their behavior and preferences.
Lead generation helps in assisting businesses in identifying, and converting potential customers into paying customers.
Social media management tools enable businesses to automate social media activities such as posting schedules, monitoring social media channels, and engaging with followers.
Customer segmentation tools assist businesses in categorizing their customer base based on characteristics such as behavior, preferences, and demographics.
Analytics and reporting tools give businesses insights into their marketing, allowing them to track and measure the success of their campaigns.
Choosing the Right Marketing Automation Solution for Your Business
Businesses can save time, boost productivity, and enhance their overall marketing strategy by automating these operations.
Identify the needs of your business
Prior to choosing a marketing automation solution, you must ascertain your company's needs. Take into account your budget, the features that are crucial to your business, and the duties that you wish to automate.
Take a look at the integrations
Integrations are one of the most important factors to consider when selecting an automation solution. The more integrations a system has, the more efficient it is. Your main goal should be to find a solution that integrates easily with your existing tools and platforms, such as your CRM and email service provider.
Taking into account the user experience
The user experience should be considered when choosing a marketing automation solution. A complicated solution will make it difficult for users and make the process take longer and be less effective. Look for a simple, user-friendly solution.
Look for analytics and reporting
Another factor to consider is the automation solution's reporting and analytics capabilities. You want to be able to monitor your progress and see how your campaigns are doing. Choose a solution that provides reporting and analytics so that you can make data-driven decisions.
Customer service and training
It is also critical to consider the marketing automation solution's customer support and training. You should select a solution that provides excellent customer support so that you can get help when you need it. Look for a solution that also includes training and resources to assist you in getting started and optimizing your use of the solution.
Cost
Finally, consider the cost of the marketing automation solution. You want to select a solution that fits within your budget while also providing the features and functionality you require. When making your decision, keep in mind any extra costs, such as integrations and training.
Conclusion
Finally, automating your marketing funnel can provide numerous benefits to your organization, including increased efficiency, improved customer engagement, improved lead generation and nurturing, improved data analysis and reporting, and cost savings. If you want to optimize your marketing efforts and drive business growth, automating your marketing funnel is a good place to start.
https://www.bigscal.com/wp-content/uploads/2023/02/Top-Benefits-Of-Automating-Your-Marketing-Funnel.png
532
1030
Bakuli Chavan
https://bigscal.com/wp-content/uploads/2018/03/bigscal-logo1.png
Bakuli Chavan
2023-02-01 11:25:35
2023-03-30 11:08:01
Top Benefits Of Automating Your Marketing Funnel