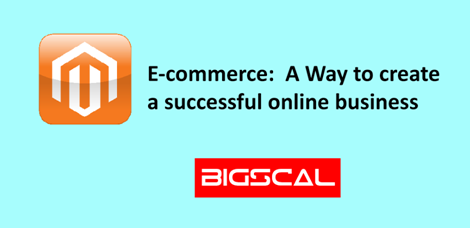 E-commerce: A Way To Create A Successful Online Business
E-commerce is a powerful platform that can make your business more productive and profitable. We at BigScal assist you in building a strong e-commerce platform effectively, that indirectly streamline business activities, communicate more efficiently with customers and generates sales-all while helping to reduce business expenses.
What Is The Use Of E-Commerce?
E-commerce (electronic commerce or EC) is the buying and selling of goods and services. E-Commerce is a responsive online business website. In other words -Electronic mode of trading products online, with the help of internet services. It's an online portal that is created for customers, who can either sell or buy goods online by sitting at their convenient place. E-commerce websites are user-friendly which guides a customer through the site to make choices of products or services on that particular portal and helps to make a purchase or sell goods online 24/7. These business transactions occur either as business-to-business, business-to-consumer, consumer-to-consumer, or consumer-to-business.
Magento is an e-commerce platform built on open source technology that provides online merchants with a flexible shopping cart system, as well as control over the look, content, and functionality of their online store. Magento offers powerful marketing, search engine optimization, and catalog-management tools.
E-commerce Solutions Using Magento Platform
Magento is the most preferred e-commerce platform today; its eccentric features make it user-friendly. Magento renders a complete dynamic platform with increased performance. Magento 2 comes with numerous improvements. The following points are at a glance on Magento 2.
Optimized Technical Core
It is a Modular code base, better performance, greater data volume management, enhanced security, comprehensive and up-to-date documentation, automated and built-in testing.
Improved Ergonomics
Responsive web design theme natively included in Magento 2, back-end completely re-platformed to be mobile-friendly, integration of new technologies, customizable theming.
Open And Flexible Architecture
Full API to exchange information and an open organization that encourages the Magento community to post and share their knowledge (official deposits on GitHub).
A Scalable Solution
Easier updates to quickly add new functionality as it becomes available with Magento's quarterly development cycle.
We at BigScal have a great team of professionals, create innovative work on functionality, appearance, and navigation with coherence coding, huge team efforts are put, to get a distinctive outcome of the website.
BigScal has built much stimulating customized e-commerce site for our super customers. We have many loyal customers who are associated with us for, all their business needs. We have extended our complete support to all our clients. And also feel satisfied to be part of their successful business launch.
https://www.bigscal.com/wp-content/uploads/2018/05/22.png
232
476
Ketan
https://bigscal.com/wp-content/uploads/2018/03/bigscal-logo1.png
Ketan
2018-05-23 07:21:42
2023-03-31 14:21:27
E-commerce: A Way To Create A Successful Online Business