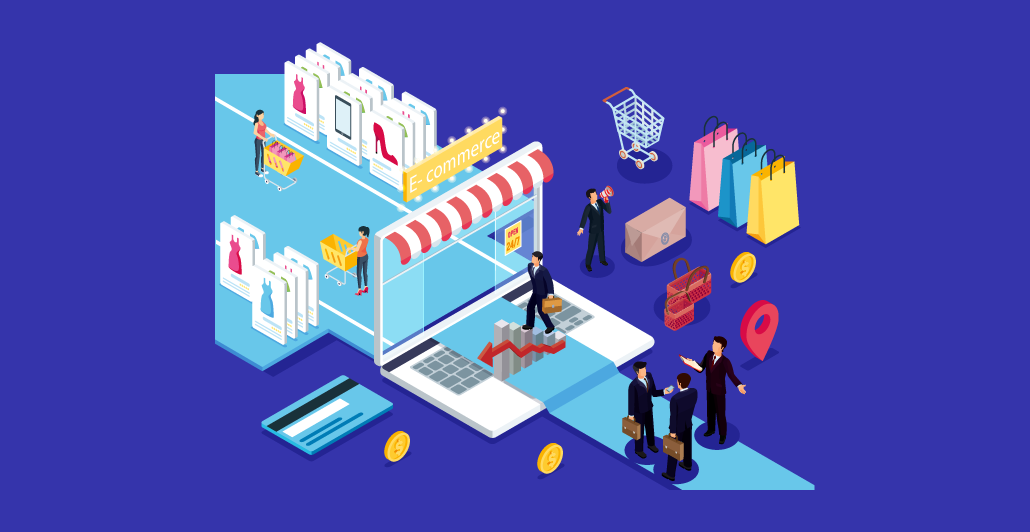 The Ultimate Guide to eCommerce Software Development and Retail Solutions: From Planning to Execution in 2023
Will you get surprised knowing that by 2040, 95% of purchases will be online? – Yes, you are reading it right! Almost every purchase will be online. Isn't it an eye-opener? Well, Take some breath away – here comes one more mind-boggling number of e-commerce – With an annual growth rate of 23%, eCommerce has predicted to produce USD 5.42 trillion in sales per year.Wow! Such fascinating Stats– Isn't it? The numbers will surely inspire you to develop an e-commerce app. With constantly changing customer demand, changing customer behavior, and the advancement of technology, developing an e-commerce platform and retail solution has become necessary.
With the upsurge in e-commerce businesses in the upcoming years, it is an excellent time to enter the online market and elevate your retail business with solutions tailored specifically to your business objectives. Hence if you are looking for e-commerce and retail software development, this guide is for you.
This guide will discuss everything you need about e-commerce and retail software development and help you develop the best fit for your business needs.
LET'S Roll!
How Do You Begin the Process of Creating an E-commerce Website?
The following step should be considered while creating an e-commerce website.
Establish your business objectives and target audience:
Before developing an e-commerce website, it's critical to establish your business objectives and target market. This will enable you to decide which features and functionalities your website should have to satisfy your business requirements.
Choose the right platform:
The correct platform can choose from many options available on the market, including WooCommerce, Shopify, Magento, and BigCommerce. Pick a platform that fits your needs as a business and your budget.
Select a domain name and hosting provider:
Choose a domain name and hosting company: Pick a domain name that is simple to remember and accurately describes your company. Pick a hosting company that provides a secure and dependable performance.
Design the Website:
Create a website that is aesthetically beautiful and easy to use, expresses your business identity, and improves user experience. Integrate responsive design concepts to ensure that your website appears excellent on all devices.
Create the website:
Collaborate with a group of skilled developers to create the website and incorporate the required functionality and features, such as product catalogs, shopping carts, payment gateways, and shipping options.
A website test:
Make sure the website is thoroughly tested for usability and functionality, and address any issues.
Launch the website:
After it has undergone testing and is completely operational, launch it and begin marketing it through various methods to draw visitors.
Features That Your eCommerce Website Must Have in 2023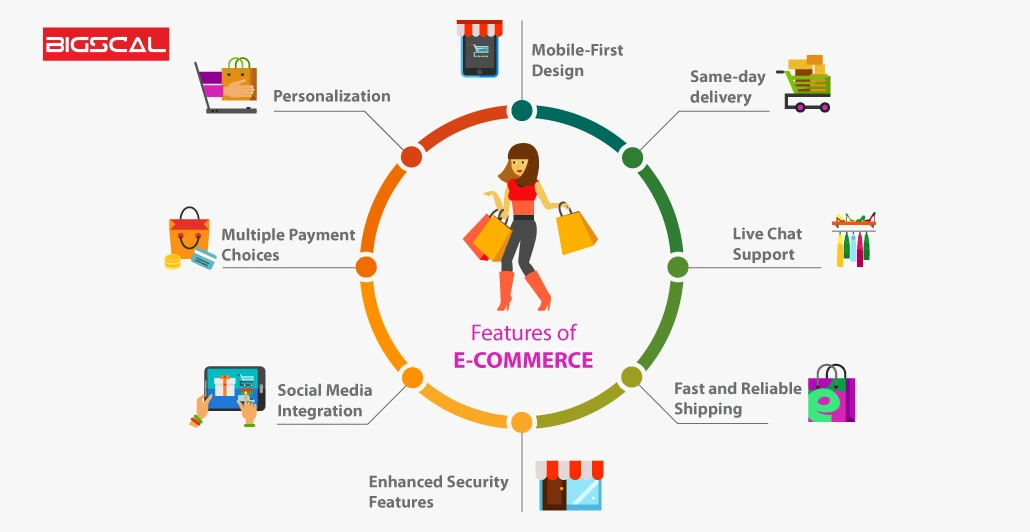 Your eCommerce website needs several features in 2023 to stay relevant and satisfy users' expectations. A few salient characteristics are as follows:
Mobile-First Design:
According to the latest survey, 49.78% of web traffic came from mobile devices in 2023. As more people shop online using their mobile devices, it is crucial to have a mobile-first design that gives mobile users a seamless and user-friendly experience.
Personalization:
The recent survey stats 80% of customers are more likely to buy from a website or company that offers individualized experiences. Customers anticipate a personalized shopping experience when they shop online.
To increase consumer engagement and loyalty, your eCommerce website should be able to provide personalized product recommendations, tailored content, and a personalized purchasing experience.
Multiple Payment Choices:
In the US, online payment methods like Amazon Pay and PayPal were utilized by 27% of consumers in 2023, 55% of US consumers used credit cards, and 52% of US consumers used debit cards in the past year.
Hence providing a range of payment choices to satisfy your clients' various needs is necessary. To increase convenience and usability, consider including digital wallet payments such as Apple Pay, Google Pay, or PayPal in addition to conventional credit card payments.
Social Media Integration:
Integrate your eCommerce website with well-known social media networks to raise brand exposure and encourage user interaction. You may display your products, run discounts, and communicate with customers by connecting your social media profiles to your e-commerce website.
Enhanced Security Features:
Customers would anticipate sophisticated security mechanisms to safeguard their private data on eCommerce websites by 2023. To protect customer data, ensure your website has SSL encryption, two-factor authentication, and other security procedures.
Fast and Reliable Shipping:
Offer expedited shipping, same-day delivery, and other quick and dependable shipping options. Meeting the customers' expectations for prompt and hassle-free deliveries will increase their satisfaction and loyalty.
Live Chat Support:
Provide clients with live chat support so they can get help immediately and have their questions answered. This function can raise client satisfaction and lower cart abandonment rates.
Who helps your Retail Business to Develop an E-commerce Website?
A group of professionals with various skill sets is needed to create an eCommerce website for your retail firm. The essential experts listed below can assist your retail company in creating an eCommerce website:
Website Developer:
The back-end architecture of a website, including server-side programming, database management, and integrations with third-party tools and services, is built and maintained by web developers.
Web designers:
Web designers are responsible for creating the eCommerce website's user interface, visuals, and branding components. They collaborate closely with web designers to ensure the website is aesthetically pleasing and user-friendly.
UX designers:
UX designers are concerned with providing website visitors with the best possible user experience. They undertake user research, create wireframes and prototypes, and run usability tests to ensure the website is clear and straightforward.
Content Strategists:
Content strategists create the written material for the eCommerce website, such as product descriptions, marketing copy, and other written materials. They ensure the content is the voice and tone-aligned with the brand while also being optimized for search engines.
Digital Marketers:
They assist in promoting the e-commerce website and boosting traffic and sales. Search engine optimization (SEO), pay-per-click (PPC) advertising, social media marketing, and email marketing are just a few marketing strategies they employ.
Project managers:
From planning to launch, project managers are responsible for developing an eCommerce website. They ensure the project is finished on schedule, within budget, and to everyone's satisfaction.

Before Creating E-commerce & Retail Business Software, What Are Some Questions You Should Ask Developers?
Here are some questions you can ask to make sure that E-commerce & Retail business software has designed in a way that matches the needs of your business
What training and experience do you have in creating software for the retail and e-commerce industries?
Have you already worked on projects akin to this? Could you give any examples?
What coding languages and frameworks do you employ while creating software for the retail and e-commerce industries?
What is your software development process, and how can you guarantee it is secure and scalable?
How will you manage payment processing and guarantee that the program complies with PCI standards?
What functions should the E-commerce & Retail business software have, and how will they help our company?
How will you ensure customers and employees can use the program efficiently and intuitively?
How will you manage system integration with external systems and services?
Can you give a rough timetable for the software's development and implementation?
How will you provide ongoing support and maintenance for the software after it is deployed?
What Will Make an eCommerce Website Successful in 2023?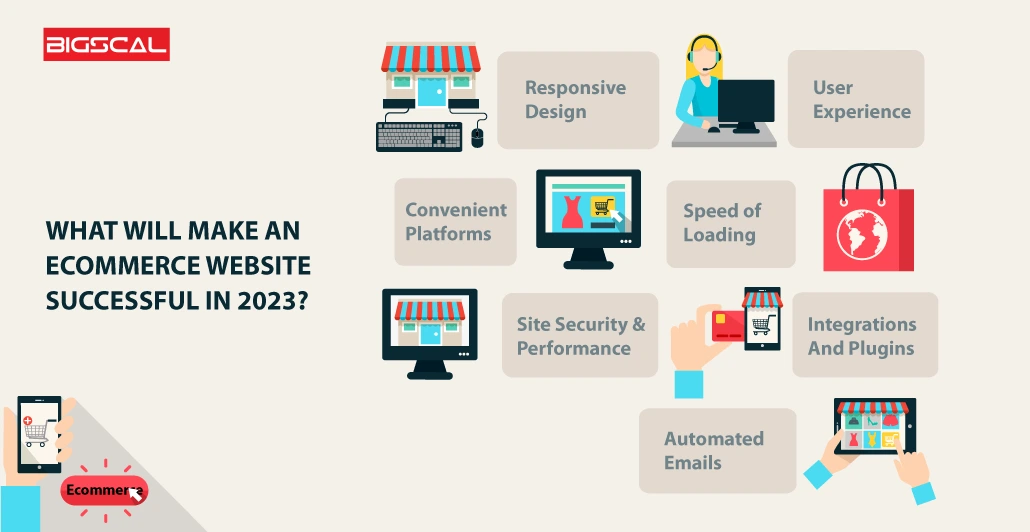 The success of an eCommerce website in 2023 will depend on several variables. Some of the most important factors to take into account are listed below:
Responsive Design:
ECommerce websites need a responsive design that adjusts to multiple screen sizes as more customers purchase online using mobile devices. This guarantees that the website is easy to navigate regardless of the customer's device.
User Experience:
A key element in the success of eCommerce is the user experience. Websites with simple navigation, concise product descriptions, and a smooth checkout will likely keep clients and promote repeat business.
Convenient platforms:
Offering clients easy ways to browse and buy things can help businesses succeed. The shopping process can be expedited and user-friendly by, for instance, allowing for guest checkout, providing a mobile app, and integrating with social media platforms.
Speed of loading:
In today's high-speed digital environment, shoppers want eCommerce websites to load rapidly. Optimizing website speed and performance is critical because long loading times might cause annoyance and cart abandonment.
Site Security & Performance:
When purchasing online, customers must have confidence that their financial and personal information is secure. Customer data get protected, and trust can be increased by putting SSL encryption, two-factor authentication, and other security measures into place.
Integrations and plugins:
Adding third-party platforms and plugins to eCommerce websites can improve their functionality. Operations streamlined and the customer experience enhanced, for instance, by linking with shipping companies, payment gateways, and marketing automation systems.
Automated emails:
Automated emails can keep clients interested and informed throughout purchasing. Examples include notifications about abandoned carts, order confirmations, and delivery.

What are the advantages of Developing E-commerce and Retail Business Websites?
There are several benefits to creating an online store and retail website, including:
Expanded Audience:
An online store allows businesses to connect with a larger audience, including people who might need access to physical stores or reside in other regions or countries. As a result, the number of customers and sales may grow.
The capacity to operate round-the-clock:
Unlike conventional businesses, e-commerce websites can access 24/7, enabling customers to browse and make purchases whenever they want. Sales growth and improved customer satisfaction may result from this.
Cost-Effectiveness:
Opening an online store can be less expensive than opening a physical one because there are fewer overhead expenditures, no rental fees, or other out-of-pocket expenses related to a physical location.
Customer Convenience:
E-commerce websites allow customers to purchase while remaining at home, avoiding long lines, and saving time. Increased consumer loyalty and repeat business may arise from this.
Personalization:
Using data analytics, e-commerce websites can provide personalized recommendations and specials based on consumers' past purchases and browsing habits, enhancing the shopping experience and increasing the likelihood of a sale.
Greater Control:
Online stores allow businesses to easily update and adjust product information, prices, and other content. They also provide them with more control over their branding and messaging.
Enhanced Flexibility:
Businesses may more easily pivot and adjust to changing situations because of the simplicity with which e-commerce websites can be updated and amended in response to shifts in client demand or market conditions.
Creating an e-commerce and retail business website often provides several benefits that can assist firms in attracting new clients, boosting sales, and enhancing consumer satisfaction.
Different Types of E-commerce Platforms
There are several types of e-commerce platforms available to build an e-commerce website. Some of the most common types include:
Open-Source Platforms:
These platforms are freely available and can be customized to fit specific business needs. Examples include WooCommerce, Magento, and OpenCart.
Hosted Platforms:
These platforms are managed and hosted by a third-party provider, which may offer a range of features, including payment processing and security. Examples include Shopify, BigCommerce, and Volusion.
Cloud-Based Platforms:
These platforms are hosted on a cloud-based server, providing scalability and flexibility. Examples include Salesforce Commerce Cloud and Oracle Commerce Cloud.
Self-Hosted Platforms:
These platforms allow businesses to host e-commerce websites on their servers. Examples include PrestaShop and Zen Cart.
Social commerce platforms:
Social commerce systems let companies sell their goods directly on social media sites like Facebook Shops and Instagram Shopping. Customers can have a seamless buying experience on these platforms, and they can assist companies in expanding their markets.
Here is a quick checklist to follow before launching your E-commerce Website:
Make sure the website is mobile-friendly by testing it on various screen sizes and mobile devices.
Ensure to properly test all website pages and features, including the contact forms, shopping cart, payment process, and product pages.
Make careful to examine the website for any flaws or broken links.
Implement SSL encryption, add security plugins, and enable two-factor authentication to protect the website.
Select a trustworthy payment gateway and rigorously test it to guarantee that transactions are handled correctly.
Establish precise shipping and tax details, including costs and delivery schedules.
Set up Google Analytics or another analytics program to monitor user behavior, website traffic, and other crucial statistics.
Make pages for your privacy and terms of service that are detailed and easy to understand.
By using a content delivery network and optimizing graphics and other material, you can ensure the website loads quickly. (CDN).
Create a marketing strategy to advertise the website, incorporating SEO, email, and social media marketing.
Why Should You Partner with Bigscal to Develop Your E-commerce Website?
Bigscal is one of the leading E-commerce website development companies that has served web development services for over 11+ years. Bigscal, with the expertise of their professionals, understands your E-commerce and retail business requirements and needs to develop intuitive and high-configured customized E-commerce websites that help you to achieve your business objectives quickly and seamlessly.
Moreover, with years of experience and good-sounding expertise working with more than 500 customers, Bigscal develops best-in-class software and applications. Bigscal offers apps with high-caliber performance and assurance of maximum return on investments that make Bigscal stand out from other development companies.
Besides, Bigscal, with its years of experience, turns your E-commerce website development challenges into opportunities by offering high-skilled professionals, designers, UI/UX developers, and E-commerce consultants.
Wrapping Up
With handsome ROI, soaring growth rate YOY, and a sustainable future in the E-commerce business, there is no chance to miss the opportunity to embark on an E-commerce business.
Hence embarking on an E-commerce business needs an insightful and user-friendly website that fulfills your objectives and goals. It's time now to get started with Bigscal to develop an E-commerce website. Or hire an e-commerce website developer to achieve your target and purpose to develop an E-commerce website.
Partner with Bigscal to build and develop an E-commerce website that makes your business sustainable and ready for tomorrow.

https://www.bigscal.com/wp-content/uploads/2023/04/eCommerce-Software-Development-and-Retail-Solutions.png
532
1030
Bharat Godhani
https://bigscal.com/wp-content/uploads/2018/03/bigscal-logo1.png
Bharat Godhani
2023-04-12 17:23:25
2023-06-14 10:02:43
The Ultimate Guide to eCommerce Software Development and Retail Solutions: From Planning to Execution in 2023