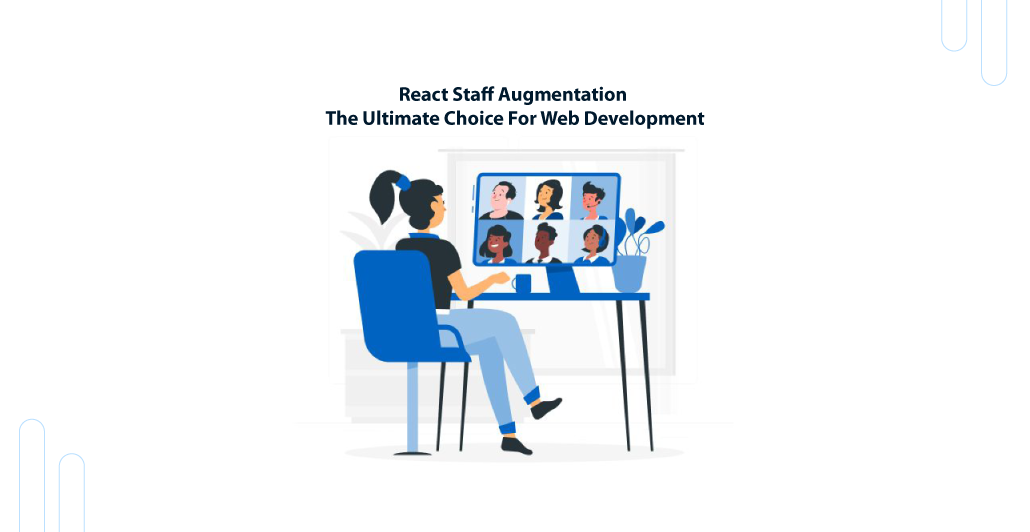 React Staff Augmentation: The Ultimate Web Development Choice
A React Staff Augmentation is responsible for providing specialised skills to meet business needs.
Using React staff augmentation, existing employees and new hires work together to complete the projects on time.
Furthermore, the outsourcing model is developed to add adept React JS professionals to the defined project keeping the business essentials in mind.
The demand for React staff augmentation has grown significantly in a few years as nowadays it has become crucial to have cost-effective and fast development.
Key Benefits of React Staff Augmentation
In digitally developing businesses, React Staff Augmentation helps make their respective digital products market-ready. Here are the few fundamental benefits mentioned below:
Decreases the hiring and maintenance costs of employees
Fills the gap by delivering adept and experienced ReactJS professionals
Meet the deadlines and finishes the project successfully.
Cooperates with the hired workforce to enhance in-house developer skills.
Adds new skills and perspective to design scalable projects.
Introduction To React JS
React JS is an open-source front-end javascript library .
In addition, the framework can be thought of as part of it.
Additionally, Facebook, the social media giant platform, has made React its favourite library to design and maintain.
ReactJS aids in solving the problem of tough front-end development easier and more quicker.
Lastly, it facilitates the development process and designs the web app ready to take off in the market.
Fundamental Benefits of React JS
Firstly, React.JS has the compatibility to design applications for both web and mobile apps with the support of React Native.
Additionally, it can easily construct Android and iOS applications with a high-performance, user-friendly ecosystem.
Here are a few other qualities that are worth considering:
Reusable Components
Low Learning Curve
Quick Bug Fixing
Quick And Large Data Handling
Expected Development Flow

Combination of React Staff Augmentation
The mixture of React JS web development with the help of IT staff augmentation can be the most suitable choice for large-scale enterprises or startups looking for growth in their business through digital products.
Furthermore, it sometimes gets challenging to get proficient React developers for successful project development.
In addition, the React Staff augmentation services can be incredibly beneficial for assisting experienced React developers in acquiring new knowledge, abilities, and tools to create dependable, secure, and scalable applications.
Benefits of React Staff Augmentation
The following are some of the benefits that the combination of React Staff Augmentation offers:
Flexibility
The IT staff augmentation for React JS development can be easygoing.
Furthermore, it allows organisations to pick experts and can withdraw the hiring whenever the need is fulfilled.
Access To Adept Professionals
The tech industry is evolving rapidly, so business owners have open possibilities to hire competent and experienced React professionals to get more scalability and dependability to the React Js development approach.
Furthermore, we understand that in the software universe, there is a constant advancement in technology and you should maintain your digital product up to date.
Additionally, React staff augmentation plays a crucial role, and you can employ experts from any part of the globe.
Greater Project Management
Employing new external resources to finish the project faster makes it more manageable.
Additionally, external and internal resources simplify the business procedure.
Fast Project Development
As an organisation, you always want your project to get finished in the given period to make it comfortable to venture into the market to forge business.
Covers The Expertise Gap
Whenever there is a lack of expertise and talent in a specific technology, like React for application development, you need a newly proficient developer who can aid fulfil the expertise gap.
Yet, hiring experts full-time can be expensive. Thus, React staff augmentation services deliver excellent solutions by outsourcing the developers for a specific time to accomplish the project development.
Conclusion
The development of any React application is not a comfortable task, and it needs a lot of expertise and talent. When it comes to React JS, it is an outstanding library that has acquired unmatchable trust and support from its dynamic community and businesses employing React Js. The list of firms includes UberEats, Airbnb, Discord, Instagram, Skype, etc. Thus, determining React staff augmentation services for app development can be an excellent choice to accomplish new peaks of success.
https://www.bigscal.com/wp-content/uploads/2022/12/React-Staff-Augmentation-The-Ultimate-Choice-For-Web-Development-2.png
532
1030
Shalu Vashisht
https://bigscal.com/wp-content/uploads/2018/03/bigscal-logo1.png
Shalu Vashisht
2022-12-21 11:25:29
2023-03-30 16:05:06
React Staff Augmentation: The Ultimate Web Development Choice