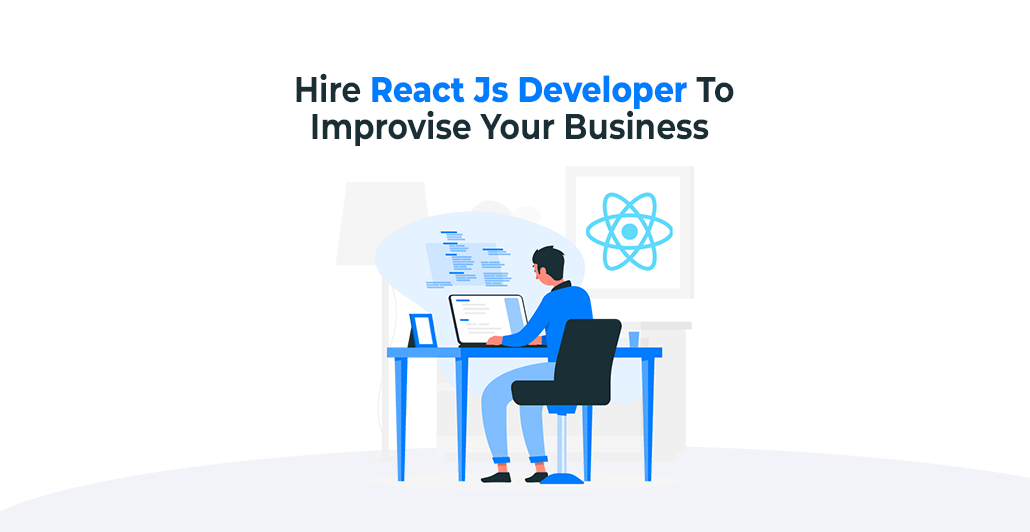 Maximizing Your Business Potential with a React JS Developer
When you are looking to hire a React developer, it's easy to get overwhelmed with all the different options available. Finding the right fit for your business is key and today we're going to look at a few key points that will help you hire the best React developer. Today, a company's ability to create successful applications, which serve as the company's online presence, is crucial to that company's success. To rapidly and effectively provide clients with high-quality services, businesses need to hire react js developers with the appropriate abilities. A talented group of developers uses cutting-edge technologies to ensure the offered software is dependable and high-performing.
Due to ReactJS's widespread use, there is a big pool of developers available. However, it can be difficult to hire a React JS developer because it's difficult to predict how good a developer will be until a few factors are carefully taken into account.
We'll go over some important things to consider in this article, as well as the advantages of working with a ReactJS developer or ReactJS development business.
What Does a Developer of React JS Do?
A React JS developer, in a nutshell, designs and develops user-facing features for websites and applications. In order to deliver a consistent user experience, they are in charge of the look and feel of a website or application. Developers skilled in JavaScript, CSS, HTML, and other coding languages work with React JS. React Js developers are in charge of creating an application that is excellently performing, totally functioning, and bug-free. They also develop fresh plug-ins and see to it that the software is updated. Moreover, they frequently work together with professionals in software testing to assess the codes before launching the website or web application.
Hire React Js Developer With Expertise
You need to hire react js developer can be met by outsourcing organizations like Bigscal. We could be a good fit to handle your intricate ReactJS development requirements. This is how:
1. Versatility
You can choose applicants, convey your needs flexibly, and hire react js developers with good qualifications. To produce high-end items, you can divide the work among our skilled team members based on the demands of your project.
2. Accessibility
You create a cost-effective environment for your software development lifecycle when you hire our React developers. Additionally, you will do away with dangers, a drawn-out hiring procedure, and overhead expenses related to the development.
3. Safety
Protecting your company's data requires outsourcing your project's requirements. To protect project data, we strictly adhere to industry-recognized security standards. To support the overall idea and prevent data malfunction, we also sign an NDA.
4. Good Delivery
You may improve the quality of your product delivery and shorten the time it takes for it to reach the market by working with an outsourcing company. Our knowledgeable staff places a priority on fast delivery while maintaining the quality of the product.
5. Discretion
The development of your project can be tracked at any time and from any location. Both written and spoken communication can be fully transparent. Regular updates on the project's status will be given to you by our staff.
When Should You Hire ReactJs Developer?
1. To Start-Ups
When you wish to cut back on hours worked but don't have a sizable development budget.
The ReactJS library has excellent community support and is routinely updated by over 1,500 developers.
2. Regarding Mid-sized Businesses
To build a user-friendly website to improve your internet visibility.
Because Facebook is in charge of React JS updates and security patches, platform stability is not a significant problem.
2. For larger companies
Just in case you're looking for a simplified testing procedure.
To speed up the rendering process.
How much will it cost to Hire React JS developer?
The price varies depending on a number of variables, including the project's duration, reputation, experience, and location. Rates could be both pricey and economical. It is subject to knowledge and expertise.
Pricing for ReactJS development firms is more expensive than for freelance developers. However, a corporation offers advantages including knowledge, adaptability, efficiency, adaptability, and ongoing or post-development support.
What Elements Affect a ReactJs Developer's Salary?
Let's look at some of the aspects that influence how much it costs to hire a ReactJs developer.
1. Depending on the developer's experience
Before you hire React developer, you must be aware of the needs of your company in order to choose the appropriate expertise level.
2. React developer in training
Junior developers typically have less than three years of experience and are beginners. They are familiar with the framework and competent with simple development jobs. They should also be able to work with HTML, CSS, and JavaScript.
Junior developers can help senior developers with their responsibilities and effectively handle debugging. They can offer feedback during the design and technical review parts as a member of the front-end team.
It is advantageous for you to hire react js developer who is really interested in learning new frameworks because you may train them on them to lower the cost of recruiting new developers in the future.
3. Intermediate developer of React
Typically, a mid-level developer has three to five years of experience. They could be assigned specialized development duties, such as creating instructional and practical components. They can test components asynchronously using the testing frameworks for React.
It may be necessary for mid-level React developers to have knowledge. Mid-level developers with experience in test-driven development may be advantageous to the firm.
The designers must also be able to interpret wireframe designs into a meaningful user interface. The ability to construct infrastructure as code and automate deployments is also helpful.
4. Senior developers for React
Senior developers are those with five to seven years' worth of experience or more. They are capable of integrating external items and debugging software.
The pre-built tools and React libraries that come with them will be familiar to them. Because they can mentor younger developers, senior developers are essential to the growth of projects. Development teams are typically led by a senior developer.
Senior developers are excellent candidates to hire since they provide expertise, real-world knowledge, mentoring, help with development planning, and recommend key resources.
5. Cost depends on the developer's location
Due to regional differences in hiring expenses, location consideration is crucial when hiring React engineers.
6. The Project's Size
The size of the app must be taken into account by product teams when estimating the cost of developing a product. Based on the complexity of the product, features and functionalities should be taken into account. The features of a product will change depending on what the business needs. In general, more resources must be allocated to the development process for products with higher functionality.
7. Miniature Projects
Small projects can be completed without a full development staff. The program has fewer integrations and basic functionalities, which lowers development expenses.
8. Projects of a Medium Scale
In general, medium-sized projects require more developers than tiny projects do. These projects might have a chat feature, a search tool, and various integrations. As a result, hiring a React developer will cost a little more.
9. Prodigious Projects
These projects entail numerous functionality, numerous integrations, and stringent security procedures. As a result, you will require a team that includes skilled React engineers, project managers, and quality assurance testers.
Conclusion
Numerous benefits of ReactJS include simple coding, maintenance across the SDLC, increased productivity, and speedy rendering of reliable products. To take advantage of all these advantages, you need to work with custom software development services or hire react js developer with exquisite knowledge. Build a high-performing product with the right organization.
https://www.bigscal.com/wp-content/uploads/2022/10/Hire-React-Js-Developer-To-Improvise-Your-Business.png
532
1030
Bakuli Chavan
https://bigscal.com/wp-content/uploads/2018/03/bigscal-logo1.png
Bakuli Chavan
2022-10-19 16:27:54
2023-03-29 11:55:30
Maximizing Your Business Potential with a React JS Developer