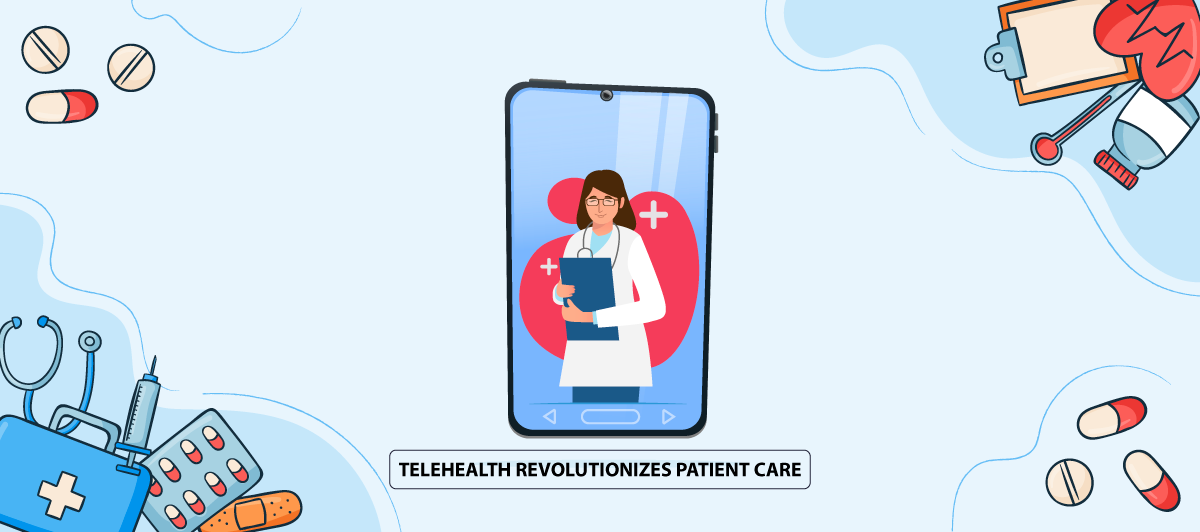 How does Telehealth improve patient care? Benefits and Case Studies
Quick Summary: Wondering how does telehealth improve patient care? It does so by offering remote medical consultations, increasing accessibility to healthcare services and reducing travel time. Additionally it reduces costs for health resources, enhancing monitoring of chronic conditions, cardiovascular disease, and health risks. It enables timely interventions, and providing mental health support and health and human services, especially in underserved areas.
Introduction
Improving patient care is one of the top goals the healthcare delivery industry strives to meet. But how does telehealth improve patient care? Hence with time, the model has shifted from free services to a value-based health care provider model.
Hence it has further changed how they approach this goal. Amid this, Telehealth is growing to be a contributing factor.
With new digital technologies, providers have minimized emergency department visits. Hence this approach helps people seek health remotely through remote consultations, diagnoses, and treatment plans.
But how does Telehealth technologies improve patient care? It eliminates geographical barriers and ensures patients can consult with specialists regardless of physical location.
It prompts timely interventions and reduces the strain on doctors. The convenience that telehealth services provide has led to easy accessibility.
Additionally, telehealth platforms have made the management of chronic diseases easier without visiting the provider's office. It doesn't only represent proactive primary care but also reduces frequent hospital visits.
The combination of technology and healthcare paves the way for a personalized and convenient manner to enhance patient experience. This text will brief you about Telehealth's contribution to patient outcomes.
What is Telehealth in Medicaid services?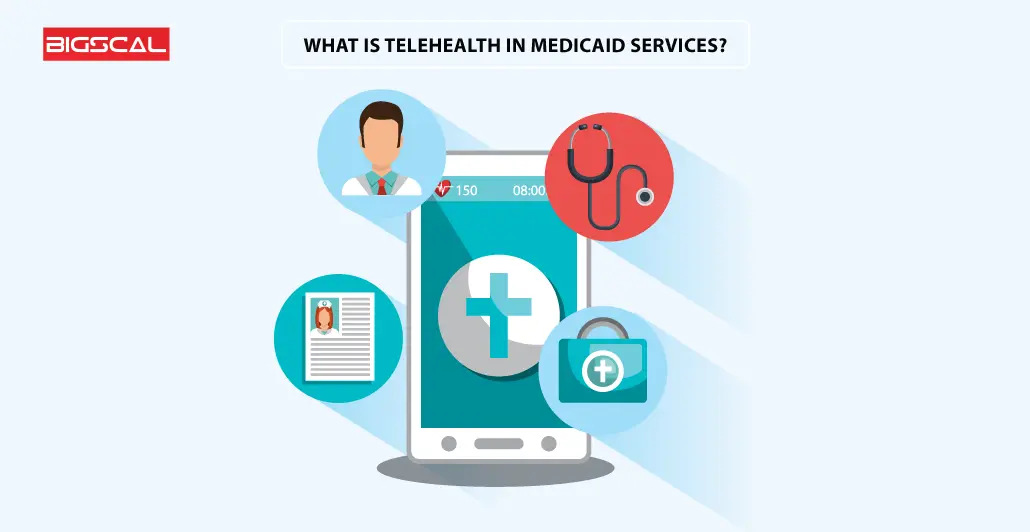 Telehealth technology in Medicaid services is using telecommunication technology to provide medical services. It includes various services, such as medical consultations, diagnoses, treatment plans, and monitoring.
Hence with the help of telemedicine services, patients can quickly gain access to a healthcare provider without traveling. It is more beneficial to have more online health care services for older adults and underserved areas.
Medicare telehealth services aim to enhance access to quality care, lessen healthcare disparities and enhance convenience. Mobile devices allow patients to consult with doctors, nurse practitioners, specialists and mental health professionals.
However, coverage and reimbursement for telehealth services vary from the federal government, state to state, medical history, and specific regulations.
As technology advances, the benefits of Telehealth within Medicaid services hold the promise of expanding healthcare access. Moreover, it will improve health outcomes and increase overall patient satisfaction.
How does Telehealth Improve Patient Care using Patient Engagement?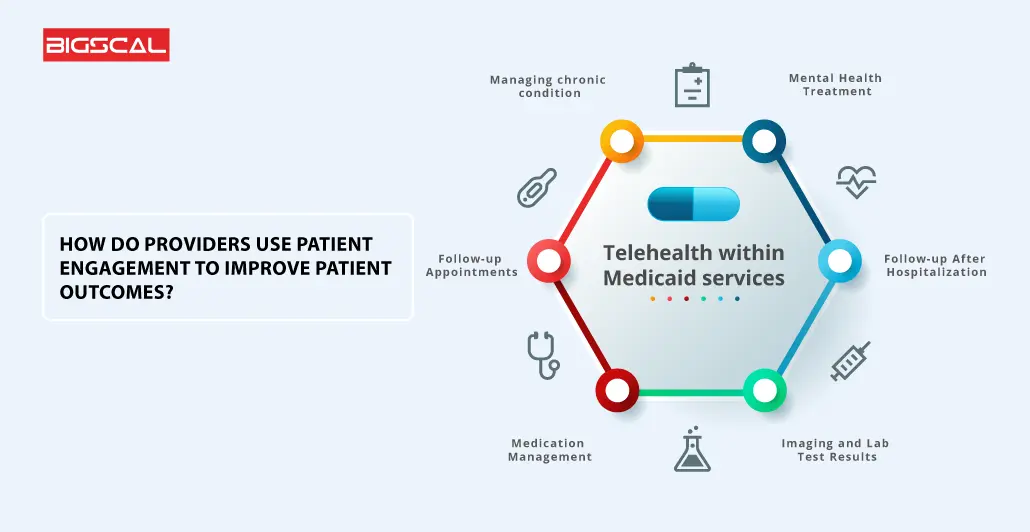 Managing chronic condition
As per National Health Council, almost 157 million Americans suffered from chronic health conditions in 2020. Surprisingly it is half of the total population. Hence the application of Telehealth can lessen the total in-person visits for chronic conditions. Therefore this might increase the cases that they will comply with their treatment.
Follow-up Appointments
Healthcare professionals consider follow-up appointments crucial for verifying accurate diagnoses and effective treatment plans. However, patients frequently miss these appointments due to financial constraints and transportation challenges associated with visiting the physician office. hence this one of the answers to how does telehealth improve patient care.
The utilization of the Telehealth platform's video conferencing simplifies the process of virtual visits for patients. Hence this will enhance their ability to attend follow-up appointments. Eventually, it will improve the health status and likelihood of successful treatment outcomes.
Medication Management
Individuals might need help to arrange face-to-face appointments to seek physical therapy and address possible side effects. Therefore rather than enduring side effects quietly or discontinuing medication like blood pressure ones, they can utilize telehealth appointments.
Making changes to dosage by providers through telehealth consultations can frequently enhance patient outcomes. Telehealth also offers the convenience of prescription renewal without requiring direct calls or in-person provider visits.
Mental Health Treatment
Telehealth has demonstrated its safety and effectiveness in addressing anxiety, depression and other mental health issues. It removes access barriers and enables fewer primary care providers to attend to a more extensive patient base.
Hence it also increases privacy levels. For individuals hesitant to pursue in-person mental health care, receiving treatment through a virtual visit or video can be a convenient experience. They can use wearables that record vital signs to help in a physical exam.
Follow-up After Hospitalization
Telemedicine is well-suited for enhancing in person care post-hospitalization, enabling more convenient follow-up care. Healthcare professionals can virtually evaluate the patient's progress and treatment response, allowing timely intervention to prevent the need for expensive hospital readmissions.
Imaging and Lab Test Results
Telehealth enables healthcare professionals to analyze patients' reports, helping them comprehend the test outcomes. Hence this helps them take the required steps. Telemedicine visits for reviewing test results are only sometimes essential. Conducting phone-based communication might also be enough for conveying critical diagnostic details.
Furthermore, the majority of phone-based test reviews should be reimbursed. Telehealth enhances patient understanding by facilitating direct virtual visits and interactions between patients and providers. Moreover, it strengthens the patient-provider bond and enables reimbursement for the provider's services.
How do telehealth services help in patient outcomes?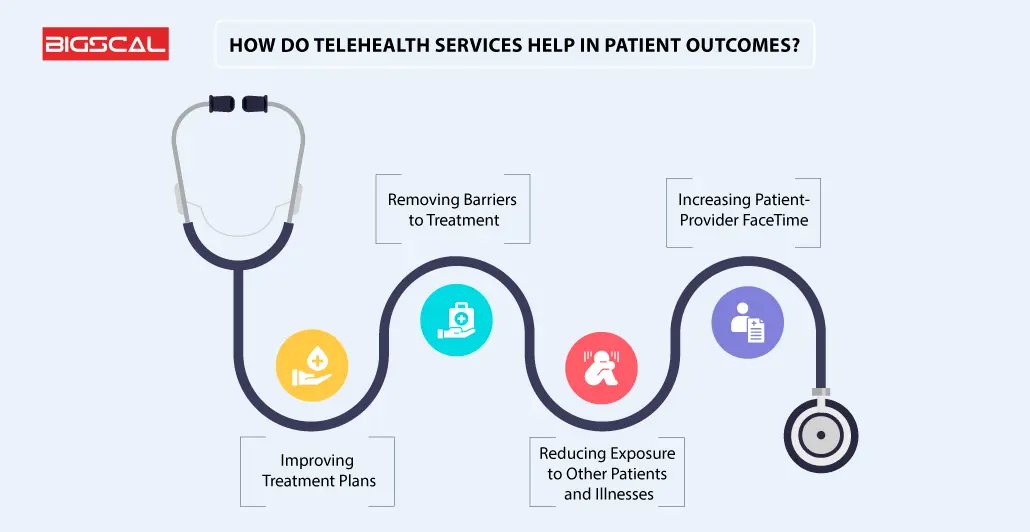 Removing Barriers to Treatment
Understand various factors that might prevent patients from accessing necessary medical treatment. These factors include expenses related to transportation, the time taken for travel and loss of income due to missed work. There are certain inconveniences tied to in-person clinic appointments.
These problems can impede patients from reaching their healthcare providers. Sometimes patients might not attend appointments or cancel at the last moment, which can prove costly for providers.
Hence Telehealth addresses these challenges by enabling healthcare professionals to consult with patients located remotely.
This approach grants patients the advantage of meaningful face-to-face interactions with their healthcare providers.
Telehealth can potentially eliminate the inefficiencies linked with in-office visits while enhancing operational efficiency for healthcare providers.
Increasing Patient-Provider Face Time
Telehealth enables patients and healthcare providers to concentrate on immediate health issues without distractions fully.
It allows them to allocate more in-person time to address patient concerns without typical office interruptions.
Moreover, Telehealth is more than telephone consultations, where health information is protected. One can convey intricate, and protected health information, electronic health record medical information, and details and demonstrate excellent patient trust.

Improving Treatment Plans
Occasionally, treatment protocols include procedures that may not align with the traditional environment. Hence activities like overseeing patient prescriptions and conducting assessments of diagnostic tests can be more convenient.
Telehealth adoption expands the array of care choices available to healthcare providers. Additionally, it does not impose additional expenses or challenges on their already busy medical practices.
By using remote patient monitoring and patient portals to enable remote health care delivery, Telehealth enhances the consistency of patient treatment. Further, it reduces healthcare expenses, boosts patient access, and improves overall clinical results.
Reducing Exposure to Other Patients and Illnesses
Enhancing health results becomes challenging when individuals must wait in crowded waiting areas. Whenever patients coexist in such an environment, there's a potential for airborne infectious disease to spread.
In contrast, Telehealth visits offer a solution by enabling individuals who might be contagious like covid 19 pandemic. Hence they need to seek medical care and attention without putting others at risk.
This approach also protects individuals not afflicted by viruses infectious diseases or infections from contracting them. This development brings positive benefits for both patient's condition and healthcare providers.
Case Studies of Successful Telemedicine in Healthcare that Has Enhanced Patient Outcomes
Teladoc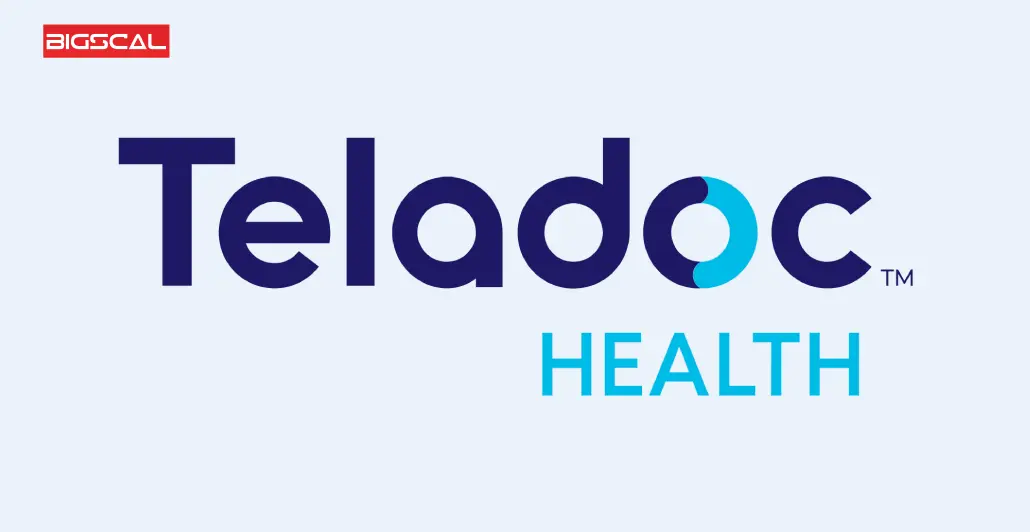 Teladoc was established in 2002 with the vision of making healthcare accessible worldwide. It has now emerged as the leading global authority in virtual healthcare services. It has an almost 90% customer satisfaction rating.
The application boasts the expertise of the top 5% of globally certified medical specialists. There are now medical center offices in 20 countries, and the network has facilitated over 15 million medical consultations.
Teladoc facilitates connections between individuals and a diverse range of medical healthcare professionals. It includes doctor, nurse practitioner, therapist, and specialist. The platform addresses minor health concerns such as infections, flu, anxiety, stress, and skin ailments.
It also offers guidance for more critical cases that may necessitate in-person medical attention. It has a robust medical group of 7,000+ doctors.
Hospitals and healthcare institutions leverage Teladoc's digital infrastructure to enhance the quality of health care services they provide.
Amwell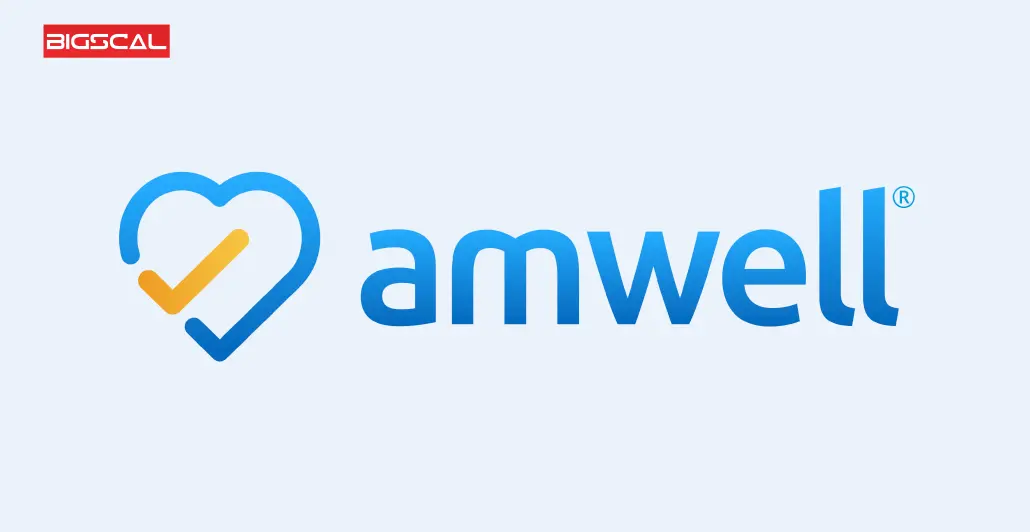 Amwell, headquartered in Boston, Massachusetts, is a telemedicine company offering a convenient way to consult remotely. It connects individuals with licensed medical experts, providing access to quality healthcare from the comfort of their homes or while on the go. This service is available through subscriptions to various healthcare systems and institutions in person care.
It operates across 50 U.S. states and has partnered with over 2000 hospitals, 55+ health plans, and 98.5K providers. The company emphasizes user privacy and security. Hence it implements measures to ensure HIPAA compliance.
All patient data used, virtual visits, virtual consultations, medical records, and personal patient data are encrypted over secure connections. Therefore user authentication is needed to restrict system access.
The company achieved a revenue of $194 million in May 2020. It offers a wide range of online medical services, including urgent care, therapy, psychiatry, primary care physician breastfeeding support and much more.
With 24/7 availability, Amwell serves more than 80 million people, supported by partnerships with over 36,000 employers.
See How Our Telehealth Services Can Help You Improve Patient Outcomes
Bigscal's Telehealth solutions provide an innovative way to improve patient outcomes with advanced technology. Our telemedicine software solution platform allows patients to connect with top-tier healthcare professionals remotely in this interconnected world.
Our telemedicine software solution has secure video consultations to ensure prompt medical attention, leading to faster diagnosis and treatment plans.
Furthermore, our Telehealth solution emphasizes patient education in personal care, enhancing comprehension of conditions and self-care practices. It empowers individuals to manage their health and make informed choices.
Our Telehealth services deliver personalized care to patients at their homes, optimizing engagement, satisfaction, and medical results.
Embrace the future of healthcare through our innovative, Telehealthcare solutions and witness the positive impact of electronic health records on your well-being.

Conclusion
By the end of this text its hopeful that you might have understood that how does telehealth improve patient care? Telehealth encompasses a variety of technologies that can be utilized in delivering healthcare services across diverse conditions, populations, and environments. The expansion of Telehealth enables healthcare providers to dedicate more time to patient interaction, leading to heightened productivity.
This shift signifies a shift towards patient-centric care, facilitating quicker access to high-quality treatment and ultimately enhancing patient health results. These various telehealth care solutions offer time and cost savings for patients and create a sense of being prioritized, resulting in increased satisfaction levels.
FAQ
How is telemedicine used in the healthcare industry?
Telemedicine involves using technology to provide remote medical consultations, diagnosis, and treatment, allowing patients to connect with healthcare professionals from their location.
What are the 3 benefits of using telemedicine services in healthcare?
Three benefits of telemedicine includes:
Increased accessibility to medical services.
Reduced travel time and costs for patients.
Improved monitoring of chronic conditions.
How does telehealth improve patient care and affect healthcare?
Telehealth services improve healthcare by allowing remote access to medical consultations, reducing travel and wait times in emergency departments, increasing access to specialists, and enabling timely care for patients in rural or underserved areas.
What are the three types of telemedicine?
The three types of telemedicine are:
Store-and-forward (asynchronous communication online patient portal).
Remote monitoring.
Remote patient monitoring (real-time data collection).
Interactive telemedicine (live, video-based consultations).
How has telehealth helped healthcare?
Telehealth platform has helped healthcare by extending medical services to remote or rural areas, minimizing the burden on physical healthcare facilities and on emergency department visits, and providing a convenient option for patients to receive their medical information, advice and treatment.
https://www.bigscal.com/wp-content/uploads/2023/09/How-does-Telehealth-improve-patient-care.png
532
1200
Tosif Saiyad
https://bigscal.com/wp-content/uploads/2018/03/bigscal-logo1.png
Tosif Saiyad
2023-09-02 09:30:21
2023-09-26 09:35:07
How does Telehealth improve patient care? Benefits and Case Studies