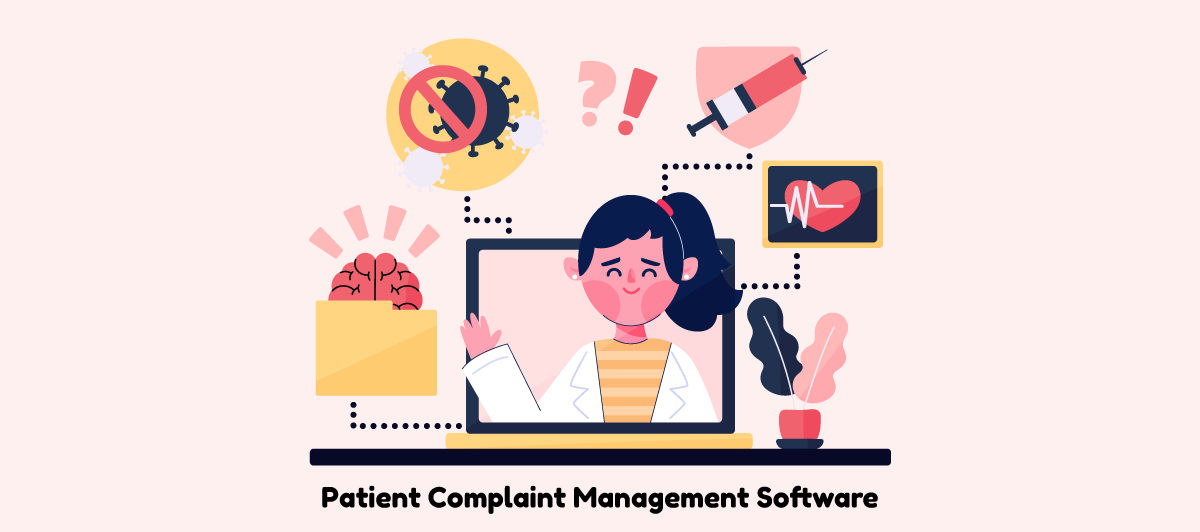 How To Find the Best Patient Complaint Management Software for 2024
Quick Summary: When you run a healthcare organization or hospital, you must know the tools and software that you can use to enhance patients' overall experience. Patient Complaint Management Software is one of those essential tools for hospital helps in continuous improvement. Check out this article and learn how to find the best software for the complaint-handling process.
Introduction
Complaint management software is essential for healthcare organizations looking to improve patient satisfaction. It plays a vital role in improving safety and service quality. It also ensures regulatory compliance. To ensure this, you must choose the right Patient complaint management system for your organization.
But how?
So, we'll examine its features and how integrating it with other medical systems or patient management software can drive substantial improvements. This blog post will provide all the information required to make an informed decision about such software programs!
At its core lies efficient customer complaints and handling – responding quickly to patients' grievances to guarantee adequate resolution for future reference. Thereby, it enhances patient security and maintains high standards. It also delivers services provided by organizations utilizing this type of technology properly.
Key Takeaways
Patient complaint management is essential for healthcare organizations to ensure patient safety, service quality and regulatory compliance. It is like an online patient management software system.
An effective software should feature workflows, customizable reporting and secure data storage & access.
Organizations must assess needs/requirements, compare features/pricing & consider implementation/support when selecting a software.
The Importance of Patient Complaint Management in Healthcare
Complaint management in healthcare directly contributes to customer retention and helps organizations uphold regulatory compliance. It also boosts patient safety and optimizes service quality. To effectively manage and evaluate patient feedback, including negative reviews, you can implement a platform for collecting feedback and complaints. So that quality can improve.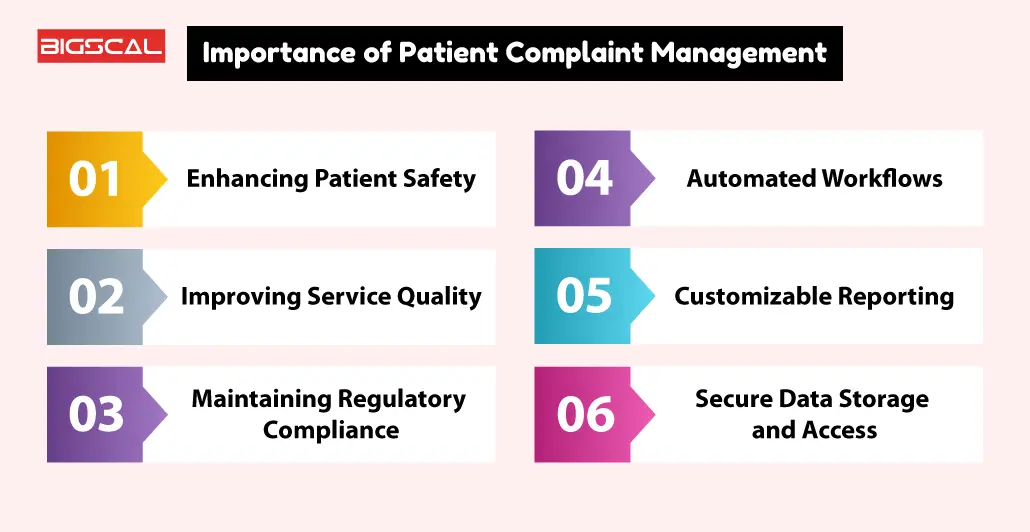 Enhancing Patient Safety
Complaint management software is an essential tool for healthcare organizations to identify risks, implement corrective action and ensure patient safety. With such a system, these entities can use customizable reporting to track trends in complaints-related data. And with that, it can also adhere to all relevant regulations on quality of care.
Automated workflows within the software allow staff members secure access. It also streamlines the process through integration with other systems. Such synchronization offers Accuracy regarding complaint handling while ensuring that organizational procedures and processes are followed at every resolution stage.
Improving Service Quality
Complaint management software can help healthcare organizations and businesses collect and organize customer complaints, identify patterns, and offer solutions promptly. By responding to patient feedback appropriately via complaint handling, doctors can upgrade service quality and increase the satisfaction of their patients. This will improve overall business outcomes as well as customer loyalty.
Efficient complaint management systems allow hospitals to track changes required based on feedback. They can make informed decisions, take corrective actions, and implement specific techniques for remedying issues. It also helps measure performance regarding disciplinary actions and improving services offered and promotes transparency, accountability, and a culture focused on continuous improvement within healthcare.
Data plays an integral role for medical facilities that aspire towards providing superior quality healthcare concerning meeting customer demands appropriately – and this is where effective use of management software centered around addressing client grievances steps into play.
Maintaining Regulatory Compliance
Complaint management software is essential for ensuring compliance with regulations in industry regulations. This type of system allows organizations to receive, classify and effectively manage complaints from customers over its entire life cycle by providing tools such as data analysis, recognition and resolution of potential issues related to customer trust or regulatory requirements.
Failure to adhere to industry standards can lead a company towards financial losses, security breaches (including license revocations), inadequate patient care along with fines that could be damaging both financially and reputationally wise.
Patient complaint management systems provide companies assurance that oversight of their organization remains compliant while securing reliable feedback from consumers – all through one unified platform designed for managing incidents/complaints efficiently in order to recognize any areas needing improvement within an institution's business operations or services provided.
Automated Workflows
Complaint management software incorporating automated workflows can bring numerous advantages, such as improved patient satisfaction and compliance due to cost savings plus more efficient data administration. A functional complaint handling process requires certain components like machine learning for automation, customer communication channels with alerts/tracking abilities and timely closure of complaints.
Using this technology, healthcare organizations have the capacity to better manage service-related grievances along with customer complaints & feedback in terms of classification & resolution. Automating the company' entire system allows them to make sure that these concerns are handled efficiently, which enhances their overall performance.
Consequently, leveraging state-of-the-art technologies related to customer complaint management provides tangible benefits across multiple areas from customers' access points up to organization's tracking capabilities when it comes to resolving worries presented by clients or users who use said services for whatever reason they may be employing them at any given time frame.
Customizable Reporting
Customizable reporting allows users to design reports based on their needs, filter reports to the information they are looking for, change its layout and incorporate visuals for analysis such as graphs. This enables businesses and healthcare organizations to detect trends in complaint data which can help them improve patients safety and service quality.
By tailoring these features according to specific requirements, you can extract insights from concise data enabling tracking of performance across multiple areas where improvement initiatives may need implementing. Data-driven approach promotes accountability and transparency.
Secure Data Storage and Access
Complaint management software must prioritize secure data storage and access to remain compliant with regulations such as HIPAA, protect patient privacy, guard against data breaches, maintain accuracy of complaint records and build trust between patients.
To guarantee safe practices when managing healthcare complaints, You should implement security measures which include HIPAA guidelines along with encryption techniques for the protection of sensitive information while backing up regularly physical protocols that support confidentiality.
By focusing on protective steps organizations can ensure a reliable system is in place to manage client feedback without risking the leak of confidential details.
Integrating Patient Complaint Management with Other Healthcare Systems
Healthcare organizations can maximize their complaint management system for the sake of quality improvement by connecting it with other systems like EHRs, risk management, and policy managing programs. This integrated approach ensures that data flows efficiently while complaints are addressed properly in order to raise the standard of care.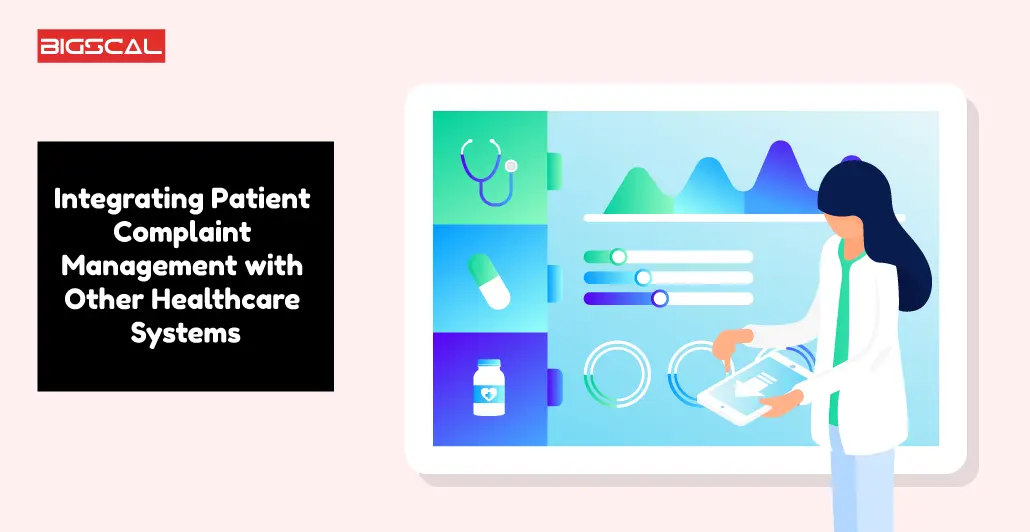 EHR Integration
Integration of Electronic Health Records (EHR) with patient complaint management systems provides multiple advantages, with benefits including better care for patients, cost-saving benefits and more efficient data collection. In addition, it can also integrate the concept of remote monitoring in healthcare. It can help create meaningful connections between those receiving treatment as well as comprehensive views to healthcare professionals.
The integration process allows communication and information sharing directly within the software support framework, which optimizes resolution processes while providing pertinent info needed in regards to medical history/past complaints promptly when necessary for effective patient attention.
Risk Management Integration
By integrating risk management systems with complaint handling, healthcare organizations can benefit from improved patient safety and higher quality care. Complaints are identified and captured for assessment of their associated risks.
This data is used to create priority lists, carry out investigations & analyses before implementing mitigating strategies. Having access to such information enables doctors to take preventive measures in order to reduce the risk factors.
Because these procedures employ data driven decisions, they help facilities become compliant with regulatory standards as well as optimize operations across multiple departments within an organization.
Policy Management Integration
The integration of policy management with complaint handling in healthcare brings several benefits, such as improved quality of care, heightened patient satisfaction and risk reduction. Integrating organizational policies and procedures to this process ensures conformity with regulations and standards during dispute resolution.
Linkage between software platforms for complaints management & policy governance allows users to access related protocols throughout the case settlement procedure conveniently. It results in uniformity regarding how grievances are managed, which leads to successful resolutions and processes that abide by organizational directives. The combination also heightens compliance while ensuring progress and outcomes from lodged issues or disputes about services received.
Real-life Examples of Successful Patient Complaint Management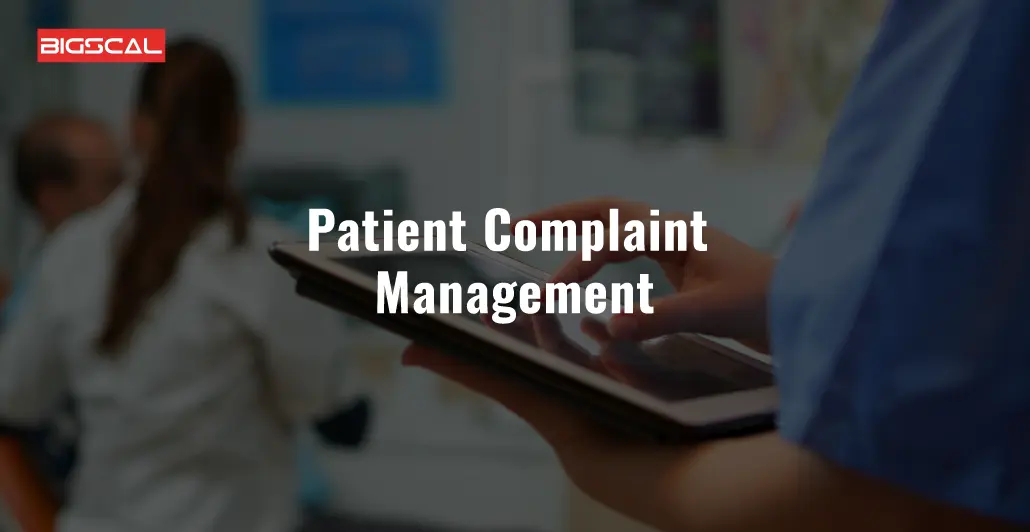 Organizations in the healthcare sector have utilized complaint management processes to increase patient safety, service quality, and regulatory compliance. For example, a large hospital set up an accessible online portal to submit complaints and feedback, which led to more issues being reported.
Trend data analysis explicitly identified patterns in wait times and communication difficulties. It allows the necessary changes, such as immediate action and training staff members. It improves specific procedures, resulting in greater customer satisfaction and enhanced patient safety.
Another instance could be found when a primary care clinic collected their patients' issue reports and then tied these into their EHR & policy system. It means that they had access to how people felt and to why decisions were based on negative feedback on staffing levels regarding appointments, etc.
This results in client satisfaction plus decreased waiting periods due simply to better management of complaints internally via highly effective systems – all working towards enhancing both performance standards & compliance regulations at once.
3 Ways To Evaluate and Choose the Right Patient Complaint Management Software
Choosing the best complaint management software for your healthcare organization requires a thorough review and analysis of both its features, pricing and support options. Taking all these factors into account is essential to make sure that you pick one which adequately meets not only your needs but also fits within budget while providing ample tools necessary for successful complaint handling.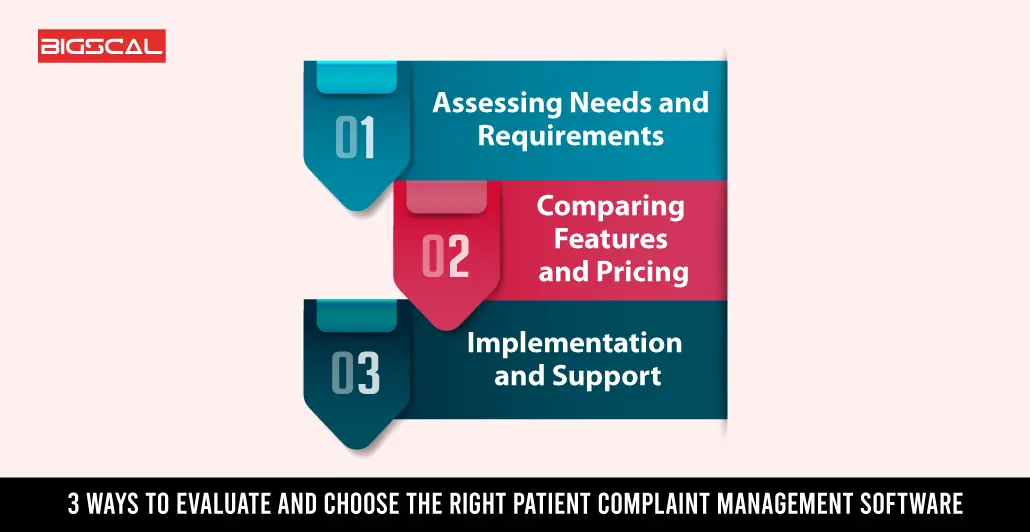 Assessing Needs and Requirements
When selecting a patient complaint management software for your healthcare organization, it is vital to assess the needs and requirements beforehand. Recognizing the precise features and capabilities required in your system will help you make an informed decision. Considerations while determining these necessities should include comprehensive functionality, compatibility with present systems, bespoke customization based on context-specific issues.
Organizing complaints data per regulations set out by governing bodies, user interface design that offers the convenience of usage. It also allows reporting, analytical abilities, and suitable resources/support.
All this ensures proper alignment between the chosen solution's goals and objectives within your company. It also offers effective support agent solutions covering both support agent complaint handling and document control management while using such serviceable software applications implemented therein.
Comparing Features and Pricing
You need to compare features when assessing the most suitable complaint management software to meet your organization's needs and budget. This involves reviewing document management, filing for patient complaints, and resolving customer issues. It also includes reporting on data collected from all complaints made via a ticket system or self-service portal. It must interconnect with other healthcare systems, plus customizable report generation and automated handling processes. Consider costs, which can range depending upon what type of package you need – running up to $50K+ per year!
Implementation and Support
When choosing patient complaint management software, it is essential to consider implementation and support options—ensuring the selected program can be integrated easily with existing systems and processes. It must provide ongoing assistance for optimal performance. These are essential elements of successful customer complaint management and handling.
It's sensible when examining a vendor's helpdesk service to take account of certain aspects. These can include accessibility and speediness from their customer care professionals. Skill set & experience level among the backing team members. Instructional manuals/resources available. Training opportunities & initiation plans on offer; Service Level Agreements (SLAs) promised in contracts made with them; general reputation based on customer user ratings over time – coupled with related expenses they'll carry for upkeep.
How Bigscal Technologies Can Help In Development Of Patient Complaint Management software?
If you are unable to find the best suitable software as per your needs then you should rather develop it. And on this point you do not need to worry as we are all here for you. We can help you develop Patient Complaint Management software by leveraging their expertise in software development. Additionally, we can design a user-friendly interface that allows patients to submit their complaints and concerns quickly.
We also implement a robust database system to store and manage these complaints efficiently. Furthermore, our team of expert developers integrate features like real-time notifications for healthcare providers, ensuring prompt responses to patient concerns. Our team can develop advanced analytics tools to help healthcare facilities identify recurring issues, enabling you to improve your services.
Conclusion
To sum up, complaint management software is essential in healthcare, substantially affecting patient safety, quality, and consistency. By using an effective patient complaint handling document management system, organizations can improve their procedure and gain insight into consumer information through analyses involving complaints data. This implementation will also safeguard individual's sensitive details against unauthorized use/access while meeting regulatory compliance requirements too.
When choosing suitable systems for managing customer feedback, complaints, and grievances efficiently, one must consider all aspects carefully. These aspects include their needs, evaluating features and respective prices, comparing support options, etc. Making any choices leads to satisfactory business results. These results place importance on patient feedback, thus enhancing the care delivery process effectively overall.
FAQ
What is complaint management software?
Complaint management solution is an application which records and organizes complaints coming from customers as well as employees. It could be bought separately, or part of a suite, module or combination thereof. This type of technology aids in managing and responding to grievances related to quality issues by allowing for a faster response.
How do I keep track of complaints?
In order to efficiently track and manage customer feedback and complaints, it is essential for businesses to find the right system which caters to customers, their needs and objectives. Options such as CRM systems, helpdesk software, online forms and surveys or emails could be considered. Sound complaint follow-up practices should also be implemented in conjunction with a culture where customers' feedback are responded quickly. All these measures will allow companies to maintain open minds when considering client remarks.
What is the primary purpose of patient complaint management in healthcare?
Complaint management in healthcare is a critical process for preserving patient safety, upholding service excellence and fulfilling compliance requirements. Effective complaint handling not only prevents complaints. Risks to the patients but also helps maintain top-notch quality of care.
What are some key features of effective patient complaint management software?
Complaint management software should provide automated workflows. It should provide customized reporting as per user's needs. And it should have a Storage and use of data safely plus integration with other health care systems for effective complaint handling.
How can healthcare organizations integrate patient complaint management with other systems, such as EHRs and risk management systems?
Healthcare organizations can ensure secure communication and data sharing between their complaint management system and other systems. These systems include EHRs, risk management platforms, or policy frameworks. This single platform and approach allows for a single platform and seamless integration of the complaint-handling program with all these existing structures.
https://www.bigscal.com/wp-content/uploads/2023/11/How-To-Find-the-Best-Patient-Complaint-Management-Software.png
532
1200
Tosif Saiyad
https://bigscal.com/wp-content/uploads/2018/03/bigscal-logo1.png
Tosif Saiyad
2023-11-09 09:30:52
2023-11-17 09:47:19
How To Find the Best Patient Complaint Management Software for 2024