How to Leverage Technology for Oil and Gas Software Development?
Even in America, the oil and gas industry comprises great and well-off companies and business heads. It has faced some sort of recession due to the pandemic. But it still has the most abundant cash in the economy. Digitalization is taking over the oil and gas industry, but it's slower than all other industries.This industry has seen a drop in demand due to certain problems. By now, the prices are touching low bars. This sector has already undergone two shocks and has returned with great stability. Hence this industry must leverage technology for sustainability. This industry needs to ensure they save efficiently without cutting necessary costs.
As COVID suddenly hit the world, it forced the oil and gas industry to leverage the benefits of technology. According to a recent report, digitalization in the oil and gas sector can raise about $2.5 trillion for consumers and the industry. Adapting to new technologies, such as oil and gas software development services, could have positive impacts. Want to know how the oil and gas industry can leverage technology for betterment? Keep reading.
About Oil and Gas Industry
One of the major industries that is leading the market is oil & gas. Its potential is worthy enough to contribute to the Global economy. It is the prime source of fuel across the globe. The processes that take place in the production and transportation of oil and gas are tough to understand and need lots of investment. Also, these processes require the aid of the latest technology. Historically, experts have linked natural gas to oil as its production process generates it. As per this industry, natural gas is considered useless, and large quantities are still wasted. But now, natural gas is at the forefront as it cuts down on carbon dioxide production.
The oil & gas sector is valued in the billions. Hence it is one of the biggest sectors globally. It is a hub that empowers innumerable workers and generates revenue of hundreds of billion annually. The regions where NOCs are prominent, this sector contributes a good amount to the National GDP.
The oil and gas industry quickly accepts changes to stay at the frontline. This industry uses real-time information regarding tools and equipment. For the exploration and production department, they employ remote monitoring and imaging.
Using technologies in this sector provides advantages like safety, connectivity, and reliability. The oil and gas sector is bound to regulations and requires many investments. Also, it is one of the most ambitious sectors. Hence this might create problems such as managing assets, operations, and supply chain management.
What Is Oil And Gas Software Development?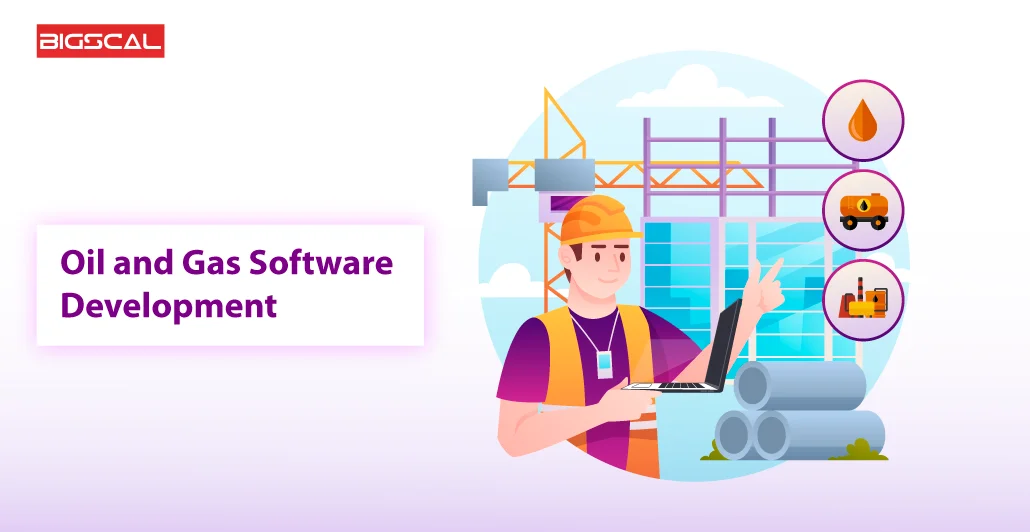 Technology is one of the important factors bringing change in every sector. It is modernizing companies not only through automation but also by improving processes and eliminating extra costs. The majority of companies around the globe want to replace all manual processes with software. It is to increase the productivity of the existing systems.
Even though there is any sector where the core is not technology, software development plays a crucial role. It holds true for the oil and gas industry. Oil and gas software development has a crucial role in business operations.
In the oil & gas industry, there are a large number of disciplines that are side by side. Hence, it's essential to have software to join their forces for a single goal. Different domains in these industries might include both upstream and downstream ones.
An oil and gas company might look for software development forms for many reasons. The use of this software might highly depend on different cases. But you can expect uses of oil and gas software such as help in exploration, extraction, production, and more. This software can also help with maintenance and other activities.
There is software that can be used by different teams in the oil and gas industry, teams as producers, field ops, pipelines, and much more. Also, it can support management teams, scientists, and engineers in their tasks.
Usage Of Software In The Field Of Oil And Gas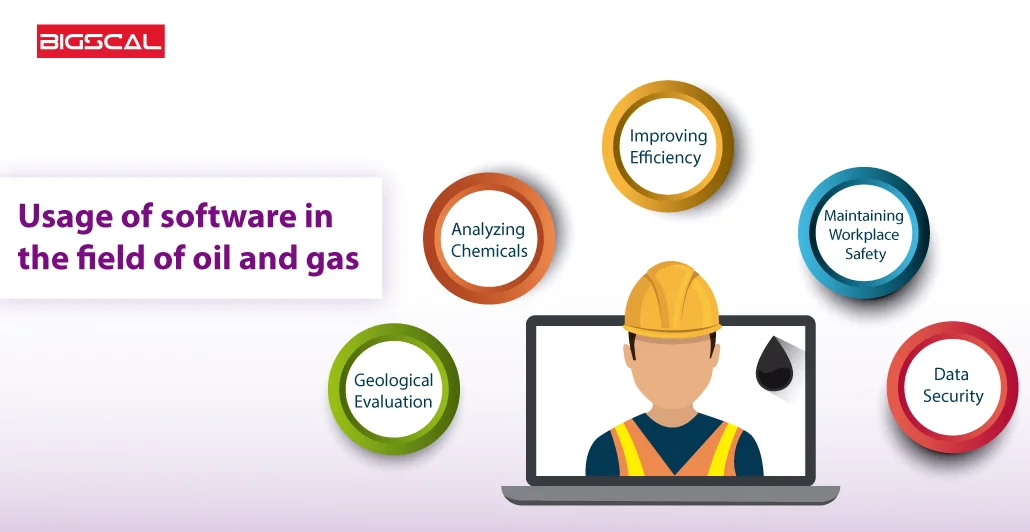 1. Geological Evaluation
Before starting any project, it is necessary to analyze the stability of the land. It will ensure safety and quality. Hence, exploration software uses artificial intelligence and sensors to conduct surveys. It will analyze drilling sites and provide rock properties maps. This map will support the geophysical data.
The primary reason to avail of this software is to identify where the minerals and resources are deposited. It can also give an idea about their size and accessibility. The team can further decide if it's valuable to start extraction or if it might not be safe.
This software also works with simulation and modeling to simplify the extraction process. A software called geoSCOUT was made to analyze and visualize sources of energy.
2. Analyzing Chemicals
After extracting oil and gasoline from the earth, they must be processed before usage. Hence experts will need software that will analyze different components of resources and then separate them. One such software is CHEMCAD. This software enhances productivity and safety while using chemicals. It can provide simulation for the production of different chemical components.
It is software that can also be used outside of this industry. One can use it in engineering companies and industries. This oil and gas software finds a wide range of applications.
3. Improving Efficiency
All the businesses keep working hard for better practices, and the oil and gas industry is no exception. It is an industry with great profit but also needs lots of investment in money and time. You will need a high amount of resources for success. Hence they must hire a software engineer to make operations better than before.
One software that oil and gas companies use to enhance workflow is AVEVA. It provides empowerment to different teams, irrespective of their specialties. No matter where the company's experts are working, this kind of software will support better collaboration among the team.
4. Maintaining Workplace Safety
It is quite a dangerous task to work in the oil and gas industry. Hence to ensure that the employees are safe, it's essential to meet rules and regulations. These companies have to meet workplace safety standards and need training software.
Training software is specialized software that can help instruct employees in the oil and gas industry. It can help educate them in practicing necessary safety procedures. This software can inform employees about which area is unsafe, carry out risk assessments, and report accidents.
Training Software will also help in the best usage of resources and equipment. It is because using equipment safely can enhance production speed, reduce chances of disruption and promote safety.
One such example of safety training software is Sospes EHS. It has features like mobile audits and safety incident reporting. It will help better investigation support and witness reporting.
5. Data Security
The profit factor of this industry is higher. Hence, this might appeal to people to act maliciously and get their hands on crucial data. Therefore, data security is a crucial factor in using oil and gas software development.
Oil and gas companies generally seek help from software development firms or engineers to keep their data safe. Some hackers keep trying to exploit data. Therefore hiring an oil and gas software development company is important. They will seal any loophole that can exploit data.
No software is specific for data security and encryption in oil companies. But this industry could utilize some other software that can conduct audits. This software is a tracking tool that provides access to different events.
Why Is Oil And Gas Business Software Development So Important In 2023?
Software development services are necessary to use in the oil and gas industry. The advancements ensure that these companies stand out from the entire competition. One primary reason to have oil and gas software development is to advance the manufacturing process and monitor it constantly technologically. Also, the software can help with safety during the manufacturing process. Different investors in this industry are looking forward to investing in oil and software development consulting services. It will help them resolve issues with technology in their company.
Developing specific software for these companies can help them respond promptly during emergencies. A developer from an oil and gas software development company can help them identify issues and overcome them quickly. It can help them avoid huge losses if issues are not fixed timely.
Know that this sector is under constant changes. Hence with each day, new technology might enter. You must keep up with new trends and contact software development companies. The time ahead of this industry will rely on how experts react to different problems.

List Of Features That An Oil And Gas Software Must Have
1. Mobile Application Accessibility
As the modern age is expanding, people prefer everything to be on a remote basis. Therefore developing an application that works on mobile phones could be best. It can help you eliminate unnecessary usage of time and effort. People in the field will get information easily to complete work on time.
Also, they will not have to wait longer for feedback from the back office. The person sitting in the back office can instantly view progress in real-time. It will eliminate time taken in approval, assignments, and signature.
2. Ease Of Scheduling And Dispatching
Having software for field services management can help your company a lot. It could be beneficial in scheduling events that you didn't plan. Also, you can use it to dispatch members to job sites when needed. This software helps develop a work environment where time is saved and resources are not overused. In all, you can save resources in the oil and gas industry with the help of field management software.
3. Resource And Asset Management
An oil and gas software development company must develop field service management software to manage inventory. It should be able to manage resources, technician status, and assets and know the responsibilities of all employees. Ensuring an eye on all the assets in the field and keeping a log of them is crucial. It can assure the best performance of equipment necessary in the field.
4. Base and Field Tools Management
Having an idea about the status of the equipment is necessary. The status here means maintenance data. As an expert, you should have data on the equipment and when they were replaced or repaired. Also, have an idea about rental equipment or leasing contracts. This data is entered by the technician that is in the field. They update it into the field, which will be archived and used as per needs. It might be a tiring process that can be done through mobile in real-time. Hence using a mobile application where the data can be available easily for the back office for future reference is crucial.
5. IoT Monitoring
IoT is one of the best things the Internet has provided to all industries. The Internet of Things is a network that any device connected to the world wide web can access flexibly. It is one of the best ways to monitor the equipment status and know any preventive or predictive maintenance needed. As a safety expert in the industry, you can take action before any hazard occurs. Hence it will save companies from any major losses that might offer. Ask your oil and gas consulting firm to develop field management software to run IoT. It could be an unstoppable combination to provide ease.
6. Inspection and Task Checklists
The operators in the oilfield need to have certain criteria and checklists to avoid overlooking any checks while equipment maintenance. Introducing this function into a field service management application will bring consistency and standards to the world done by technicians. It will further ensure that the work meets the operator's expectations. There are processes in the industry where inspection checklists must be on point. A great inspection checklist will help you maintain high standards without much effort.
7. Contracts And Paperwork Reduction
Getting signatures and keeping a record of everything on paper could be a tough task. Hence, cutting down on this time-consuming process will affect the production part heavily. Paper contracts are now an old thing. The field record software developed by your developer should be able to take paperless records and have the facility of digital signature. It will help keep records and file agreements better and more accurately.
8. Invoicing and Billing
While working in the oilfield, there are different orders from different fields. Hence the invoice and billing should be done as per it. Developing a system that can track all product costs and generate invoices. Later it could be sent to the payments team for approval. These invoices will require a signature to complete the process without a problem. An apt field service management software will help automate this process and perform easy tracking.
9. Reports and Analytics
Software that develops a project and provides a report through analysis will help you save time spent after reporting. This type of field management software will also help you save on the money you spend on reporting. It will further promote making decisions easier based on the available results.
10. Workflow Management
Field management software will ensure you have a better workflow, automatic task assignments, and updates. Each oil and gas company has a unique way of operating that must be customized in the application. In this sector flow of fluids is a crucial factor that can be set as per the standards of operators. Therefore possessing the capability to customize workflow helps maintain optimal pace.
How Can Bigscal Help With Oil And Gas Software Development Services?
If you want to develop oil and gas software for your company, Bigscal can be your companion. We are a best-in-class oil and gas software development company that can provide quality results within a given time frame.
Our wide range of solutions in the oil and gas software development niche lets companies stand in the competitive world.
Bigscal services help develop oil and gas websites on point with the latest technologies. Our specialists will contribute to digital transformation by developing extremely interactive applications. We can help you develop oil and gas software that provides the following:
Better results.
Operation efficiency at each stage.
Monitoring the entire production stage.
Conclusion
Oil and gas companies are trying to adapt to new technologies to get an edge over the competition. Trends like IoT, artificial intelligence, and productivity tools can help make operations easier and more effective. These technologies in the oil and gas sector could enhance communication and collaboration to boost productivity.
If your oil and gas company wants to make the most out of technology, taking advantage of software development is great. From safeguarding intellectual property to avoiding unnecessary access to sensitive data, software development can be helpful. Oil and gas software development services can help sustain in the competitive world.

FAQ
How is using technology beneficial in oil and gas software?
Using reality-based technology solutions will help enhance efficiency along with cutting down on any errors. It can do so by providing real-time information regarding different tools and parts.
What do you mean by automation in oil and gas?
Automation in oil and gas uses sensors that work on the Internet of technology, predictive analysis, and other systems. Hence this will contribute to enhancing productivity. The usage of technology will help overcome the shortage of labor.
How is IoT technology contributing to the oil and gas industry?
The application of the Internet of Things in the oil and gas industry helps gather, transfer, and track raw data. It will help get a clear idea of operation, facility, energy consumption, and profits.
What role does software development play in the oil and gas industry?
Business usage of software will depend heavily on the output that you expect from oil and gas companies. An ideal oil and gas software will contribute to the investigation, production, and asset management. It can also help with maintenance and running operations in a better way.
Why is software architecture crucial for oil and gas companies?
Leveraging the benefits of AI and sensors can help make better designs and execute drilling processes efficiently. Also, collecting data through experiments will help with measurements, fasten drilling processes and make an ideal choice.
https://www.bigscal.com/wp-content/uploads/2023/05/How-to-Leverage-Technology-for-Oil-and-Gas-Software-Development.png1_.png
532
1200
Pankaj Vaghela
https://bigscal.com/wp-content/uploads/2018/03/bigscal-logo1.png
Pankaj Vaghela
2023-05-30 10:00:56
2023-05-30 08:17:17
How to Leverage Technology for Oil and Gas Software Development?