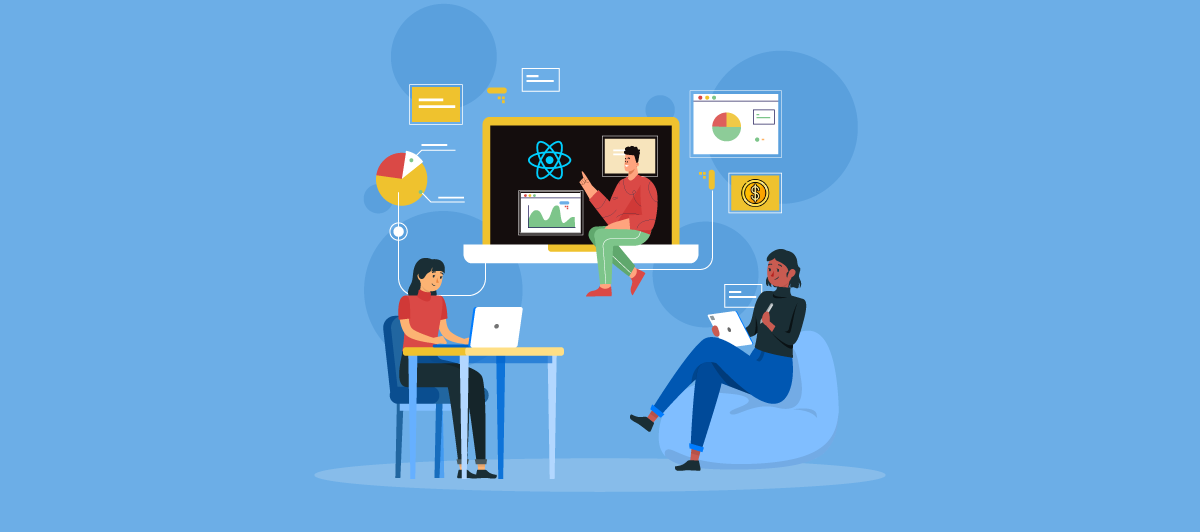 How Much Does It Cost to Hire Remote React Developers 2023
In this blog, we have discussed several elements of hiring remote-react developers, such as pricing, business needs, project size, feature complexity, developer experience level, and many more.
Several worldwide tycoons, like Google, Netflix, and Airbnb, use it as a JavaScript-based platform for designing dynamic User Interfaces. React is one of the most well-known front-end web development frameworks. As per research React downloads have crossed 58.99 million downloads per month in June 2022.
There are many reasons for increasing React's popularity and why companies and developers across the globe are adopting this framework that is at its peak. Yet, hiring a React developer is a difficult procedure; consequently, it is critical to choose a React developer who is cost-effective. Hiring React developers varies across different nations and depends on various factors.
Hiring qualified developers for your React for web app development is the first step toward a successful project. Another stage is to identify skilled React developers that understand your business and can convert your project into a reality.
This is a comprehensive guide that will help you understand the aspects that influence the cost of hiring React developers, as well as further information about the pricing process.
Factors affecting the cost of hiring React developers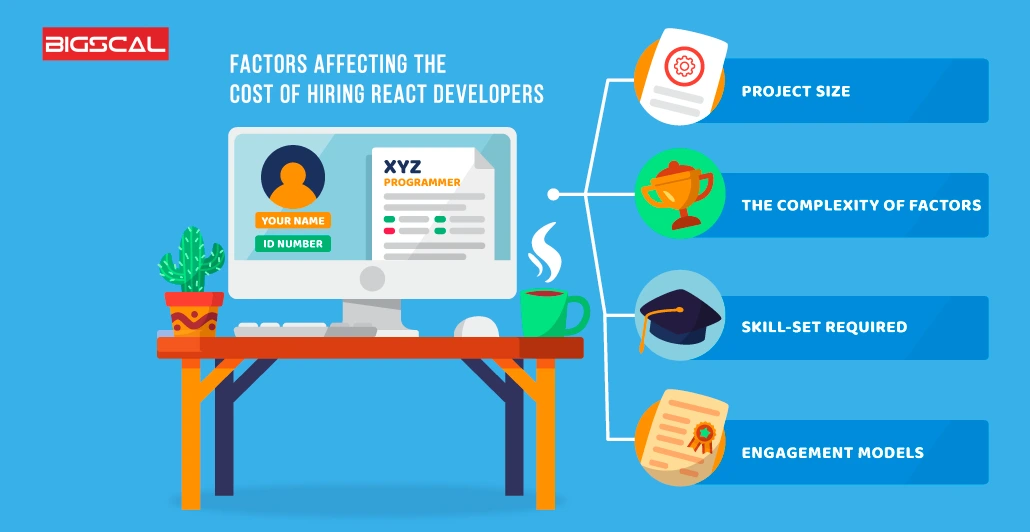 There are several elements that influence the cost of hiring a React developer, as well as the production budget for which you are looking for developers. There are many reasons such as project size, experience, location-based cost, and engagement model.
Let's have a detailed view of all these reasons and how they change the total project cost.
1. Projects Size
The cost to hire a React developer depends upon the project size. Therefore, every project will consist of various requirements in accordance with size. It also indicates the time taken to hire a React developer, the experience and expertise level, and the number of processes that rely on the project.
Small-sized project
If you are having a small-scale project, you would not require bundles of developers. Also, the time required for a small-scale project will be significantly shorter. This kind of project has fewer or basic features with minimum integration that results in less development time and React developer engagement.
Medium-sized projects
They need a greater number of developers than small-scale projects. These projects already have an app but need extra integration functions such as chat features. Suppose, a beauty products online store wants to offer checkout options to their clients, in this case; it would require more than one developer. Hence, the cost to hire a React developer may increase in comparison to small-scale projects.
Enterprise-level project
Because an enterprise-level project involves more features, integration, and security, it requires more development time. Therefore, these kinds of projects need an expert team of project managers, professionals, QAs, developers, and more.
Furthermore, they have complicated apps with various services that are provided to provide high-end features. Yet, hiring an experienced React developer depends on specific business requirements, the complexity of features, and third-party integrations.
2. The complexity of factors
The complex features in your React application such as Push alerts, wish lists, in-app purchases, and more have to be considered amongst the various factors of your applications. Different kinds of popular social media platforms such as Instagram, Facebook, and Snapchat have different features that make them stand out from the competition and are different from the others.
Additionally, features like payment gateway like video streaming, map integration, etc should be added. If you want such features then hiring a React programmer should be the best option. The package of hiring an experienced Reactjs developer depends upon their level of expertise; hence, it is essential to keep this in mind while hiring them.
3. Skill-set required
When it comes to developers' skills, every project has different skills that are required. Simultaneously, there are particular needs you should bear in mind while choosing a qualified developer.
Basic-level skills
Primary skills in open-source libraries such as HTML.js, RequireJS, and JQuery are essential while looking to hire a remote React developer. Experience with React technologies such as Webpack, Redux, and Flux is also advantageous.
Advanced-level skills
They should have knowledge of full-stack development and hands-on expertise with cloud-based solutions. Working with cloud technologies such as Amazon, AWS, Microsoft Azure, OpenStack Apache, and Google Cloud Platform is another advantage.
Experience with different databases such as MySQL, and NoSQL i.e. MongoDB, PostgreSQL, and Redis. However, when you hire a React developer they should have knowledge of JavaScript frameworks such as Angular, Node.js, and many others.
4. Engagement models
While you are opting for React development services, the company's engagement model should be preferred. Time-based engagement models set pricing models, and specialized models are all being studied.
Fixed-price model
This model incorporates the scope for hiring a React developer, as well as time constraints and a budget. A flawless work scope should be created, and no alterations should be made throughout development. Moreover, this model goes well with businesses that don't require to handle variable costs. It's mostly suitable for a small-term project that doesn't require many changes and works best for years.
The fixed pricing engagement model is not intended for businesses who want to launch their applications or software, but rather for careful preparation of all the parts that are required for the development phase to begin.
When the contract is made, it is fixed; as the fixed model follows a rigorous approach, no flexibility is allowed in any further adjustments. Therefore, you can add new features after the contract is generated to expand the company's model.
Dedicated model
A dedicated remote react developer might be engaged by a seasoned offshore development firm with top IT employees to provide augmentation services. You can make all the inquiries such as the dedicated react developers team size that can be executed by an offshore vendor.
To create and integrate custom application features, the dedicated model suits best for business start-up or enterprise owner that requires an extended developer team. Therefore, you need not take stress about recruiting skilled React developers every time you need to add new features to your app.
The devoted team that works effectively on your project's dedicated engagement model hires the right people. In exchange, you must pay the developer's hourly rate. Moreover, outsourcing companies that offer dedicated remote developers can do onboarding recruitment on your behalf. In this model, you can also shortlist resources as per your requirements.

Model as per UI/UX design
Your project's design determines the cost of employing React software engineers. Simple designs, on the other hand, demand less development expense. While the level-high UI app designs require more features that cost more. Yet, it is important to maintain a considerate budget that drives users' attention and generates revenue.
Model as per 3rd Party Integration
In app development, the addition of 3rd party integration affects the cost of hiring a React developer. External libraries, which play an important role in 3rd party integration, are solely used to create attractive and interactive programs.
Nevertheless, such integration reduces the performance of the program. Therefore, hiring an experienced React developer that optimizes the app affects the development cost.
Cost of hiring remote React Developers
We'll now look at the cost of hiring a React developer, which is determined by experience and location.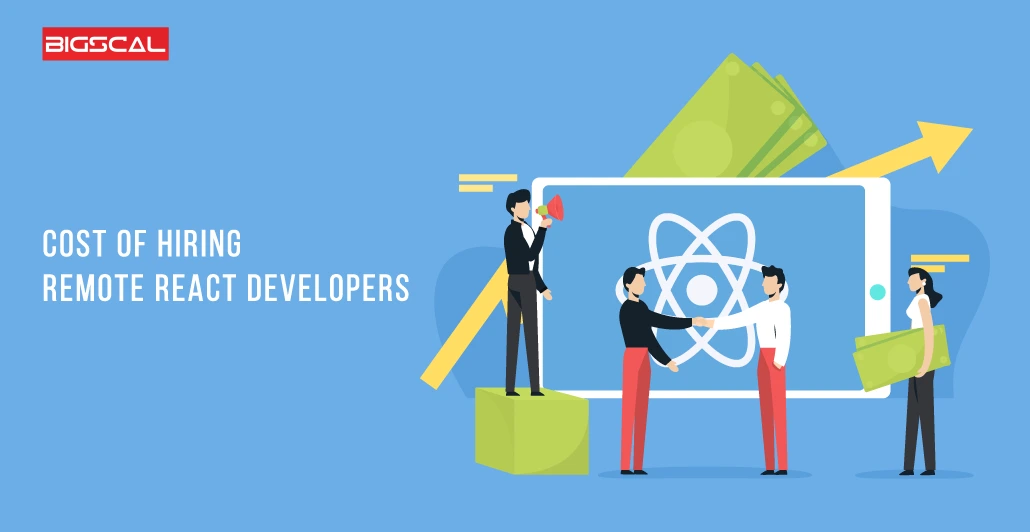 Cost based on the Experience of React Developers
When employing a React developer, the business needs should be thoroughly understood. Yet, depending on the intricacy of your program, professional remote developers are necessary. Hence, the cost differentiates from one app to another.
Junior React developers
They are interns or fresh developers who have just started developing apps with their learned code. They often have one to three years of experience. Moreover, they have basic React knowledge and can-do the initial stage of development. Also, they should know about CSS, HTML, and JavaScript.
Young React developers can handle debugging effectively, and they can assist or work under seasoned React developers. Additionally, it is important to collaborate with engineers and designers for creating good UX. They can also help in giving design ideas, and technical reviews, and offer feedback on several aspects.
The most important factor to hire a Junior React programmer is the curiosity to learn more about React framework and advanced coding techniques. Their interest is new every day and seems to be advantageous for businesses like yours. As they already know the language and coding, they can learn modern frameworks easily which lowers the cost of recruiting new developers instead.
Mid-level React developers
Mid-level developers have three to five years of experience. The test-driven development skills that a mid-level developer possesses might be beneficial to your firm. Mid-level developers' test-driven development skills might be beneficial to your firm. The components can also be tested by them using React library and looking for any data for API asynchronously.
This developer has DevOps experience and can help with the continuous deployment of apps. Moreover, they can easily understand wireframe designs and have the knowledge to turn them into an exemplary UI. Another advantage is knowledge of automated deployments and infrastructure as code.
Senior-level React developers
Senior-level React dev4lopers have five-to-seven years of experience. They construct a comprehensive app with third-party integration and debugging operations. They use the in-built React tools that are available in the framework or leverage React libraries. The main benefit of hiring an in-house remote team that includes Senior React developers is that they know how to train and mentor junior React developers during the entire development.
They have a h3 understanding of modern technologies such as Power BI and Machine Learning and have substantial familiarity with cloud platforms like as Azure and Amazon. Hence, if you spend more on hiring Senior React developers they would make more into your business as they are having experience and expertise and they provide mentoring with practical knowledge.

Cost Based on Location of Developers
When it comes to recruiting React software developers, location-based pricing is the most crucial factor to consider because it indicates the difference in average cost internationally. Moreover, the experience and knowledge also change as per the region, in which you can onboard a dedicated remote developer.
North America
North America has the best markets for hiring a freelance remote developer. React developers earn around $90,000 per year according to Glassdoor. Another region next to it, in which you can hire a dedicated React developer is Canada in which the cost is higher than any other region globally.
This is because the US has giant tech companies and the developers in the US have ample employment opportunities. Hence, the talent acquisition team works hard to hire skilled developers that ask for higher salaries.
Compared to any other nation across the globe, gets benefits from a high minimum wage rate and gets many employment offers, as there are more than 5,00,000 software companies in the US.
South America
The cost to hire a remote react developer in South America is different with an hourly rate of $35 to $100 per hour. Several US countries such as Colombia, Argentina, and Brazil have many Experienced React developers.
Africa
If you want to hire a react hooks developer in Africa the hourly cost ranges from $41 to $100. Many African countries like Uganda, Nigeria, and Kenya have talented React developers. Nonetheless, Africa is still a developing continent in the IT sector, thus a strong foothold must be developed in comparison to other areas.
Australia
The Australian economy is currently blooming by the tech industry. Several of Australia's top firms, like Woolworths and Telstra, have their headquarters in Sydney, the country's financial center. It has been determined that it is the most costly city in Australia for employing specialist Reactjs software engineers.
Asia
The center of Asia to hire React software programmers in India. Because India offers a high level of skilled React developers who are proficient in current techniques like Machine Learning, Artificial Intelligence, and so forth.
Another main reason, that makes India a favorable destination for hiring an offshore software partner is its practical approach to solving problems. As a result, many tech giants popular across the globe such as Amazon, Microsoft, and Google have set up their offices across India. It has many trusted offshore software development companies that provide in-house remote teams according to your requirements.
Other than that, Southeastern countries such as the Philippines, Malaysia, and Singapore have professional react developers as per your needs.
Europe
If you want to hire React hooks developers from European nations that have a varied range of expertise and experience, you can hire from countries like Spain, France, Germany, and the UK. However, European countries have become popular due to their go-to location for many organizations that are familiar with European data rules.
Price Difference: Freelancers Vs Dedicated remote developers
There are many reasons why a dedicated remote developers' team and a freelance react developer differ. A freelance React developer is cheaper in hiring compared to an in-house developer team. Although, there are many limitations that you may witness otherwise you have to hire an offshore react js development company.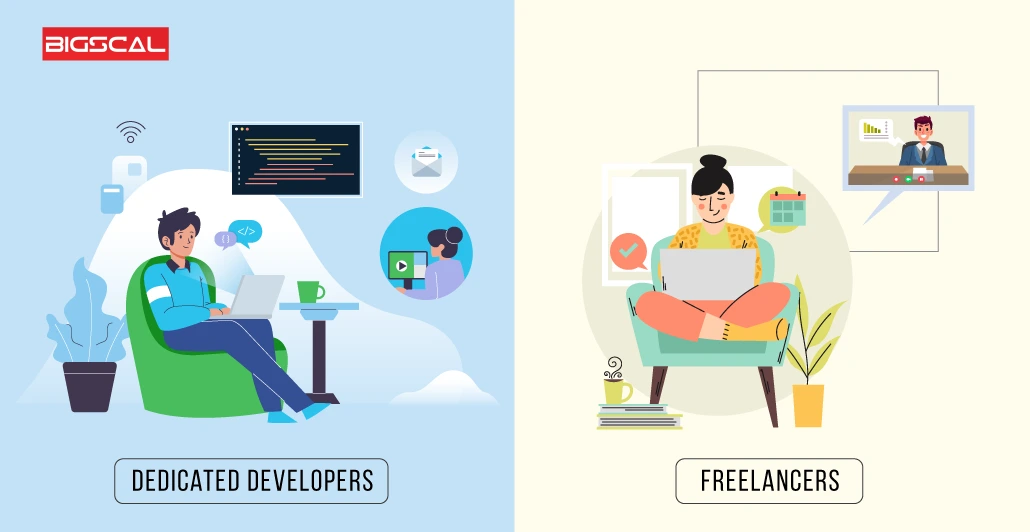 Freelance React developers are engaged based on contracts that vary the length and scale of the project. They work on many tasks at the same time, compromising quality. Although, freelance React developers are the best option if you have a small-scale project or short-time changes required in the project, therefore; you won't require a dedicated software development company.
If, on the other hand, you have a long-term work project, employing a specialized development team is an excellent solution. This is due to the existence of a software development business that oversees the entire development process. This company has an in-house management team along with developers. Therefore, hiring a dedicate react development company makes sense.
Additionally, a dedicated development team gives you a high expertise level as they have worked with many complex projects. A right Offshore software partner provides you with NDA- Non-disclosure of Agreement security that saves your business's core data and services. An offshore react js development company enhances your productivity and provides constant technical support.
Bigscal Is Your One-Stop Solution for Hiring Committed React Developers!
Can you envision saving money by hiring dedicated react remote engineers while maintaining focus on your essential business tasks? You've come to the correct location! Bigscal offers a large pool of professional react developers that are capable of ensuring the success of your project, whether it is short-term or long-term. Bigscal offers you a user-friendly, rich, secure, trusted, and leveled-up React for web-app development.
We have all kinds of React developers for your project. Bigscal is a trusted offshore react development company that provides react development services that are best-in-class and develops robust products. Our technical process gives a featured and functional web app development solution that matches your business idea and keeps you ahead of the competition. So why wait? Connect with us today to hire a dedicated in-house development team that is cost-effective and has experience at different levels.
Conclusion
Hiring every degree of dedicated React developer yields different effects. The important part is to decide the cost to hire an experienced react developer that understands the entire requirement of your business idea.
Business owners should examine the language, framework, and complexity of the project when selecting React development services. We hope that this post has helped you identify a reliable offshore React development firm and that your queries about how much it costs to hire a remote React developer have been answered.

FAQ
How much does it typically cost to employ a professional React developer?
Hiring a React developer costs around $20 on average. The prices to hire an experienced react developer can cost on per hourly basis.
Why do companies utilize React?
Many top companies like Airbnb, Pinterest, Walmart, etc use React for web app development. The main reason is that React is SEO-friendly, reliable, scalable, and offers fast development. The enhanced functionalities make the user interface of online items more appealing.
What boost's up the React app's performance?
Virtual DOM usage enhances the performance of React apps. The app performance is increased by preventing the UI from changing often in React applications.
How to hire a React developer?
Search for an offshore React development business, emphasize the project scope, and describe the project to React developers to employ React developers.
How to hire an experienced React developer for my project?
You may employ a React developer in a variety of methods. You can hire a freelance React developer or also can hire an in-house developer team or work with a trusted offshore React development company.
https://www.bigscal.com/wp-content/uploads/2023/05/How-Much-Does-It-Cost-to-Hire-Remote-React-Developers-2023.png
532
1200
Kiran Mistry
https://bigscal.com/wp-content/uploads/2018/03/bigscal-logo1.png
Kiran Mistry
2023-05-15 10:00:40
2023-05-15 09:13:07
How Much Does It Cost to Hire Remote React Developers 2023