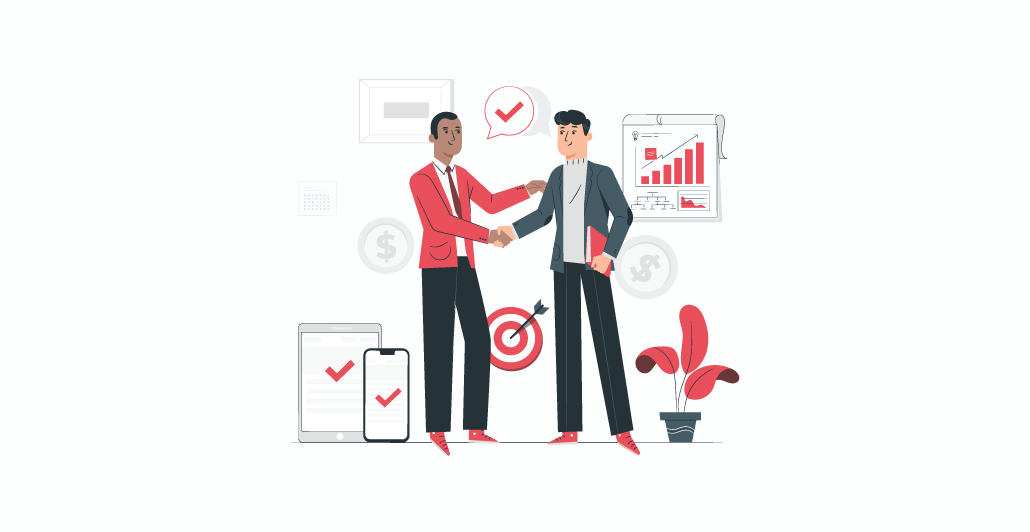 A Guide to Choosing a Software Development Partner in 2023
Choosing the right software development partner is like finding the right supplier to showcase your manufactured goods in the market. Although, it is tedious and tricky work to choose the best amongst the leading software outsourcing companies when done right; you can stand still in this competitive market.
In today's era, it is next to impossible to live without software. Having a top-rated software development partner is important for Gen-Z companies to thrive in competition. A knowledgeable technical expert by your side would help you keep everything running efficiently and smoothly.
In a traditional ecosystem, companies would own and control the product delivery. They have an in-house team, perform market research and build an MVP with the team or have a partner to take care of the extra workload on their shoulders. Businesses would take care of important things while partners simultaneously do less.
However, we have entered into the 4.0 generation, where the trusted software development partners' roles are reversed. Today, outsourced software development partners are just meant to lessen the load but help in expanding the offerings, increase innovations, deliver products on time, and meet the requirements needs for increasing the conversion by customer experience.
The top-rated companies such as Slack, Whatsapp, Skype, and Google have chosen to invest in the best enterprise software development firms to enhance their business in primary days. It takes a few months for you to take a firm decision after going through many steps to reach a top software development company whom you are willing to work with.
The basic reason for choosing the best software development partner is that everyone can't afford the resources that are required to build a software application. Usually, startups and SMEs have limited budgets in the end while large-scale enterprises want to focus on their daily business tasks and can't afford to break the products.
As reported by Statista, the global spending on outsourced software development partners will be $971.2 billion by 2023. The budget for managed services will cross 57% while there will be a 32% increase in traditional outsourcing. The given statistics give a clear idea for choosing a software development outsourcing company.
The need of hiring a software development team has become a necessity in today's era. However, hiring a dedicated software development team that suits your requirements is the biggest challenge.
In this ultimate guide to software development partners, we would explain the steps to choose a software development company and how you can focus on the importance and determination of its provider towards the fulfillment of your business's software needs.
A Short Brief: Software Development Partner
A software development partner is an expert in providing development services that are personalized to your needs. Software development outsourcing agencies are having technical expertise and potential. They have more than one certified developer to create software applications.
They assist in both the development of new software programs and the enhancement of their already existing functionality. They have years of experience in the industry that helps you to provide agile solutions with cost-efficiency.
Why Do Businesses Seek Software Development Partners?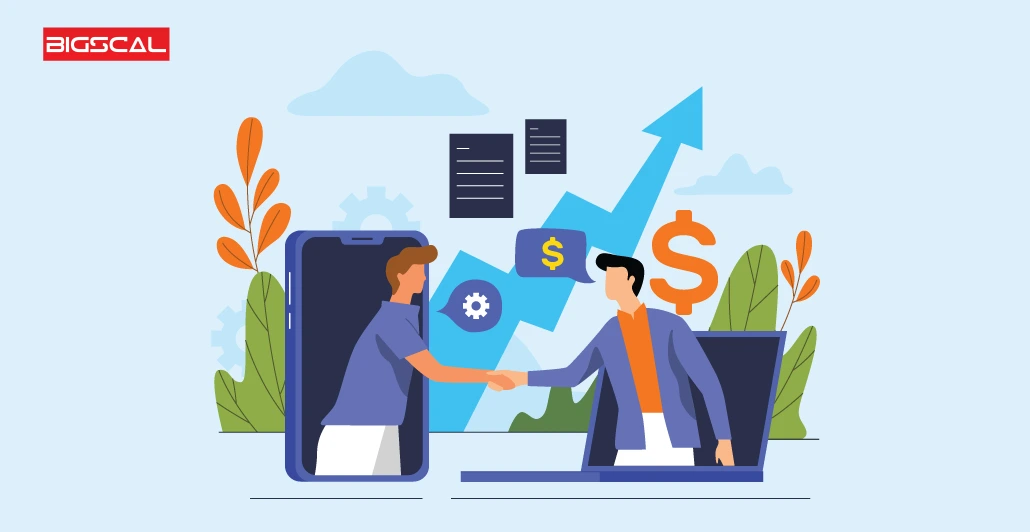 Companies seek outsourced software development services for a variety of reasons. Let's examine a few of them.
1. Assemble a skilled development team:
Developing software is essential for all tech companies, but not every company has a software development team. Therefore, they depend on software development services to gain better results.
If a company partners with a custom software development services provider, they get access to a dedicated development team that makes work simpler, easier, and more efficient.
2. Access to domain knowledge:
A software development team has domain knowledge and expertise that is a plus point for your business. They have a detailed understanding of agile software development methodologies that stand out-of-box. Hence, they provide you with high-quality software that fits your business needs.
Additionally, they know about agile development and software development life-cycle that is leveraged with the best top-class technologies to deliver top solutions. Therefore, it's easy for your businesses to stay ahead of industry competitors.
3. Cost saving:
If you try to do things by yourself, you will not fully b able to compare different spending that goes for the software development process. However, the right software development partner can help you to avoid mistakes and help you save software development costs. The software development costs are even less than the hourly rates.
You will no longer have to spend much on infrastructure, resources, and technologies that are essential to building new software applications. Hiring a dedicated software development team helps to lower operational costs and improves business productivity.
4. Flexible working team:
A software development partner prioritizing your time is always available as per your requirements. That implies that you might obtain a team by your business needs rather than having to hire one.
Hiring external developers helps you scale your business whenever you have a huge project on hand. But you can scale back the development crew if your project is tiny.
5. Customize and manage team:
You can choose what members and how much you require in your team. A software development partner has a dedicated project manager that handles all your responsibilities and requirements for external developers.
A project manager has all the technical capabilities that help to effectively manage a software development team. They forward your business requirements to essential developers, to make the project in a cycle. It makes you relieved and assures on-time delivery with no risk of micromanagement.
Step-by-Step Guide to Choosing the Right Software Development Partner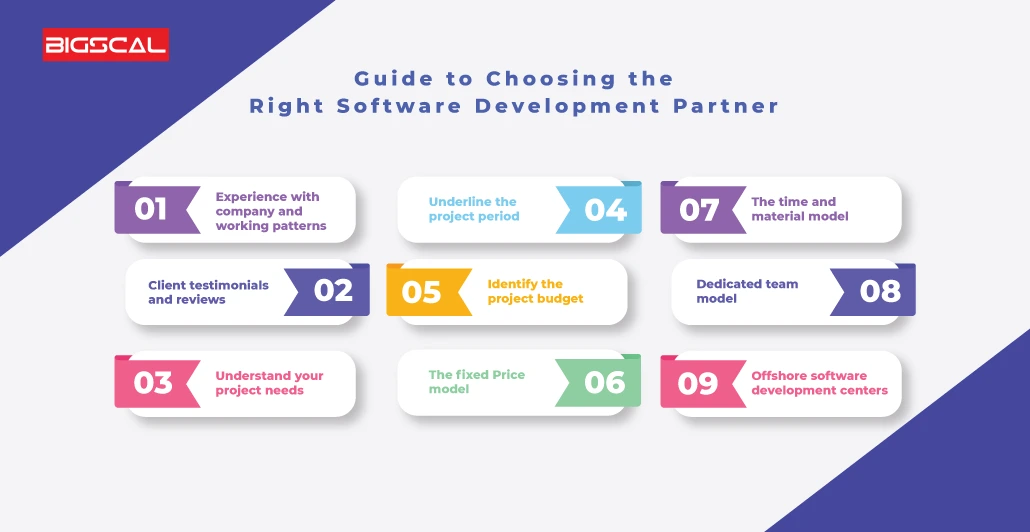 1. Experience with company and working patterns:
It is important to consider the size of the company while hiring a dedicated software development team. If you opt for a leading software outsourcing company that has multiple clients on hand although they have results and credentials you may not get the deserved time you wish for.
Instead, it's wise to choose a software development service provider with a team size and who has a business presence in comparison to yours. This has a better understanding and attends to all your queries promptly.
It's good to check a company's portfolio and previous work before getting in touch with them. Choose a company that follows all the software development processes like business analysts, UI/UX designers, database professionals, architects, QA experts, etc.
2. Client testimonials and reviews:
Once you get to know what the company is offering to you and what matches your needs, you can refer to the company's online reputation by checking reviews on Clutch, Dribble, G2, UpCity, etc, and learn about their ratings from clients. These sites provide past or present customer testimonials which show their strengths and working methods. Some of them show videos on their website, yet; they are not too reliable.
Connect to the company's author to learn more about the company and find amongst your network whether anyone has worked with prospective software development partners in the past to get real on-hand feedback. Use the reviews that are directly given by customers and are non-filtered to avoid any kind of issues in the future.
3. Understand your project needs:
Before heading to hunt for a software development partner, the first thing is to understand what your project requires. Your needs should be concise which makes it easy for the team to adapt and start working on it. Hence, it is better to specify the projects, goals, and future achievements for the same.
Attempt to list the project's immediate and long-term requirements. Frame your project's functional and non-functional requirements that give you a clear idea and status about your project. However, if you want to analyze your requirements, you can even get in touch with a business analyst who helps you to define your project scope.
4. Underline the project period:
If you underline the defined time you require for the project delivery, you can acquire the project scope. When the time frame is linked with the project several factors such as bugs, errors, maintenance or software upgrade, technical issues, and many other features that are needed will be aimed at.
We know that this time is quite stimulating, therefore; we advise you to take assistance from a software development partner that has worked on different projects and helps you decide the correct time frame. If you know what is the total time that is required for the completion of a project, try to break it into many parts. The software development process becomes smooth when the project is divided into parts.
5. Identify the project budget:
The most critical portion is to acknowledge the Software Requirement Specification. Whether the business is a start-up or a large-scale enterprise, the budget is defined already to complete the particular project. You should have the value of your product to reach to correct calculation.
While setting the budget, focus more on quality rather than quantity which enables you to develop high-tech software that pleases your users. However, if you find it difficult to define the specific budget, try to take help from your trusted software development partner. Moreover, a pricing model is investigated by the company, which is as follows:
It gives good outcomes on time and makes the least changes. This model is based on the decided price before the start of the project. If you need any more changes, the cost may vary.
The time and Material model
It includes costs or resources like the contractor's salary, materials, and average mandatory charges. Hence, the value and size of the project are estimated roughly, so the project is modified and paid for in accordance.
This model contains experts that are chosen to acquire company goals. This team works the same as your in-house staff and has specific roles and billing hours to work. They have hand-picked proficients that focus on a particular project plus administrative costs.
Offshore Software Development centers
They can be hired to operate your business from outside the country. Bigscal is a renowned ODC that is budget friendly and helps you to gain all the affordability factors. The project development cost varies on the working hours, pricing model, and modifications made.
Define your technology stack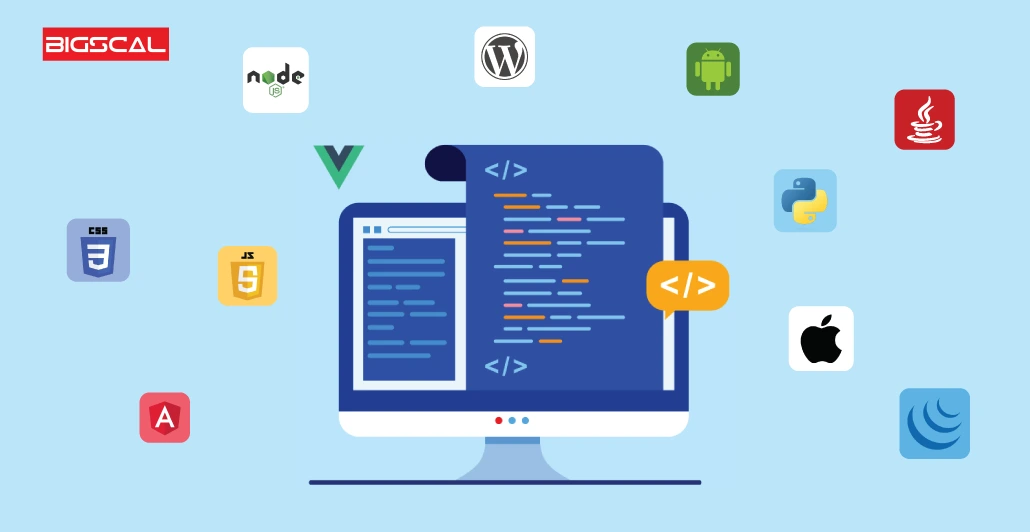 The changing technology landscape is willing to adopt newer technologies every day, to stay intact with the ongoing needs of clients. Businesses need to adapt to emerging technology if they want to stay on top of technological developments. It includes changes in coding languages, QA methods, updating tools, and modern software development frameworks.
Keep in note that which kinds of technologies are the perspectives of experts, which helps to eradicate any bottlenecks that arise during a lack of technology resources. The software development partner should have a testing and error schedule that makes you access the project before its scheduled launch. Moreover, they should also be able to develop many tech stacks and test them alternatively.
1. Types of outsourcing options
After knowing the project's scope, time, budget, and cost, the next thing is to focus on the outsourcing portions. There are many ways to outsource software development partners:
It involves hiring a dedicated software development team or deciding the time to expand your business's potential. The internal management looks at the hired staff that works with the development team. It has many benefits like project control, flexible deadlines, and integration with internal processes.
Although, you have to deal with its drawbacks such as high operational costs, significant training cost that gets familiar with internal processes, and difficulty in project scaling.
For companies that have tight deadlines and need to manage their daily business routines with IT solutions, for their project-based outsourcing is an effective option. However, it has many drawbacks such as less control over the project and difficulty in integrating with the internal system. Moreover, it is very budget-friendly for small projects.
If you think your business could benefit from project-based outsourcing, then a trustworthy partner for building new software applications is a must. Our software development life-cycle helps you create a product that matches your business's agile methodologies.
2. Consider different types of outsourcing
When you decide to hire a software development partner, you have to choose between these subcategories that may give you the clarification for hiring any one of them.
If the software development partner you choose is from the same country, you get to go with the onshoring model. You get the benefit to meet the firm anytime and address your concerns face-to-face, check on the quality assurance but it is required to visit the developers regularly to check on progress.
While outsourcing software development projects, you get attached to a company that is near your location or similar to your time zone. It helps the company to have better control and can manage the process efficiently. Nearshore outsourcing doesn't compromise on quality. It is highly beneficial for businesses looking to scale and compete with growing demands.
Offshoring also refers to providing external help. For much less money than working with onshore companies, you can also engage an offshore development team if you require a software development partner. The working patterns are on any hours of day or night due to differences in time.

It is an on-demand working model that is preferred by many firms these days. It contains a blend of offshore and onshore services that helps to save costs. In the hybrid model, the initial development team is abroad while the account manager is in the same team. Businesses should do a quick analysis while hunting for software development partners which provide hybrid models but guaranteed results.
3. Choose probable partners
Once you have chosen from the several outsourcing categories, you must find qualified partners. You might work with business software development companies or hire developers from freelance portals.
There is a long menu that comes on the table when seeking a freelance expert. All you have to do is consult with experts, go over fees, choose a deadline, and select the best candidate. However, it's much more time-consuming to decide on one. Some popular freelance platforms are; UpWork, Fiverr, and TopTal.
Software Development firms
Software Development outsourcing companies are the most reliable option to hand over your project. It allows you to gain more access to high-quality talent and flexibility. You can go through their reviews or website or visit the company in person if possible to have a quick look at the company's infrastructure and working methods.
4. Evaluate and contact
Amongst the last steps, comes evaluating the partner. Shortlist the best that fits your needs. The experience and skill of developers should be given priority among the many other variables that need to be taken into account. Choose partners with a wealth of sector experience. Experts who know technical aspects are a must, so they can pay attention to the minute details of your project.
Contact the shortlisted dedicated development team and interview them. Narrow down your options when your requirements match with the potential partners. Now pay attention to their communication style, and coding understanding and identify the top fit among them. If you have done a proper survey, you will get the best.
5. Hire the software development partner:
A contract must be made and signed once the ideal partner has been chosen. All of the terms and conditions outlined in the software development partnership deed should be included in the contract. Contracts make things clear and lead to no misunderstanding in the future. Additionally, it increases the prestige of your software development team.

6. Ask Your Prospective Software Development Partner These Questions:
It is hard to decide on one best partner amongst many. Hence, interviewing the individual and asking pertinent questions is the best course of action. Here is the list of potential questions to ask prospective software development partners:
What is the software development process in a simple way?
How many years of expertise do you have in the software development industry?
Which of your completed projects has been the most profitable?
What skills do you have?
What agile development approaches do you employ when developing software?
What are your favorite programming languages to work with?
How long will it take you to finish a software development project?
What are the quality factors you try to maintain?
How can we contact you during the software development process?
What makes us choose you?
Bigscal- A Next-Gen Software Development Partner
It is a dedicated and detailed task to select a software development partner that consists of all the requirements you are seeking from a top-rated software development partner. Similarly, you have to go through many delicate factors while evaluating one. It requires a preparation process and much effort to present a project to a suitable partner.
Bigscal is a leading software development company having 12+ years of experience in delivering customized software solutions. We have more than 200+ skilled and certified professionals, who can be your next dedicated software development team.
We have up till now completed more than 500+ projects and have a 95% of client retention rate. We have served in industries like Logistics, Healthcare, Real estate, Education, Oil and gas, Aviation, FinTech, and on-demand applications. The core motive of Bigscal is to provide sound software development services that ensure client satisfaction. We have been a top-rated firm on GoodFirms and Clutch.
Conclusion
Software development partners have become an important part of businesses these days. The ideal solution is to hire development teams, particularly if you lack internal experience and want to lower your development costs. Now, it is time to choose the ideal software development partner if you have chosen the following steps.
Get started with us by collaborating with our dedicated software development team and sharing your requirements. Our concerned team will contact you in a day and help you by providing top-notch software development services.

FAQ
How do software development partners work?
Software development partner knows your business and uses the technology in depth. They assist you with important products and applications that are essential to achieve your goals. They have outstanding business processes and solutions and extensive methods that stand out.
What is a software development team partner?
A software development partner helps in building software solutions, manages them, and increases their usage. They provide businesses with all the necessary tools, resources, and talents preferred for the project. This in turn gives quality results and timely software delivery.
Which industries require software development partnerships?
The list of industries that needs software development partners are:
Healthcare
Education
eCommerce
FinTech
Blockchain
Logistics
Cybersecurity
How do I choose an outsourced software development partner?
The one which provides high-quality services and has a strong web presence is significant as a software development outsourcing partner. An NDA- Non-disclosure agreement has to be shared with the clients.
What will a good software provider consider?
A good software development partner assists you in calculating cost, and the expertise required and brings the potential results to the table. Hence, a good software development partner considers all the major factors of a project such as understanding concepts, prototyping, market research, and blueprinting the needs.
https://www.bigscal.com/wp-content/uploads/2023/04/A-Guide-to-Choosing-a-Software-Development-Partner-in-2023-2.png
532
1030
Bharat Godhani
https://bigscal.com/wp-content/uploads/2018/03/bigscal-logo1.png
Bharat Godhani
2023-04-05 17:06:41
2023-04-05 18:01:17
A Guide to Choosing a Software Development Partner in 2023