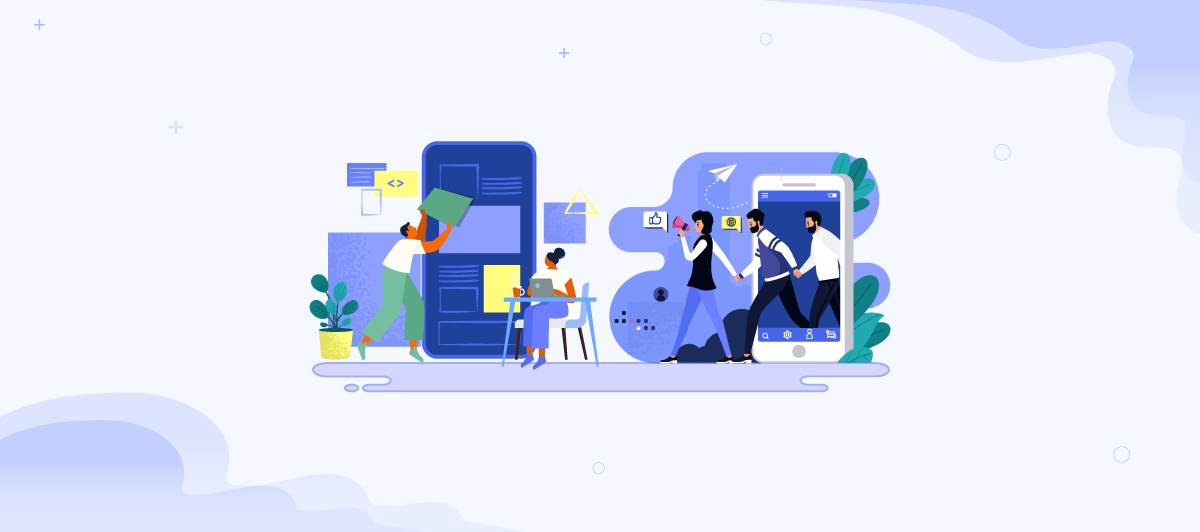 How to Choose the Right Mobile App Development Partner in 2023?
Businesses are getting so advanced these days that they want to have the best for their businesses without any compromise. Undoubtedly there are so many things that are ruling out the 2023 era. But among all, mobile app development hits differently.Irrespective of the type of business a person is having, they are investing in these apps to get good returns on their investments. This helps to grow their businesses as well. But for someone who is new in this field finding a mobile app development partner is not easy.
They face a lot of difficulties in managing things when it is related to their project. Moreover, due to lack of knowledge sometimes people end up with developers who are not the right choice. Well, to help you out regarding this, here we are with a detailed article.
In this article, we will help you. Here you know about factors to keep in mind when hiring a mobile app development service. Keep on reading till the end. This will help you to know about what to consider and what to avoid. Let's get started!
Reasons for you to set up a criterion for selecting an app development partner
There are so many reasons that indicate there is a need for you to set an evaluation criterion while finalizing the developer and these are as follows:
When you know that these are the factors that you need to keep in mind while finalizing one, you can ensure that all the standards have been met. As per your business objectives, you can get a developer for your project.
You will be able to select the best talent. There will be no need for you to end up with a talent that is not relevant to your business needs.
Comparing different mobile developers on the basis of different parameters will turn out to be easier. There will be no need for you to put a full stop in terms of talent. Every developer has something unique. When you explore the developer market, you will come to see that the developers always have something unique to offer and accordingly you can select the developer that goes as per your project needs!
Overall it is right to say that choosing the mobile app development provider will be easier for you to get in touch with the right parameters in mind. If you have no clue about the parameters to consider it will turn out to be difficult to choose the best one around.
Tips to follow
Here, we discuss the tips you need to keep follow while finding a mobile app development company. These are as follows:
Explain the project and business objective:
It is important to be on the page where you are ready to explain your project needs to the IT vendor. This will help the vendor to understand what is your requirement and how they need to work on it. There are certain factors that you need to keep in mind:
Define your requirements:
To ensure that you select the Right App Development Partner for your mobile app development project, it's important to have a clear understanding of your requirements and end goals. This involves defining the type of mobile app you need, whether it's a simple MVP, a user-specific app, or a complex mobile app. You should also scope your app development idea and define your team size, tools, and technology needs.
Budget:
Additionally, planning your budget is a critical factor in determining the effectiveness of your team selection and the quality of your final product. It's important to prioritize whether you want an efficient mobile app development solution that delivers an exceptional user experience or a budget-friendly product that establishes your digital presence.
Deadline:
Defining a clear and realistic project deadline to the right software development partner company is also necessary to ensure that the team you select has the competencies to meet your deadlines without compromising on app quality. You should also select the right software development model, with Waterfall and Scrum being the most commonly used by IT experts.
Engagement model:
Finally, selecting the Right Engagement Model is crucial, whether it's a fixed price model, a dedicated team model, or a time and material model. Each has its own benefits, depending on your project requirements and scope. By carefully considering these factors, you can select the right IT vendor for your mobile app development project and ensure its success.

Do the market research:
This phase of defining a project and business objectives is closely intertwined with a crucial process that involves learning about market trends. This process includes gaining insights into various aspects such as UI/UX design trends, app development tools, and technologies, mobile app development processes, top app features and functionalities, quality assurance, and deployment strategies.
To ensure the effectiveness of this process, seeking the guidance of mobile app development experts is highly recommended. Consulting with professionals will provide a professional perspective on app development ideas and facilitate market research. Seeking second or third opinions for better clarity is also advisable.
This process can be extremely beneficial in evaluating potential app development companies. It allows for a better understanding of their expertise and the effectiveness of apps developed by them, which helps in selecting the most suitable team for the job.
Get an idea about the best mobile app development companies:
Once you have completed the planning stage of your mobile app development, the next step is to find the right partner to help bring your app to life. Luckily, there are several effective ways to search for the ideal IT partner. You can start by using specific keywords such as "top" or "best" mobile development companies, searching in the global IT company listing sites like Clutch and Goodfirms, or even looking for blogs that provide insights on mobile app development.
To narrow down your search, you can filter by technology, location, team size, and price to find the mobile app developers that meet your unique requirements. Once you have a list of potential partners, it's important to assess their competencies based on your project needs.
Furthermore, it's important to check the company's reputation in the market by looking at client testimonials, project completion rate, customer feedback, and employee retention rate. This data can help you make informed decisions about which mobile app developers to further consider. In short, by considering these key factors, you can find the best mobile app development service provider for your project.
Write Your Job Description and Send RFP:
As you near the end of your search for the right mobile app development partner, it's time to start narrowing down your options. After conducting extensive research and identifying a handful of potential companies/teams for your critical project, the next step is relatively straightforward.
This is where the "Request for Proposal" (RFP) comes in. You'll use all the information you gathered during the project and business objective definition stage to explain the details of your app development project in the RFP. To make it more precise, the RFP should include the following information:
A project description that outlines the app development requirements, scope, features, and functionalities to be implemented.
Your requirements for the team of designers, developers, QA engineers, etc., including their industry experience and expertise.
Project milestones that need to be achieved.
Your budget, including the expected minimum and the ability to scale up if the team delivers top-notch solutions beyond your expectations.
Industry regulatory standards that the developers must follow.
Your requirements for a service level agreement (SLA) and an NDA contract for confidentiality.
Additional instructions for your prospective IT partner to agree to and follow, such as communication methods, reporting, and transparency.
Once you've written the JD for your app development project, send it to all your shortlisted teams and wait for their quotes with references.
Analyze all the proposals that you have received:
At this point, it's sensible to expect responses from all the individuals or organizations you've reached out to. While some may respond confidently and express eagerness to fulfill your expectations, others may be more desperate for new business opportunities.
Moreover, there may be certain recipients who choose not to respond if they believe that your needs do not align with their client requirements or if they are unable to meet your stringent demands, such as agreeing to a non-disclosure agreement.
In an ideal situation, your inbox will be flooded with an array of responses, including competitive proposals, references, and additional requirements. However, it's crucial to maintain a discerning eye and thoroughly evaluate whether the references provided are aligned with your specific needs as you begin to receive proposals.
By following this method, you can effectively screen out unsuitable candidates and proceed to the interview phase, where you can gain deeper insight into their approach.
Have a meeting and discuss the project in detail:
Upon a thorough evaluation of all proposals when you hire a dedicated mobile app developer, you may come across 3-4 proposals that have genuinely impressed and caught your attention. To determine which of these proposals best serves your needs, it is advisable to conduct a virtual meeting with the prospective teams.
During the virtual meeting with mobile app development experts, you will be able to gain deeper insights into their approach, discuss your project requirements, and assess their level of expertise. This will help you to make a proper decision about the team that will be the best match for your project. You can discuss with them regarding the project and get an idea how they will move ahead with the project.
After this stage, negotiation is crucial, and several factors need consideration, including the budget, Non-Disclosure Agreement (NDA), Intellectual Property (IP) Transfer, and Non-Employment Agreement (NEA). The budget is usually negotiable, and it plays a vital role in determining the project's feasibility.
When both parties are satisfied with the negotiations, you can finally select your team and hand-pick the right dedicated mobile app developer or the entire team to work on your project, ensuring that you achieve your desired results.
Select the talent and get them for you!
After you are sure that this is the dedicated development team you can have for your project, it is time for you to start with them and select them for your project. At the time when you finalize the team, make sure you are taking everything into consideration and then moving ahead with them for the project.
After you are sure that this team will be going to be on board with you, start things systematically with them. Do not put yourself at the point where there is no clarity regarding the project or you are having confusion about how things work. Keep track of every activity that is happening so that there is no problem and you can keep up with every minute detail of the project. if there is anything that needed to be considered again, you can discuss it with the developers and get your needs catered.
In case you find out that the developers are violating any terms of the contract or there is anything that is not going as you have planned for the project, be sure to have a clear discussion regarding it with them.
Note:
Your project is your responsibility. Thus, it is important to hire the best talent that can help you to get your project completed as needed by you. If the talent you hire is not having relevant experience or not paying attention to your project needs, you will end up investing in the wrong spot. Thus, keep every factor in consideration before Before taking the decision.
Mistakes to avoid when hiring the developer for your mobile app development project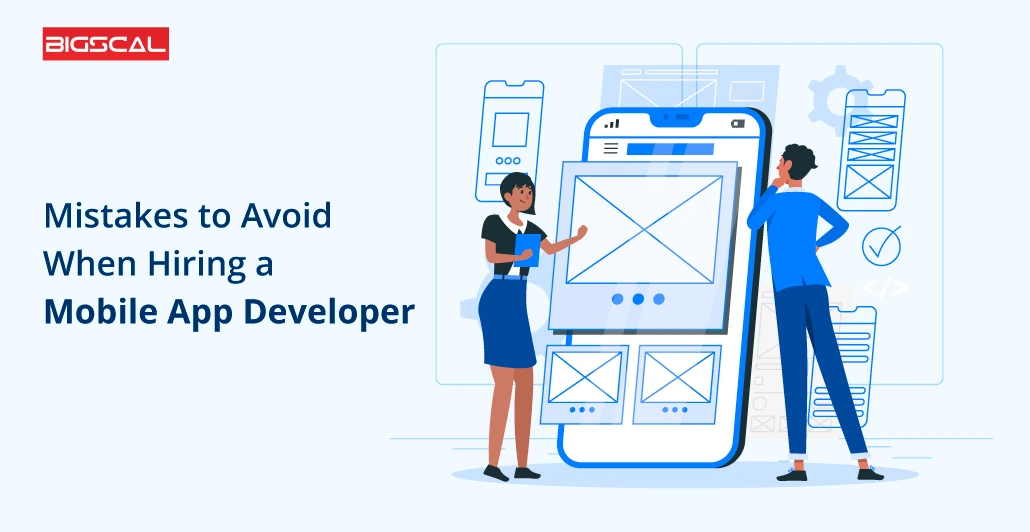 There are several mistakes that people usually make when they reach out to the software product development provider and these mistakes can have a major impact on the project. These are as follows:
Considering cost over quality:
There are certain instances where people make cost the primary concern. But in reality, it should be not. It is essential to pay attention to quality. Hire developers who are sure of offering good quality and are in your budget as well. Have a look at their portfolio and analyze whether or not they will be able to help you with the project. Analyze their quality standards and then finalize any other factors.
Not paying attention to security:
There are so many people around who take security for granted and in the end, it happens that some competitors of theirs come up with the same idea. To prevent yourself from the same issue, get the NDA by the company and keep track of work project progress as well. If you find out there is anything fishy ask the developer and clarify the same accordingly. Do not let any competitor get their hands on your idea due to your unresponsive behavior of yours.
Taking insightful product documentation for granted:
Every documentation of your project is essential when you Hire Mobile App Developer. Thus, it is essential you are paying attention to every developmental documentation and clarifying all the doubts if raised. It doesn't matter whether it's the primary documentation or the secondary one, you need to take it seriously. Until and unless the same clarity is not there, one cannot expect to plan things as they need. Thus, take documentation as a serious approach and do not compromise with any of the aspects.
Questions to discuss with the Mobile app development partner you choose!
There are some questions that you should discuss with the mobile app development partner and these are as follows:
Know about the types of apps they develop:
It is important to know about the type of apps they can develop. There is a possibility that you have some specific requirements in your head. In that case you want a developer who can fulfill the same. Ask whether they start the development from scratch or they just focus on certain aspects of the app. Furthermore, do ask them how much input they need to work on the strategy. Get an idea about every aspect in detail. So that you can have a clear picture of how well things work.
Know the experience they have:
Every app has different requirements. Thus, it is integral to know whether or not they have experience in developing the same type of app. If they know what they need to include and exclude, they will help you with the project you need.
Know about the guidance they are offering:
There is a chance that you know about the project in detail. But along with knowing it, you should know the guidance they are offering. At every stage, there is a need for your guidance to get things planned as you need. Ask them whether or not they will offer you the best guidance. The team that offers you guidance is an invaluable asset because they will be available at every step with you.
Know the steps they follow for testing:
Ask them about the steps that they are following for testing. Testing is an important part of app development. During testing, keep all the tools in consideration so that there is no point that some problem will take place. This helps you to have an idea what things are up to and how they have planned it for you.
Ask them if they want to know something:
Ask the developer about the questions they have to ask you. Be sure that all their doubts are cleared. Make sure they are well-versed in the steps that they need to take. In case they are unaware they will not be able to plan things in the same way as you need.
Bigscal can be your partner or your next mobile app development project!
If you are not aware of Dedicated Mobile App Development Partner, don't worry and come to us. At Bigscal, we assure to offer the best development service to all the people who reach us. Irrespective of the type of app you need, we have services available.
Our team of developers understands the need for customization and ensures that the client must get the project as they need. There will be no compromise at all. Also, our main motive is to offer quality over quantity and we focus on the same too. You can reach out and consider us as your new mobile app development partner and get the services as needed!
Conclusion
Getting in touch with a mobile app development partner is easy. This is so when you know what top tips for custom mobile app development to consider and what to avoid. By keeping all these factors in mind you will be able to have the best developer on your side. If you are not sure the criteria are met, there is no point in doing the investment.
Also, we recommend you have a list available. This list contains information about all the parameters that you need to keep in mind while hiring the developer. Ask them about all the doubts you have. So that there is no point of discrepancy and you will be able to deal with things effectively.

FAQ
What types of applications are popular in 2023?
The applications that successfully cater to the needs of users. Along with it, the apps that help them to deal with their daily chaos are quite famous. These kinds of applications include food delivery apps, car rental booking apps, personality development apps, shopping apps, and so on.
Does mobile app development hold any future?
Fortunately, mobile app development does hold a future. Businesses that are investing in it can expect better returns in the future. More and more people are switching to online platforms for business. In that scenario, the app is really very helpful. You can invest in any kind of app as your business requires and consider it as a long-term investment.
What is an interesting question you can ask the mobile app developer?
Well, every question is unique on its own. It is important that you are paying attention to every aspect and then asking the question. Before reaching the developer do prepare a list with high priority and priority questions and then manage things out. For sure after keeping all of this in mind you can have the best talent with you.
Is it safe to invest in mobile apps?
Yes, it is safe to invest in mobile apps. As these are the best options to have a great impact on people regarding the business. Also, these are long-term investments so people can expect all their investments will get paid off.
How much does it cost to make a mobile app?
Well, the mobile app development cost that is needed to pay depends on the type of app you want. The developers will decide whether this will turn out to be an average costing project or an expensive one. On average, the development of native apps can range somewhere around $50,000 to $100,000.
https://www.bigscal.com/wp-content/uploads/2023/05/Right-Mobile-App-Development-Partner-in-2023.png2_.png1_.png
532
1200
Ashish Manani
https://bigscal.com/wp-content/uploads/2018/03/bigscal-logo1.png
Ashish Manani
2023-05-12 10:01:43
2023-05-12 10:01:43
How to Choose the Right Mobile App Development Partner in 2023?