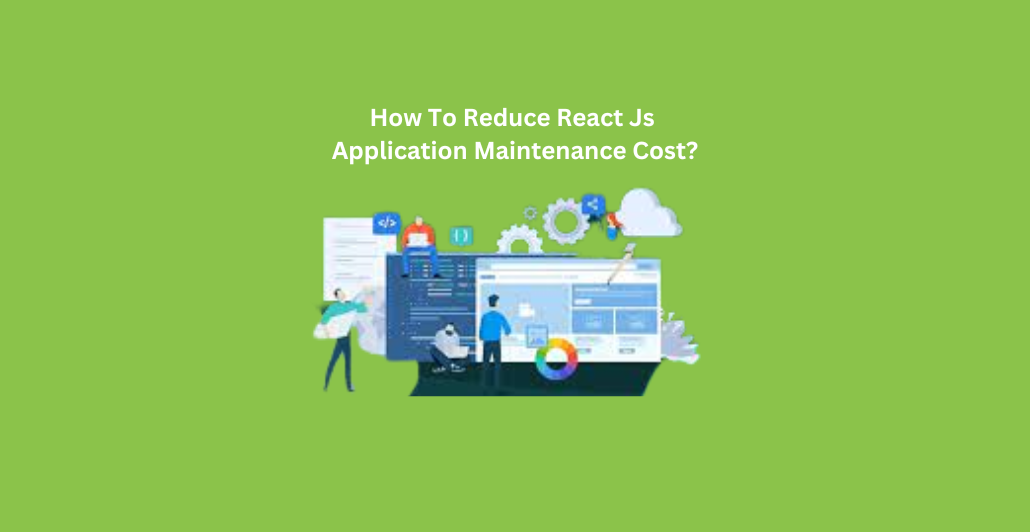 How To Reduce React Js Application Maintenance Cost?
We currently know the situation of the world and also how important it is to own an application and website. Meanwhile, the react js application is ruling the IT sector with its robust and unique nature.
We are a software development company that is providing the best react js applications to businesses from start-ups to enterprises. The main advantage of having a react js application is that it doesn't need daily updation. Furthermore, the code is reusable. Moreover, react js application also plays an important role in creating brand awareness.
Furthermore even after you create a react js application maintenance is the most crucial step. But many IT firms take different charges for maintenance of the react js application. Let's understand how you can reduce this cost of maintenance in this blog post.
What Is React Js?
Never misunderstand react js as the same as react native. React js is considered a JavaScript library that is used to create websites and applications. This library with a huge community and is one of the most popular javascript technology used for the creation of applications.
The react js applications are progressive and are best known for the creation of outstanding AI-powered user interference. With the feature of re-usability of the code react js has come far along with the greatest success brought by Facebook.
What Are The Factors That Lead To High React Js Application Maintenance Costs?
There are many factors that can cost you a huge amount for the maintenance of the react js application. Below we will get you through a few of such most important factors that are giving you the high maintenance cost of the react js application.
As we know sometimes a business needs third-party licensing for that you might either need to upgrade the application or make a few changes.
Cybercrime has increased with technological enhancements and hence it is very rare that your application is bug-free. Hence fixing bugs can also cost you heavy charges.
You should have a descriptive guide about the hiring process of a developer or company. Before you create a react js application through any software development company make sure that you have chosen the right one. Choosing the company that uses the wrong methodology to create an application can also add to your cost.
Before you start creating the application make sure you are clear about your idea of creation. Even though the code is reusable it takes time plus adds to the cost.
The application structure should be well documented to avoid the headache of making again the documentation by checking and testing the application again and again.

How To Reduce React Js Application Maintenance Cost?
Startups and enterprises are mostly focussing on application and website development after the pandemic. Now during this, the competition between IT companies took a huge jump. Somewhere in the middle of this chaos, businesses shifted from traditional marketing to digital marketing and this is where react js came into the limelight.
React js besides giving plenty of advantages to the developers has its dark side too for the business owners. And if you are a business person you will definitely know what ROI means. Every business is called successful if they get huge returns on the investment they have done.
Being the most popular and the easiest language to learn it comes with many difficulties too. These difficulties can easily add up to your cost when you are creating react js application.
Below we have mentioned a few of such things that can add up to your cost.
1. Writing Quality Code
Writing quality code is important as it helps in the easy maintenance of the application. Furthermore writing quality code can also help you in switching developers and software development companies if necessary. This also gives an advantage to you as the more quality code you have the more effective your application is.
2. Create Responsive Designing
React js is popular for equipping users with responsive and interactive websites. Moreover, it is very obvious that if you are creating a react js application for mobile then in order to gain more users you should have responsive and interactive websites and applications. This is where you should take a wise decision by hiring a good react js development company or hiring react js developer with top knowledge and huge experience.
3. The Documentation Should Be Clear
The react js application you are launching should be clear with the coding part and accurate documentation. Having proper documentation is very important when you want to switch developers or you want to make your application updated.
4. Third-Party Involvement
Every business has two aspects seller and buyer and hence there is always third-party involvement within the business. Before you get third-party involvement make sure you have clear documentation. Furthermore, choose wisely about the policies and the terms and conditions before you accept.
5. Adding New Features
You should always upgrade your application to reflect the state of technology at the moment. Because additional features are necessary if you want to compete in the market, it cannot be stated that adding them raises the price. But adding new features should be important and should give your business growth. Adding unnecessary features can make user interference difficult and can also degrade the quality of the application.
6. Upgrading The Version
The react js application that you create should always have the upgraded version according to the technology in the markets. Moreover, for that you need good react developers or a software development company. This can help you with the development of the react js application within budget.
Conclusion
In conclusion with this, we can say that there are many reasons why your application maintenance cost keeps on increasing. But you can avoid this by hiring a software development company that gives you budget-friendly services. Furthermore, the company you hire should have huge experience in creating react js applications.
https://www.bigscal.com/wp-content/uploads/2022/12/How-To-Reduce-React-Js-Application-Maintenance-Cost.png
532
1030
Bakuli Chavan
https://bigscal.com/wp-content/uploads/2018/03/bigscal-logo1.png
Bakuli Chavan
2022-12-26 15:38:28
2023-03-30 14:17:33
How To Reduce React Js Application Maintenance Cost?