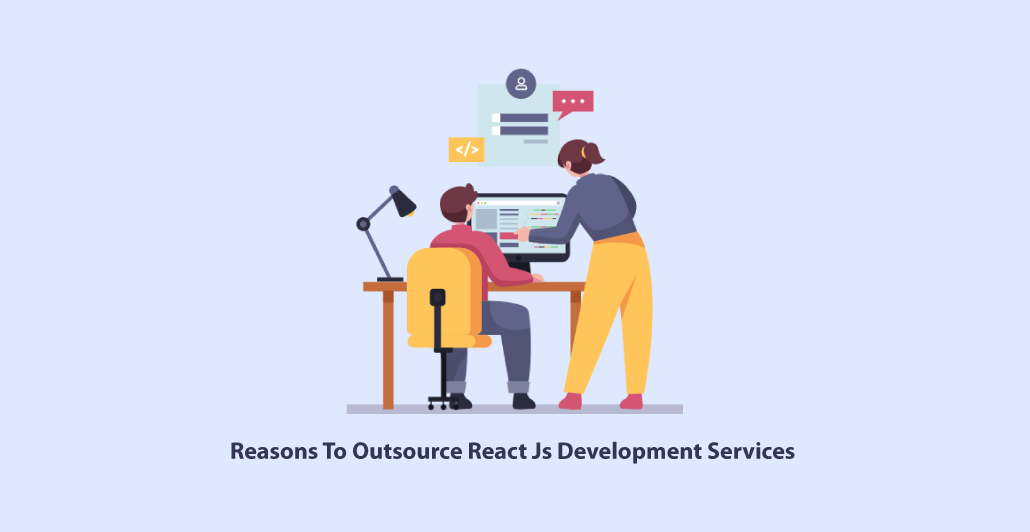 Reasons To Outsource ReactJS Development Services
Outsourcing
Reactjs development services
is one of the best decisions a business can make for growth. Moreover, react js is ruling the IT industry with its large community and easy operation.
React js quickly gained trust and fame for creating stunning user interfaces for mobile and web applications. Because of its fast, secure, and scalable features, this open-source front-end JavaScript library is equally beneficial for small and large-scale teams.
However, it frequently raises the question of whether it is better to outsource reactjs development services for your project to a React development company. And how can you take advantage of such outsourcing benefits? All of the answers can be found right here.
Top Reasons To Outsource ReactJs Development Services
Putting together an in-house React.js development team can be time-consuming and expensive. You must analyze the project's scope, find suitable developers, put together a team within your budget, and keep the team going with regular work and salaries. As a result, many businesses prefer to outsource Reactjs development services.
Outsourcing reactjs development services gives you access to a global talent pool and allows you to find the best developers for your project's needs. You also do not have to manage their daily tasks, and you can produce high-quality work for a fraction of the cost of an in-house employee.
The software development industry has changed dramatically over the last decade. Outsourcing reactjs development services and distributed teams has replaced the traditional model of in-house development teams. As the benefits of outsourcing become more apparent, this trend will only accelerate.
Companies want to provide better and more innovative products and services to their customers. To accomplish this, they must embrace new and emerging technologies. This is why businesses are now taking part in digital transformation.
React js is one such technology that has swept the web development world. You should think about outsourcing React.js development for a variety of reasons, including access to expert developers and freeing up your own time.
Below are the reasons why you should outsource reactjs development services:
1. Cost-Effectiveness
In most cases, companies outsource their software development processes rather than hiring an in-house team because it is more cost-effective.
Outsourcing reactjs development services eliminates the need to spend money on a lengthy recruitment process, new hire training, employee benefits, and health insurance, as well as additional infrastructure, office space, and equipment.
Saving money is especially important when you have a limited budget and cannot afford to hire a permanent in-house software developer in your local market.
Outsourcing Reactjs development services can help you save money without sacrificing quality. When you outsource projects, you can collaborate with a team of talented developers based in a country with lower living and wage costs.
You can also hire react js developer with expert knowledge to make your work simpler.
2. Quicker Project Launch
A contract defining the project's timeline will be sent to you when you employ a remote React JS web development company. The business will be responsible if there is a delay. You may be confident that your web or mobile app will be finished on schedule as a consequence.
Furthermore, the development company can recruit additional help if your project has a short deadline. You may swiftly launch your project by hiring a remote team of React web developers.

3. Reduced Risks
As previously stated, if you outsource, you will have a contract signed with a development firm. You can delegate responsibility for any risks to the contractor with a written agreement. For instance, the risk of a delay, the risk of poor quality, and so on. As a result, you will be legally protected from unfavourable outcomes.
Furthermore, working with a reputable development company means you will be working with experienced project managers who will be in charge of leading the project team. This lowers the likelihood of your project failing.
4. Flexibility
The ability to work with an outsourcing firm only when necessary will be valued by business owners. It's an excellent choice if you have or anticipate a slow season, or if you're working on specific projects with a limited budget. In this case, hiring and firing full-time in-house React developers on a year-round basis will be far more expensive than engaging a remote team.
5. Availability of Cutting-Edge/Niche Technology
Outsourcing a React development project allows you to gain access to cutting-edge tools and technologies, resulting in a better product. A good React developer on an outsourced team is well-versed in a wide range of technologies and techniques. Their knowledge and experience can assist you in developing a highly effective solution.
6. Make available internal resources
Hiring outside developers frees up your employees, allowing them to devote more time to tasks that are critical to your company's growth. You will also be able to apply the knowledge and skills of your engineers to new and complex projects.
7. Concentrate on the Core Business
Outsourcing React.js web development to a dedicated external team will allow you to free up your schedule and resources to focus on what you do better than others. This creates value that no one else can duplicate or copy, laying the groundwork for increased sales and revenue.
8. A Dedicated Team's Scalability
When businesses see opportunities for growth, a lack of available workers frequently makes it difficult to fully capitalize on the opportunity. It takes time to build a business team, and there is a high risk of missing out on lucrative growth opportunities.
Similarly, reducing the number of people involved is a painful and exhausting process if a manager overestimates the project's potential.
Working with remote React developers provides business owners with greater flexibility in both directions — you can easily add more team members to the project or terminate the collaboration once it is no longer relevant with no consequences. As you can see, outsourcing encourages business owners to make risk-free decisions.
9. The Work's Quality
Without a doubt, quality is now king. It is critical for revenue generation. As a result, you'll most likely want the best of the best for your product. This is more than possible with outsourcing because reputable software companies have internal practices and standards. Furthermore, these are developed and shared among their employees over multiple projects.
10. A larger pool of talent
Every year, the IT industry expands, necessitating an increasing number of skilled workers. As a result, competition for tech talent has increased in many countries, particularly Western Europe and the United States.
The good news is that if you use outsourcing, you won't have to recruit near your office. Instead, you have access to a global network of skilled remote developers who can work on your project.
Conclusion
You might have got the exact reasons why every business needs to outsource reactjs development services for their application development.
Furthermore, you can also hire a software development company for application development. They have skilled react js developers and react js consultants who can help you with the development.
https://www.bigscal.com/wp-content/uploads/2022/12/Reasons-To-Outsource-React-Js-Development-Services-1.png
532
1030
Bakuli Chavan
https://bigscal.com/wp-content/uploads/2018/03/bigscal-logo1.png
Bakuli Chavan
2022-12-15 15:52:45
2023-03-30 17:18:14
Reasons To Outsource ReactJS Development Services