Why Outsourcing Healthcare Software Development is a Smart Choice: Key Benefits Explored
Quick Summary: It's a brilliant idea to develop healthcare software. But inventions of the healthcare industry are too wide, not allowing them to look after software development. Hence outsourcing is the modest choice for them. Still in doubt? Read the blog till the end. It will explain benefits of outsourcing healthcare software development that might mesmerize you!
Introduction
For a very long time, healthcare companies have accepted the value and importance of custom healthcare software development. This software helps them streamline their processes, enhancing efficiency and improving patient outcomes.
Having perfectly built software with the best technology could make it easier for professionals in the healthcare industry to complete their job. It could also help administrative staff handle medical information accurately.
But the problem is hospitals are still working to build their software in-house. It could be a burdensome task for a team not an expert in healthcare software development. But do we have an alternative for this? Yes. Outsourcing software development projects could make more sense.
This text will provide you benefits of outsourcing healthcare software development services for your next project.
What Do You Mean By Outsourcing Healthcare Software Development?
The healthcare domain is a noble industry that is entirely based on organizing data and processing it. Hence it requires software that could automate these tiring tasks and streamline processes.
Healthcare software development services have gained momentum in the past few years. Even the Global healthcare software market size was 41,200 Million USD and will reach 104,100 Million USD by the decade's end. It is even elevating at a CAGR of 10.9%.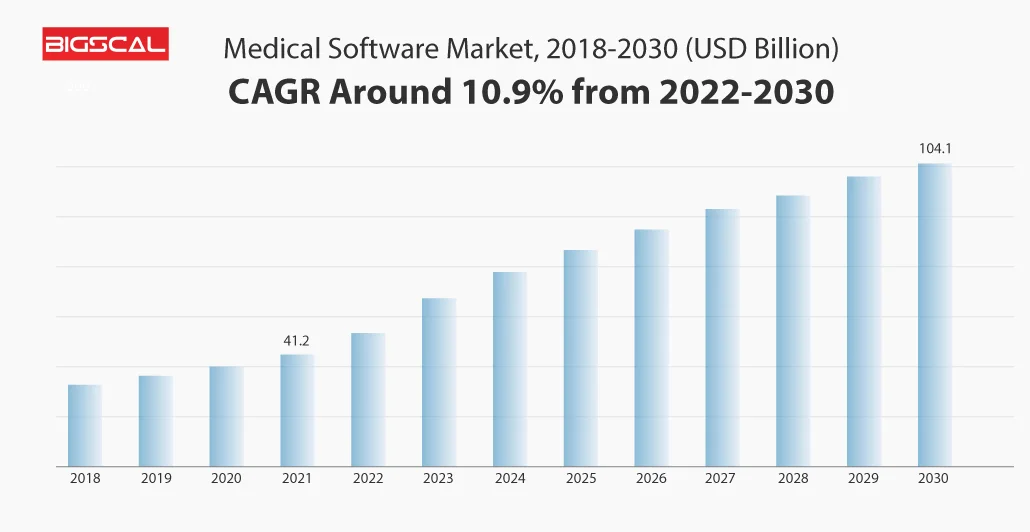 Hence every healthcare provider must adopt software usage. For developing such software, it's always advisable to go for outsourcing.
Healthcare software development outsourcing means contacting a third-party service provider to develop your project. Their services range from developing software for you to maintaining business operations and software.
Although healthcare providers can do it in-house, lacking skilled developers could increase the budget. Instead, outsourcing healthcare software development projects could help you seek the best results at optimal costs. Outsourcing has grown to be common in most industries.
Top Benefits Of Outsourcing Healthcare Software Development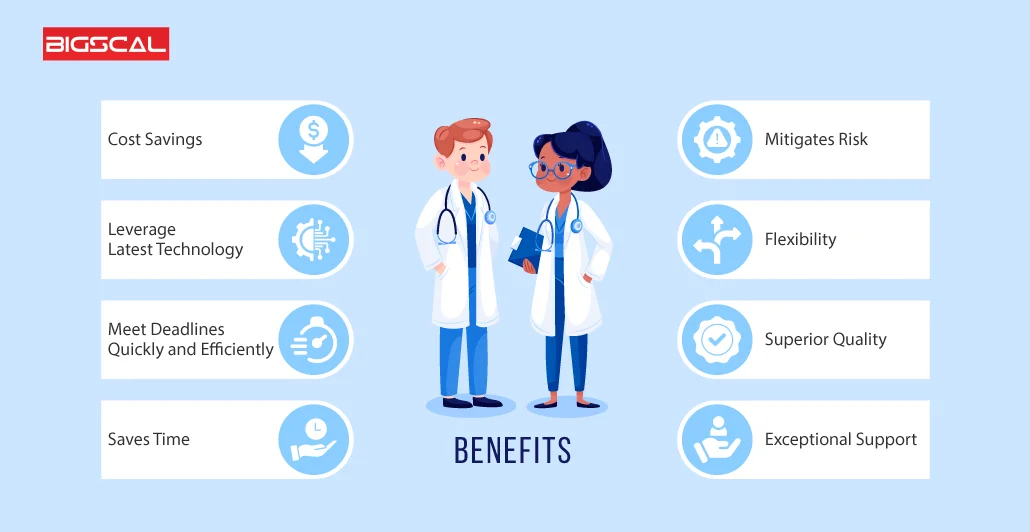 1. Cost Savings
It is a fact that businesses can reduce the significant amount spent on software development by outsourcing services. Well, yes, it's true. The main reason behind outsourcing healthcare software development services is it can help cost savings. There are plenty of ways or methodologies in which outsourcing can be an affordable choice.
The majority of people working in healthcare are unaware of the technical stuff. Hence they are unable to find qualified personnel for their project. It might lead to the development of software which has errors.
Instead, getting in touch with outsourcing forms will help seek the best talent and resources for developing software. Therefore you will not have to spend millions of dollars on useless infrastructure.
It is costly to seek experienced software developers for your team. You will have to conduct a hiring process, training, provide salary with benefits and much more. Hence this cost can be minimized by software development outsourcing companies..
Also, developing software internally could cost you a lot. Instead, having contact with a firm that can handle all the aspects of development is a good idea. It could provide quality alongside cost cutting.
2. Leverage Latest Technology and Highly Qualified Talent
You can access skilled staff when you hire the best and most knowledgeable healthcare outsourcing firm for your healthcare software development. Know that having a staff with an idea of your team's recent technologies is a tough task. Hence outsourcing can be an effective way to deal with this problem. They allow you to explore the best technology at lesser costs.
Therefore you can sleep peacefully knowing that your team has covered all your worries regarding software development. Outsourcing firms will ensure that they deliver the best results. Apps can help your team with training for the best software development.
3. Meet Deadlines Quickly and Efficiently
As a healthcare provider, you want your healthcare software to reach the market immediately. Hence, you can reduce your in-house team's workload by handing the development worries to a knowledgeable firm. These developers will ensure that the software is developed on time. Hence outsourcing the entire project or just a small portion is advisable. They might also start quickly and collaborate with your team to use an agile approach for a shorter time to market.
4. Saves Time
For a healthcare service provider, it's not advisable to spare time in this world of competition. Hence outsourcing healthcare software development services will ensure that you save time. It will ensure they have time to concentrate on what is more necessary and meaningful. With outsourcing, you can relieve your team from tasks they don't specialize in. Instead, they could work to satisfy more necessary goals. Therefore, outsourcing healthcare software development gives you time to focus on more crucial activities.
5. Mitigates Risk
It is a fact that the chances of facing financial losses will reduce with a better investment portfolio. Software development outsourcing adheres to the same principle. It will reduce risks and help you seek better advantages as a healthcare provider.
It is better to divide your business to avoid risks. Let the team focus on the more important stuff and shift software development worries to an outsourcing solution. It will set your in-house team free as you get offshore healthcare software development team. But make sure you choose an outsourcing firm wisely. Before considering any of them, look after all the aspects.
6. Flexibility
Isn't it an unnecessary call to hire a full-time developer to work on your short-term software development project? Why hire a developer and pay a salary for just developing medical software? Well, come on, it's not realistic! You won't have enough projects to keep a developer busy. Hence it isn't very meaningful to hire them. You are just wasting the amount.
Instead, outsourcing software development firms might give you freedom. You will be a deciding factor in hiring a developer. It would save you a good amount of cash.
7. Superior Quality
You might end up with low-quality and security software if you don't have a professional working on it. Hence it can also end up harming your reputation. But when you outsource healthcare software development, you can get the best outcome in terms of high-end software. They provide you with IT specialists that are apt in their work. Their area of expertise can provide you with cutting-edge solutions.
8. Exceptional Support
The processes of software development will not end with just development. It starts here. You must ensure it's free from bugs and is functioning well. You can easily get software maintenance services and better assistance when you outsource healthcare software development. They can also help you with round-the-clock assistance and ensure you are ahead of your rivals.
Also Read: The Complete Guide on Healthcare Software Development
Why Choose Bigscal For Outsourcing Healthcare Software Development Services?
Bigscal is a software development firm providing services effectively in the healthcare sector. Our healthcare software development solutions will encompass the entire lifecycle from developing concepts, implementing and testing them, to maintenance.
We are committed to providing best-in-class and secure service to healthcare professionals. We abide by the standards and comply with the industry's regulations while developing healthcare software.
Outsourcing software development with Bigscal can help you automate your processes. We help hospitals and professionals to cut down on manual labor and provide better healthcare to patients.
Conclusion
Healthcare is an industry that keeps on evolving every day. These newly evolving technologies are beneficial for humans. Hence, the healthcare industry must be alert to be in terms of these innovations. They must be smart enough to choose a reputable outsourcing firm while developing their software.
Know that by now, there is no lack of healthcare software developers. Hence it depends on how you choose the ideal one for your project. Custom software for healthcare, like Telemedicine, has drastically impacted. They had reduced costs and even increased efficiency. So what are you holding back your healthcare firm from leveraging the benefits of software? Contact Bigscal Technologies Pvt Ltd to handle your software development worries.

FAQ
What is healthcare software?
Healthcare software is a solution that is made for people working in the healthcare profession. It can help train, research, diagnose, data management, etc.
Why is healthcare software so important?
After developing healthcare software, people in this industry can easily store, process and share data. This software has also ensured better security and safety in hospitals.
What is the use of medical software?
There are plenty of different software used in the healthcare stream. They are used for various purposes like billing, recording patient data, prescribing patients' medications, etc. The software could also help in virtual care and patient interaction.
Why is it important to have the best-working healthcare software?
Healthcare software is employed for various purposes, from making a prescription to health management. Hence, software that works optimally and provides the best aid is necessary. Any lags in the software could be problematic.
How to choose the best outsourcing firm for healthcare app development?
You will have to analyze your project needs to select the best one out of all the healthcare software development firms. Accordingly, you can contact a reputable healthcare software development company to work on your needs.
https://www.bigscal.com/wp-content/uploads/2023/07/Why-Outsourcing-Healthcare-Software-Development-is-a-Smart-Choice.png
532
1200
Pankaj Vaghela
https://bigscal.com/wp-content/uploads/2018/03/bigscal-logo1.png
Pankaj Vaghela
2023-07-03 10:00:36
2023-07-10 10:05:14
Why Outsourcing Healthcare Software Development is a Smart Choice: Key Benefits Explored