How Much Does It Cost to Make an App in 2023?
Is it true that "there's an app for everything "?
Mobile app development trends have swept the world like never before in recent years, turning this million-dollar statement into a drift.
Play Store and App Store have recently celebrated their 10th anniversary, and app development seems to be on the rise.
Although the total number of users has exceeded 7 million, there is still room for more, encouraging companies to develop apps that redefine the way people engage with your organization – Boomers, Millennial's, and Gen Zs alike.
In light of this, another critical question arises -How much does it cost to make an app?
Founders will find this article to be a valuable resource.
Here you will find information about the factors that influence the cost to make an app and how an app development company helps to minimize the cost.
Need help finding a balance? Keep reading.
We have discussed in detail the costs to make an app.
App Development Costs: How Much Does It Cost?
Do you need an app for your business?? If so, how much does it cost? To determine the cost of making an app in 2023, you need to ask this question first.
Developers can charge between $40k and $300k for developing an app. App development costs are largely dependent on two major factors: the industry your app belongs to and where your app development agency is located. Mobile app building costs depend on app type, location, complexity, functionality, developers, features, and design
Simple App Development Cost – $40,000 to $60,000
Average App Development Cost – $60,000 to $150,000
Complex App Development Cost – from $300,000
Factors that determine the cost of making an app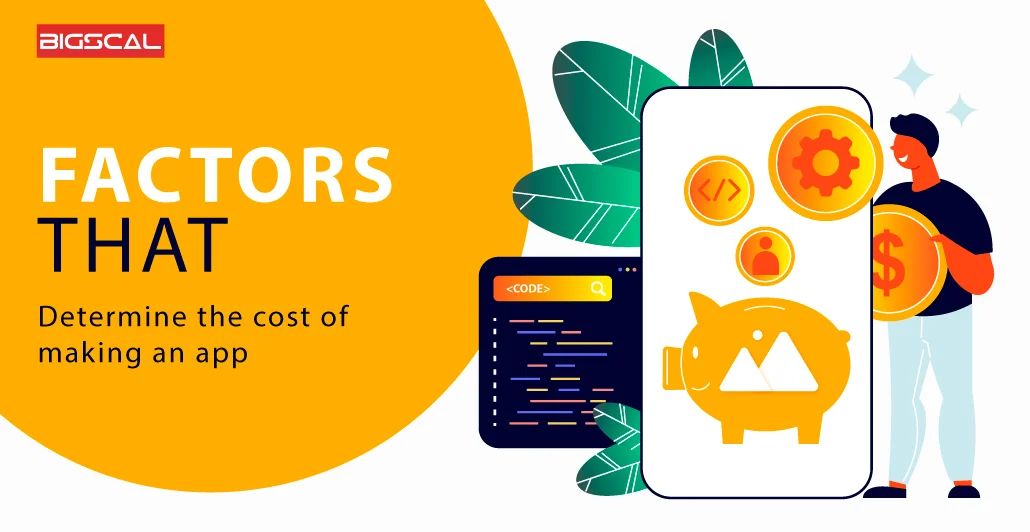 Below we highlighted a few factors that can increase or decrease the cost to make an app according to the business requirements, functionalities, and development approaches.
1. App categories
There are many categories of apps like educational, entertainment, social media, and lifestyle. All categories make different requirements and target customers.
Basic Apps
Firstly, Basic apps such as calculators, clocks, flashlights, notes, and camera applications do not need any internet connection or backend development.
Secondly, these apps are in-built into the smartphone, therefore, you need to provide some special features (for example, a multi-color flashlight) to generate revenue.
The cost to build the basic apps ranges from $10,000 to $15,000.
E-commerce Apps
Firstly, the E-commerce app includes many features such as user registration, customer services, product catalogs and descriptions, payment gateways, and an easy-to-use user interface.
Additionally, the cost to make an app for the e-commerce sector ranges between $45,000 to $80,000 and with advanced functionality can cost between $100,000 and $300,000.
Food-delivery Apps
Apps like Uber Eats and Doordash, which deliver food by utilizing geo-location, multiple payment gateways, and quick page load times, should have a good user interface, geo-location, and Android and iOS compatibility. The cost to make a food-delivery app ranges from $40,000 to $55,000.
Social-networking Apps
Firstly, Social-networking apps have a billion users and their details. Therefore, these applications require strong backend resources.
Secondly, These apps should have an engaging user interface, live chat/video, real-time notifications, and user profile security.
The cost to make an app for a social-networking platform ranges between $40,000 and $65,000 for a basic version and $100,000 to $300,000 for an advanced version.
Fintech Apps
Firstly, Fintech apps have many features such as payments, consumer banking, trading, blockchain and cryptocurrency, loans, and insurance.
Secondly, These application requires a robust security system to protect user financial data.
Thirdly, fintech apps combine with third-party applications to link bank accounts, user registrations, and push notifications.
The cost to make an app for the fintech sector ranges from 55,000 to 80,000 USD for a standard version and requires a minimum of 6 months to complete.
Read more: How to Build a Fintech Mobile App: A Step-by-Step Guide
2. App Development Cost By Types of Apps
The app niche will help you to decide the type of app you build and the platform you choose for better reach. Let's explore the app types in detail:
Native Apps
Firstly, A native application is designed to operate on a single operating system (OS) like Android or iOS and has high performance, excellent features, and security. Examples of native apps are Spotify, WhatsApp, and SoundCloud.
Secondly, these apps will perform on iOS devices only if the code is compatible with Android. Therefore, the cost to make an app will increase greatly if build native apps that work on both platforms.
The cost to build a native app (Android & iOS) ranges between $55,000 and $100,000 and depends on business requirements.
Hybrid Apps
Firstly, these apps are a mixture of both native and web apps and work on multiple platforms like Android, Windows, and iOS.
Secondly, Hybrid apps comprise multi-platform compatibility, are easy to debug and update, lower development costs and streamline the development process. But these apps have poor performance and user experience than native apps.
The average cost to make an app ranges from $35,000 to $55,000 based on structure, components, and scalability.
Web Apps
Firstly, web apps are programs that run on the internet rather than operating systems like Android and iOS.
Secondly, these apps require internet connections to run on devices like iOS and Android. Examples of web apps are Zoom, Gmail, and Skype
Thirdly, web apps provide several benefits such as cross-platform compatibility, ease of customizing, and lower development costs. The cons are poor data protection, performance, and internet dependency.
The cost to make a web app ranges from $15,000 to $60,000.
Cross-platform Apps
Firstly, Cross-platform mobile apps work on several platforms like Windows, iOS, Android, and macOS.
Secondly, in both hybrid and cross-platform apps, reusable code and databases are essential, which reduces development costs and simplifies developer tasks.
The benefits of cross-platform apps include cross-platform functionality, code reusability, cost-effective development, quicker development, and an increase in user base. Disadvantages are low performance and provide less customization, requiring complex code and unreliable security.
Making a cross-platform app ranges from $40,000 to $60,000 for a standard version.
Progressive Web Apps
Firstly, Progressive web apps are created using web technologies but they have the appearance and functionality of native mobile applications.
Secondly, these apps provide a fast loading time, good performance, offline usability, mobile app-like attributes, and lower development charges.
The drawbacks of PWA apps are limited functionalities in iOS devices, compatibility issues with older hardware, fast battery consumption, and limited hardware accessibility. Examples of Progressive web apps are Telegram, Starbucks, and AliExpress.
The cost to make a progressive web app ranges between $10,000 and $25,000 for a standard version.

3. The cost of making an app for Platforms: Android and iOS
The operating systems Android and IOS are leading the mobile industry. Statista reports that more than 6 billion people worldwide own smartphones today. This growth is mainly due to Android users. Approximately 70.96 percent of the market belongs to the Android operating system. However, iOS apps tend to give entrepreneurs a higher revenue distribution through in-app payments and have a huge user base in countries like the United States, the United Kingdom, and the United Arab Emirates.
Both Android and iOS will greatly impact the app development cost. Furthermore, Android app development utilizes tools like Java and Kotlin, and iOS app development leverage technologies like Objective C or Swift.
Based on the platform and type, you can see the development cost to make an app in the table below.
An overview of the cost of developing a mobile app based on the platform
| Type | Android | iOS |
| --- | --- | --- |
| Native Apps | $55,000 and $100,000 | $60,000 to $120,000 |
| Hybrid Apps | $40,000 to $60,000 | $40,000 to $60,000 |
| Cross-platform Apps | $40,000 to $60,000 | $40,000 to $60,000 |
| Progressive Web Apps | $15,000 and $30,000 | $15,000 and $30,000 |
There are paid and free tools, and different development durations, as well as Android and iOS developers involved in creating an iOS/Android or cross-platform application. Final development costs will be impacted by all of these factors.
4. Cost to make an app based on Development Team
Hiring a development team is the critical factor in deciding the cost of making an app. Also, it depends on your approach to it.
You can recruit an in-house team, or freelancers, or outsource to onshore, nearshore, or offshore developers for constructing an app. Additionally, you can choose the one that serves the needs of your project development and streamlines the operations.
You can hire the following App Development Team for your projects
Software Testers
iOS Developers
Scrum Master
Quality Assurance Engineer
Android Developers
Business and Market Analyst
UI/UX Designers
Project Manager
Product Owner
Backend Developers
Depending on how you decide to hire each of these team members, their costs may vary. Below, you can check the cost of making an app based on the team you recruit for your project.
| | | |
| --- | --- | --- |
| Inhouse | | $120,000 to $200,000 PA |
| Freelancers | | $50,000 to $90,000 |
| Outsourcing | Onshore | $80,000 to $150,000 |
| | Nearshore | $72,000 to $120,000 |
| | Offshore | $45,000 to $80,000 |
5. App development cost based on the location of the developer
The application developers' location significantly impacts the cost of making an app. Therefore, hiring offshore developers from India is the best solution to get high-quality applications at a reasonable cost.
Here we highlighted the cost of building an app based on the location of the developer.
| Country | Junior Developers | Senior Developers |
| --- | --- | --- |
| USA | $50 to $65 | $80 to $100 |
| UK | $35 to $40 | $60 to $80 |
| Ukraine | $20 to $25 | $40 to $50 |
| Romania | $15 to $20 | $30 to $50 |
| India | $15 to $20 | $40 to $50 |
6. Cost of building an app based on app features
The cost to make an app increases when you add new features to the app. Furthermore, it is crucial to determine the budget initially if you're looking to add advanced features to the app.
For example, some important features of the restaurant app include location, address, placing an order, and listing of restaurants. Furthermore, the advanced features include truck driver details, chat/call hotels/drivers, and orders for others.
In the same way that the numbers affect the price, the type of features also does. The same feature is available in many different basic and advanced versions. A basic live video stream feature, for instance, would stream live video as it is, whereas an advanced version would stream live video with elements such as filters, effects, and stickers.
Below we highlighted a mobile app development cost based on features:
| Live Streaming App | Features | Cost |
| --- | --- | --- |
| MVP Features | User Registration | $2500 to $3000 |
| | Live Streaming | $4000 to $6000 |
| | Search | $3000 to $4000 |
| | Live Chat/Comment | $4000 to $5000 |
| Advanced Features | Filter & Effects | $7500 to $10,000 |
| | Private Chats | $7000 to $8500 |
| | Screen Sharing | $8000 to $15,000 |
| | Multilingual Search Filter | $10,000 to $15,000 |
7. Cost to make an app based on app design
The two essential elements of any mobile app are user navigation and user interface. Your app should have an appealing user interface and user-friendly navigation to hold your customers for a long. Furthermore, it determines whether you will retain the new customer or if he or she will go to a competitor.
You must have a clear understanding of UI and UX concepts to execute them in the app, seamlessly.
User interface design for an app involves creating standardized and platform-specific components that are easy to create and use. By implementing these components, the app becomes dynamic and reduces the need for extensive development on the server side, which helps save money on data server expenses.
You must design all the functionality of your apps such as icons, color, and font according to user preferences and convenience. This approach increases the cost to make an app and ensures successful outcomes. Refer to the table below to get the average cost breakdown of the app design.
| Mobile App | iOS | Android | Duration |
| --- | --- | --- | --- |
| Basic App Design | $8000 to $12,000 | $10,000 to $15,000 | 20 to 160 hours |
| Standard App Design | $18,000 to 22,000 | $25,000 to $30,000 | 150 to 400 hours |
| Complex App Design | 26,000 to $32,000 | $36,000 to $42,000 | 500 to 1000 hours |
Know your app's design requirements so you can estimate the cost of your app and be prepared to spend a significant amount of your budget on it.
How Much Does It Cost to Make an App Based on Development Stages?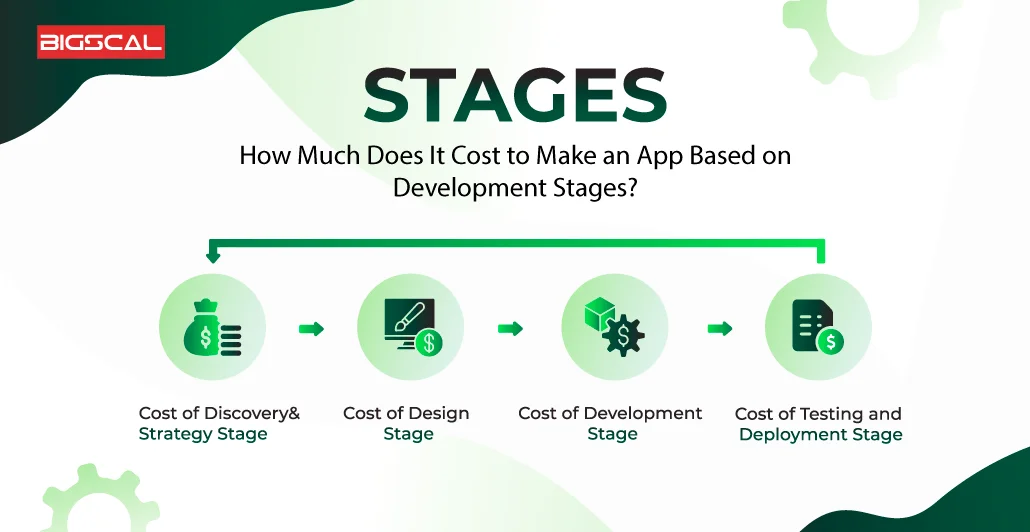 The app development process helps you to decide the time duration and cost of the developers team you hire for your project. Furthermore, you should be flexible to fulfill all the needs of the market. The best way to manage the project workflows and saves money is by using the Agile process.
So, here we are going to break down the cost structure as per the different stages of mobile app development. This will determine the cost of each phase of a development cycle and help you to make informed decisions.
1. Cost of Discovery/Strategy Stage
Whether it's pre-research, planning, discovery, or strategy, it's always about market analysis, business planning, and documentation. The development firm should ask you a variety of questions about your business and application goals in this phase, and if they hesitate to do so, that is a big red flag.
This stage takes between 20 and 200 hours to complete, accounting for about 10% of the total cost of developing the mobile app.
Estimated Cost – $1,200 – $11,000 (with a timeline of 2-4 weeks)
2. Cost of Design Stage
The second stage of app development includes application prototyping and wire-framing, UI/UX design.
Furthermore, it is crucial to build an enticing and engaging app that wins the heart of the customers
The design of your project can make or break your project, so you shouldn't be stingy with your resources. Due to intricate screens, custom components, visual complexity, and so on, it will cost between 10-15% of the cost of creating an app.
Estimated Cost – $2,500 – $10,000 (with a timeline of 3-4 weeks).
3. Cost of Development Stage
This is the most crucial and costly mobile app development phase, where the complexity and functionalities define the cost of making an app. Furthermore, the time duration of app development depends on the complex features.
Also, in this stage, you need to focus on the application architecture, data encryption, and storage, user base, third-party tools, etc.
The cost of coding and programming is much higher than that of all other stages combined, so this stage requires a lot of collaboration and minute attention from your developers. The development of your app with cross-platform mobile app development frameworks will also save you a lot of time and effort compared to creating multiple apps for different platforms.
Estimated Cost – $3,000 – $60,000 (with a timeline of 2-6 months)
4. Cost of Testing and Deployment Stage
The last step of the development phase is testing and analyzing the app's quality. A critical part of this phase is estimating the cost of making an app since it prevents unnecessarily spending money on bug fixes after launch. With comprehensive quality assurance testing, your customers will experience fewer crashes, glitches, and lags. A minimal number of issues in the app will ensure user satisfaction.
Your app's complexity and feature-richness determine the cost of testing and deployment.
Estimated Cost – $5,000 (with a timeline of 2-4 weeks)
How Much Does It Cost to Maintain an App?
After deploying your app on the server, the next step is to monitor and maintain the application to ensure its works smoothly, all the data are secure, and continues to fulfill the growing market needs.
The cost to maintain an app depends on various factors such as the frequency of app updation, the complexity of the features, and technologies and the application development team size.
Typically, the cost to maintain an application range from 15% to 20% of the original development cost annually.
App development costs can vary greatly depending on the specific requirements of the app, so this estimate is just a rough estimate. Calculating the maintenance cost of an app should include factors such as server costs, bug fixing, new features, security updates, and user support.
5 Hidden Costs of Building an App
Building an application is a challenging task and requires a lot of effort, resources, and time. In addition to upfront costs, there are also hidden costs related to developing an app, which include:
1. Design and user experience
Building an app that looks appealing and engages users requires a lot of design work. Furthermore, it involves all the steps from the user interface design to building icons and graphics. The design costs to make an app increases, especially if you recruit a proficient designer.
2. Testing and debugging
Once the app development work is completed, the next step is to test the application to assure it works smoothly. Furthermore, it includes testing the product on various devices and platforms This takes a lot of time to complete. Additionally, if there is any bug that needs to be resolved, it is included in the average app development cost.
3. Maintenance and updates
Apps need to undergo constant maintenance and updation to keep up with the current technologies trend and to stay functional. This involves steps from debugging to adding new elements. Application maintenance costs are important, especially if you to remain competitive with the latest industry trends.
4. App Store fees
There are fees associated with each app download if you want to launch your app through app stores such as Apple's App Store or Google's Play Store. Platforms and pricing models can vary in these fees.
5. Marketing and promotion
Bringing your product to the customers requires marketing and advertising endeavors. A website, social media profiles, ads, and promotions are all part of this process. This greatly impacts the overall cost to make an app and may continue.

Tips to reduce the cost of app development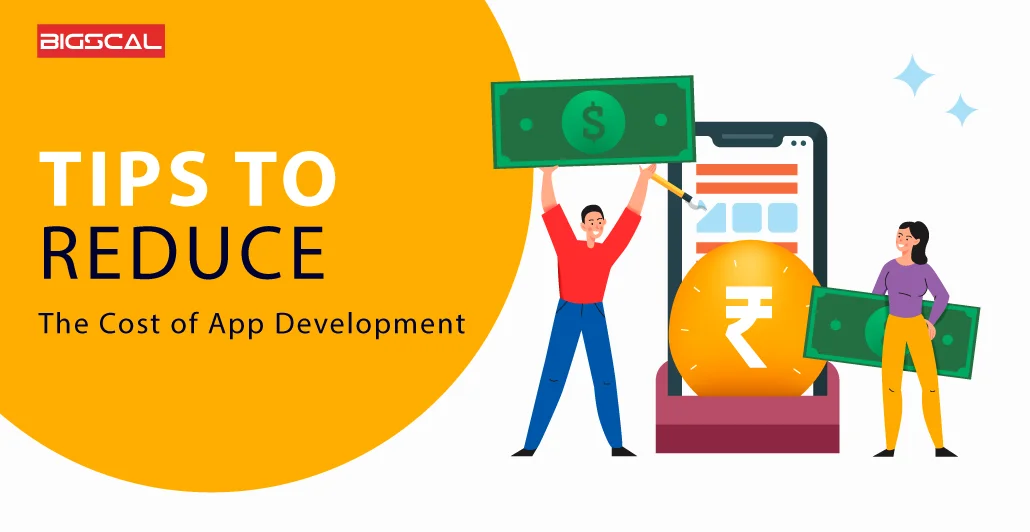 Below we have listed some tips to minimize the cost to make an app:
Define project scope: Make sure you have a clear idea about your application before implementing the development process. Furthermore, it avoids scope creep and reduces the time and cost to build an app.
Outsource the app development process: Outsourcing your app development work to a third-party provider is the best option. Software outsourcing is a cost-effective option if you hire an offshore development company with lower labor costs.
Select the suitable development team: Make sure you hire an app development team with excellent skills and knowledge to build the app. This saves resources, budget, and time.
Utilize open-source technologies: This will help you save your budget on licensing fees and streamline the app development work.
Prioritise features: First, focus on building the most vital features. As a result, your app will launch faster and you will save money on unnecessary features.
Detecting the bug early: Make sure to test the mobile apps in the early stage of the development process and resolves all the errors. This will help you to save your budget and time in the long run.
Use app development software and tools: Use the latest tools and platforms to build an app. This will streamline the development approach and decrease costs.
Pay attention to user experience: If you focus on the user experience, your app will be more enjoyable to use, which can lead to increased engagement and revenue.
Use Agile methods for app development: This will allow you to build an application in small, iterative steps, which decreases the cost to make an app.
How Bigscal helps businesses to reduce app development costs?
Bigscal is a leading software development company that helps business to reduce app development costs by providing a platform that automates and streamlines the development process.
We provide you with a proposal that will include a description of the scope, timeline, and budget of your project. This proposal aims to help you understand what you will be paying for and what you can expect from us.
Our team has put together a cost-effective solution for your project. With our excellent skills and expertise, we help business to eliminate the cost to make an app without comprising quality.
Bigscal offers exceptional maintenance and upgradation support to check your apps are working accurately and equipped with the latest trends prevailing in the market. We help you to save costs in the long run by eliminating bugs and errors that require additional expenses and time.
Conclusion
Determining the right direction for your mobile app development project is essential. Evaluate the app development cost based on your project. Read the article to get a free estimate from us to plan and manage your development team effectively.
We are a leading mobile app development company and help clients in app development globally. Our team offers high-impact solutions that reduce the cost to make an app.
Get in touch with our experts if you're looking to reduce the cost of app development and build your app according to global standards.

FAQ
How much will it cost to make an app?
The cost to develop an app can vary significantly depending on factors like complexity, features, platform, and development team rates. It is best to get a personalized estimate based on your specific requirement.
Simple App Development Cost – $40,000 to $60,000
Average App Development Cost – $60,000 to $150,000
Complex App Development Cost – from $300,000
How much does it cost to make an Android app?
Depending on your project requirements, Android app development can cost between $20,000 and $300,000.
Is it worth building Android apps?
Building an Android app can be worth it depending on your target audience, market demands, and business goals. Android has a larger user base globally, making it a lucrative platform for reaching a wide range of potential users.
How much does it cost to launch an app on google play?
Because developers operate in different scenarios, there is no single service fee on Google Play.
How much does it cost to launch an app on the play store?
Launching an app on google play involves a registration fee of $25. However, it's always best to check Google's official documentation for the most up-to-date information.
https://www.bigscal.com/wp-content/uploads/2023/06/How-Much-Does-It-Cost-to-Make-an-App-in-2023.png
532
1200
Ashish Manani
https://bigscal.com/wp-content/uploads/2018/03/bigscal-logo1.png
Ashish Manani
2023-06-06 10:00:11
2023-06-09 11:08:32
How Much Does It Cost to Make an App in 2023?