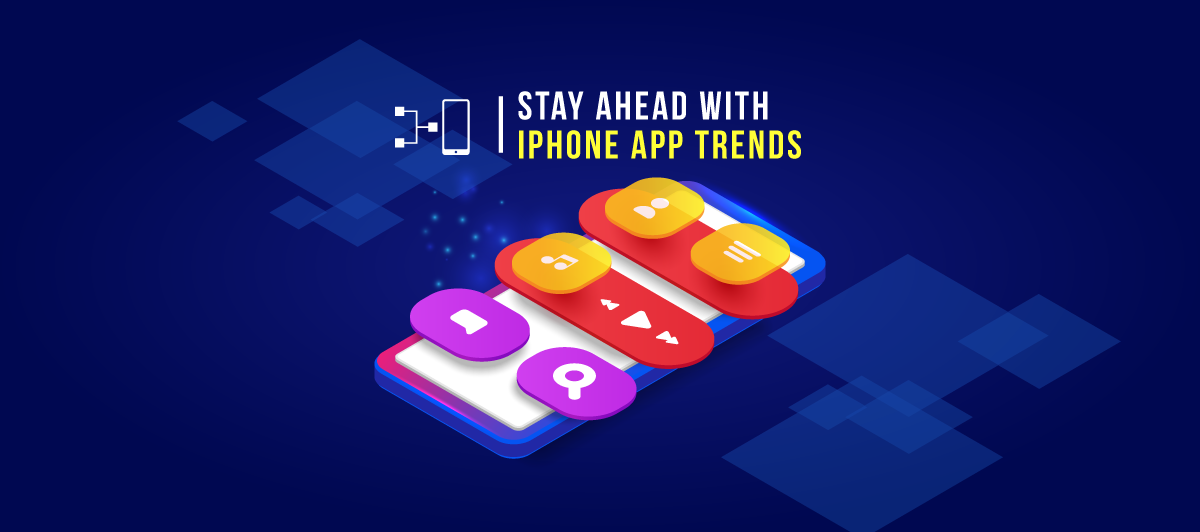 iPhone App Development Trends
Quick Summary: In this blog post we will explore the latest iphone app development trends. We will discuss industry insights and innovations shaping the IoS app landscape.
Introduction
In an ever-evolving landscape, staying current with technology is crucial. There is no denying that the iPhone platform is one of the most evolving platforms in the mobile app tech development industry.
Now that we've already reached 2023, keeping up with the iPhone app development trends shaping the industry is essential.
A report indicates that the global mobile app market will reach $240 billion in 2023, growing at a CAGR of 13.4%. IOS developers must stay on top of the latest iPhone app development trends to stay competitive in such a large market.
Every year, the American multinational technology company – Apple Inc. introduces various new techniques to make Ios app development more accessible and better. The iOS apps, which have gained massive attraction worldwide, have boosted the iOS market's popularity and revenues.
The IOS app tech stack has garnered global attention for creating captivating, high-performing mobile applications.
As an iOS developer, you must stay updated with the latest iOS mobile technology stack and its features. The Below Points Discuss the latest trends in IOS development.
Swift 4
Swift 4 is one of the significant iPhone app development trends. Furthermore, Swift 4 is a programming language introduced by Apple recently: swift support both the iOS and Linux operating systems. An update to Swift 3, it is a robust platform that is secure, scalable, and easy to learn.
The application development will become smooth for developers with minor device memory consumption. Therefore 2023, we can expect the iOS apps to be more secure and developed faster.
Artificial Intelligence And Siri
Artificial intelligence (AI) and Siri rapidly become major iPhone app development trends. Furthermore, Siri, the personal assistant from Apple, has gained broad attraction worldwide.
It boosts Artificial Intelligence and contextual learning by understanding what people are talking about and what they wish to search for. Further, Siri offers a GPS pin or code while sending messages. Also, the new Siri is a task manager to help you access your mobile app with a QR code.
Machine Learning Framework:
Machine learning is also one of the significant iPhone app development trends.
Furthermore, it is a new foundational framework from Apple, used across various Apple products, including QuickType, Camera, and Siri. Additionally, machine learning offers lightning-fast performance. It allows developers to leverage machine learning models to develop intelligent apps by writing just a few lines of code.
Further, CoreML will offer a level of communication that applies to all iOS devices with its robust library. Furthermore, CoreML will redefine gaming app development. The game developers can build AI-enabled apps with face detection or voice recognition features in a highly interactive manner.

Augmented Reality:
Augmented Reality is one of the prominent iPhone app development trends. Furthermore, AR has existed for some time now, and we have witnessed a dedicated effort investment by organizations. Apple created ARkit that assists developers in developing apps based on augmented reality.
ARKit enables iOS developers to create 3D and AR-based mobile apps that are gaining popularity. Apple and Amazon joined hands to bring ARkit and Amazon Sumerian together.
More User-Friendly Apple Pay:
Apple is one of the early movers of the reliable digital transactions movement with Apple Pay. An online wallet application enables seamless online transfers, buying tickets, and shopping online over an entirely secure platform.
Focus On Creating Hybrid Apps:
New and advanced tools, such as Native Script and React Native, have replaced cross-platform apps. Furthermore, this will significantly help solve performance and user experience issues.
It will also support developing hybrid apps with better interfaces and UX. IOS developers will also focus on creating hybrid apps as it saves time.
Apple HomeKit:
"Internet of Things" devices are prevalent in the global market. These devices currently operate with their companion apps. By leveraging Apple Home Kit, Apple's framework for home automation, iOS app developers could build apps that easily connect with smart home devices.
With devices working in sync, speaking with each other, there lies a tremendous potential to take home automation to new heights. Apple HomeKit will play a pivotal role in change for the future.
Changes In IPad Applications:
There has not been much progress in iPad app development. However, ever since the introduction of Qualcomm, a kind of chipset, iPad apps have gotten a boost with the enhancement of battery life. The changes essentially took place due to the growing competition in the tablet industry, so 2018 will witness new apps stuffed with new features.
Cost to build an iPhone app
The Cost of Making an App depends on the iPhone's features and complexity and varies from $10,000 to $250,000 or more. Furthermore, working with reliable and experienced iPhone App Development Services is crucial to ensure that your iPhone app fulfills all the client's requirements and is launched successfully.

Conclusion
The iOS application industry is going through one of the most critical phases, especially after iOS 11 and 11.3 launch. Much has changed after the launch of the iPhone X and iPhone 8. Therefore, keeping updated information on the latest trends is vital.
Apple also keeps on bringing alterations after every few months providing better experiences to its end customers. In addition, it is also crucial to update your apps at regular intervals for the best performance.
FAQ
What are the latest iPhone app trends?
Some of the latest app development trends for the iPhone include AI-powered personalization, augmented reality integration, health and fitness apps, and privacy-focused features to enhance the user experience and security.
What is the future of IOS?
The Ios development future looks promising as it holds advancements in AI integration, enhanced AR experiences, tighter privacy controls, improved app interactivity, and seamless device ecosystem integration, continuing to shape modern mobile computing.
What is the latest tech stack for mobile apps?
The current mobile tech stack often involves native development (Swift and Kotlin), cross-platform frameworks (Flutter and React Native), and cloud services (AWS and Firebase) to streamline app creation and deployment.
Which mobile tech stack is most in demand?
The best technology stack for mobile app development comprises Flutter and Kotlin for app development, integrating with cloud services like AWS or Firebase for scalable backend support and data storage.
What language is used for iOS app development?
Apple's Swift programming language is intuitive and powerful, allowing developers to build apps for Mac, iOS, Apple TV, and Apple Watch. A new level of freedom has been granted to developers with this new platform. Furthermore, Swift empowers creators with its user-friendly nature and open-source accessibility, enabling anyone to craft remarkable applications and innovations easily.
https://www.bigscal.com/wp-content/uploads/2023/09/iPhone-App-Development-Trends-1.png
532
1200
Ketan
https://bigscal.com/wp-content/uploads/2018/03/bigscal-logo1.png
Ketan
2018-05-25 04:28:34
2023-09-19 09:30:16
iPhone App Development Trends