Why Outsourcing is a Cost-Effective Solution for Oil and Gas Software Development
Quick Summary: This blog highlights the benefits of outsourcing oil and gas software development. Discover how outsourcing can optimize operations, save costs and access specialized expertise. Read more in our article!!!
A software outsourcing arrangement involves a company hiring a third-party contractor to perform software-related tasks that could have been done internally.
When building complex oil and gas software, it requires money and time and not everyone has a big IT team. So many businesses choose to hire software outsourcing companies. They can save time and resources by assisting with the development of oil and gas software.
Furthermore, oil and gas software development outsourcing offer businesses a competitive edge by reducing costs, maintaining product quality and enhancing customer service.
A study conducted by the Information Services Group estimates that the annual global revenue from information technology outsourcing will be between 60 and 70 billion dollars if all contracts valued at more than 25 million dollars are taken into account.
In this article, we will highlight why companies outsource oil and gas software development and what advantages businesses can reap from outsourcing. Let's get started!!
Why is software outsourcing good for oil and gas software development companies?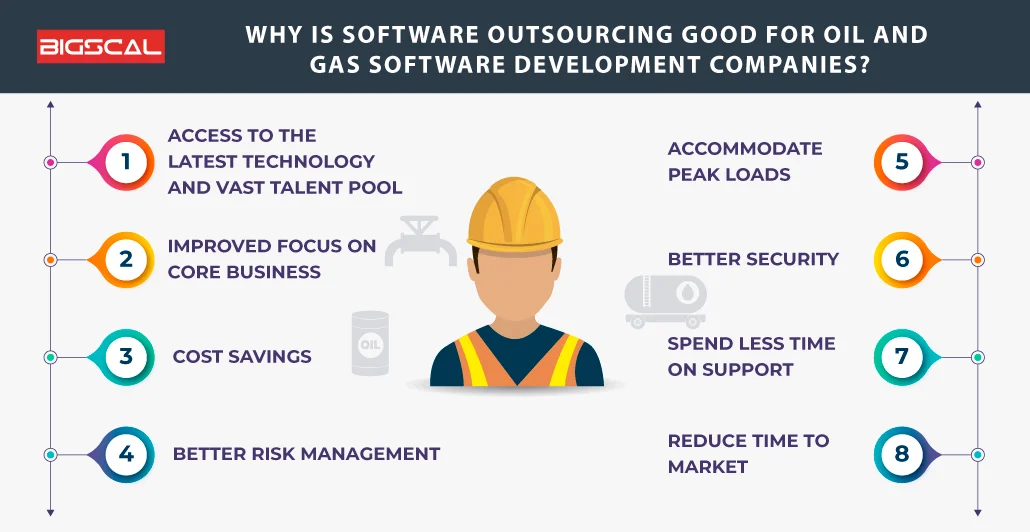 Below we highlighted a few reasons why outsourcing oil and gas software development is beneficial:
1. Access to the latest technology and vast talent pool
One primary reason why businesses outsource oil and gas software development is huge access to the global talent pool. It is also impossible to build an in-house team of experts in every skill and technology.
By outsourcing oil and gas software development, companies get exposure to adept developers all over the globe. Consequently, it enhances the company's technical proficiency and horizon.
The outsourcing team handles all the tasks from development to deployment without the need for additional guidance and training. Also, be mindful of these points before outsourcing software development services to get successful outcomes!!
2. Improved Focus on Core Business
In today's world, businesses should look for innovative ways and grow in order to stay competitive in the market. Therefore, outsourcing software development help business to concentrate more on their core operations.
Furthermore, your in-house staff will not be overwhelmed with work that does not match their skill level, allowing them to concentrate on business-related strategic goals.
Additionally, it streamlines the workflows and helps to free up resources on other approaches that enhance business productivity.
3. Cost savings
By outsourcing oil and gas software development, a business can save their expenses up to 30%!!!!!!!
You cannot stop the carousel (of spending, mostly) when you run a successful business!
When you outsource oil and gas software development, there is a significant difference in salaries in both developed and developing countries.
Also, IT outsourcing services help business to save their finances in the form of employee salaries and benefits. Therefore, developing nations are often cheaper for outsourcing software development and operations than in-house because they benefit from larger economies of scale, resulting in cost savings.
4. Better Risk Management
The best way to mitigate risk is to diversify your portfolio (spread your money across different investments) instead of putting all your money in one place. This helps you protect against potential losses and increase the chance of better returns.
The same goes for software outsourcing. Managing risk effectively is critical to reaping the benefits of software outsourcing in the long run.
Therefore, handling the work processes for different vendors helps businesses mitigate risks. Before making a decision, it's important to do your research. Talk to vendors' previous clients, assess their experiences and consider their ratings.
Remember, transparency in outsourcing is crucial for a successful oil and gas software outsourcing relationship!!!
5. Accommodate peak loads
In every business, there are times when customer demand is exceptionally high. To handle this, the company can either shift their existing resources to tasks they aren't specialized in or they can hire new employees to meet the increased demand.
As a result, it decreases the productivity of the organization. By software development project outsourcing, you can hand over the work to the team for just the peak period without giving any commitment. Additionally, IT outsourcing for the oil and gas industry helps businesses balance their workload, save money and boost efficiency.
6. Better Security
Suppose your internal team is not proficient in IT skills, there are possibilities that company security is not well protected. Furthermore, security breaches will put your company's sensitive data at risk.
Custom software development outsourcing will give your business better protection against IT security violations. Additionally, the outsourced software team will take care of all the code and development processes and ensure it is safe and well-protected from hackers.
7. Spend Less Time on Support
Software for the oil and gas industry requires constant maintenance and support. Therefore, companies need a dedicated development team to handle all the software bugs, updates and modifications.
Outsourcing oil and software development will provide you with a team to take care of all the application maintenance and updates.
Due to significant time-zone differences, businesses get immense benefits round-the-clock.
8. Reduce time to market
Businesses worldwide understand the importance of speed to gain a competitive edge and use it to their advantage in order to succeed.
With outsourcing oil and gas software development, businesses have zero dependencies on internal teams to get the product to the market.
The timeline can actually be set according to your schedule, and you will have dedicated developers to assist you accordingly.
How to know which outsourcing model is the best for your Oil and gas company?
Outsourcing oil and gas software development includes different types of hiring models. Furthermore, based on the requirements, businesses should choose the one that best suits them. Below we highlighted a few different types of outsourcing models:
1. Dedicated Team Model
In this model, a dedicated team of outsourcing professionals is hired to work only on the project. Furthermore, a dedicated project manager monitors progress and ensures deadlines are met for this team working remotely. Long-term projects requiring the same development team are well suited to this approach.
2. Time and Material Model
The time and material model is a good option for businesses that want to outsource a specific project while maintaining control over the process. As a result of this model, oil and gas software companies create cost estimates based on a set rate per hour. Additionally, it allows the client to control costs without having to monitor them closely.
3. Fixed Price Model
This outsourcing model is a good option for businesses that want the provider to be responsible for the costs associated with the project. Outsourcing companies can be given a set budget, project requirements, and timeline-and then they can handle the rest. In most businesses, this model is preferred since it reduces micromanagement and offers greater flexibility.
4. Project-Based Model
Project-based software development is ideal for companies that lack the expertise or resources to manage long-term software development projects.
An entire project is outsourced to a development team that sets a timeline and budget for the project.
Overcoming Challenges in Outsourcing Oil and Gas Software Development
Businesses may encounter some unavoidable challenges when choosing to outsource oil and gas software development. Let's find out:
1. Choosing a dedicated software outsourcing partner
According to our observations, most businesses place the price tag above all other factors when choosing an outsourcing firm. Unfortunately, most executives choose the cheapest option.
Solution
When choosing oil and gas software development services, businesses should think beyond the cost. However, considering expenses is one of the crucial factors, but it should not be the only reason behind determining an offshore development partner.
Moreover, looking at past references to oil and gas software outsourcing providers will help you to analyze their technical skills and abilities. Additionally, you can check testimonies to get a better idea about their previous projects and how they handle them.
Also, review their knowledge, expertise, testimonials, communication skills and their choice of technology to build an application.
Remember, success is determined by the final product that meets expectations!!!!!!!!!!!!
2. Underdeveloped Product Specs
A poorly developed specification can also negatively impact the success of a project when it is outsourced. The outsourced firm provides substandard solutions or solutions that fail to meet the desired outcomes.
Solution
Your product should be described in detail if it's not ready. Outsourcing a product requires a clear understanding of what you want and the consequences of the choice. Describe the purpose and impact of each feature on your product's success.
Before determining an outsourcing partner, it is imperative to conduct thorough research on the business requirement to decide how you want the final product to look. Furthermore, you can take the help of professionals to ensure business requirements are concise, leaving no room for obscurity.
3. Communication Breakdown and Cultural Differences
In today's world, digital transformation in the oil and gas industry is becoming more common. However, when companies hand over their work to other countries, they need to collaborate with people through various mediums. Furthermore, cultural dissimilarities and language barriers between the two different countries often cause difficulties and problems.
Solution
Before you kickstart your oil and gas software projects, it is crucial to address the communication gap. Furthermore, it is crucial to discuss with the outsourced company how the services should be delivered. Ask them about the project managers and team leaders and check how developers handle the work.
Additionally, check what tools and technologies they prefer and how they collaborate with involved parties during project implementation.
If you are working in different time zones, ensure that the outsourcing firm provides you with a progress report of the project. Ensuring seamless communication and collaboration with team members will help you to avoid bottlenecks during the development process.
Additionally, ensure that the outsourcing firm relies on project management tools such as Jira, Trello, and Basecamp etc for smooth communications and workflows and no communication breakdown is encountered.
4. Costs and Margins Ambiguity
There is nothing that deters the morale of a business more than having to increase the budget of a project unexpectedly. In due course, it's possible to face the outsourcing challenge of additional costs if you don't do proper research on the project requirements.
Solution
The solution to this problem is to devise a mechanism for managing the bills and overtime hours that were not included in the project's estimate. Before implementation begins, make sure such agreements are documented in the contract. Moreover, there should be a mechanism for pre-notifying changes in advance.
5. Data Security Concerns
Another major challenge of outsourcing oil and gas software development is protecting the data of the company. Furthermore, providing access to sensitive data to outsourcing firms comes with security violations and threats.
Solution
Businesses need to take precautions while entrusting their intellectual property and sensitive information to outsourcing firms. Furthermore, you can have an in-house data security team who can suggest the best solutions to eliminate data security concerns.
To ensure the outsourcing firm takes data security protection seriously, the firm should be aware of your data security regulations, and an NDA should be signed.
5 Tips for a Successful Oil and Gas Software Development Outsourcing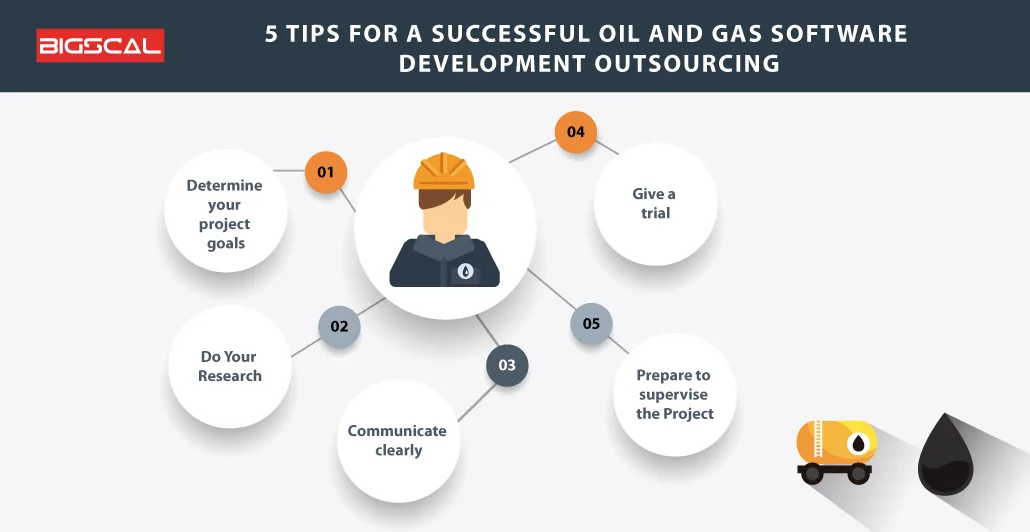 Check out these 5 tips to leverage the benefits of software outsourcing:
1. Determine your project goals
Before you outsource your oil and gas software development project, it is imperative to understand your project goals. Find out the purpose of the project that you want to achieve by outsourcing the development work. Once you get a clear idea about your final objective, you can start searching for an outsourcing company.
2. Do Your Research
There are many oil and gas software outsourcing companies available. It is essential to pick the one that suits your business requirements. Before choosing an outsourcing partner, read their online feedback and compare their development cost with other firms before taking long-term decisions.
3. Communicate clearly
Good communication is essential for successful project implementation. Furthermore, an outsourcing firm should have a clear idea about your project scope, deadlines, and budgets to fulfil all your expectations. Importantly, conduct regular meetings and ask for progress reports to ensure everyone is on track.
4. Give a trial
Before you make a long-term decision of partnering with an oil and gas software development company, it is essential to try them. Furthermore, this helps you figure out whether outsourcing firms have the proper skills and abilities to execute product development.
The trial period should not be an issue for an experienced team with established processes. It reflects their confidence and abilities to fulfil all your expectations and have nothing to hide.
5. Prepare to supervise the Project
Even though you have outsourced the project development to another firm, it is still important to prepare yourself to supervise the development process. You can never know what may arise, so it's imperative to be prepared if it does.
Most companies think that once they outsource their development, all worries are eliminated.
But the reality is that you still need feedback, suggestions and guidance. So, set aside time to handle the project development.
Build your Oil and Gas software with Bigscal
Bigscal is a renowned oil and gas software development company. With extensive expertise and a track record of excellence, we assist businesses of all scales. Our vast experience enables us to deliver top-notch, affordable solutions for various software projects, ensuring high quality and cost-effectiveness.
If you're looking for a dedicated partner to outsource oil and gas software development projects, connect with Bigscal. Our team will assist you in all the steps of your project.
Conclusion
You can outsource oil and gas software development in various models that are beneficial to your business. Outsourcing offers different models for small, medium, and large businesses alike.
Outsourcing software development this way offers you not only the opportunity to save money but also the freedom to select the right company for you.

FAQ
What is software outsourcing?
Software outsourcing refers to the practice of hiring external companies or individuals to build or maintain software applications, rather than depending on an internal team. It involves delegating specific tasks or projects to external partners to leverage their expertise and reduce costs.
What must companies do for a successful outsourcing experience to occur?
It is crucial to explain your company's culture, mission, goals, and daily business processes to achieve successful outsourcing results. Your outsourced team needs a dedicated manager who will supervise, train, and build up the team.
What is the most crucial factor for a successful outsourcing oil and gas projects success?
A successful outsourcing engagement depends on trust. An analysis by Warwick Business School has shown that executives who manage their outsourcing contracts in a traditional penalty-based manner are missing out on a trust dividend worth up to 40%.
Does oil and gas software development outsourcing improve efficiency?
Yes, it Improves business performance. You can access expertise, technology, and resources through strategic outsourcing. You can improve your performance by working with a service provider that meets key metrics including efficiency, quality, and customer satisfaction.
How does software outsourcing enhance company focus?
Businesses can grow by focusing on activities that aren't handled in-house or their core competencies. In addition to ensuring that they are using the right technology, outsourcing oil and gas software development services allows companies to free up their internal staff for more important work.
https://www.bigscal.com/wp-content/uploads/2023/07/software-outsourcing-good-for-oil-and-gas-software-Main-image.png
532
1200
Bharat Godhani
https://bigscal.com/wp-content/uploads/2018/03/bigscal-logo1.png
Bharat Godhani
2023-07-17 10:00:03
2023-07-17 09:37:18
Why Outsourcing is a Cost-Effective Solution for Oil and Gas Software Development