Strategic Outsourcing for Fintech: A Comprehensive Guide to Software Development in 2023
Quick Summary: Businesses can advance their revenues by outsourcing fintech software development that streamlines costs and gives access to specialized skills. In this guide to Fintech development outsourcing in 2023, we will provide detailed benefits, reasons, best practices, case studies, practical tips, and costs for finding out right financial software development company that ensures quality and let you achieve your project goals.
Fintech is one of the top industries in terms of outsourcing investment. It is now the most promising and motivated sector, having grown from a minor trend to a massive market segment. In 2021, the US became a home for over 100 fintech unicorns.
"Being in the consumer business helps us groom talent in areas like marketing, finance, and logistics. We can benchmark our outsourcing business to our consumer business and its best practices."Azim Premji
As more financial institutions are pushed to build digital solutions utilizing new technologies such as artificial intelligence and blockchain, all of this provides a competitive advantage. The worldwide fintech technologies market was estimated at $110.57 billion in 2020 and is expected to increase at a CAGR of 20.3% from 2021 to 2030, reaching $698.48 billion by 2030.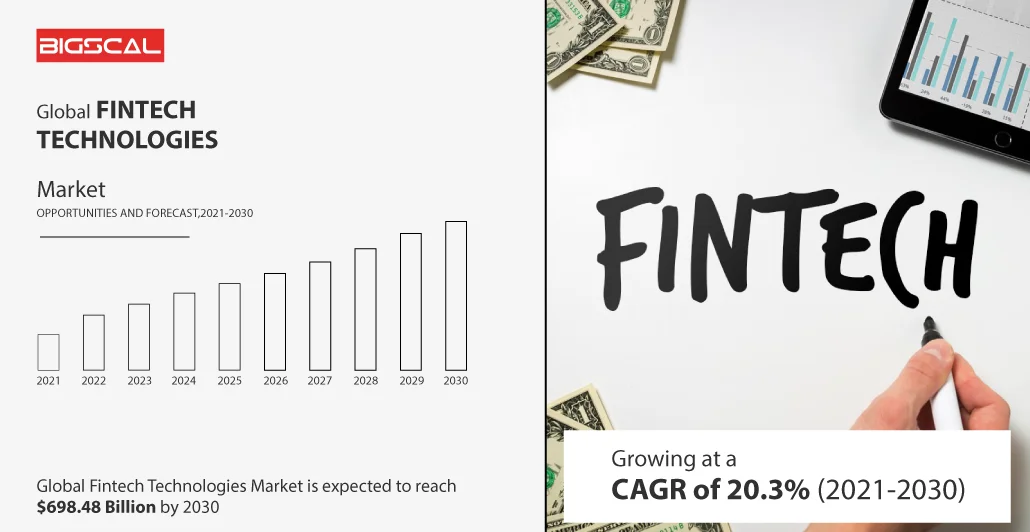 Consumers are accustomed to digital banking services, and they can quickly pay for subscriptions, purchase things online, pay bills, and send money anywhere with a single touch of their smartphone! The evolving banking methods with the tech-savviness of users have no regrets about leaving traditional banks' offices and queues behind.
If you are thinking of digitally transforming your venture, then the time is proper for outsourcing financial development. In this blog, we have detailed enough information that will help you find the right fintech software development company.
But before we dive into essentials, let's understand the roots!
What is Outsourcing Fintech Development?
Fintech development outsourcing means when a fintech firm hires a company that is providing fintech outsourcing services for simplifying end-users' access by internet or mobile apps. It helps develop fintech software that improves the speed of processing transactions, accuracy, and transparency by reducing costs for enhancing customer experience.
Let's move on to the next question!
Why do Fintech companies outsource software development?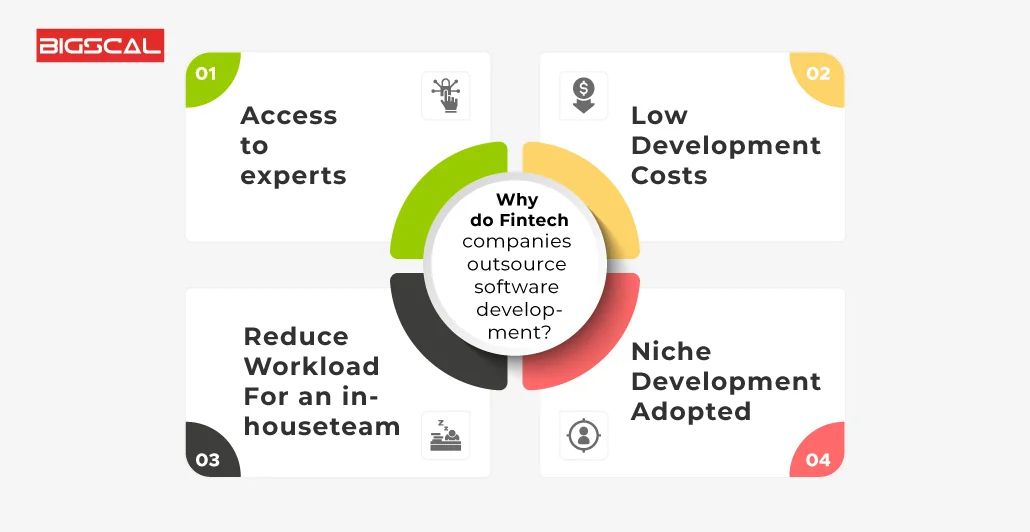 There are many reasons that fintech outsourcing business brings for their profiled clients,
Access to experts having knowledge on advanced technologies.
Without any further expense, the IT process is optimized.
The cost of developing software is lowered.
Reduce work for in-house staff.
Special niche development requirements are rapidly adopted.
There are many constraints that Fintech companies are facing in terms of budget and many other useful resources like time, number of qualified employees, and available workspace.
Outsourcing in the fintech business may be a game changer for many organizations who wish to deploy software development quickly without disrupting their core budget or sacrificing end-product quality.
Who would benefit from Fintech software development outsourcing?
Hiring talented fintech developers remotely has various advantages, whether you operate a well-established fintech organization or are a recognized financial service provider.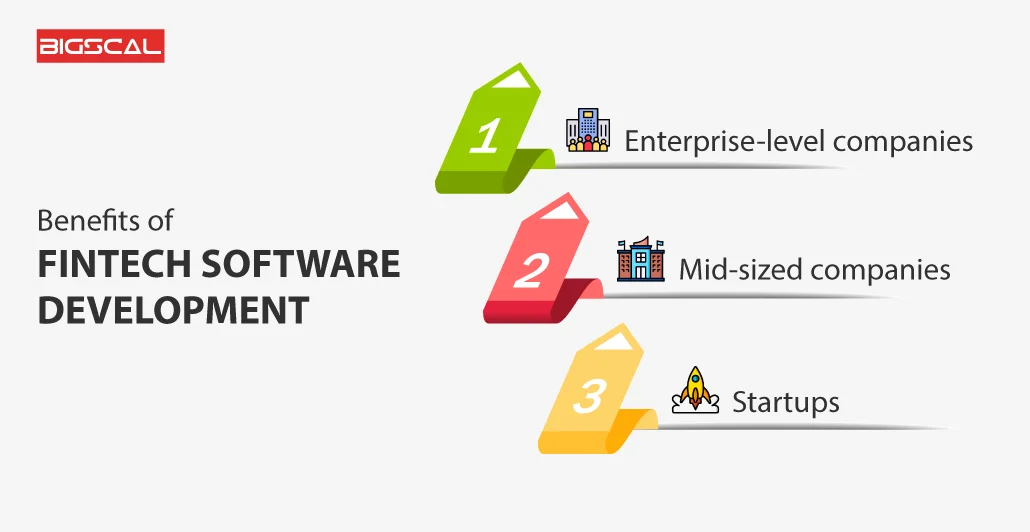 Enterprise-level companies
Enterprise-level businesses assign short-term and long-term efforts to Fintech software developers. While the expansion of business, there are many requirements that need to be fulfilled by tech experts. However, there are major advantages that outsourcing brings to enterprise-level companies.
Gradual innovation of legacy
A reliable fintech software development firm, helps the international corporation create a sustainable innovative plan. It helps the company to run the important business operations and update solutions step-by-step.
Low-cost software development
Outsourcing allows the creation of a large team by cutting costs. The developers chosen are temporary and you can tackle business benefits, taxes, and holidays together.
Involvement of subject matter expertise
The industry from the customer's viewpoint can be assisted by specialists. Moreover, the knowledge they provide is priceless.
Less time in hiring experts
The whole hiring process for fintech software developers may take the same time or less equal time when hiring only a single developer for an in-house team.
Access to the large talent pool
Top talents not only fulfill your requirements but improvise your project by pointing out the possible weakness by giving fresh ideas that benefit the project.
Increases project scalability and flexibility
Software development outsourcing might gain the new inn of offering "on-demand services." It helps you to scale along with talents and expenses means scaling a project by saving time and money.
Mid-sized companies
Outsourcing fintech development is a great option for medium-sized businesses, as they can make in-house teams to concentrate on core business operations. There are around 37% of mid-sized companies that takes outsourcing services.
When you use Fintech software development services, you have access to technology advancements. Business specialty in technology and software development keeps up with the newest trends and technological breakthroughs.
Startups
80% of mobile startups fail because of insufficient planning, an ineffective development team, and bad resource management. Hence, for a Fintech startup, it is essential to select the best development company that helps to build an effective and economical Fintech app. Usually, startups tend to hire experts that are likely to save project expenses and lessen failure.
Outsourcing models must be considered while selecting a Fintech software development business
| Type | Details |
| --- | --- |
| Onshore Outsourcing | In this model, you can hire a Fintech software development company to produce for your business within your country. Mostly, companies choose this model due to a lack of relevant tech stack, time for full-time staff recruitment, or rapid completion of small-project. |
| Nearshore outsourcing | Companies use nearshore to delegate projects to Fintech software developers in surrounding nations or regions. Moreover, this outsourcer charges less than the local agencies and at the same time is in a time-convenient zone. |
| Offshore outsourcing | Under this arrangement, Fintech development is outsourced to a company located far from your business or on another continent. The barrier to offshore outsourcing is in terms of language, time zone, and cultural fit. Yet, the most effective benefit is cost-efficient. |

Benefits of outsourcing with Fintech software development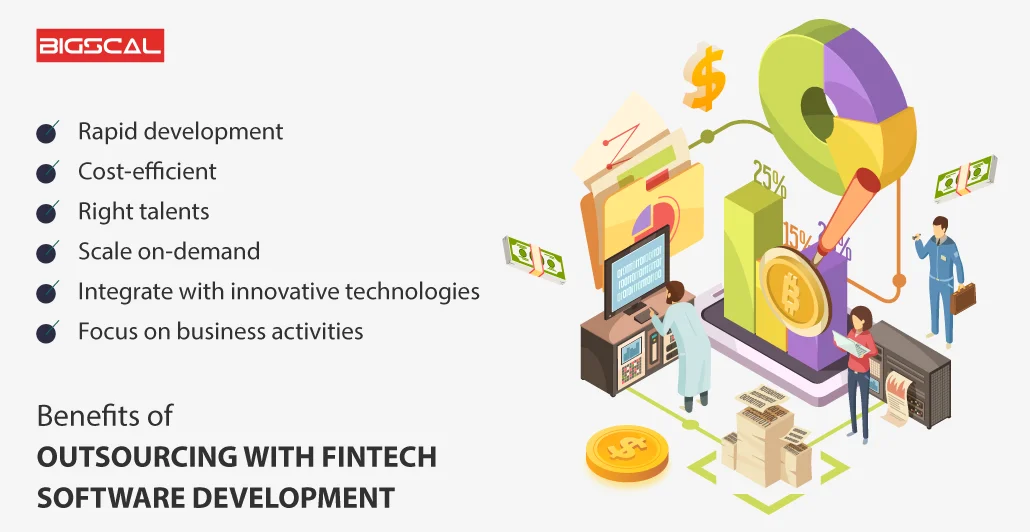 As technology is truly evolving, so should its players. While outsourcing in the Fintech industry, a business can get the following benefits.
Rapid development
The most important advantages of Fintech development outsourcing is speed. Outsourcing businesses may assist to accelerate the development process if the project is assigned to a certified team of professionals with considerable expertise and experience building Fintech solutions.
Cost-efficient
Outsourcing fintech initiatives might help you save a lot of money. You may outsource your projects to nations with lower living costs, allowing them to be employed at a lesser cost. Furthermore, by outsourcing fintech software development, you can save on hiring and training costs of resources.
Right talents
Finding the right expert that is having extensive skills and is also available in your geographical location is truly difficult, especially, when the world is suffering from a tech-talent crunch.
Righteously, fintech companies can outsource their projects to overcome the challenges of resources. They help you to hire fintech software developers who have expertise in different technologies like Artificial Intelligence (AI), Machine Learning (ML), blockchain, and robotic process automation that provides seamless app development.
Scale on-demand
While an in-house team requires additional resources when the project is grown, outsourcing providers assist organizations in scaling swiftly by hiring Fintech software engineers that work in tandem with their current talent pool on Fintech projects.
Integrate with innovative technologies
Because technology evolves at such a rapid pace, so must industries. Outsourcing service providers are usually the front liner of technological innovations. Additionally, outsourcing Fintech software development services brings better solutions to their clients.
Focus on business activities
When organizations employ Fintech outsourcing services, their in-house team may focus on day-to-day tasks and deadlines. This brings more productivity, and business growth and enhances customer engagement.
The benefits of outsourcing financial development can be enough to improve the bottom line and drive innovation by assisting businesses to stay competitive.
Essential reasons to opt for software outsourcing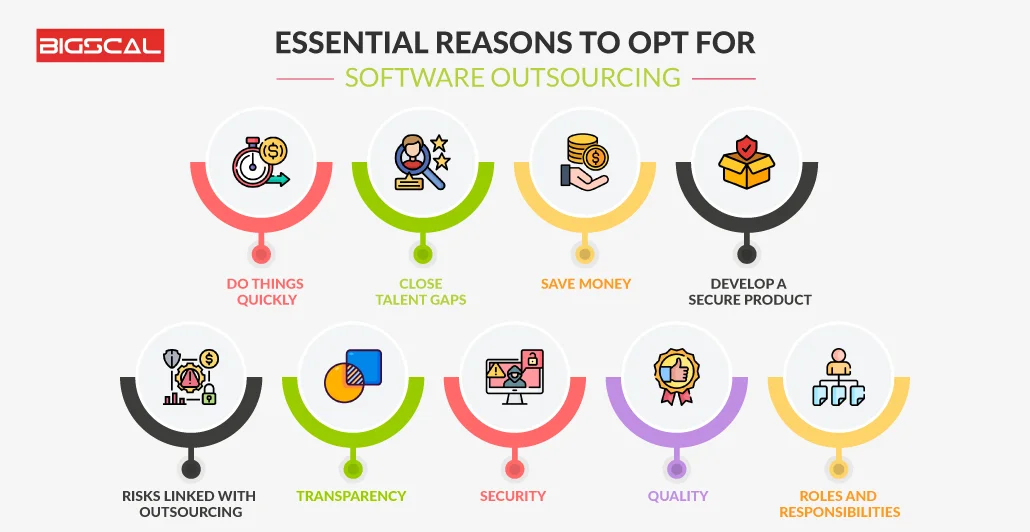 Financial development outsourcing from an untrustworthy team might be hazardous. Yet, if organized properly, it becomes a life savior for many business situations. You may choose to outsource if you fit into the following reasons,
Do things quickly
A software development project needs a large team to come together for the development of a robust web application. It includes UI/UX designers, engineers, developers, business analysts, QA testers, and Project managers. It takes lengthy procedures to scale new staff onboard.
Although, if you only need to produce one software product, outsourcing is an excellent way to reduce time to market and avoid recruiting full-time employees.
Close talent gaps
Although you might have an internal software development team if you want to develop an innovative financial product, it may require a tech stack that your staff lacks. You can use the staff augmentation model to rent tech expertise from an outsourcing agency.
Save money
If you are planning to develop a new software from scratch, you may see that it cost too much for a startup to handle. In case, hiring remote engineers may seem beneficial, as it saves on full-time staff recruitment.
You can trust the team as they provide 24/7 support, maintenance, and updates of the software they create by reducing the burden of software management on your in-house team.
Develop a secure product
The unusual constraint that software development companies are facing is cybersecurity. As per reports, the data breaches and hacking of popular apps have drained almost $3+ billion from businesses.
You cannot risk introducing a product into the market without confirming its security measures; a single hacker attack will damage your reputation in the market. When you outsource fintech development, you will receive top-rated cybersecurity professionals on board, ensuring enterprise-level security for your project.
Risks linked with outsourcing
There are downsides to every project, and so outsourcing has no exceptions. Yet, if you are aware of the hazards involved, it will be simple to overcome. The most common problems connected with outsourcing are a lack of communication and an untrustworthy service provider.
So, let's have a break at the risks that are related to it and how to solve it.
Transparency
Clear communication and understanding of all the terms are vital to make the outsourcing smooth between both parties. It's important to make sure the client shows their vision clearly about the technicality of team shares.
Discuss every step and make corrections, if needed. In addition, request a service level agreement (SLA). This agreement covers all areas of the development process, from quality to responsibilities and establishing the standards of services provided by the team.
Security
A non-disclosure agreement, or NDA, should be negotiated with the outsourcing contractor to secure your sensitive information. The contract should include about information the company that should and shouldn't be disclosed. Also, the punishment connected with security breaches should be specified.
You have to make sure that the product should be own what they create, to ensure that it's your property. Also, the project documentation is only accessible to you and the authorized parties.
Quality
You have to make sure that the values you assemble for product creation should be the same after receiving the developed product. However, you have to find an outsourcing fintech development company that concentrates on the quality of software.
While hiring fintech software developers, interview them just like an in-house team checking their portfolio, asking about their relevant experience, and consulting their previous clients, if possible.
Roles and responsibilities
The most worrying matter while outsourcing in the fintech industry is loss of control. This problem arises as a result of inadequate project management, unclear responsibilities, and a lack of communication. You should be very transparent in describing the roles and responsibilities of the fintech outsourcing business.
A management strategy outlining how you and the supplier will share management duties should be developed. Make it easy for them to reach you and for you to reach them. Aside from that, construct a work assessment strategy that contains meeting deadlines, report templates, and change request processes.
Fintech software development business technologies
One of the genuine reasons for opting for financial outsourcing services is the lack of developers with the proper expertise. For delivery, companies typically outsource the development of blockchain, AI- Artificial Intelligence, Machine Learning (ML), and Big Data.
Payment gateways
To govern the user experience, a strong ecosystem of payment software solutions should be built.
E-commerce payment methods
The customer's needs are prioritized with secure online payment software solutions.
Software development for POS
Checkouts is sped up with POS-upgraded software, loyalty programs are incorporated, and data-rich client profiles are generated.
Payment security PCI DSS
This feature is incorporated in software development for anti-theft safeguards for EMV, swipe, and non-card payments.
Mobile application for e-wallet
e-Wallets is a necessity for customers as it easily completes transactions and boosts customer loyalty, revenue, and profitability.
Prominent programming languages for Fintech app development
Fintech development outsourcing should be provided if the service provider builds software using the following programming languages.
Java is widely utilized in the development of software for banks and other financial organizations. It helps maintain stability and safety.
Python is a popular programming language for financial software development. Its increasing popularity is due to its ability to increase modularity and code reuse as it supports modules and module packages.
C++ is a platform that has been utilized for many years by various financial firms. This language is used in the creation of software, operating systems, and other products.
Ruby is simple and easy to use. This is the reason why digital banking startups and businesses use the Ruby on Rails framework. It takes all the favor due to its framework-integrated feature and security measures.
SQL creates web applications and uses the databases to the fullest. It is important for banking and fintech for making necessary tools for anyone in the industry.
Value of outsourcing and in-sourcing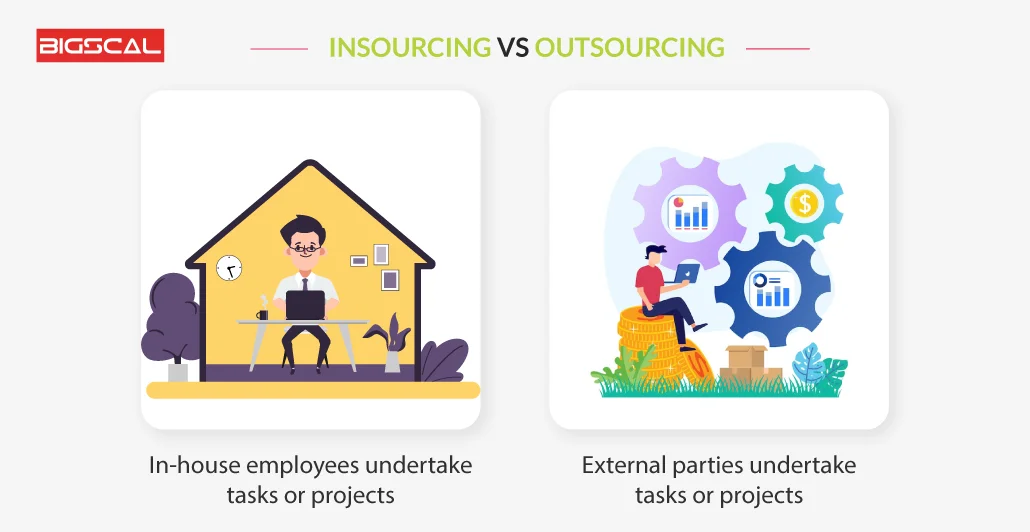 Many US and European companies are increasing their outsourcing for solving particular business issues. The fintech outsourcing business takes all the responsibilities that you might have assigned to your in-house department. They have intensive expertise in this field that allows them to implement the project with a satisfactory level of quality and industrial standards.
Furthermore, they charge less in comparison to the corporate organization you are having on hand to handle. Furthermore, there are several hazards involved with Fintech outsourcing, but you may avoid them if you work with a reliable partner.
Fintech development outsourcing models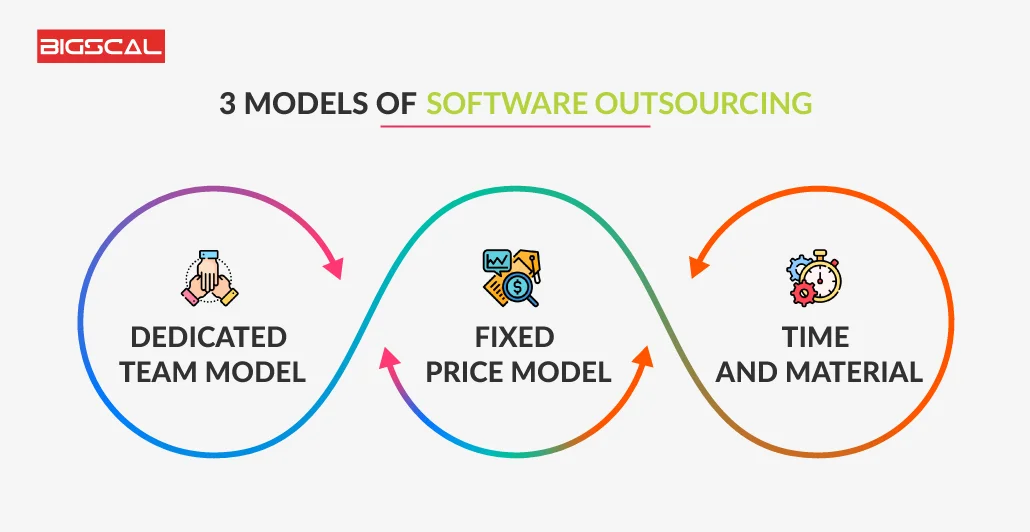 This model involves an outsourcing Fintech development company that puts the entire dedicated team into a single project. The team is chosen based on the client's demand for experience and skill set, the levels of development experts, developers, QA specialists, business analysts, and a project manager.
When the project needs are well known and the scope of work is well specified, a fixed pricing model works effectively. If any additional adjustments or updates are necessary after the project has begun, they must be included in the agreement or appropriate contract, which results in a price increase.
The time and material model is a type of contract that is based on the time required to complete the project. It is one of the most popular types of contract in the outsourcing industry, as its nature is flexible and its structure is easy.
Fintech outsourcing trends in 2023
According to GlobeNewswire, the fintech market across the globe will reach $305 billion by 2025. This analysis details that the fintech wave is not the talk of town; whilst, there are many multinational corporations that are implementing new technologies.
Let's discuss the current developments that are trending in digital banking.
Artificial Intelligence
AI-powered apps make recommendations based on the results, assisting clients in minimizing or optimizing expenditures. Data from customers' cash accounts, credit accounts, and investments are gathered and analyzed. Moreover, it analyzes spending patterns and creates a customized budget.
Blockchain security
The NFT- Non-fungible tokens are gaining popularity due to increasing ownership of digital commodities. As a result, it gives great security and provided financial infrastructure. Due to cryptocurrency payment options, NFTs serve as trustworthy proof of ownership for certain assets.
Voice payment
An AI-powered device such as a speaker or smartphone allows you to make payments with your voice recognition feature. Data from customers' cash accounts, credit accounts, and investments are gathered and analyzed.
Biometrics
A banking system's PoS-Point of Sale terminals uses fingerprint scanning to provide consumer protection. As a result, it is possible to access accounts and manage funds without fear of identity theft.
Credit scoring
An unbanked person, who needs financial support for expanding their small companies are facing hurdle due to a lack of financial borrowing history. As a result, it is possible to access accounts and manage funds without fear of identity theft.
RPA- Robotic Process Automation
Outsourcing in the Fintech industry uses RPA for reducing costs and increasing organizational effectiveness. Financial firms' efficiency may be increased by using RPA to automate typical business processes.
Chatbots
The most trending AI-based option is Chatbots for both websites and apps. AI chatbots can offer individual experiences by interacting with customers promptly by answering their frequent questions.
Big data
In the Fintech project, the application of Big data technology allows the creation and processing of solutions that are capable of handling large amounts of data simultaneously.
Also Read: The Future of Artificial Intelligence(AI) in FinTech Industry
Products that Fintech companies can outsource
When thinking to take Fintech outsourcing services, you might be thinking, what are the solutions that are appropriate for outsourcing? What software can be built remotely and what is suitable for only in-house production?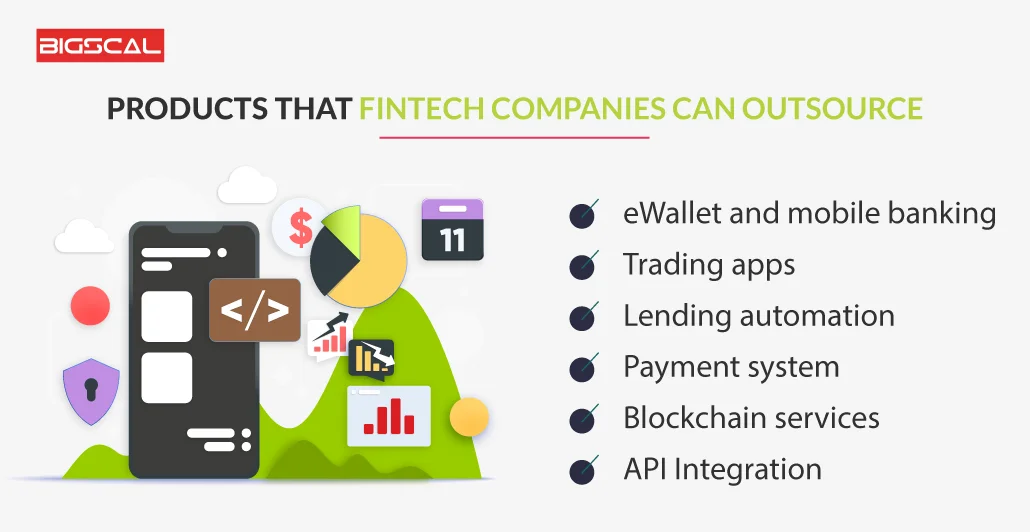 The most popular type of Fintech outsourcing involves,
eWallet and mobile banking
Fintech software developers should be hired to create an e-wallet and mobile banking solutions. It built a product that provides end-to-end transaction coverage for businesses. In this way, you can save the in-house wallet development costs and ensure that your customers get safe and user-friendly solutions.
Trading apps
It has become the most popular amongst retail investors, hence it meets the user's need for rich data analytics, agile dashboards, and a standard set of real-time trading data for monitoring tools.
Lending automation
Lending or loan businesses have rapidly increased due to faster decision and processing of customer applications in seconds due to smart credit scoring and loan processing technologies.
Payment system
Customers will enjoy faster checkout, personalized loyalty rewards, and secure payment methods that they deserve to use.
Blockchain services
Payment processing that is based on Blockchain is an ongoing technological trend in the Fintech market. Fintech development outsourcing service providers build a safe and technology-oriented superior blockchain payment service for your business.
API Integration
You now need not worry about developing financial applications from scratch, as there is a varied ecosystem of ready-made Fintech products with safe API integrations.
Tips on choosing a fintech outsourcing solution developer
In this section, we will let you know the best tips for choosing a reliable outsourcing fintech software development partner. Let's read ahead,
Choose a partner, not a vendor
Software providers are often focused on supplying multifunctional projects that are relevant to end users. An outsourcing partner, on the other hand, develops a solution based on your business requirements and helps you throughout the product's lifetime. They take the responsibility of increasing and changing existing products according to industry standards.
Ask for defining services and performance levels
The more specific, transparent, and detailed requirements you provide to outsourcers; the better result you can expect from them. No matter what kind of remote communication we keep at our disposal, we still need someone to deal with the contractor about updates at equal intervals.
An experienced partner in Fintech outsourcing
There is many companies that are outsourcing and are top in the competition. However, the primary focus should be on companies that actually relate to what they do. Try to hire dedicated developers that focus on your business niche and have separate fintech departments.
Be clear about the budget
If you plan to go along with your chosen outsourcing partner, be very clear about your budget at the initial stage. Oftentimes, corporations design certain expensive functionalities to be implemented while leaving the other vital aspects out. If you talk about such nuances at the very first, you can save yourself from crashing into unexpected situations that leap your budget.
Best practices for Fintech development outsourcing
Here are the critical stages to ensuring a successful outsourcing procedure.
Planning
Establish project scope and requirements
Establish a budget and a timetable
Choosing an Outsourcing Location
Choosing the Right Outsourcing Partner
Conducting research and due diligence
Assessing possible partners based on their knowledge, experience, and portfolio.
Examining communication methods and language competency.
Creating a Contract and a Project Plan
Establishing the project's scope and deliverables
Creating a detailed contract
Creating a comprehensive with targets and deadlines
Project Management and Communication
Setting up quality standards and metrics
Executing testing and quality assurance
Deploying and Supporting the Software
Deploying the software in the production environment
End-user training
Support and maintenance
Stages of outsourcing software development
The software development outsourcing company has a fixed set of stages for the completion of the project.
Planning
You end up coming up with a business idea that is completely ill and requires a cross-check. The outsorcerer's business analysts analyze the market, determine the existing competitors and check the idea's marketability. The planning of the project starts at this place.
Prototype and design
Once all of the elements of the customer's project have been clarified, the product's prototype and preliminary designs are built in order to get input from the client and test ideas visually.
Development of software
The actual software development process begins when the prototype checks have been completed and received positive feedback. The team develops the product's back-end and front-end, as well as the codes that will be used by the program.
Testing
The product codes are manually or automatically tested for faults, vulnerabilities, and inconsistencies, ensuring that the product is safe against breaches and hackers.
Maintenance and release
After the QA inspection, the product is made available to end consumers. Outsourcing companies may maintain and update it on demand.
What is the cost of outsourcing Fintech development?
A variety of factors influence the cost of building fintech software. In this market, there is no one-size-fits-all solution. However, the prices of products depend upon the team's location, underlying technology, features, project complexity, team size, and deadline.
A Fintech project in Asia may cost $25-40/hr, while; in Western Europe, the developer charges $45-90/hr. The Ukraine coders cost $40/hr and the most expensive developers reside in Canada which charges $50-150/hr and the USA $70-100/hr.
All of the following fees are based on the number of features you wish to include in the Fintech app. The development takes about 2500-3200 hours, thus the cost may be determined accordingly.
If you are finding a precise cost explanation for your Fintech project, Bigscal is anytime at your service.
Moreover, we have prepared a comparison takes of Fintech app development costs depending on various geographical locations.
| | | | | | |
| --- | --- | --- | --- | --- | --- |
| Types of App | Central/Northern Europe | Western Europe | North America | Asia | Oceania |
| Banking App | $160,000 | $245,000 | $350,000 | $140,000 | $300,000 |
| Lending App | $120,000 | $155,000 | $220,000 | $88,000 | $200,000 |
| Insurance App | $140,000 | $91,000 | $130,000 | $55,000 | $120,000 |
| Investment App | $125,000 | $140,000 | $200,000 | $80,000 | $180,000 |
| Consumer Finance | $130,000 | $240,000 | $340,000 | $100,000 | $300,000 |
Bigscal can help you with Fintech outsourcing
The Fintech adoption and transformation of financial services across the world is reaching the sky. If you want to be successful in the market, you must follow the market and trends in financial services keeping the fintech trends in mind.
Bigscal is the software development market for 12+ years and our skills experts have polished every line of code that has given excellent results. Our professionals know how to get a true combination of your business structure with Fintech service infrastructure.
Moreover, you can use our full-cycle fintech software development services for growing quickly and embracing cutting-edge market trends for customer satisfaction.
Conclusion
A business that delivers innovative and reliable payment services can survive in the competitive market as outsourcing in the Fintech industry is full-fledged. The ongoing time is ideal for embracing Fintech trends by joining high-tech market landscapes with efficient payment gateways, online payment solutions, and secure POS software.
If you find a reliable and trustworthy software outsourcing services provider, you can secure a position in the market and treat your customer with technically superior, affordable, and safe payment services. This ends our piece or write-up that consists of sustainable market advantages for scaling your business in synergy with the evolving Fintech universe.

FAQ
What exactly is FinTech development outsourcing?
Fintech development outsourcing means hiring an external team of a company for developing, maintaining, improving, or updating financial software.
What procedures should be considered while assembling a team for Fintech software outsourcing?
While selecting an outsourced fintech development business, keep the following considerations in mind:
Company's experience
Technical skill set
Understanding of security
Compliance regulation
Effective communication
Project management skills
Cultural fit
Moreover, you can request a free consultation with Bigscal to let us make you understand, how we can be a good match for your requirements.
What are the latest Fintech development outsourcing trends?
The current trends include SaaS and cloud-native development, creating more convenient financial apps that increase usage of analytics, embedded services, open banking, automation, and artificial intelligence.
How has the financial industry been affected by the economic downturn?
The increase in economic regression has enhanced the pressure on financial institutions for cutting costs and improving efficiency by enabling trending innovation too. Due to this, the demand for Fintech product and services have grown that includes outsourcing Fintech development
https://www.bigscal.com/wp-content/uploads/2023/06/Strategic-Outsourcing-for-Fintech-main-image-1.png
532
1200
Pankaj Vaghela
https://bigscal.com/wp-content/uploads/2018/03/bigscal-logo1.png
Pankaj Vaghela
2023-06-23 10:00:10
2023-06-28 10:06:43
Strategic Outsourcing for Fintech: A Comprehensive Guide to Software Development in 2023