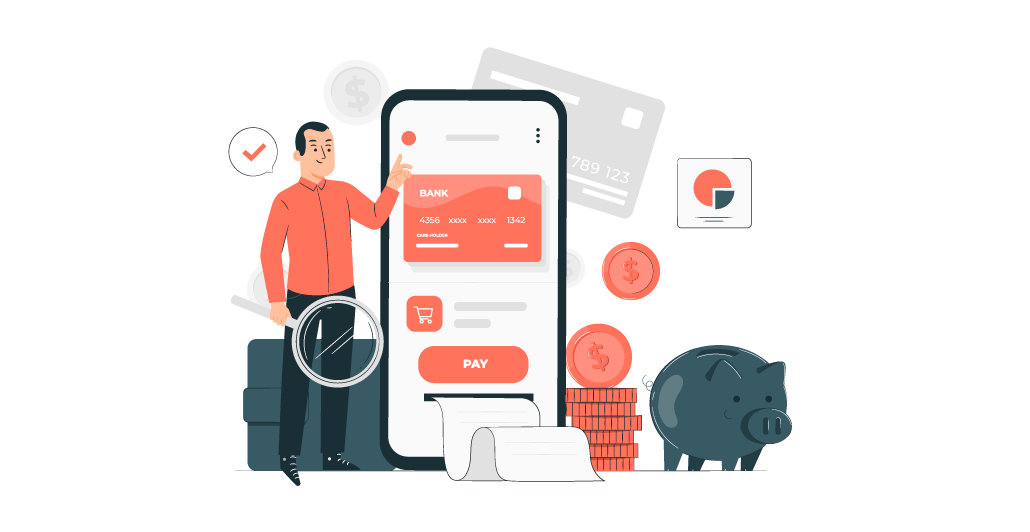 Fintech App Development A Step-by-Step Guide for 2023
Technology + Finance + Time-saving = Fintech. Technology in finance has turned the tides for the banking, insurance, NBC, and others sectors related with finance in the form of transformation drastically. Especially after the seething hit of covid-19 fintech is one of the fastest-growing sectors in the form of transformation and modernization.With the value of all digital transactions going to reach $10.52 trillion by 2025, the fintech industry will experience exponential growth year after year. Moreover, with the increase of mobile applications, one tap payment transfer facility, and introduction of digital payments, the fintech industry is going to exploit further.
According to the survey, the fintech market size is going to grow at a CAGR 19.5% with a market value of $556.58 billion between 2022 to 2030.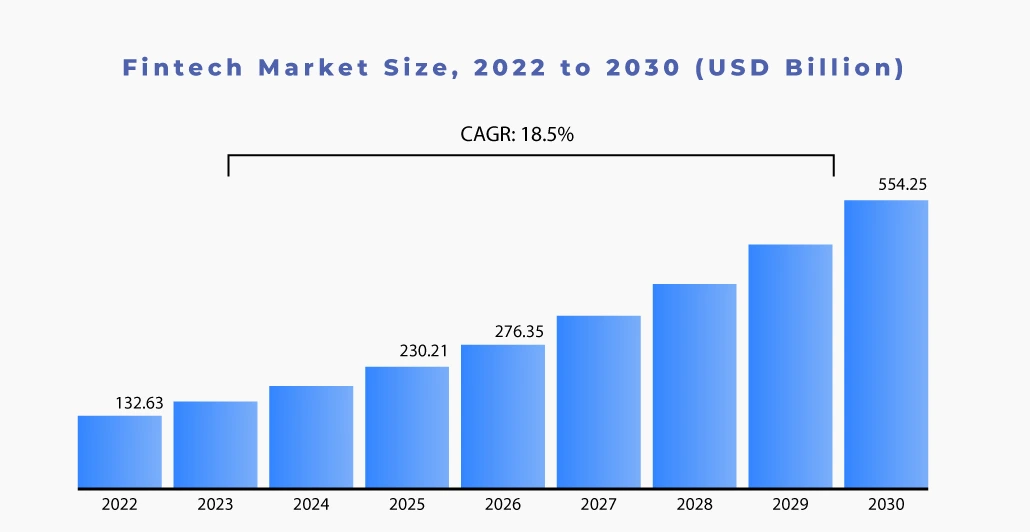 What is Fintech App Development?
The process of planning, designing, developing, and launching mobile or web applications that provide financial services or solutions is referred to as fintech app development. Mobile payments, online banking, investment management, and insurance services are just a few of the financial operations that these apps leverage technology to enhance and make simpler. The EBITDA calculator makes the financial operations easier to accomplish the better productivity and Fintech App Development is exactly doing that, Would you think so. Yes Exactly!
To improve financial functionality and security, fintech apps may also make use of cutting-edge technology like blockchain, artificial intelligence, and machine learning that ensure complete security and functionality. A multidisciplinary approach is used in the development of fintech apps, combining knowledge in finance, design, software engineering, data analysis, and user experience.
Fintech app development company provides various options to develop fintech apps with ready-to-use templates and customization features alternatives. The option of developing a fintech app can be chosen according to financial business needs, requirements, and time available to lunch.
What are the Advantages of Developing Fintech Apps?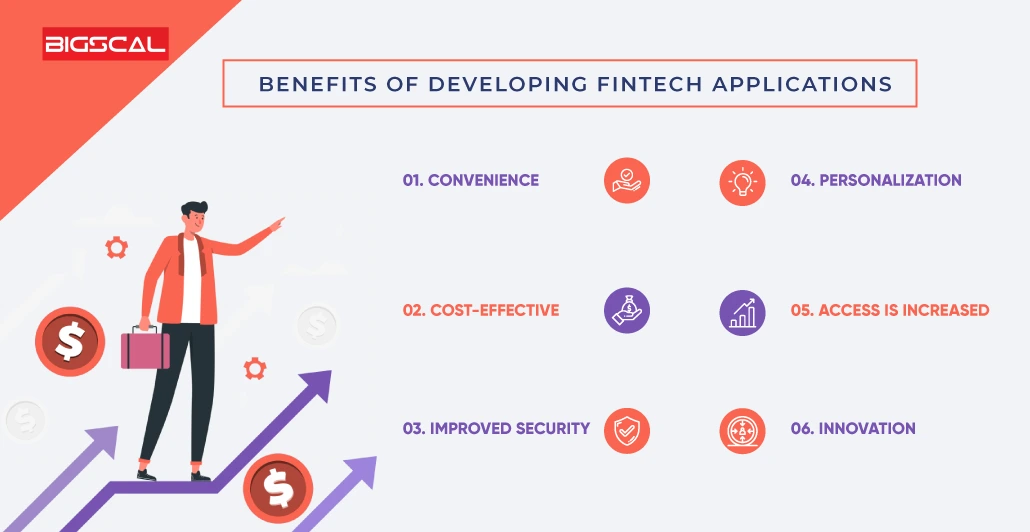 The following are a few benefits of developing fintech applications:
Convenience:
With the help of fintech apps, consumers can conduct financial transactions from the comfort of their own devices without having to go to a physical bank or other financial institution.
Cost-effective:
By utilizing technology to improve operations and cut overhead, fintech apps can assist in lowering expenses connected with traditional financial services.
Improved Security:
To safeguard users' financial information and transactions, fintech apps can include improved security features including two-factor authentication, biometric authentication, and encryption.
Personalization:
Depending on customers' spending patterns, preferences, and financial objectives, fintech apps can provide personalized financial services.
Access is increased:
Underserved groups, such as those who reside in rural or distant areas or have limited access to traditional banking services, can receive financial services using fintech apps.
Innovation:
By utilizing cutting-edge technology like blockchain, artificial intelligence, and machine learning, fintech apps can offer novel financial solutions that were previously impractical.
Analyzing Different Types of Fintech Application
Here is a table listing several popular categories of fintech applications, along with those applications' benefits and features:
| Type of Fintech App | Advantages | Features |
| --- | --- | --- |
| Mobile Banking | Convenience, cost-effective, improved security | View transaction history, pay bills, deposit checks, and check account balances. |
| Payment Wallets | Convenience, improved security | Store payment options, send and receive money, and get rewards for loyalty. |
| Investment Management | Personalization, cost-effective, innovation | Investment suggestions, goal-based investing, automated investing, and portfolio management |
| Insurance | Personalization, cost-effective | Insurance prices, insurance administration, claims handling, and customized coverage choices |
| Personal Finance | Personalization, innovation | Expense tracking, financial goal-setting, credit score monitoring, and budgeting tools |
| Peer-to-Peer Lending | Cost-effective, increased access | Borrow and lend money directly between individuals, personalized loan options, lower interest rates |
| Cryptocurrency | Innovation, increased access | Buy, sell, and trade cryptocurrencies, track market trends, secure digital wallets, peer-to-peer transactions |
| Digital Remittance | Cost-effective, increased access | Send and receive money across borders, lower transaction fees, faster processing times, currency conversion |
Seamless Steps to Build A Fintech App –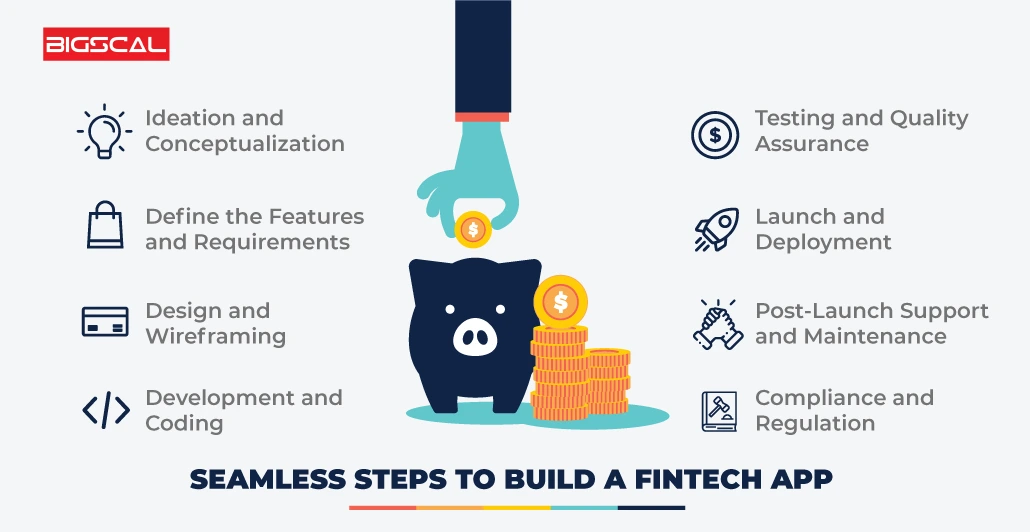 The process of creating a fintech app can be complex and involve numerous processes. Hence this section will help you with a complete guide to building a fintech app in a simple manner and in layman language.
The following are few of the critical steps of Build A Fintech Mobile App In 2023:
Ideation and Conceptualization:
Start by defining the issue you're trying to solve and conceptualizing a solution that can address it. In order to determine the target market, competitors, and customer needs, market research and analysis must be conducted.
Define the Features and Requirements:
Define the features and requirements for the app once you are clear on the issue and the target audience. This includes defining the user experience, coming up with user stories, and establishing a feature list.
Design and Wireframing:
You will create the app's user interface and user experience in this step. Wireframes, mockups, and prototypes must be made in order to test and improve the app's design.
Development and Coding:
Once the design is complete, the app development process may begin. Writing code, integrating APIs, and testing the application for errors and defects are all part of this process.
Testing and Quality Assurance:
Check the app's functionality, usability, and compliance with all the specifications. Testing must be done for security, usability, and functioning.
Launch and Deployment:
It's time to launch and deploy the app after it has been created, tested, and improved. In this step, the software is distributed to servers, integrated with other systems, and submitted to app stores.
Post-Launch Support and Maintenance:
It's crucial to offer continuing support and maintenance once the app has been released. This entails resolving customer feedback and issues, upgrading the software, and fixing bugs.
Compliance and Regulation:
Different rules and specifications apply to fintech applications. This entails abiding by rules governing financial transactions, data protection legislation, and other legal obligations.
Features of Fintech Apps that should be Considered While Developing Fintech Apps
There are several things to take into account when creating a fintech app to make sure it satisfies user needs and conforms with applicable laws. Here are some essential aspects to take into account:
Security and authentication:
Security and authentication are important features for finance applications. To safeguard user information and transactions, the app needs to use strong authentication and encryption techniques.
Integration of the payment gateway:
Fintech apps that enable users to send and receive payments must have this functionality. For transactions to be seamless and secure, the app needs to interface with a reputable payment gateway.
Account management:
Users of fintech applications should be able to manage their accounts, check transaction histories, and update account information.
Budgeting and financial planning:
Budgeting and financial planning features are among the tools that fintech apps should offer customers so they can manage their finances.
Alerts and Notifications:
The app should send users alerts and notifications regarding account activity, such as transaction alerts and account balance changes.
Data analytics:
These features can give users information about their financial performance and spending patterns.
Compliance and Regulatory Features:
Fintech apps must adhere to a number of rules and specifications, including KYC (know your customer) and AML (anti-money laundering) standards. The app should have components that guarantee adherence to these specifications.
Customer support:
Users should be able to contact the app's customer support team by phone, chat, or other means to voice their complaints and inquiries in the form of any emergency or urgency.
Overall, fintech apps should be designed with the user-centric approach, giving users the functionality and tools they require to manage their money efficiently and safely. To guarantee user privacy and safety, the app should also adhere to all applicable rules and specifications.
Things to Consider While Choosing Fintech App Development Companies
The following factors should be taken into account while choosing a fintech app development company:
Expertise:
Find a Fintech App Development Services partner that has experience creating financial apps. The business should have a track record of producing stable, secure, and successful apps.
Experience:
Take into account a business that has experience creating fintech apps for various enterprises and industries. The organization should have experience with similar projects and have a solid grasp of the potential and difficulties facing the fintech sector.
Technology Stack:
Check the company's technology stack to see if it uses the most recent tools and technologies for developing apps. The business should be knowledgeable about current trends and ready to recommend the finest technological stack to fulfill your app's needs.
Security:
Security is essential since fintech apps work with sensitive financial data. Select a business that can ensure the protection of user data and has a strong security protocol.
Compliance:
The business should be aware of the legal specifications that apply to the fintech sector, such as the "know your customer" and "anti-money laundering" rules. Your app should be compliant with all applicable laws, according to the business.
Support and Maintenance:
To make sure that the app functions properly and is updated on a regular basis, select the Fintech Mobile App Development Company that offers continuous support and maintenance services. The Advantage of continuous support and maintenance will help finance organizations with uninterrupted financial services and will offer agile customer experience and be able to win customers for life.
Communication:
Effective app development requires effective communication. Pick a business that engages you in the development process, communicates clearly, and offers information frequently.
Pricing:
One of the important aspects to think about is the price of developing an app. Select a business that offers affordable prices without sacrificing the app's quality.
By taking these things into account, you may pick the best fintech app development firm to work with you on developing a safe, innovative, and user-friendly app that satisfies your business needs.
Technology Trends that Must Include in Fintech App Development
The fintech sector is always changing, and developing cutting-edge and effective fintech apps requires staying current with current technological advances. The following technological trends must be incorporated while creating fintech applications:
Artificial intelligence (AI):
AI can assist with customer support, fraud detection, and personalisation in banking apps. Chatbots powered by AI can help consumers around-the-clock, cutting down on wait times and improving the user experience.
Blockchain:
Decentralized, open, and secure financial systems can be developed using blockchain technology. It can facilitate transactions that are cheaper, quicker, and more secure while getting rid of middlemen like banks and payment processors.
Internet of Things (IoT):
IoT can be utilized to develop smart payment systems that allow for secure, contactless transactions in fintech applications. Payments may be made, expenses can be tracked, and investments can be kept an eye on using wearables like smartwatches.
Biometrics:
By using voice, fingerprint, or facial recognition to confirm a user's identification, biometric authentication can increase security. The risk of fraud and identity theft can be decreased with the use of this technology.
Cloud Computing:
For financial apps, cloud computing can offer affordable storage, processing power, and scalability. Data analysis, data sharing, and seamless connection with other systems are all made possible.
Open Banking:
This idea enables financial service providers to access customer information from financial institutions. This may make it possible to provide personalized financial services and give fintech businesses additional sources of income.
Mobile-first approach:
A mobile-first approach is crucial for app development given the rising popularity of smartphones. Fintech applications need to be mobile-friendly, with quick access to critical functionality, user-friendly interfaces, and simple navigation.
Companies may design inventive, safe, and user-friendly fintech apps that satisfy the expectations of contemporary consumers by incorporating these technological developments into their creation.
What is the Cost of Developing a Fintech App?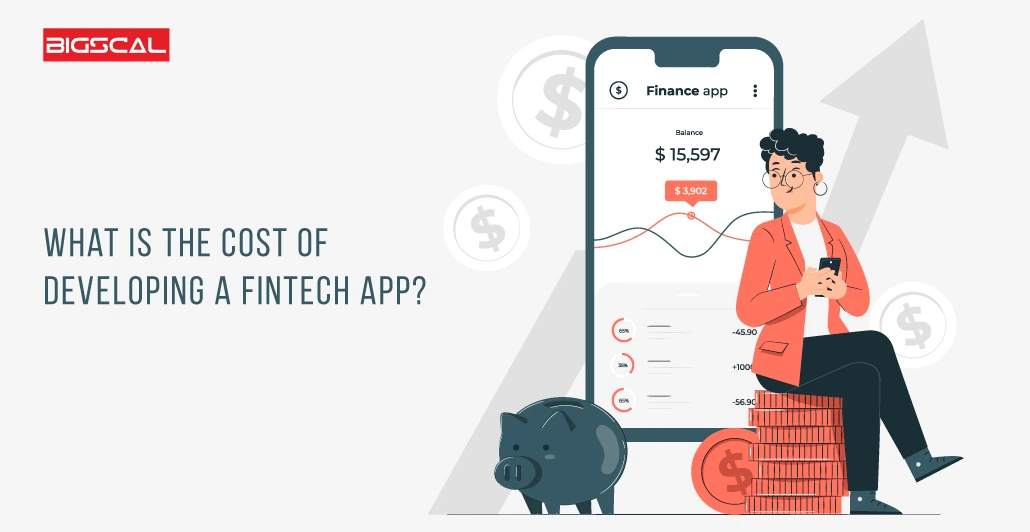 The complexity of the app, the features and functionalities required, the platform(s) on which the app will run, the location of the development business, and the timetable for development can all affect how much it will cost to develop a fintech app. The following elements can affect how much it costs to create a fintech app:
Complexity:
The cost and time required to develop an app will increase as the complexity increases. For instance, sophisticated banking software will cost more than one without capabilities like AI-powered chatbots or blockchain connectivity.
Features and functionalities:
The cost of developing an app will increase as more features and functionalities are needed. For instance, a trading or investment-related app will cost more than a straightforward money-transfer app.
Platforms:
The cost of development may vary depending on the platform(s) that the app will operate on. The price of creating an app for both the iOS and Android platforms would be more than for just one.
Location of the development company:
The price of developing an app varies depending on the nation the development company is headquartered in. Companies with headquarters in wealthy nations, like the United States or Europe, could impose higher rates than those with headquarters in developing nations, like India or the Philippines.
Period:
The project's cost may be impacted by the period for development. While a longer timetable can lower expenses overall, rushing the project can increase expenditures.
The price of creating a fintech app might range from $35,000 to $500,000 or more depending on variables mentioned above. It's crucial to remember that costs might vary greatly based on the particular needs and objectives of a project. To receive a precise estimate for your fintech app development project, it is best to speak with a development company.
Why Choose Bigscal for Custom Fintech App Development?
Choosing Bigscal as custom fintech software development has various reasons and purposes. However the most important reason to consider Bigscal is its expertise and experience of developing custom applications and customer-centric approaches.
Moreover, Bigscal is a custom fintech app development business with a focus on creating fintech solutions for a range of financial services, including payment processing, banking solutions, trading platforms, etc. They are accustomed to working with clients from various industries and are aware of their particular needs.
Wrapping Up
In conclusion, the financial industry is changing quickly, and fintech is at the forefront of this transformation. In order to stay ahead of the competition as we approach 2023, financial businesses will need to quickly react to the growing need for fintech solutions. Businesses aiming to provide their consumers with cutting-edge financial services may find that creating a unique fintech app may alter the game.
This step-by-step manual has given organizations wishing to create a fintech app a road map on how to create a fintech app. Businesses can make sure they have a clear knowledge of their objectives, target market, and the technologies necessary to build a successful fintech app by following these steps.
FAQ
What are some common technologies employed in the creation of fintech applications?
Blockchain, AI, and machine learning, cloud computing, mobile app development frameworks, and secure payment gateways are some of the main technologies utilized for developing financial applications.
How much time does it take to create a unique fintech app?
The intricacy of the app and the features needed will determine how long it takes to design a custom fintech app. A completely working fintech app can often be developed in a few months to a year or more.
How can I make sure my fintech application is safe and legal?
Working with a development firm that is familiar with the regulatory requirements and has experience in the fintech sector is crucial if you want to make sure that your fintech app is safe and compliant. In order to find and address possible vulnerabilities, they should also regularly undertake security testing and audits and adhere to industry-standard security practices.
How can I make sure that my fintech application keeps up with evolving regulations?
Working with a development business that is up to speed with the most recent rules and compliance criteria is essential because fintech legislation can change quickly. The app will continue to be compliant with the most recent regulations with the help of regular audits and upgrades.
https://www.bigscal.com/wp-content/uploads/2023/04/Fintech-App-Development-A-Step-by-Step-Guide-for-2023.png
532
1030
Pankaj Vaghela
https://bigscal.com/wp-content/uploads/2018/03/bigscal-logo1.png
Pankaj Vaghela
2023-04-13 17:52:05
2023-10-09 08:34:44
Fintech App Development A Step-by-Step Guide for 2023