Top Exciting Fintech App Ideas For A Startup In 2023
Quick Summary: This blog highlights innovative solutions transforming the fintech industry. Discover the cutting-edge fintech app ideas for startups to consider in 2023!! Read this blog to get valuable insights that will help you to embark on your entrepreneurial journey.
The smartphone has become so embedded in our daily lives that we constantly try to use it for convenience and productivity. Financial technology trends have transformed nearly all financial procedures into fintech apps. A large part of this shift can be attributed to the pandemic.
As a result, Fintech app developers have excellent opportunities due to the growing demand for innovative financial technology applications. They can capitalize on this trend and contribute to industry advancement.
In this blog, we will emphasize the fintech app development ideas for startups to consider in 2023. But before that, let's look at the current fintech market situation.
FinTech: A Brief Ideation
Fintech, the combination of finance and technology, has evolved since the 19th century. With digitalisation, traditional financial institutions have shifted from analogue to digital methods.
Today, FinTech app development companies help banks and financial institutions to serve financial services digitally.
Furthermore, FinTech streamlines all financial services such as online banking, e-trading, cryptocurrencies and digital payments etc and makes them more innovative, transformative and cost-effective.
FinTech is one of the shining beacons of innovation in the fast-evolving world of modern finance.
Additionally, it creates new opportunities, elevates growth and provides an incredible user experience. To succeed as a startup, you must invest in ROI-driven FinTech solutions and products that disrupt traditional financial services.
In the competitive world, the FinTech industry must innovate to avoid losing customers and failing to survive. Therefore, it is crucial to embrace innovation to get success in the rapidly changing financial landscape. Consider fintech development outsourcing for app-building assistance. They can provide expertise and resources to build your app efficiently.
FinTech Market: A Statistical Overview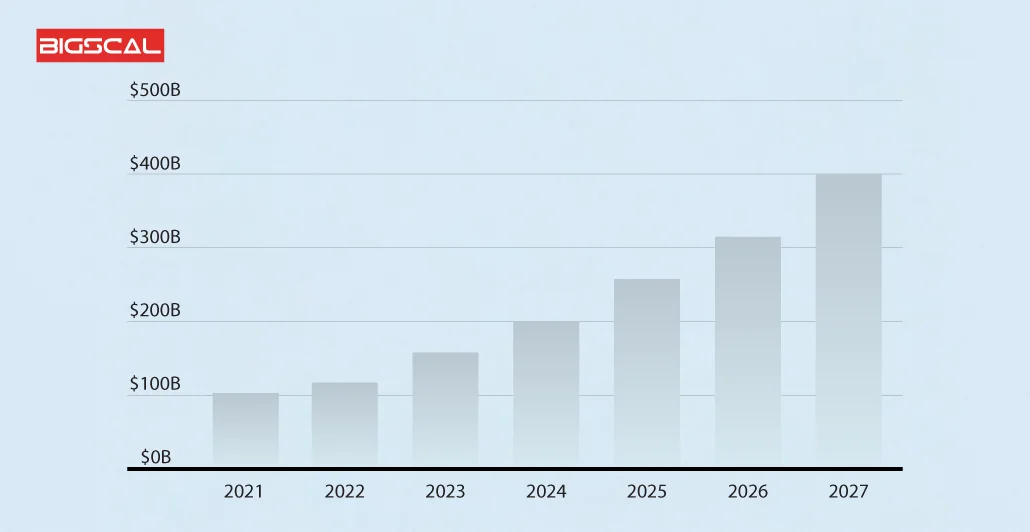 According to a report, Global FinTech will reach around $500 billion in 2027.
From 2022 to 2030, it is predicted to grow at a CAGR of 35.3%.
Since 2015, FinTech investments have grown by 3.5 times, according to KPMG.
App Ideas To Build FinTech Startups In 2023
Below are some inspiring fintech app ideas that will encourage you to join the wave of innovation.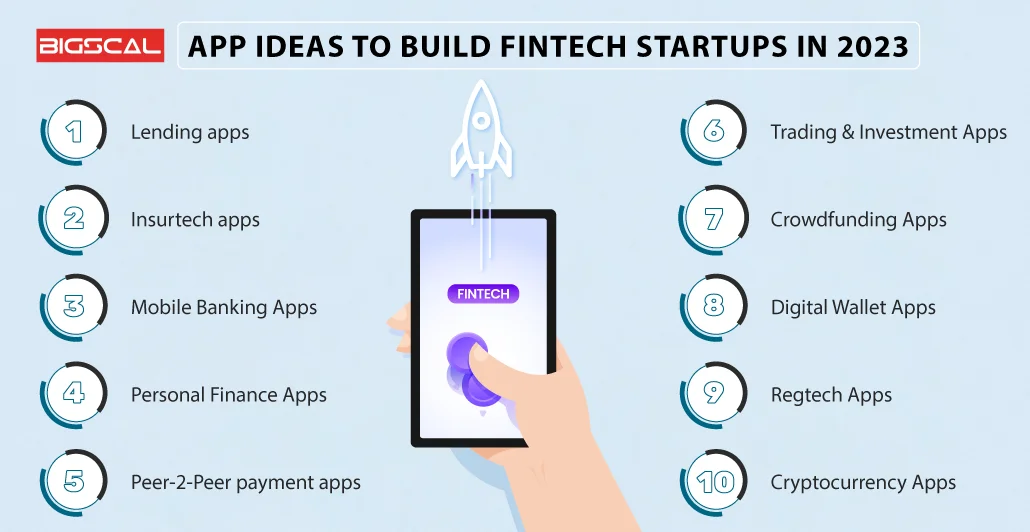 1. Lending apps
The COVID-19 pandemic lockdown has led many organizations and individuals to look for quick loans to fulfill their needs.
Furthermore, lending apps leverage AI and big data analytics technologies to streamline the loan assignment process by analyzing data, credit history, behavior patterns and shopping activity to check whether a person is eligible for loans.
Additionally, these high-tech FinTech apps have transformed the lending industry. You can build a payday loan app, peer-to-peer lending platform etc. However, there are endless fintech app ideas, it's up to you to figure out what suits your business best.
MoneyLion is the best example of a fintech lending and saving app. Also, this lending app helps individuals handle their finances and have positive reviews. Many people are using them and their popularity is increasing steadily.
Features:
Lender profile authentication
Direct funds transfer
No transaction charges
Automated CIBIL score checking
Pros:
The loan lending app provides personalized loan options by checking user credit profiles and borrowing needs to offer an outstanding customer experience.
These lending apps automate all the loan approval approaches and save time and costs for lenders.
2. Insurtech apps
The pandemic has triggered a surge of new fintech apps focusing on affordable insurance plans.
Insurance apps play a significant role in the FinTech mobile app development industry. Startups can use these ideas to create a fintech app in 2023.
Furthermore, Insurtech apps utilize AI technologies and data science to gather, process, and assess user data, Also, it recognises the risks involved and simplifies all the insurance underwriting process.
Additionally, insurance companies can simplify their processes with fintech app solutions and provide excellent customer support.
Allstate Mobile is an excellent example of a car insurance app, allowing users to submit and claim insurance in just a few steps and enclosing other beneficial features for car owners.
Features:
Premium e-payment.
Online policy purchase
Real-time update
Document Storage Option
Customer service chatbot.
Pros:
It automates the insurance claim process, flocking more customers to use the app.
Increases the revenue of insurance companies.
These apps entice more younger investors.
Fewer competitors as compared to other finance domains.
3. Mobile Banking Apps
Mobile banking apps are one of the best fintech app ideas for startups for bankers and financial services.
Furthermore, users can perform multiple tasks at their fingertips. Nowadays, most financial sectors use digital solutions to complete their work.
Mobile banking apps help users to check their bank balances, allow money transfers, pay bills and deposit cheques etc.
With a mobile banking app, users can handle all their finance in just a few steps by sitting anywhere in the world. Furthermore, they can avoid visiting an ATM or bank for money transactions.
Also, fintech apps have excellent security features, such as biometric verification and allowing users to disable the services of lost or stolen cards.
Many people now use mobile banking apps instead of going to a bank in person because it is easier and more convenient.
Features:
Online bill payment option.
Account Management Option.
Instant fund transfer facility.
Investment & lending tools.
Branch locator.
Card (Debit/Credit) management.
24/7 Customer support.
Pros:
These apps provide more marketing opportunities for finance sectors.
Virtual banking options can entice more people to a particular bank.
Assist banks in selling their products to clients.
4. Personal Finance Apps
For startups, creating a personal finance app could be a lucrative finance app idea. People often find it difficult to manage their finances. Therefore, small businesses and professionals are increasingly using personal finance apps.
This app helps users keep track of their daily expenses, savings, and assets. Moreover, users can track their periodic payments and loan premiums with the help of these apps. As well as helping customers make informed financial decisions, they also provide financial education.
Features:
Budget tracking tool.
Automatic bill reminders.
Investment tracking option.
Savings Monitoring tool.
Expense categorisation.
Credit score monitoring.
Investment recommendations & retirement planning.
Pros:
Personal finance apps provide valuable insights that can assist people in making better financial plans.
Users prefer personal finance apps because they automate the expense tracking process, making it convenient and time-saving.
Fintech apps are highly preferred by shopkeepers, small entrepreneurs and middle-class professionals.
5. Peer-2-Peer payment apps
A peer-to-peer payment app might be a good idea if you are looking for innovative yet profitable FinTech app ideas. Furthermore, Individuals can transact seamlessly and securely through peer-to-peer apps, using just a few taps on their mobile devices.
Younger generations prefer digital payments due to their convenience and speed, and these apps have become increasingly popular in recent years. Additionally, users use these apps to transfer money instantly.
People are now transferring money through peer-to-peer apps. A customer can transfer funds directly from his or her account to the electronic wallet of a recipient through these apps.
Rather than relying on traditional banking methods, users no longer need to wait for a transaction to complete.
Additionally, apps like these allow users to connect their bank accounts and digital wallets.
Features:
Dynamic interface equipped with intuitive menus, buttons, and a navigation system.
Transaction history options.
Linked-accounts option.
Real-time notification alert.
Payment request option.
In-built QR code.
Pros:
These peer-to-peer fintech apps lower currency conversion rates, encouraging customers to prefer these apps.
The transaction fees for these apps are low or none at all. It attracts users from all classes to prefer it.
P-2-P fintech apps have excellent security features and prevent data breaches.
6. Trading & Investment Apps
The FinTech app ideas for startups today include apps for share trading, investment, and stocks.
In addition to providing information about investment opportunities and market news, these apps also provide access to research tools, research material, and other resources that can help investors make informed decisions.
Furthermore, apps for trading and investing integrate AI, blockchain technology, and machine learning algorithms. These algorithms allow traders to avoid errors.
Additionally, Users can benefit from these apps by making informed investment decisions and growing their wealth over time. The shift towards digital investment platforms has accelerated as consumers increasingly seek convenient ways to manage their finances remotely.
Features:
User-friendly interface.
Real-time market data.
Multiple investment options.
Research & analytical tools.
Automatic investment.
Pros:
Share trading is a popular choice for proficient traders, businessmen, and employees. These apps will guide beginners to access the share market.
Trading and investment apps help users to understand the stock market.
These apps will gain more users if investing is made easier and faster.
7. Crowdfunding Apps
Crowdfunding fintech apps help customers to raise funds for their project, cause, or venture by requesting donations from people digitally.
These fintech apps provide an excellent platform for fundraising such as loans or grants.
In the past few years, these FinTech app ideas have succeeded significantly. Furthermore, fintech apps can be utilized to prove their startup idea to investors: by posting their idea on a crowdfunding platform, they can see quickly if potential investors are interested.
Additionally, these crowdfunding apps are gaining massive popularity in recent years, and this trend will continue.
Features:
Multiple funding options
Goal-tracking feature
Social sharing option.
Communication tools.
Faster payment gateway.
Communication tools.
Security features.
Pros:
Nowadays, people use smartphones more than the web, Therefore, startups can draw more mobile users to use these apps.
It becomes easier for NGOs and welfare societies to raise money with the help of these fintech apps.
Crowdfunding apps are a powerful tool for businesses to validate their product ideas in the market. Therefore, startups can also prefer these apps to understand market interests.
8. Digital Wallet Apps
Building a digital wallet app is an excellent fintech app idea for startups Furthermore, these fintech apps help customers to make payments online, store information, and handle their finances from their electronic devices.
Nowadays, digital wallet apps are highly favorable as they provide a suitable, secure, and user-friendly option as compared to traditional payment techniques.
Furthermore, Digital wallets have greatly reduced the usage of plastic money. To add value to digital wallets, FinTech startups can offer special vouchers and cashback rewards. In the coming years, digital wallet apps are anticipated to grow significantly.
With continuous improvement and advancement, digital wallets will become highly prevalent in the coming years.
Features:
Payment options.
Multiple currency options.
Cross-platform integrations.
Loyalty programs.
Budgeting tools.
Pros:
Digital wallets are highly secure and prevent fraud.
Customers can purchase products online securely.
9. Regtech Apps
The regulatory FinTech app assists businesses to follow rules and pay taxes correctly, making it easier to comply with regulations.
Furthermore, Regtech (or regulatory ) apps leverage technology to automate and streamline compliance processes.
Additionally, Regtech apps optimize businesses' operations and help them comply with regulatory requirements, reduce compliance costs, and reduce overall costs.
Features:
Compliance automation.
CRM integration
Risk management tools.
Data analytics tools.
Security features.
Pros:
Regtech apps automate compliance procedures, thus helping businesses save costs and time and improve overall productivity.
Regulatory compliance is costly and time-consuming. Regtech apps reduce manual work and save costs by automating compliance methods.
Regtech apps gather and research compliance data and provide businesses with some helpful insights that help them to recognise the areas that need advancement.
10. Cryptocurrency Apps
Cryptocurrency apps are one of the best FinTech app ideas for startups. Consider leveraging this fantastic blockchain innovation for your startup. Cryptocurrencies are digital assets that are protected by distributed ledgers.
Furthermore, as a startup owner, you can get into these highly demanded, secure and efficient crypto transactions and get a commission for every trade.
Also, you can use these compelling fintech app ideas as an opportunity to establish yourself as a leader in this booming cryptocurrency business and embark on your entrepreneurial journey.
Cryptocurrency apps have positive growth opportunities as the adoption of cryptocurrencies continues to grow
Currently, many people are investing in the cryptocurrency market. Therefore, there is a huge demand for user-friendly cryptocurrency apps that simplify these transactions.
Features:
Real-time updates.
Security features.
Wallet Integration.
Multiple payment options.
Trading tools.
User-friendly interface.
Pros:
FinTech apps can increase the user base of startups.
24×7 customer support will draw all investors to use this app
It provides a fast and secure trading approach.

Final word
Hopefully, this fintech app development guide helped you to get some thriving ideas for startups. A wide range of FinTech solutions are available to consumers and businesses, including mobile payment tools, investment platforms, and digital lending services. For your business to succeed and sustain, it is crucial to pick the right idea that aligns with your strengths, interests, and market demands.
Several challenges and opportunities exist within the FinTech arena that requires strategic planning and thinking.
If you're looking to hire a fintech app development service or need an idea to turn into reality, Bigscal can help.
Bigscal is a leading Fintech software development company. Our team of talented and adept developers can help you realize your vision. With Lean MVP methodology, we focus on quickly releasing a minimal viable product and refining it. We'd love to hear about your plans.
Contact Bigscal today!!!!!!!!!!!

FAQ
What are fintech apps?
Fintech apps are mobile applications that leverage technology to provide financial services such as mobile banking payments, investment, budgeting and lending, enhancing convenience and accessibility for users.
What is the outlook for fintech in 2023?
It is expected that the fintech market will consolidate in 2023 with the convergence of players in digital assets, payments, and finance and capital markets platforms, especially in the trade finance industry.
What are the latest growing areas in fintech?
Undoubtedly, AI technology will shape the future of fintech. Banking, payments, investments, risk management, and more can be revolutionised by artificial intelligence and machine learning.
What are the banking trends in 2023?
The digital banking industry is reshaping itself thanks to trends such as mobile banking, artificial intelligence, chatbots, and cryptocurrency. A growing number of innovations are set to shape the banking industry in the next few years, including personalized banking, augmented reality, voice banking, and cybersecurity.
What are the benefits of a fintech app?
The benefits of a fintech app include convenient access to financial services, quick and secure transactions, personalised money management, seamless integration with other platforms and enhanced financial literacy.
https://www.bigscal.com/wp-content/uploads/2023/07/Top-exciting-fintech-app-ideas-for-startup.png
532
1200
Pankaj Vaghela
https://bigscal.com/wp-content/uploads/2018/03/bigscal-logo1.png
Pankaj Vaghela
2023-07-11 10:00:05
2023-07-11 09:42:18
Top Exciting Fintech App Ideas For A Startup In 2023