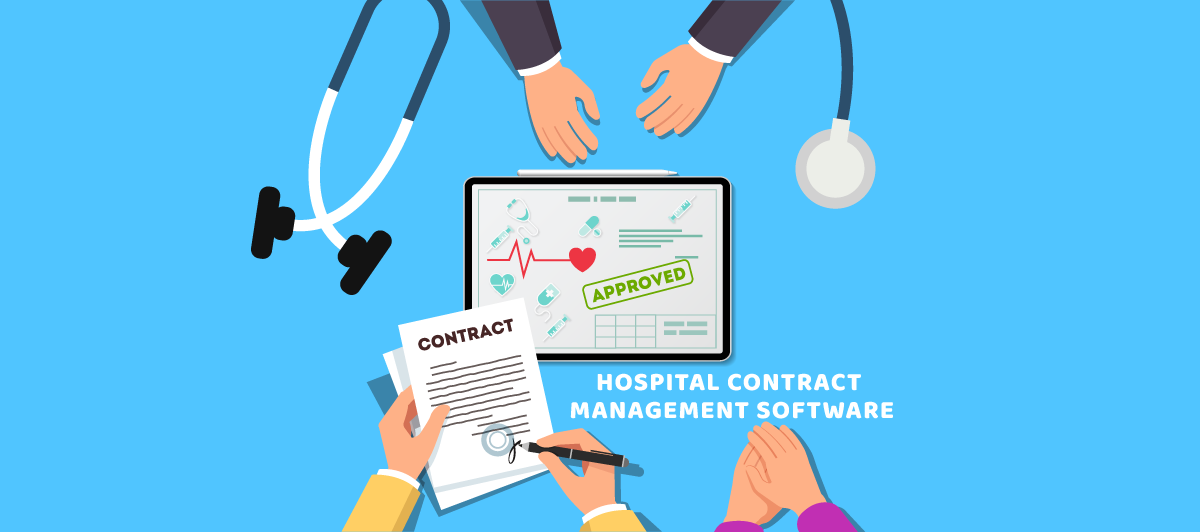 Hospital Contract Management Software: Making The Right Choice
Quick Summary: Selecting the ideal hospital contract management software demands careful thought. Focus on needs, user-friendliness, integration, support, security, and cost to ensure an efficient and budget-friendly contract management solution for healthcare institutions.
Introduction
The healthcare industry is heavily involved in undertaking contracts and agreements with several individuals and entities regularly to increase efficiency and ensure smooth functioning. Any healthcare organization is in alliance with institutions like pharmaceutical suppliers, medical suppliers, equipment providers, and transport services. All of these are involved in helping both parties, patients, employees and professionals kike doctors or nurse practitioners.
Managing contracts in healthcare organizations can lead to numerous compliance challenges and inefficiencies in health systems. Moreover, this could increase if the industry still used manual and paper-based contracting practices.
Hence, having hospital contract management software can be a great help. It can enable hospitals to manage and avoid risks that occur due to high amounts of contracts. Hence, it could assist in creating contract lifecycle tracking, centralized storage, and eSignature integrations.
Moreover, it would make the contracting process paper hassle-free. You might have gone through a fantastic article on why hospitals are important. But today, let's examine how hospital contract management software can benefit healthcare providers.
What is hospital contract management software for healthcare?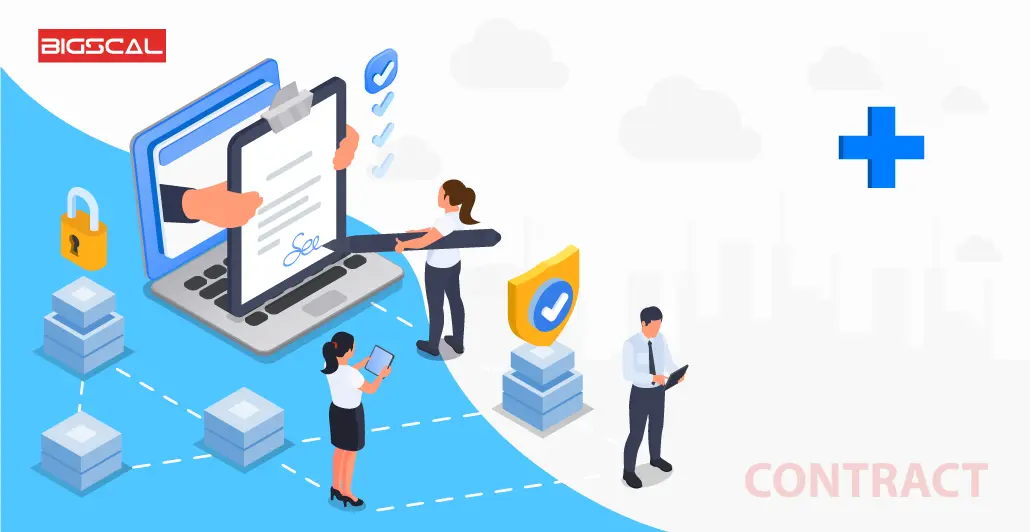 Contract management software for healthcare is a lifecycle that starts with drafting and ends with verification from both parties. But in between, there are various steps like monitoring and maintaining contracts between organizations, users, and other parties.
Contracts are complicated, and legal documents must be made on time. A contract management system for healthcare will take different steps like negotiation, drafting documents, tracking, and performance analysis. The best hospital contract and supplier relationship management software will ensure that all parties know their obligations and responsibilities.
Contract management is an essential part of the healthcare industry. Plenty of complex and sensitive contracts tend to occur daily. Hence, Organizations need to manage their contracts daily to avoid contract risks. These contract terms are carried out with suppliers, service providers, insurance companies, and other parties.
Hence, healthcare contract management software is necessary because these contracts have their own significance in patient care and outcomes.
Is it necessary to have contract management software for hospitals?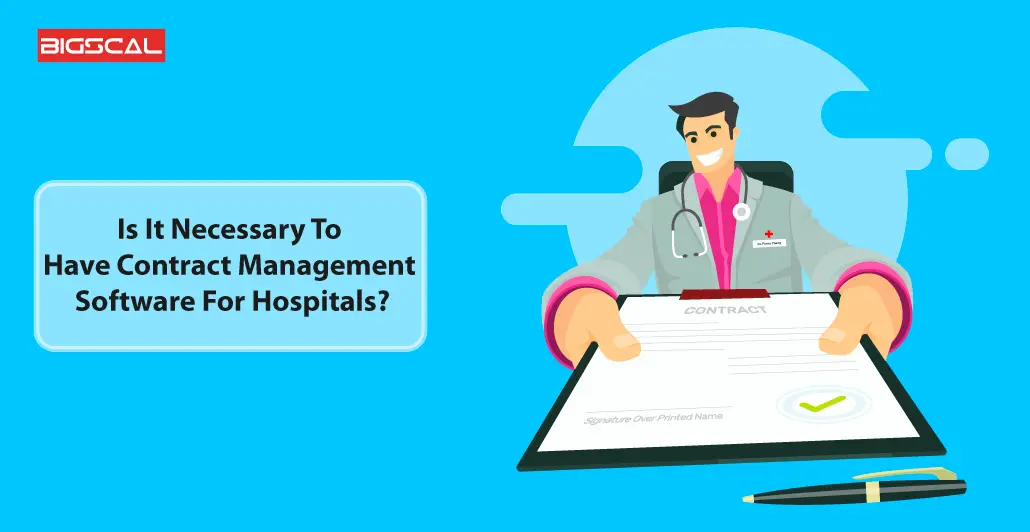 Before the introduction of hospital contract management software, the management of contracts was a tedious task. It needed lots of paperwork in day to day operations such as paper-based drafting, redlining, review, physical signing, organization, indexing, storage, monitoring, and analysis.
Hence, when we compare it with the modern hospital contract management system, it seamlessly handles all the complex processes. Moreover, you get an error-free and swift creation, distribution, and continuous oversight of your contracts. Hence healthcare contract management software ensures effective healthcare contract management.
Advantages of Contract Management Software for healthcare:
Cost Efficiency: Contract management software empowers hospitals to negotiate favorable terms with suppliers and service providers. Hence, it can lead to reducing costs and enhancing operational efficiency.
Compliance: Healthcare organizations operate under strict regulations and guidelines safeguarding patient privacy, data security, and care quality. Therefore, having a CLM platform can ensure compliance with these obligations
Risk Mitigation: Healthcare providers already deal with risks concerning patient outcomes and financial stability. Hence, adding Healthcare Contract management software aids in avoiding contract-related risks, such as coverage lapses or unmet obligations
Patient-Centric Care: A severe concern for healthcare organizations is providing great patient care. Effective contract management software for hospitals provides confidence that you are collaborating with high-quality suppliers and healthcare companies. Hence, it can manage contracts by aligning with your organization's objectives.
Top tips to choose the best Hospital contract management software provider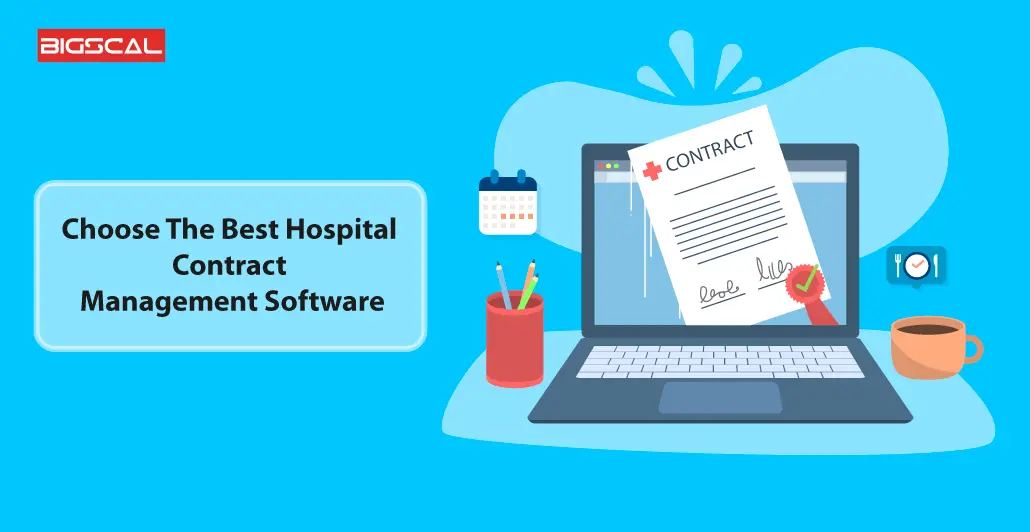 Decide if it's the right time
Choosing a healthcare contract management software for your healthcare organization can be a task that demands time and effort. Therefore, it's essential to be ready to invest the necessary time and embrace the challenges. Prioritize vendors with a well-structured onboarding process and a team of skilled experts to support your transition effectively.
Before making this decision:
Consider whether you need healthcare contract management software for document management.
Evaluate whether the functionalities and user interface of a hospital contract management software will align with your current requirements.
Hence, look closely at your specific situation, see all the options, and only then make an informed choice.
Calculate Your Budget and Total Cos
Before making a move for contract storage and management solutions, it is crucial to establish a clear understanding of your budget. Hence, start by assessing your budget and its comprehensive cost. It calculates total expenses, installation costs, training expenditures, annual renewal fees, maintenance, and update outlays.
Hence, only after that, if the software aligns with your customization needs and offers the requisite features, should you conduct a thorough cost analysis.

Process an Online Demo
Before investing in a Hospital contract Management System, conducting thorough online research is crucial. Utilize online resources to explore the system's specifications and suitability for healthcare organizations and patients.
Take note of key considerations before proceeding with an online demo. This approach will give you a comprehensive grasp of the system and its potential to address various challenges. Hence, keep a checklist of important points to ensure a deep understanding of the software. Know its ability to offer effective solutions to your specific needs.
Support and Updation
Several critical considerations should be addressed within the appropriate service level agreement. It will ensure the success of your Healthcare contract Management System. The provider should offer comprehensive support. After selecting the vendor, it is essential to define responsibilities, roles, on-site and off-site support, among other aspects. This process should be regularly implemented and assessed.
Collecting feedback is vital to gain insights into future progress. When evaluating the support system, particular attention should be given to HMS software support. It encompasses key features like software upgrades, which should ideally occur automatically for seamless operation.
Make a List of Vendors to Compare
Make yourself more familiar with your budget, necessary features, and hospital requirements. Hence, before you make the final vendor selection, it's advisable to conduct a thorough comparison of their pricing and ratings. Moreover, consider scheduling demonstrations as part of this evaluation process.
Check Credentials and Reviews
When selecting a Hospital contract Management System vendor, it's crucial to investigate the prospective company thoroughly. Take the time to examine their company history, client portfolio, and notable brands they've collaborated with.
Additionally, regarding healthcare professionals, seeking out customer feedback and assessing their standing within the industry is wise. Feel free to inquire about any certifications they may hold and their track record with clients in the healthcare organizations. Hence, this comprehensive approach will yield more informed and beneficial results for your decision-making process regarding healthcare agreements.
User-Friendly Interface
Technology has the potential to simplify your daily routines, yet it can just as easily complicate matters. Instead of tolerating a cumbersome user experience, you prefer a healthcare contract details management platform that is intuitive and user-friendly, requiring minimal training, even for those who need to be tech-savvy. This approach minimizes the chances of mistakes and yields time and cost savings for your healthcare institution.
No-Code Configurable Features
You are aware of actual what services do hospitals provide, right? Every patient and healthcare organization is different, and this individuality establishes the importance of flexibility and ease of customization when selecting a Contract Lifecycle Management solution.
Take Bigscal, for example; it offers exceptional configurability, enabling you to precisely tailor the software to match your requirements. Hence, user-friendly design ensures a smooth start for your users. Moreover, the customizable features contribute to heightened efficiency and productivity.
Also, the software's no-code configurability eliminates the need for expensive developers or extensive fine-tuning, saving you time and resources. It enhances contract performance and reduces contract risk.
Leverage Bigscal for Your Healthcare Contract Management Software Development
Leveraging Bigscal for your healthcare contract management software development is a strategic move that can transform your healthcare organization's operations. Bigscal is a leading hospital management software development company offering tailor-made solutions to streamline processes for the entire contract life cycle.
With Bigscal's specialized approach to healthcare contract managers and regulations, you can expect a robust software platform that ensures compliance, reduces errors, and enhances efficiency. Our team of experienced developers understands the intricacies of healthcare contracts and the work of healthcare contract managers well. Hence, we ensure that your software is customized to meet your organization's unique needs.
By choosing Bigscal, you're investing in a cutting-edge solution that simplifies contract management and empowers your healthcare facility to provide better patient care while maintaining regulatory compliance.

Conclusion
Picking the best hospital contract management software is crucial. Therefore, to make the right choice, keep these things in mind. First, understand your hospital's needs. Know what problems you want the software to solve. Second, check for user-friendliness. Easy-to-use software saves time and money. Third, consider integration. Make sure the software works well with your existing systems.
It's also wise to think about support. Good customer support helps when you face issues. Don't forget about security. Protecting sensitive data is vital in healthcare due to contractual obligations.
Lastly, review costs. Find software that fits your budget and offers value. Choosing the right hospital contract management software takes time but protects your healthcare agreements. Therefore, by focusing on these key considerations, you can make a smart decision that benefits your hospital in the long run.
FAQ
What is contract management in healthcare?
Contract management oversees and administers agreements, and state regulations, such as contracts with suppliers, service providers, employees, or insurers, to ensure compliance, efficiency, and cost-effectiveness within the healthcare industry.
What does a contract management software do?
Contract management software helps streamline and automate the management of contracts even in pharmaceutical companies. It assists in creating, storing, tracking, and monitoring contracts, ensuring that organizations can easily manage their contractual obligations and deadlines.
What software do you use to write a contract?
Various software options can be used to write contracts, including specialized contract management tools and software, word processing software like Microsoft Word, or even cloud-based contract creation technology platforms tailored for legal documents.
Is healthcare contract management part of CRM?
Contract management is related to but distinct from Customer Relationship Management (CRM). While CRM focuses on managing interactions with customers and improving relationships, contract management deals specifically with the creation, execution, and oversight of contracts.
What are the six 6 stages of healthcare contract management?
The six stages of contract management for healthcare organizations typically include:
Initiation and planning
Creation and negotiation
Approval and execution
Monitoring and compliance
Amendment and renewal
termination and closure
These stages ensure that contracts are effectively managed throughout their lifecycle.
https://www.bigscal.com/wp-content/uploads/2023/09/Hospital-Contract-Management-Software.png
532
1200
Tosif Saiyad
https://bigscal.com/wp-content/uploads/2018/03/bigscal-logo1.png
Tosif Saiyad
2023-09-16 09:30:29
2023-09-19 09:20:32
Hospital Contract Management Software: Making The Right Choice