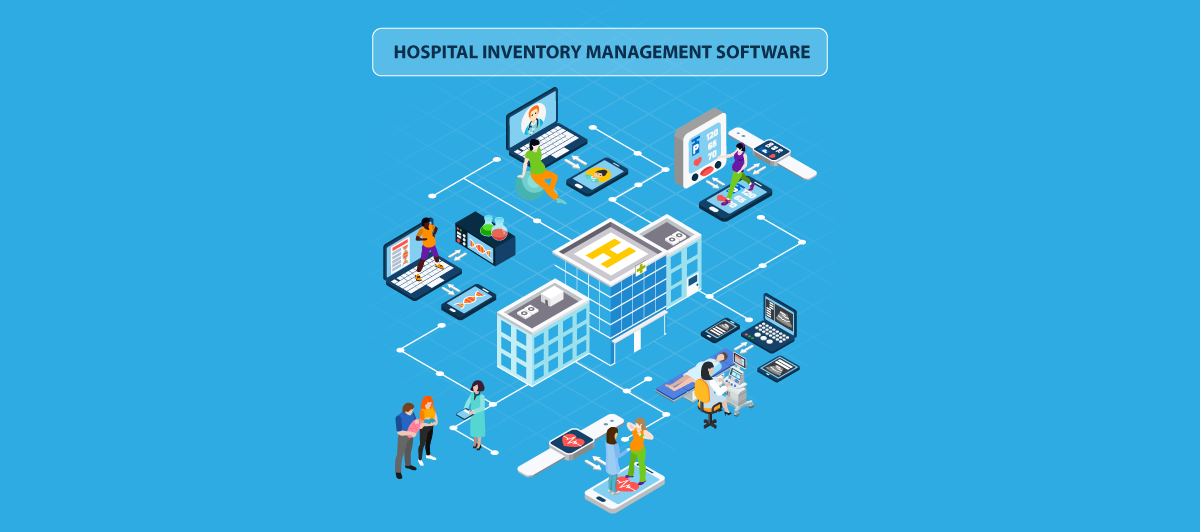 Hospital Inventory Management Software: Benefits, Features And Best Practices
Quick Summary: Hospital Inventory Management Software streamlines stock control, reducing waste and ensuring critical supplies are readily available. It offers real-time insights, aids in data-driven decisions, and integrates seamlessly with existing systems. To optimize virtual inventory management here, follow best practices tailored to your healthcare facility's needs.
Introduction
The importance of inventory management in hospitals is significantly evident by its impact on the healthcare sector. But before this, you will have to understand what healthcare inventory management means.
Hospital inventory management comprises control and administration of the entire healthcare inventory, purchases, orders, processes, payments, and much more. This system will be efficient in tracking essentials such as prescriptions from medical supplies and analyzing smooth operations within the healthcare system.
The healthcare industry as a whole, such as clinics, labs, hospitals, and other organizations, depends on certain products. The range of these products includes equipment, medication, and materials that help in offering the best care to the patients. Hence, effective inventory management is known to play a pivotal role in organizing these medical supplies.
Implementing best practices for inventory management or choosing the best hospital inventory management software might be helpful in streamlining the workflow of hospitals. In hospitals where patient care is the main goal, it is more crucial and challenging to look after inventory management.
Hence, it becomes a top concern to implement inventory management systems that are precise for better control of inventory costs and seamless operational workflow.
This blog will dig down into the different aspects of hospital inventory management software and introduction to what services do hospitals provide. It will explore features and benefits, along with best practices. Keep reading till the end to have insights on inventory management in hospitals.
What is hospital inventory management software?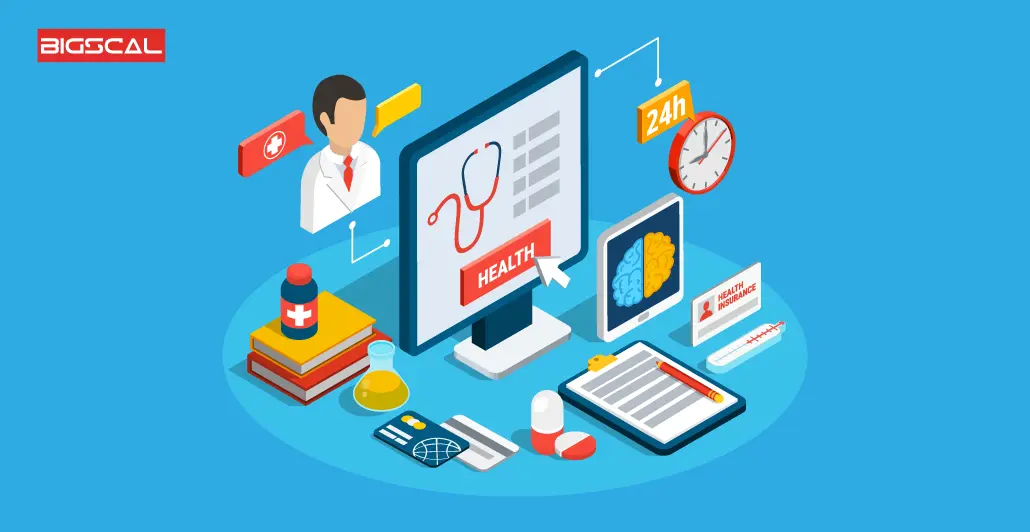 When you think of medical facilities, the most used resources are medicines, medical equipment, and surgical instruments. Hence, all healthcare organizations should have the necessary supplies of medical equipment, needles, and surgical instruments like injectors, gloves, and much more.
It is a professional's task to have medical inventory in stock to make it accessible on time and flow while also recording. Therefore, this is the job of hospital inventory management software. You are just a software system away from dealing with all the material management challenges, as discussed.
Hospital inventory management systems will help you keep track of all the items or maintain inventory data that are present in healthcare facilities. Effective inventory management systems will help healthcare providers and facilities to maintain track records of sales and expenses. Hospital software also has details on consumable and unfit drugs or foods.
Medical inventory management software can help hospitals and medical companies eliminate all the orthodox and inefficient inventory management processes. Additionally, it makes controlling inventory a small deal.
Medical inventory management systems can help you in managing inventory effectively with ease. Obtaining a full-fledged, cloud-based, and extensive healthcare inventory management software can be very beneficial. It can help categorize inventories in different ways, such as dividing medications as per expiry dates or registering equipment along with maintenance details and much more.
If you are a healthcare provider managing a large organization, it could be distressing to maintain inventory data and medical supplies. On a larger scale, you will need hospital inventory management software for managing medical supplies. With the help of this software, you will need a very minimum amount of time worrying about inventory management and rather provide quality patient care.
What are the different types of hospital inventory management systems?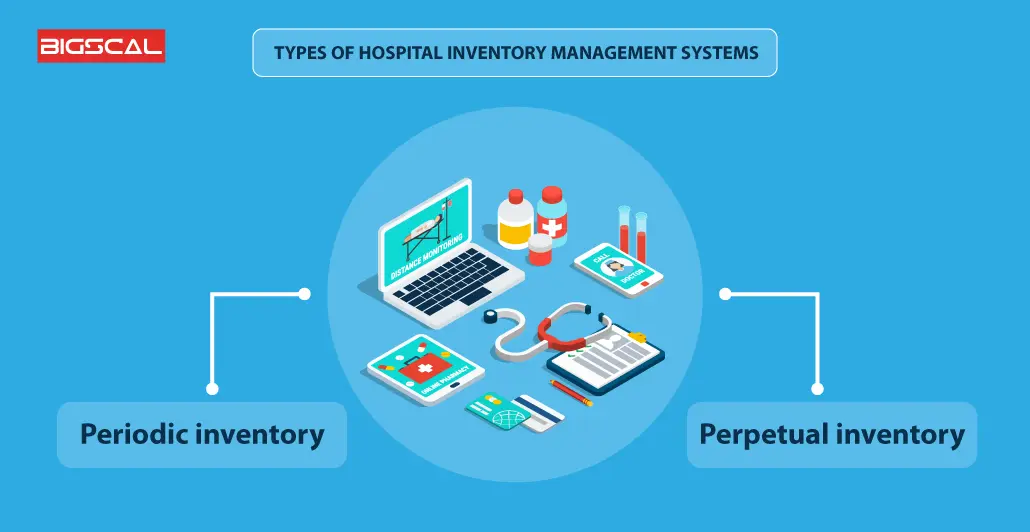 Periodic inventory
Periodic inventory management is based on entering data through manual processes and updating employee performance data. As per its name, the count of inventory is done on a periodic basis, majorly on weeks or similar basis.
Although this approach is suitable for smaller healthcare facilities, it is not for larger organizations. In this type of management software, employees have to update supply and equipment records manually.
Hence, for larger healthcare organizations, it is necessary to employ more advanced and automated management systems. It makes accuracy a priority. One of the major drawbacks of periodic inventory management is the errors that happen due to manual entry. It is a method that demands manual labor, diverting their time from important tasks. Hence, it is most appropriate for smaller facilities to only track inventory of small items.
Perpetual inventory
Unlike periodic inventory management software, perpetual inventory is a system that will update inventory automatically and eliminate the need for manual labor. By using RFID technology and advanced software, it can keep track of medical products and assets to streamline inventory management for healthcare facilities.
Although it can be tough to develop such software and enhance Hospital Efficiency with Workforce Software, the benefits are surreal. Hence, it is one of the most valuable investments if you are in healthcare.
Perpetual inventory systems can track purchases, deliveries, new additions, and subtractions. It also allows facilities to keep records of inventory up-to-date.
This automation will lessen the burden on your staff and let them focus on patient care. All the notifications, alerts, and forecast demand are taken care of, and the necessary steps are taken. Therefore, it will optimize inventory management, which will enhance efficiency and patient care.
Must-have features of Healthcare Inventory Management Solution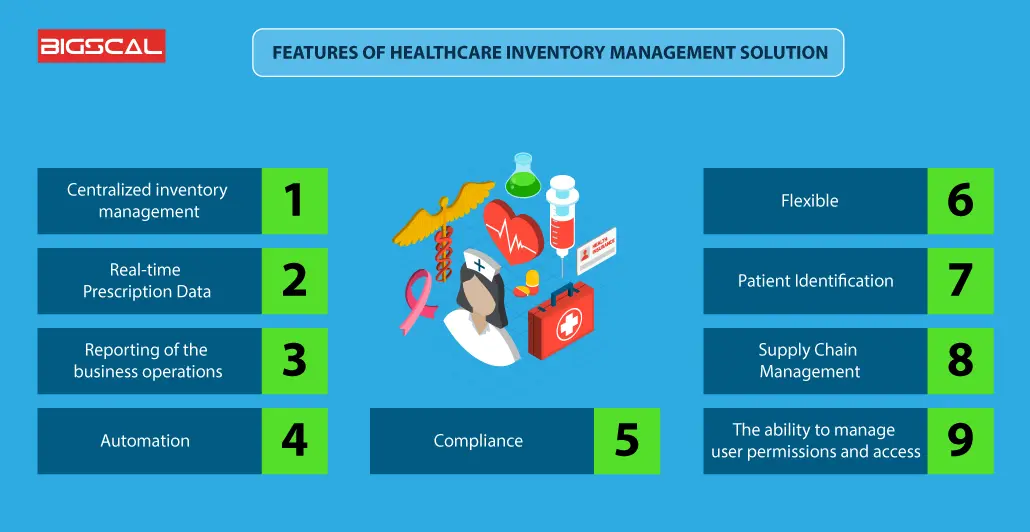 Centralized inventory management
One of the main aspects of hospital inventory management software is that it should centralize the management of business inventory along with interconnected modules. Hence, it makes it simpler to provide information through one central location. Moreover, it will ensure collaboration and better management of inventory to guarantee timely access to them.
Real-time Prescription Data
Modern-day hospital inventory management systems are known to offer excellent features like real-time data generation and data tracking. It will further cater to entire operational needs, majorly for pharmacy inventory systems. It is an automated solution that will process and accept prescription data, provide real-time analysis, and ensure compliance using integrated solutions.
Reporting of the business operations
If you are looking to enhance the efficiency of inventory management in hospitals, then you will need inventory management reports. Modern-day software is prominent in developing insightful words and provides clear ideas about the status of your inventory. These reports are essential in making crucial decisions, reducing operational costs further, increasing productivity, and enhancing profits.

Automation
Having an inventory management system that provides an exceptional feature of automation that allows delegation of tasks to the system. Hence, it will further reduce errors and help avoid chances of oversight of crucial details. Moreover, it also enhances productivity, streamlines material management, and lets you concentrate more on other responsibilities.
Compliance
While choosing an inventory management system for healthcare, make sure it complies with the guidelines of the government. The solution you adopt must be capable of managing multiple inventories, looking after pharmacy workflow, and seamlessly integrating with existing healthcare systems.
Flexible
One of the main features that decide the efficiency of an inventory management system is its customization ability as per your unique needs. It should define and adjust all the elements as per your requirements to ensure better adaptability and inventory management.
Patient Identification
With modernization, experts demand the development of a pharmacy inventory management system that can identify if a patient is eligible for the program or not. At the point when a person places a request for medicines, the software must clarify their eligibility and highlight its compliance with requirements.
Supply Chain Management
Medical material management systems should make the most out of predictive analysis using the data to make accurate forecasts. By making the most out of cloud computing in the healthcare sector, hospitals can enhance competencies and inform of consequences.
The ability to manage user permissions and access
A healthcare inventory management system that you choose must let you customize permissions and accessibility. Hence, this will let you get control over everything. Having restricted access to specific inventory sections will make sure that only authorized people can view and alter them. It will ensure your data is safe and maintain its integrity on a need-to-know basis.
What are the benefits of a hospital inventory management system?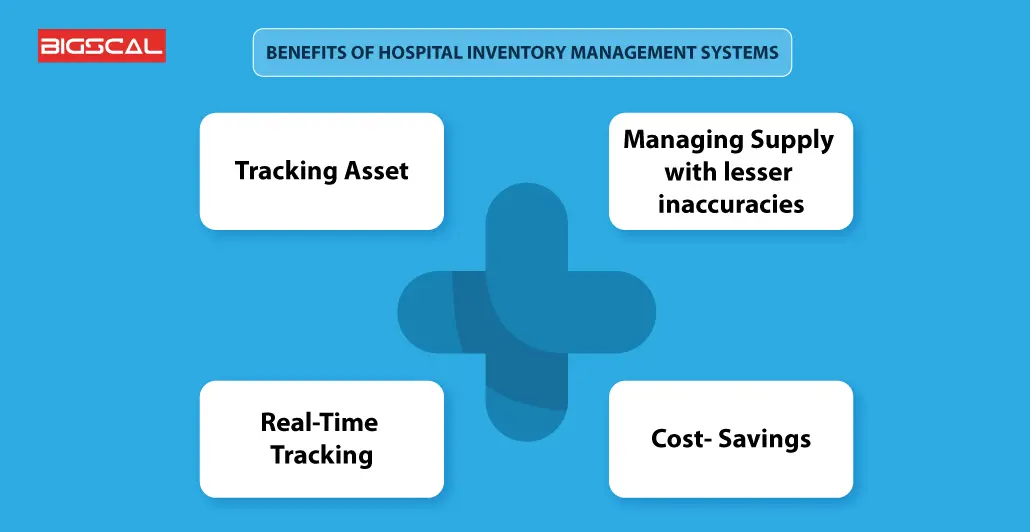 Tracking Asset
If you are looking to make the process of inventory management smooth and easier, you can employ healthcare inventory management software. The stocks of healthcare and supplies at medical facilities keep on changing at a large scale due to unpredictability. With this software, one can easily automate these processes and reduce the efforts that humans need to put into inventory management tasks.
Reducing Inaccuracies, Easy Analytics & Maintaining the Supply
Managing inventory and stock is more than just a one-time call or process. Hence, it is an ongoing process that keeps on going across the year. When humans used to conduct these activities, the results needed to be more accurate, and it led to improper stock management.
By adopting hospital inventory management software, there's a minimum chance of errors. All the data and bulk purchasing contracts will be taken care of precisely. Hence, all the orders will be synchronized, and stocks will be adjusted when you want to sell them.
Real-Time Tracking
The feature in your inventory software helps you in real-time tracking of the inventory. Hence, it means that it can regularly update the data, which enables you to get access to counted supplies when you sell or add items. Moreover, you can also manage all inventory transactions and record when the supply is less. Isn't it amazing that you get a notification when your goods don't arrive at the location?
Cost- Savings
Streamlining your inventory for healthcare organizations will help you save money and costs. It will help you avoid costs that come along with human errors, such as medication waste, and generate accurate data. At first, the inventory management system can help you abide by the hospital's budget and even restrict running out of supplies.
Additionally, it could decrease the scope of overdosing. However, the biggest advantage of hospital inventory management software is automation. Many hospitals and healthcare organizations face immense losses due to overstocking and stock-outs. But not after this software. All credit goes to the inventory management systems.
What are the best practices for inventory management in hospitals?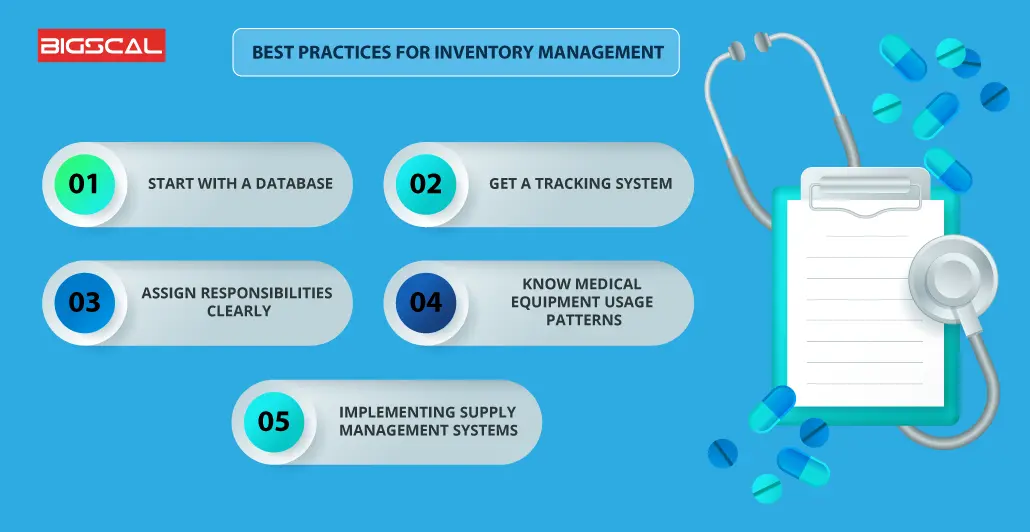 Start with a Database
One of the inventory management best practices is having a robust inventory database for equipment and supplies tracking. It must consist of details like location expiration date, quantity, and expiry dates for making informed decisions and utilization. Hence, a well-organized database will ensure a better inventory management process for accurate tracking.
Get a Tracking System and Tag each item in the inventory
Get an innovative and automated system for inventory management for enhancing healthcare facility inventory management. It will help you with real-time monitoring of the supply chain and seamless procurement. You can also tag each item with an identifier link to the inventory database for accuracy.
This best practice can help optimize inventory management for medical personnel, pharmacy staff and medical equipment through bar codes and tags. It will help you experience better inventory management in healthcare and streamline operations with unique solutions.
Assign Responsibilities Clearly
By inventory management system best practices, one can assign clear roles to the team members for better accountability. It can help divide responsibilities like tracking inventory minimums, monitoring usages, and ordering supplies. Hence, you can empower the team with training for executing tasks.
Gain Insights into Medical Equipment Usage Patterns
Make the most out of the power of data to seek better insights into the usage patterns of medical instruments. Keep track of equipment and supplies usage to make adjustments. Try to optimize inventory, check inefficiencies, and ensure better utilization. Taking a data-driven approach will help you make better decisions and collaboration with clinical leadership.
Implementing Supply Management Systems
You can implement inventory management techniques for other healthcare facilities and organizations, such as supply management systems. It will help you avoid human error and ensure consistency, simplify documentation, reports, and compliance.
Make sure to establish clear protocols to order and replenish to avoid scenarios for shortages. Keep an eye on equipment and effortlessly track location, optimize medical staff efficiency, and hospital administrators. It could streamline hospital facilities and save time and money.
Know how Bigscal can help with hospital inventory management software development?
Discover how Bigscal can revolutionize hospital inventory management through cutting-edge software development.
Tailored Solutions: We craft custom solutions to meet the unique inventory challenges of healthcare facilities.
Efficiency Boost: Bigscal's solutions optimize stock levels, reducing waste and ensuring critical supplies are always available.
Data-Driven Insights: Our software provides real-time analytics, enabling data-driven decisions for better inventory control.
Seamless Integration: We ensure our software integrates smoothly with existing systems, minimizing disruption.
Security Matters: With sensitive patient care materials at stake, we prioritize robust data security.
Scalability: Whether it's a small clinic or a large hospital, our solutions scale to meet your needs.
Empower your healthcare institution with extraordinary hospital management software development. Let Bigscal handle the tech while you focus on delivering quality care. Feel free to get in touch with us for developing an accurate and automated healthcare inventory management software.

Conclusion
Hope the text above might have made you understand different aspects of hospital inventory management software. As mentioned above, you can make the most out of the following, such as asset tagging, managing stocks, real-time monitoring, generating reports, and much more. Healthcare inventory management systems will help in making informed decisions.
Adopt an effective inventory management system and its best practices to streamline processes and manage inventory data for staff members. It will help you allocate time to crucial tasks and prioritize patient care.
It is not easy to survive in the hospital sector and it is not as easy as it looks, but having hospital inventory management best- practices can be helpful. With the aid of hospital inventory management software, you need not compromise on patient safety and care.
FAQ
What is hospital inventory management software?
Hospital inventory management software is a specialized tool designed to streamline the tracking, control, and optimization of medical supplies, equipment, and pharmaceuticals within healthcare facilities.
How do hospitals maintain inventory?
Hospitals maintain inventory by utilizing inventory management systems, conducting regular audits, setting par levels, and employing automated inventory tracking and solutions to ensure the availability of essential items.
What are the types of inventory software?
Types of inventory software include Hospital Inventory Management Software, Supply Chain Management Software, and Enterprise Resource Planning (ERP) systems with inventory modules.
What is the role of inventory in hospitals?
Inventory in hospitals plays a critical role in ensuring that necessary medical supplies and equipment are available when needed, ultimately impacting patient care and operational efficiency.
What is the system of inventory control in hospital management?
The system of inventory control in hospital management involves processes like demand forecasting, order management, storage, and tracking to maintain optimal inventory levels, minimize waste, and enhance healthcare operations.
https://www.bigscal.com/wp-content/uploads/2023/09/Hospital-Inventory-Management-Software.png
532
1200
Tosif Saiyad
https://bigscal.com/wp-content/uploads/2018/03/bigscal-logo1.png
Tosif Saiyad
2023-09-21 09:30:27
2023-10-13 03:26:08
Hospital Inventory Management Software: Benefits, Features And Best Practices