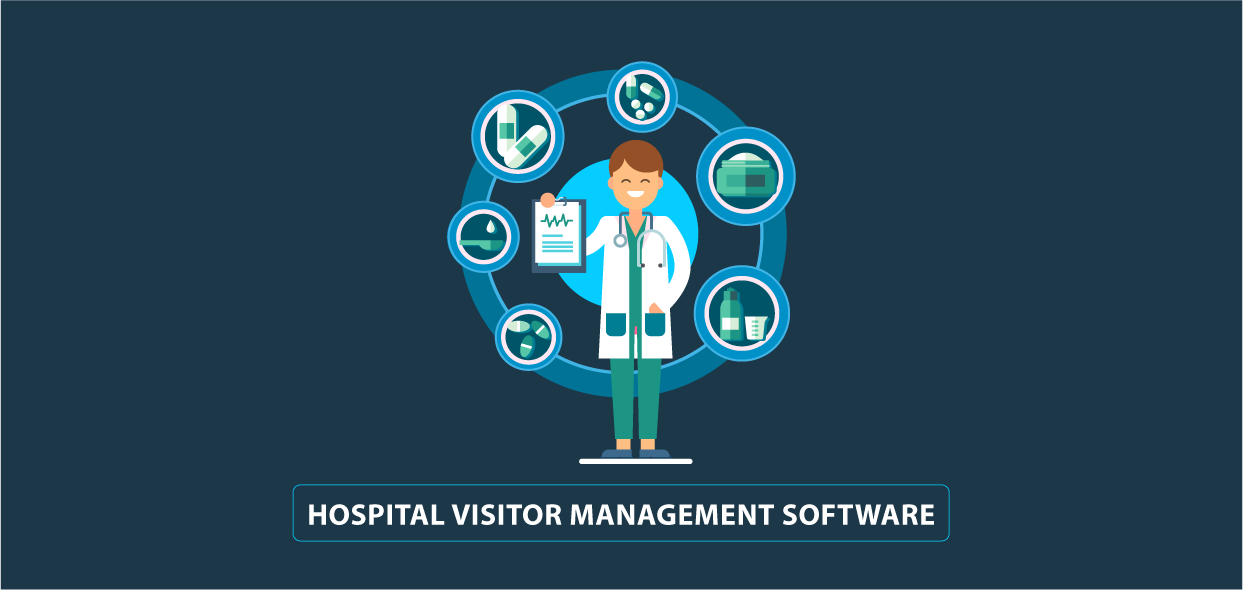 7 Reasons Hospital Visitor Management Software is Vital to Healthcare Facilities
Quick Summary: Hospital visitor management software is necessary for healthcare facilities due to several critical reasons. It enhances and processes hospital security measures, streamlines visitor registration, ensures accurate visitor data collection, automates patient visit tracking, minimizes wait times, integrates with other visitor management systems. You can also customize it to meet specific hospital needs. These factors collectively improve safety and efficiency in healthcare organization.
Introduction
Visitor management systems and security officers for hospitals are vital components of maintaining security in healthcare fields. Healthcare fields and facilities face various security and operational challenges due to their complex needs.
Hospitals, whether small clinics or large medical centers, constantly have people coming and going. Visitors arrive for different reasons, such as seeing patients, meeting staff, or seeking medical care. It includes various types of workers like employees, vendors, contractors, medical representatives, and laborers. Managing visitor check in can be challenging, especially when there are queues on the premises.
Ensuring every visitor's needs are met efficiently is a complex task. While larger hospitals may have more than security teams of security officers and guards, clinics may rely on nurses to maintain manual registers. But this contact tracing is time-consuming and prone to errors. So, what's the cost-effective solution? Hospital visitor management software might help. Let's explore that in this blog.
What are some primary challenges faced by hospitals today?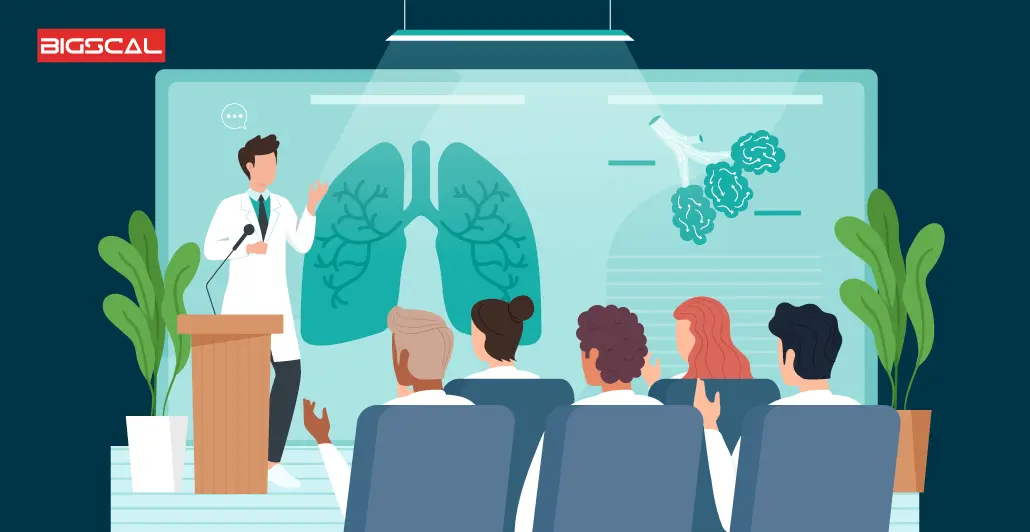 As mentioned previously, hospitals and healthcare organizations receive a huge number of visitors on a daily basis. These people consist of patients, visitors, and staff members, including healthcare providers. Patients indeed feel better about meeting their loved ones, but it could be problematic for hospital staff which needs access control.
Many healthcare facilities and small clinics are still known to manage records of visitors on the logbooks, but they need more secure visitor management systems and are prone to wear and tear.
There are multiple exits and entrances in the hospitals that need to have technology, which increases the chances of mishaps. The majority of hospitals still have hand-written guest and visitor badges that need lots of time and even compromise on security factors. Hence controlling access is very crucial.
After the global pandemic, it has become more important to have security teams maintain social distance and let only a limited number of people in hospitals through access control. But without technology, you could compromise maintaining hospital security and the health of everyone on the premises.
Also, another challenge majorly faced by hospitals is meeting the regulatory policies that the government and other institutions mention. Not complying with these laws can lead to a loss in terms of labor, money, and reputation of check in the healthcare industry. Therefore visitor management and a comprehensive hospital security plan is a must.
Introduction to visitor management system for hospitals
It is very necessary that a patient feels safe and warm in a unique private environment while visiting the hospital. No matter if it's a vast or a smaller institution, it's necessary to maintain good standards and safety policies. Its not even a matter to think about why are hospitals important. Right? Hence, to overcome these, hospitals need to have efficient security and operation systems. One solution to restrict the users is hospital visitor management software.
It will ensure hospital security as well as efficiency in the management of its visitors. Having well-rounded healthcare visitor management is important in reducing administrative tasks. It will streamline the contact tracing process, and provide a better healthcare visitor management experience.
A digital visitor management system will help you with instant background checks about who is entering your premises. It is just like tracing contacts but with more features. You can mend these systems as per your needs with features like welcoming visitors, gathering their feedback, and tracking physical security.
Beyond the primary functions of data collection physical security, having a secure visitor management system is a badge feature. It allows your organization to have greater insights into your customers' experience.
You may then leverage a comprehensive hospital security plan to enhance the company's logo and customer experience. It would further build a stronger relationship with them. Therefore, selecting a suitable and secure visitor management system that matches your healthcare organization needs could aid in achieving greater progress.
Top reasons to get a hospital visitor management system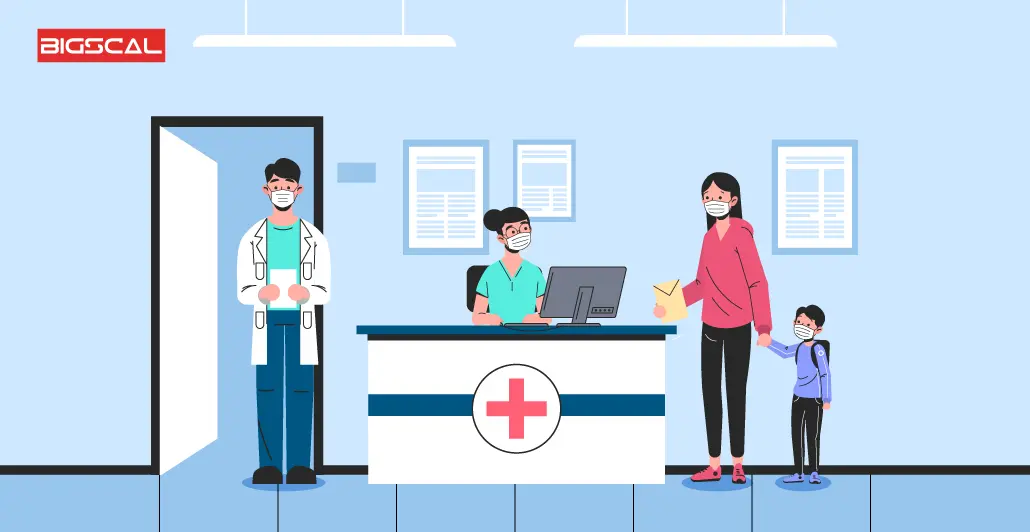 Quick and easy contactless sign-in
The contactless sign-in feature at the hospital reception lets visitors check in using self-help kiosks or tablets. Hospital visitor management software eliminates the need for paperwork and manually entering data. It makes the visitor check-in process smoother by automatically gathering the visitor's photo information.
Later it provides badges or passes, and provides clear instructions. It reduces waiting times and enhances the whole visitor check-in experience. QR code printed feature boosts hospital security by allowing the hospital to monitor entries and exits. It can also provide information like vaccination status and even ensure hipaa compliance.
Pre-registration option
By using hospital visitor management software, you can pre-enroll visitors. When a visitor arrives at the hospital for the check-in process, they need to scan a QR Code they received in their invitation. This process illustrates how you can automate your visitor check-in process at the hospital's reception area. Moreover, it reduces the need for physical touchpoints, which is essential, especially considering the ongoing Coronavirus situation.
Instant host notification
When a visitor mentions the person they're meeting, that person, who could be an employee or staff member, gets an instant email or text message notification. This way, they are promptly informed when their visitor arrives. Once they receive this quick notification, the person who is logged in can immediately decide whether to set up, reschedule, or cancel the meeting request. It not only saves time and effort but also makes the meeting process faster.
Easier data management
Managing visitor data can be a challenging task, particularly in hospitals where large volumes of data are dealt with daily. Healthcare visitor management systems serve as a secure and easy-to-use tool for managing databases. It records, filters, and keeps track of customer data to your healthcare facility.
Access denied
One of the key advantages of hospital visitor management software is the ability to access control of anyone visiting. Visitor credentials can be employed to limit entry, allowing access only to specific areas at scheduled times.
Enhanced security
Hospitals handle important patient data and valuable medical equipment. A visitor management system enhances hospital security by keeping accurate records of visitors, including their ID, reason for visiting, and how long they'll be there. This healthcare visitor management system enables staff to keep an eye on visitors, decreasing the chance of unauthorized access control to restricted areas and enhancing safety in the hospital with custom information and a secure environment.
Improved patient privacy
Paper-based patient records are highly vulnerable, especially in an era where digital data and protected health information are valuable. Safeguarding patient data and personal and protected health information is crucial. A healthcare visitor management system incorporates various security measures, like password protection, data encryption, and firewalls, to ensure patient privacy and data safety.
Choosing the Best Hospital Visitor Management System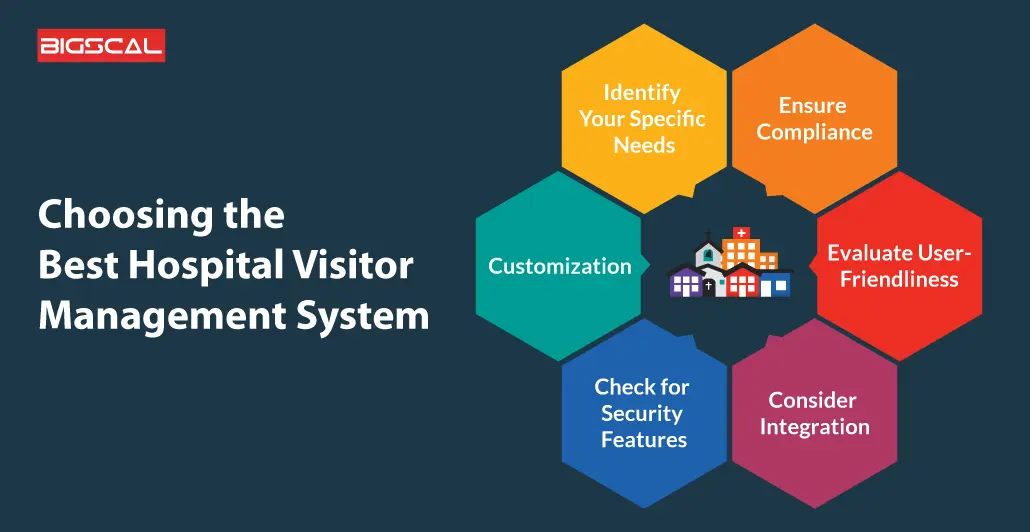 Identify Your Specific Needs
Before exploring different hospital visitor management software options, it's important to understand your specific needs. Every organization has its unique requirements, and selecting software that doesn't align with these needs can result in inefficiencies and wasted resources. Check if you are in need of hospital case management software for patient room capacity limits.
To begin, determine the number of visitors you expect and how often they will be visiting. Next, think about the information you'll need to collect from these visitors, such as contact details or identification. Lastly, if your organization follows particular security procedures, make sure the software can accommodate these protocols.
Additionally, assess whether you require software that can be integrated with other systems, like access control or security cameras. Some organizations might need software for pre-registration or self-check-in, while others may prioritize a plan that offers real-time tracking and reporting.
Ensure Compliance
Ensuring that you follow the rules is crucial when picking out healthcare visitor management software for your organization. Depending on your industry and where you're located, there might be specific rules that you have to follow when it comes to handling visitors.
For instance, many healthcare organizations and places have to stick to HIPAA compliance rules, which means they have to gather and keep patient information safe. Likewise, businesses healthcare organizations that handle sensitive data have to follow GDPR, which means they have to get permission from visitors before collecting and using their data.
So, when you're checking out hospital visitor management software, make sure it follows the important rules and has the right security features to protect visitor info. Also, make sure the visitor check in software gets updated regularly to keep up with any new rule changes.
Evaluate User-Friendliness
The hospital visitor management software should be simple and straightforward to use, suitable for both visitors and staff, regardless of their technical skills. When evaluating visitor management software, seek solutions with user-friendly interfaces and clear instructions. Furthermore, the software should be easy to install and customize, allowing visitors to check in and out quickly.
Ease of use ranks high among organizations' considerations when picking visitor management software. According to iTrobes, 77% of apps lose their regular users within a week because they aren't thought as user-friendly or easy to operate. Consequently, user-friendliness becomes a critical factor in their decision-making process.
Opting for visitor management software that prioritizes user-friendliness can enhance staff efficiency and visitor satisfaction, resulting in a positive visitor experience, for all parties involved.

Consider Integration
Incorporating visitor management software into your organization's systems can improve overall efficiency and effectiveness. So, when choosing such software, it's vital to check if it can work smoothly with other systems like access control, security cameras, or employee directories.
Integration abilities are a key consideration for businesses when picking visitor management software. According to Online Computers, proper integration allows organizations to use data efficiently across departments. Additionally, compatibility with other systems ranks among the top factors to weigh when making your visitor management software choice.
Check for Security Features
When you're picking a digital visitor management system or software, safety and maintaining security should be your top concern. Recent data indicates that businesses prioritize security when choosing a visitor management system.
According to a report from Markets and Markets, security features rank high among the factors considered by businesses when selecting visitor management software. The study also notes that the software's ability to secure sensitive customer data and facilitate paperless processes contributes to its growth.
Therefore, seek hospital visitor management software with strong security features like data encryption, secure data storage, and multi-factor authentication. Additionally, check if the software can monitor visitor activity and create audit trails. It's crucial to verify that the software provider follows industry-standard security practices and regularly updates the software to address any vulnerabilities.
Customization
When choosing hospital visitor management software, it's crucial to think about customization. Every organization has its unique needs and preferences, and the most visitor management software should be flexible enough to cater to those requirements.
A recent report from Digital Journal predicts that the global market for visitor management software will reach a value of USD 2492 million by 2028. There's a strong demand for software that can be customized to fit specific needs. Customization allows organizations to adjust the software to match their exact requirements like badge features, which in turn boosts overall efficiency and productivity.
Opting for customizable visitor management software can enhance user satisfaction and adoption, resulting in a more positive experience for both staff and visitors. It can also set your organization apart and present a more professional image.
How can Bigscal help with hospital visitor management software development?
Bigscal offers valuable assistance in developing hospital visitor management software tailored to your facility and needs. With our expertise, we ensure that your hospital effectively manages the flow of visitors and process security measures.
We offer best hospital management software development for solution for unique requirements of healthcare facilities. We create user-friendly interfaces that anyone can navigate effortlessly, reducing the burden on hospital staff.
One of the standout features of their approach is customization and badge features. We understand that every hospital is different software can be adjusted to match the unique private environment and specific needs. This customization of visitor management boosts efficiency and ensures a seamless visitor experience.
Additionally, physical security is a top priority. Bigscal's software provides robust visitor tracking and authentication, enhancing the safety and security of your premises.
In a healthcare setting, a smooth visitor management system is crucial. Bigscal's expertise in this area ensures that your hospital can focus on its critical role of providing quality care. At the same time, they take care of the software's functionality, creating a seamless experience for both visitors and staff.

Conclusion
Healthcare facilities always strive to offer top-notch care to patients. To make this happen, a visitor management system can be a valuable tool. It simplifies the task of handling visitors, ensuring everyone gets the best service and secure environment. This system cuts down on wait times, enhances security, and keeps precise records of who comes and goes from the hospital. Moreover, it automates the tracking of patient visits, freeing up staff to concentrate on providing excellent care to those who require it.
FAQ
What is a healthcare visitor management system?
A hospital visitor management software is a digital tool to streamline and enhance the management of visitors within a healthcare facility. It helps register, track, and manage individuals entering the hospital, ensuring security staff safety, efficiency, and accurate record-keeping.
What are the benefits of using a visitor management system in hospitals?
Using a visitor management system in hospitals offers several benefits. It reduces wait times, enhances security by screening visitors, maintains precise entry/exit records, automates patient visit tracking, and allows staff to focus on patient care rather than administrative tasks.
What features should I look for in a hospital visitor management software?
When selecting a healthcare visitor management system, consider features like visitor registration, badge printing, real-time tracking, integration capabilities, reporting tools, and customizable options. Look for a strategy that aligns with your hospital's specific needs.
Can a visitor management system integrate with other hospital systems?
Yes, many visitor management systems can integrate with other hospital systems, such as electronic health records (EHR), security systems, and access control. Integration ensures seamless visitor data sharing and enhances overall hospital security and efficiency.
Can you customize a visitor management system to meet specific hospital requirements?
One can customize visitor management systems can to meet the unique requirements of each hospital. It includes tailoring registration processes, badge designs, custom information, and process security measures, protocols, and reporting features to align with the hospital's specific needs and workflows.
https://www.bigscal.com/wp-content/uploads/2023/10/Hospital-Visitor-Management-Software.png
590
1243
Tosif Saiyad
https://bigscal.com/wp-content/uploads/2018/03/bigscal-logo1.png
Tosif Saiyad
2023-09-23 09:30:41
2023-10-27 00:57:19
7 Reasons Hospital Visitor Management Software is Vital to Healthcare Facilities