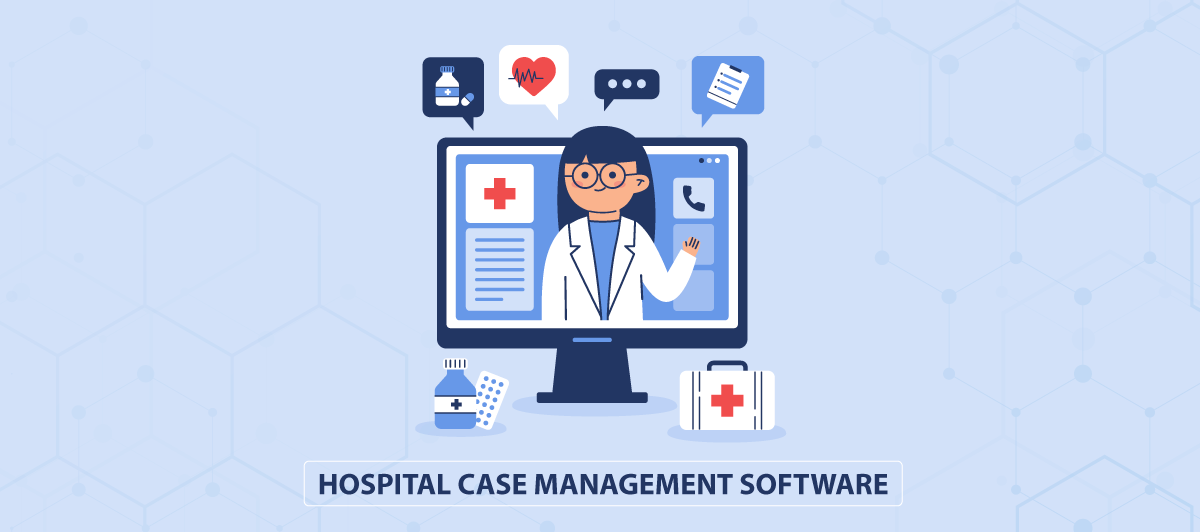 Hospital Case Management Software: 8 Things to Consider Beforehand
Quick Summary: Before implementing hospital case management software, consider factors like scalability, integration capabilities, user-friendliness, data security, and cost-effectiveness to ensure it aligns with your healthcare institution's needs and goals.
Introduction
Selecting the most appropriate hospital case management software is necessary to make your firm law-protected. Hence, making the right selection in terms of efficiency and security risks is the ultimate task. The priority of each healthcare provider is ensuring the best care for the patients. But you might not be aware that this might involve a lot of hustle and silly tasks. These tasks include scheduling, paperwork, billing, and other planned and unplanned activities.
Moreover, the quality of services that are delivered to these patients will depend on these processes and their efficiency. Therefore, when you make use of a practice management solution, your firm can easily capture and track work, send bills and run smoother than before.
But how will you choose the best hospital case management software for your healthcare organizations? This blog will cover certain points that will help you meet your firm's health outcomes and goals.
What is hospital case management software?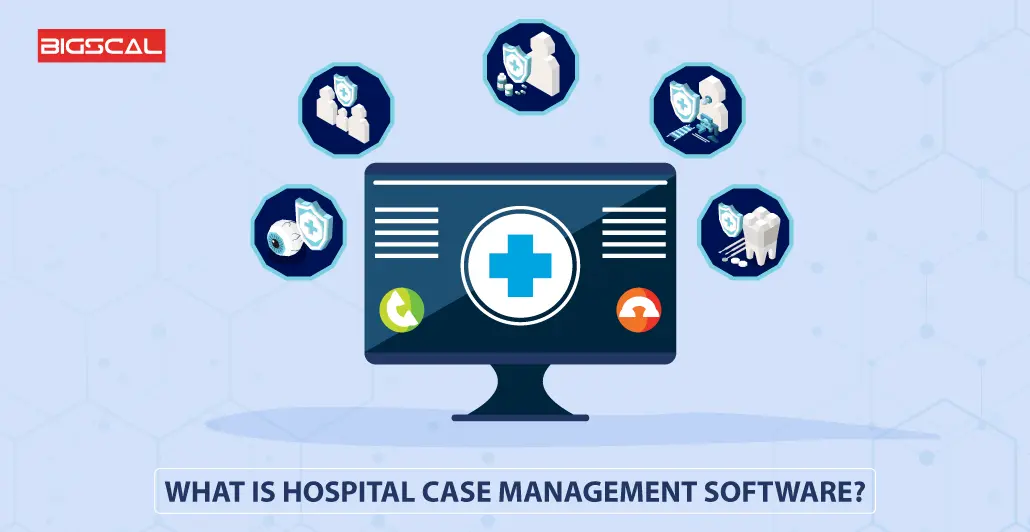 Hospital case management software offers healthcare organizations a central location that tracks and stores all patient data. This data includes information like contact, case notes, appointment schedules, history and client communications. In all, there are three central functions of case management software healthcare:
Intake: In spite of spending hours entering and collecting data manually, you can employ digital forms. These are smart forms that can intake data within a span of a few minutes.
Case management: Patient case management software can help in managing workflow and addressing the needs of clients. It equips you with the tools that record client notes well, send answers to requests, take care of emails and set reminders.
Reporting and Evaluation: Practice management software comes with strong reporting tools that can help teams track progress, analyze trends and evaluate information. It makes sure that the success of the client is both quantified and qualified.
From collecting information to streamlining workflow, having hospital management software will help your healthcare organization grow.
What are the benefits of patient case management software?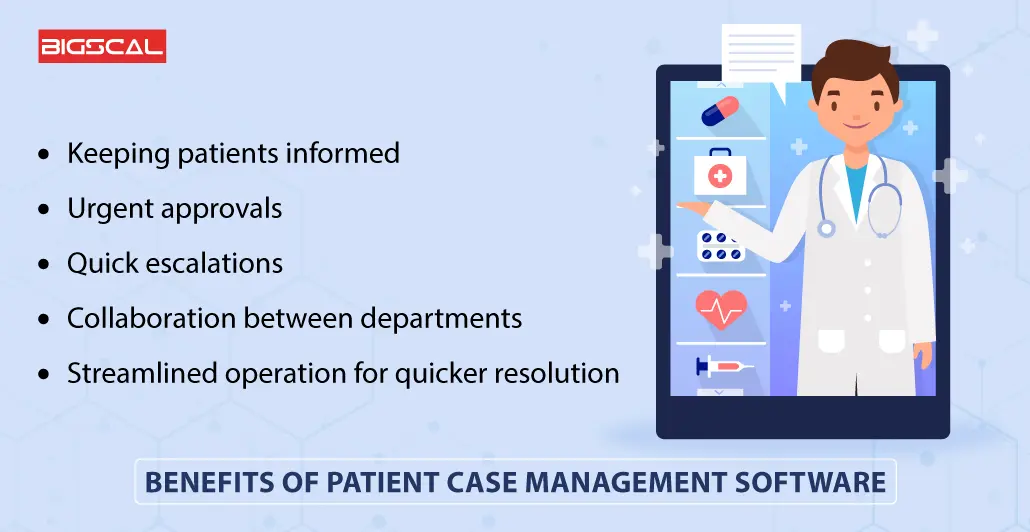 Keeping patients informed
The majority of patient case management software is developed to let workers interact with the patients through different channels. This software makes it easier for the care teams and providers to get access to patient profiles that contain all the information, such as history, test results and diagnosis. Hence, this will encourage overall patient experience.
Urgent approvals
There are requests of certain patients that are simple and easy to tackle. Moreover, others have complications and need many approvals. For example, carrying out a major surgery will need approvals from different authorities, not just from the hospital but even from external parties. Hence, without employing human services or an automated system, taking approvals can be time-consuming. It also affects the time in patient query resolution. However, with hospital case management software, it is possible to pass the approvals faster without delays in patient outcomes or the healthcare delivery process.
Quick escalations
An automated practice and patient management software will ensure faster and more efficient case escalations. Hence, when the patients have complaints or are dissatisfied with the case managers, they can ask for another case manager or higher authorities to handle it. This case management software holds a central database, which can help in passing patient data to higher-ups for taking charge of the incidents.
Seamless collaboration between departments
Collaboration of different departments in the healthcare industry is necessary. Hence, case management software makes it easier to refer to the patient's progress and health records from one department to another. Having an efficient platform will make it smooth to provide users with access to healthcare professionals' information like medical history or billing information.
Streamlined operation for quicker resolution
Having automated patient case management software will help you streamline all the administrative tasks that are employed by healthcare providers in care coordination. Moreover, it will make resolving cases easier and more efficient. It also ensures that there is less burden on the staff by automating human services and focusing on giving patient care. Hence, simplifying this complex process will also ensure that caseworkers avoid any mistakes and design treatment and care plans with fewer errors. It could make a huge difference in the world of care management.
Top tips to consider before getting hospital case management software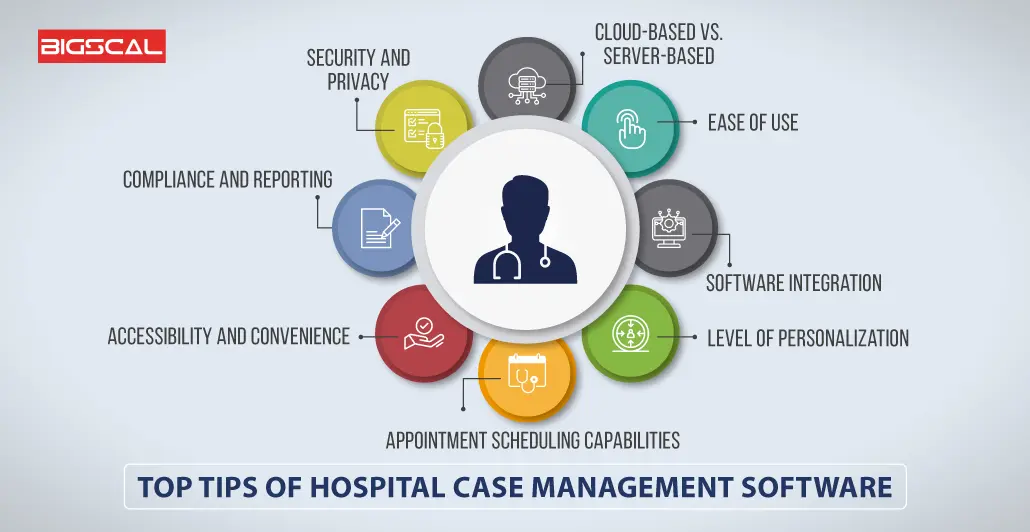 Cloud-based vs. server-based
Back in those days, healthcare organizations used on-premise software solutions that could satisfy their management needs. But with the rise in the usage of artificial intelligence, the tables have turned. Entire communities have started using cloud-based solutions. These solutions offer plenty of benefits over other systems, such as:
Secure access to the information of the firm from anywhere and anytime.
Upgrading software automatically eliminates unnecessary time and cost and avoids manual tasks.
There is no cost of hardware maintenance and upgrades as cloud-based software is hosted on secure, remote servers.
Having an automatic software upgrade can make a great difference in your firm when you have a healthcare firm where changes happen fast. With an on-premise system, you may have to wait to install software updates. Hence, whenever you choose, it's necessary to consider cloud-based solutions. True cloud-based solutions will ensure you have access anytime and anywhere.
Ease of Use
Your hospital case management software should prioritize ease of use. Avoid complex software that demands lengthy setups and intricate features. Opt for a simple format with an intuitive user interface for easy adoption by you and your staff.
Consider software that offers free demos or trials to assess usability before committing. Save valuable time by choosing immediately user-friendly case management solutions.
Software Integration
Another significant facet of case management software involves seamless integration with your current software systems like comprehensive hospital workforce management software. It simplifies the process of importing and exporting client data between your practice's financial software and facilitates the uploading of case management files from external sources, such as emails.
Opting for case management software featuring drag-and-drop functionality is highly advantageous. It enables the swift, secure storage and straightforward attachment of email files to a patient's record, with the option to include an add-on Microsoft Outlook feature for a nominal fee.
Moreover, compatibility with financial software like Xero adds further value. It streamlines your case management records, allowing for the integration of data into a unified platform.
Level of Personalization
Customization is key when it comes to your case management software – a one-size-fits-all approach won't suffice.
Every Allied Health organization, whether offering Occupational Health or Rehabilitation services, has its unique requirements. With the right software, you can design tailor-made documents and forms to suit your practice's precise needs. These forms prove invaluable for patient identification, diagnosis, note-taking, and treatment tracking.
The best case management software enables you to apply specific labels to your documents and store them systematically within your documentation tab. By categorizing them as sub-sections based on their type, you establish an organized system that significantly simplifies the process of locating your custom forms and documents.

Appointment Scheduling Capabilities
Missed appointments pose significant challenges in the healthcare sector, resulting in wasted time and resources allocated to unattended appointments. In the United States alone, this issue incurs a staggering cost of $150 billion to health, annually, with a nationwide no-show rate of 30%.
Case management software along with comprehensive hospital visitor management software provides a solution by enabling efficient appointment tracking and scheduling. It also automates the process of sending reminders through text messages, phone calls, and emails.
This proactive approach not only helps patients remember their appointments but also allows you to reallocate time slots. Patients on your waiting list can be informed if a scheduled appointment needs to be rescheduled.
Utilizing automated reminders has the potential to reduce no-show rates by an impressive 29%. Hence it ensures that your appointment schedule remains full and your Allied Health practice operates seamlessly.
Accessibility and Convenience
Legacy case management software required installation on a central computer, limiting its accessibility. When seeking case management solutions, opt for one with cloud-based capabilities.
A cloud-based system grants users and you the flexibility to access data from anywhere. You can log in to the platform using any web-enabled device, whether it's a smartphone, tablet, or laptop.
This secure platform provides access to various data, for social services providers, including patient records, reports, billing invoices, and upcoming appointments, all accessible remotely.
Especially during the 2020 COVID-19 pandemic, this feature proved invaluable behavioral health everywhere. Many non-essential medical centres had to close, but patient management information remained accessible for services like telehealth visits. In the event of another health crisis, data and health records remain accessible via the cloud.
Compliance and Reporting
Managing patient files in patient case management software often demands strict compliance with state and government regulations. It is necessary to ensure proper documentation of services for Health organizations to receive necessary funding. Your case management software should include protocols to meet these documentation requirements. Moreover it should help you adhere to reporting criteria for compliance.
It simplifies the process, reducing confusion over claim submissions and payments and preventing accusations of fund misallocation. Integration of compliance and reporting features significantly streamlines and enhances case management efficiency.
Security and Privacy
Given the rising incidents of malware, ransomware, and cyber threats globally, cybersecurity becomes paramount. It's essential not to entrust your sensitive data and patient records to just any case management software.
Healthcare and financial organizations are particularly concerned about hacked systems and data breaches, which can erode trust among patients. It's crucial to ensure that your case management software offers encryption, firewall protection, and the option for a cloud-based platform to facilitate data backup and prevent loss.
Cloud-based servers with continuous monitoring can proactively detect and alert personnel to potential threats or attacks, enhancing the security of patient data and shielding it from unauthorized access and cyberattacks.
Try Hospital Case Management Software Development with Bigscal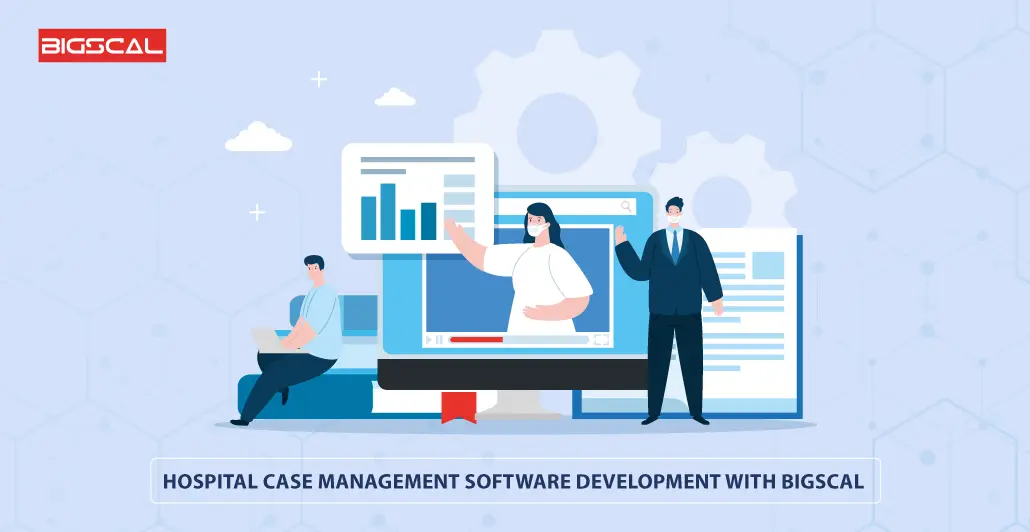 Experience a revolution in hospital case management with Bigscal's innovative software. We are one of the top hospital management software development companies that streamlines administrative tasks, organizes patient records, and enhances overall efficiency.
With Bigscal, you and the care team can seamlessly schedule appointments, track patient data, and ensure compliance, all in one user-friendly platform. Our software's versatility adapts to your hospital's unique needs, from managing appointments to handling billing and reporting.
Take a leap towards more efficient healthcare operations with Bigscal's hospital case management software. It is the key to optimizing your hospital's performance and improving patient care. Try it today to see the difference for yourself.
Conclusion
In recent years, automated hospital case management software has revolutionized the healthcare industry. This versatile tool offers a range of features that enhance service delivery. Moreover it streamlines processes, and improves overall operational efficiency in healthcare and insurance contexts.
In conclusion, choosing hospital case management software is pivotal. Prioritize flexibility, integration, user-friendliness, and data security. Evaluate scalability, cost-effectiveness, and compliance features. Ensure it aligns with your hospital's specific needs and goals. Make an informed choice to streamline operations and enhance patient care.

FAQ
What makes a good case management system?
A good case management system should be user-friendly, customizable to specific needs, promote collaboration, offer robust reporting outcome tracking, streamlined workflow capabilities, and prioritize data security.
How do I choose a hospital case management software?
To choose a case management system, assess your organization's care team's needs, consider scalability, evaluate user-friendliness, ensure compatibility with existing care management systems, review vendor reputation, and request demos.
How to implement software in a hospital?
Implementing software in a hospital involves planning, selecting the right software, training staff, data migration, and ongoing support to ensure a smooth transition.
What are the 4 components of case management?
There are four components of case management. These include assessment, planning, implementation, client tracking, and evaluation of a client's needs and services.
What are the five major functions of case management?
The five major functions of case management are
assessment,
planning,
linking clients to services,
monitoring patient progress, and
advocating for clients' needs within the healthcare system.
https://www.bigscal.com/wp-content/uploads/2023/10/Hospital-Case-Management-Software.png
532
1200
Tosif Saiyad
https://bigscal.com/wp-content/uploads/2018/03/bigscal-logo1.png
Tosif Saiyad
2023-10-03 09:30:03
2023-10-17 09:05:26
Hospital Case Management Software: 8 Things to Consider Beforehand