The Ultimate Guide to Healthcare App Development: Boosting Medical Access with Mobile Apps
With the transformation in all industries and time, healthcare has also adopted digitization. This transformation has touched the lives of millions of people globally. The benefits of healthcare applications are no longer hidden from the world. It helps in many ways, from monitoring patients to reducing the workload for professionals. It has streamlined all major processes of the medical industry. Hence healthcare application development services are worth trying out.You can think of these applications as a tool to manage information about customer health. It is transforming the model of the healthcare industry into a patient-centered one. It will allow consumers to keep track of their health all by themselves. Through custom healthcare app development, experts can ensure impeccable care to the sufferer. Want to dive into the world of healthcare app development? Keep reading.
What Is Healthcare App Development?
Developing mobile applications to carry out health processes in real time can be termed healthcare app development. Users can place and keep a check on their requests on this application. Examples of such applications are medical services, electronic records and insurance claims.
After the pandemic healthcare industry has seen huge changes, patients and doctors have become more careful about processes in the field. Therefore, managing records and bringing medical journeys into action has also come a long way. Unlike medical practices, professionals want their work to sync with data, logistics and available resources. It will further ensure better functionality. Hence having healthcare software development services is vital.
The necessity for involving technology in the healthcare sector to help everyone has increased. These days healthcare applications are ensuring to replace the tasks done manually. Therefore it will bring ease to each person involved in the processes.
On the other hand, applications such as telemedicine and fitness will help patients to smoothen their journeys. Therefore, it can help transform their diagnosis coverage. A mobile healthcare application development can serve multiple purposes, such as
An application for doctors will help them track patients and monitor them. Additionally it can also work for scheduling appointments and managing staff.
Patients' applications for digital health solutions will help them book appointments and even chat with the doctor.
Healthcare mobile applications are gaining wide popularity in the market. Here are some numbers and statistics that might amaze you:
One can find about 45,4700 healthcare applications in the Apple store.
On the Play Store, there are about 43,280 applications.
The market of telemedicine will surpass $17.14 billion by 2026.
An Overview Of The Healthcare App Development Market
The market for mHealth apps was estimated to be worth USD 43.5 billion globally in 2022, and from 2023 to 2030, it is anticipated to increase at a CAGR of 11.6%.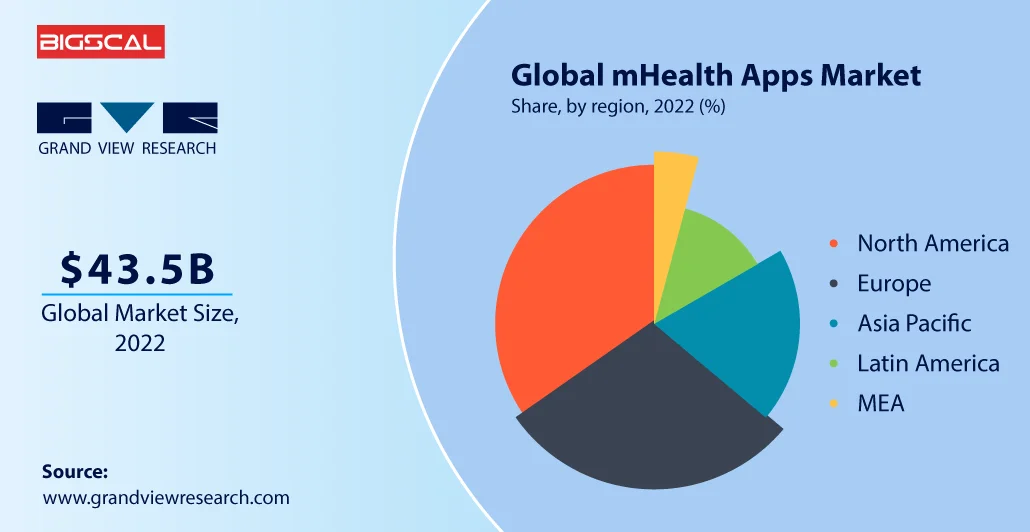 Both government and private organizations are accepting the usage of healthcare applications.
Developers are continuously looking to improve the quality of healthcare applications.
Promotions of applications on social media.
The pandemic increased the adoption of healthcare applications among people. These applications allowed them to monitor their health state. With the aid of these applications, they could communicate information with people.
The increasing adoption of these apps to collect fitness and medical data is attributed to driving the market. In addition to this, expanding usage of the internet and smartphone might be contributing factors. Hence growing awareness of physical health and lifestyle improvement also makes healthcare application development services necessary.
What Are The Types Of Healthcare Apps?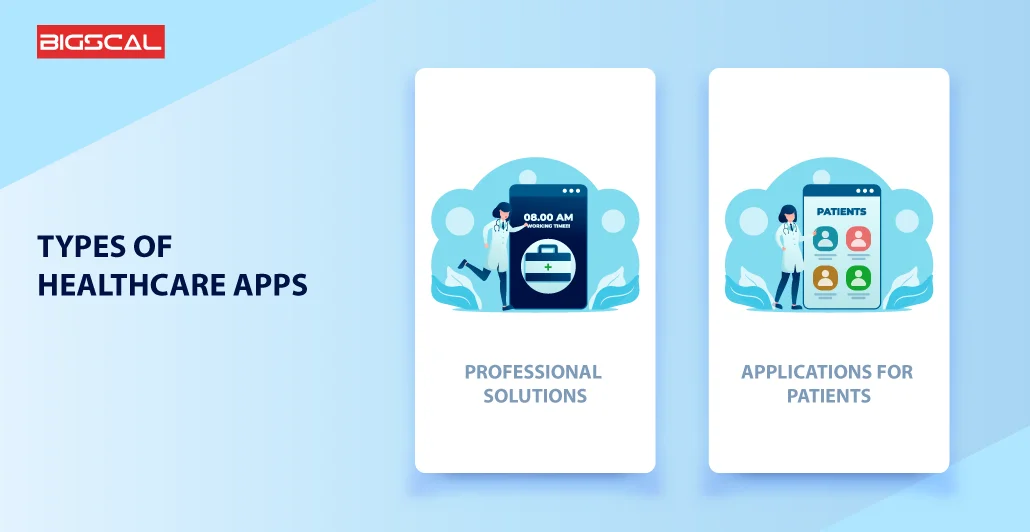 1. Professional solutions
This type of healthcare application is a solution for professionals and doctors.
Healthcare reference & database apps
The designed databases have data regarding diseases, drugs and prescriptions under a single roof.
Professional networking apps
A social network where healthcare professionals can connect and exchange ideas. It also helps expand the community.
Patient health tracking apps & remote patient monitoring
Applications that let doctors keep track of a patient's health while treatment is going on. It also has data on all the reports and other documentation.
Doctor appointment & clinical assistance apps
An app for booking an appointment with a doctor can reduce journal maintenance. Both parties will receive an automatic reminder.
Telehealth can be a good choice if you want to visit doctors and consult them online.
2. Applications for patients
Here's a list of applications that can be commonly used by patients and consumers:
Patient healthcare education apps can be used to monitor user data.
Reminder apps are tracking apps and apps that might remind you about healthy habits.
Diagnosis apps that can help with preventive purposes
Healthy lifestyle apps that can help with tests. Fitness and wellness apps, too, can be beneficial.
Remote patient monitoring apps to keep track of chronic conditions such as diabetes and blood pressure.
Mental health apps to promote stress relief. One can also try meditation apps and ones for good sleep.
Dieting apps that include trackers, exercise and weight loss ideas.
Apps for women's health app to help them through various phases.
Among all these top healthcare applications, diet applications are the most used. Therefore, people often use workout and fitness applications.
What Are The Key Features Of A Healthcare Application?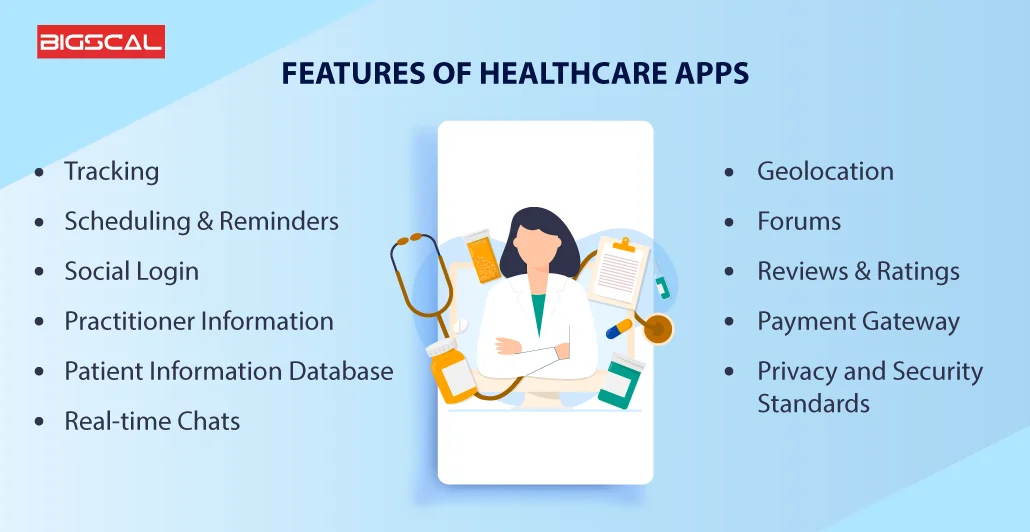 1. Tracking
Tracking features in healthcare applications help professionals monitor blood pressure, heart rate, and other essential statistics.
2. Scheduling & Reminders
It is a feature of healthcare applications that provides appointment scheduling. It could also help with reminders like water intake, sleep and calorie count.
3. Social Login
Features such as social login will help patients log in easily. Many patients do not want their confidential information shared on media platforms. Hence you should make it in your privacy policy about access to social media profiles. It could facilitate hassle-free appointments.
4. Practitioner Information
With the help of these features, patients can easily collect information regarding specialization, availability and other things about doctors. It lets you know about the doctor's profile before the appointment.
5. Patient Information Database
It will help software to collect and keep records of prescriptions, medical history, reports and other data of patients for all-time access.
6. Real-time Chats
With the help of these features, patients can connect with their healthcare providers online and seek assistance. It can promote easy access to healthcare and ensure trust among doctors and patients.
7. Geolocation
What if the patient is far from the location and needs assistance urgently? The features such as geolocation which works with maps can help them find the nearest medical institution, clinic or hospital.
8. Forums
Online forums will promote discussion. It enhances collaboration and engagement between both parties. Through forums, all the groups are associated with members of healthcare. Therefore, users of the application can participate in discussions and find the best answers.
9. vReviews & Ratings
This feature of healthcare app development services can help patients provide their feedback and experiences for betterment. It can help medical experts make necessary changes. Hence it will further enhance the credibility and loyalty of patients to healthcare service providers.
10. Payment Gateway
Integrating the latest payment features into mobile applications will help patients to complete transactions easily. It can also increase the security and safety of the payer. This feature also lets them have a copy of bills for documentation purposes.
11. Privacy and Security Standards
Tons of data are to be stored and processed within a healthcare application. This data might include contact details, transaction details, addresses, etc. Hence ensuring the security of this data is prime. Choosing a healthcare application development firm that develops apps which bind to security measures and regulations.

What Are The Benefits Of Healthcare App Development?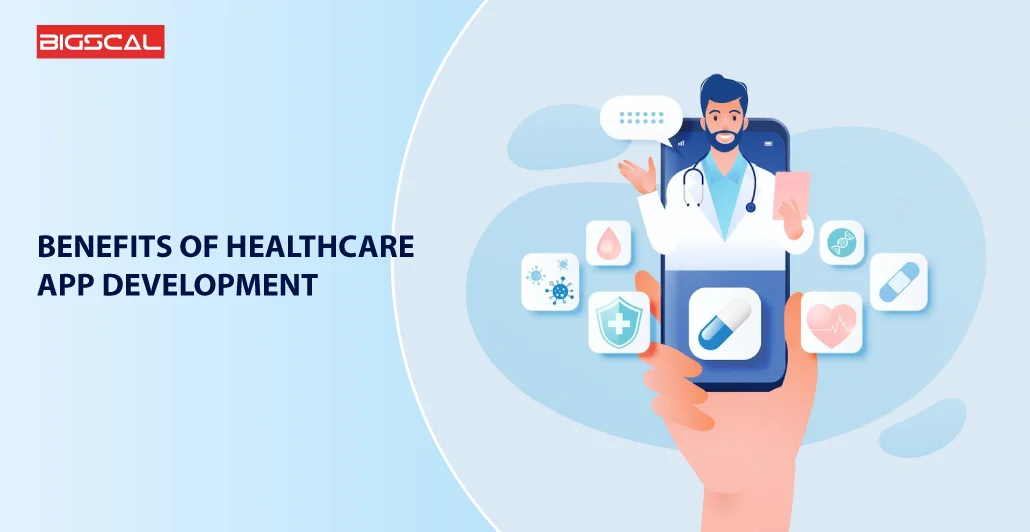 1. Easy Accessibility
First, healthcare applications have positively affected the lives of both professionals and patients. Users across the globe find that these apps make it easy for them to access information immediately.
2. Cater to Personalized Experience
Know that the health journey of each patient is unique. Hence the needs and treatment for each of them will be different. Some patients might even need special attention. But healthcare applications will make it easy for providers to deal with many patients. They can easily look at records and find solutions to their health issues. It could also help them give special attention to patients that need it.
3. Patients Can Monitor Their Health
The modern features in healthcare applications enable patients to see their health independently. They can keep track of all essential parameters like blood pressure, cholesterol, heart rate and much more.
4. Enhanced Efficiency
With the help of healthcare applications, patients can have information about their medicines, talk to doctors and know about their prescriptions from home. Therefore medical providers can also enhance the efficiency of workflow and reduce paperwork. Machine learning will keep track of information and complete almost all work. It will help doctors save time spent on tiring work instead of focusing on patient care.
Cases Of Usage: Healthcare Application
1. Telehealth & Telemedicine
Adopting telehealth and telemedicine software among doctors and patients is the need of the time. These applications have received enough attention during the pandemic. It allows providers to facilitate remote medical services by communicating online.
2. Electronic Health Record
The electronic health record is a technology that can help you keep track of and update medical reports about a patient on one platform. It will save time and avoid any errors that could have occurred.
3. Health Informational Exchange
Collecting vital data such as temperature, heart rate, blood pressure, and others is important for diagnosis and ensuring the well-being of patients. Health information exchange helps collect these vital parameters with smartphones. Hence they could be transferred to the doctors faster and more accurately.
4. E-prescribing
The e-prescription system will help generate, store and send prescriptions through electronic systems. It could reduce errors that arise during the whole check-out.
A Step-By-Step Guide To The Development Of Healthcare Applications
1. Identify a Problem in Healthcare
There are plenty of applications in the healthcare market. But the question is, are all of them unusual? Not at all.
In most cases, all of these are copies of each other. Therefore they do not provide any advantage to the users. Experts believe these cases arise due to a lack of research. Know that there is no rocket science behind a successful mobile application; it is just practical usage.
Describe issues that are troubling healthcare providers and your audience. And then make them aware of how your application will solve that specific worry. Know that the digital solution you are developing must provide value and should not just duplicate some other present app. To develop such an app, answer the following questions:
What is the problem that you are targeting with your application?
Whom do you consider to be contesting opposite to you?
Are there any similar apps that could cause trouble?
What method do they use to attract prospects?
What is their USP?
A simpler answer to all of these questions is starting a healthcare application that is a simpler version. It is because to target bigger problems, the cost of building an application could go higher.
2. Get to Know Your TA for a Healthcare App
A survey found that about 70% of hospitals in the United States attempted to build a mobile healthcare application without conducting preliminary research on target users. Hence, in the end, only 2% of them used these apps.
Know that analyzing patient engagements and surveys will help you generate healthcare application development ideas for the future. It's always great to wonder what you can bring forward instead of testing different concepts.
Also, another crucial thing to analyze is the environment where you will put your app forward. Understand that you must meet the country's regulations where your app will be projected. The countries where offering healthcare application development services are favorable are the USA and the UK.
3. Choose a Design for your Project
Deciding upon design is necessary before diving into the development of healthcare applications. Here are characteristics to keep in mind while understanding this process:
You must have a well-defined color scheme for your application as per your purpose. Most of the time, it's better to go for light colors. For healthcare applications, it's better to go for cold tones.
Get a fitting Notification Design.
Notifications are crucial in the development of medical applications. It should have core reminders and a goal-tracking facility. There are plenty of notifications in the app; to cut back on confusion, it's better to include different designs.
Consider variations in design in both operating systems.
There are different guidelines for both operating systems. The products in iOS have a flat and more direct design. On the other hand, Android products have a three-dimensional appearance. And if you want to launch your app on the web, there are different guidelines.
4. Begin with the First Version of your Healthcare App
Know that healthcare mobile app development should be easy to scale and adapt. You can now try building your application with third-party solutions, APIs and tools.
Hence the best way to develop a healthcare application is to first make a simpler version. And later work on the full-fledged ones. Starting with the minimum product lets you invest a small amount and test the success of your idea. Later you can keep adding features.
5. Test & Receive Feedback
After you release the first version of your application in the market, you will have an idea of its success. And the later part of your product should be updated based on users' feedback. It will help avoid any errors and financial losses. Hence conducting beta tests, distribution tests, user reviews, and app ratings will help you get an insight into your project.
6. Think of Widespread Distribution
There are different ways to distribute apps as per their use. Known healthcare mobile applications are developed for specifically targeted users. Hence these can be downloaded only after meeting the safety policy. If a huge audience uses this application, you can get it to the private enterprise app store. Having positive user feedback can be great.
7. Healthcare Mobile App Monetization
The healthcare market is known to provide a huge chance for business. Most of the healthcare applications available on apps stores are free, but they can be monetized in ways such as:
Selling medicines and devices
Advertisement
Offering subscription
In-app purchase
The solutions you develop for a specific institution are unavailable for monetization. It can just be used for improving healthcare services.
Read More: The Complete Guide on Healthcare Software Development
How To Choose The Right Companion For Your Healthcare App Development?
1. Asses data security requirements
For most of the solutions that are health-related, it is prime to highlight data security. It is to avoid the risk of exposing the sensitive data of patients. Hence choose healthcare application development services that adhere to privacy regulations. Healthcare platforms should be secure platforms.
2. Pay attention to integrations
To get a loyal user base, you must keep an eye on UI/UX designs, speed and much more. Choose the features for your application, and select a healthcare app development company based on it.
3. New and trendy development features
The domain of healthcare is transforming with the help of digitization. Adding state-of-art technology will give benefits such as:
Higher Customer Attraction
Analysis
Decentralization
Better speed
Choose a vendor that can provide applications with new technologies.
4. Technology Stack for Healthcare Mobile App Development
You will also have to analyze the tech stack of healthcare application developers before you hand over your project. It will be a prime factor in the success of your application. A developer must use cutting-edge technologies for both front-end and back-end.
What Are The Costs Involved In Healthcare App Development?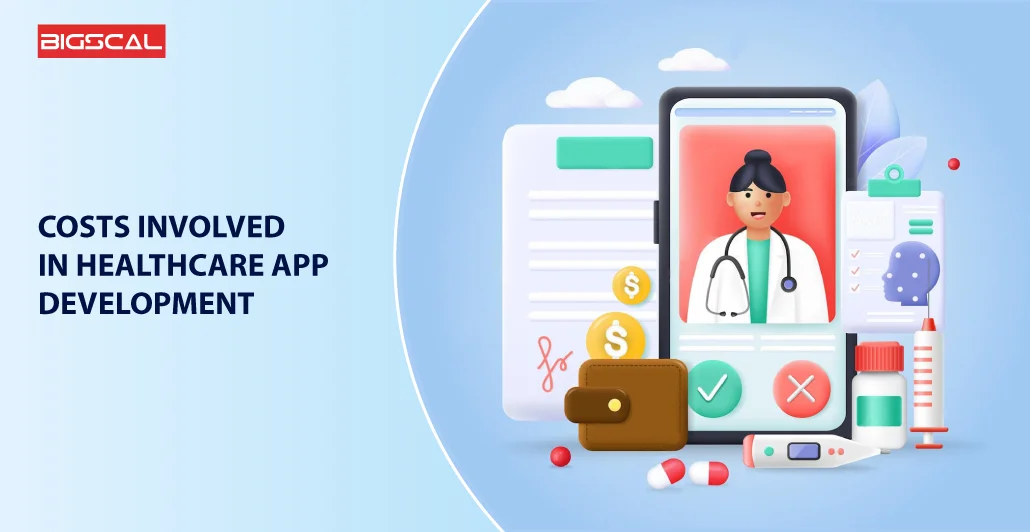 After you decide what features you want to include in your healthcare application, you might be confused about how much it will cost. Hence, you must look forward to a healthcare software consulting firm to solve this. But if you are a starter, you will need many services and specialists to finally launch your product.
If you want to develop a minimum delight product for your healthcare application, it could cost around $60,000 for a single platform. And the end price can even go beyond $500,000. Hence in all, the expenditure of developing a healthcare application will depend on the following factors:
The pre development phase analyzes competition, known features and market size, etc.
Amount of target platforms
The specific technology that you are going to utilize
The complexity level of your application design
Healthcare software development firm that you opt for
Why Is Bigscal A Great Companion For Your Healthcare App Development Needs?
Bigscal is a software development company that provides dedicated solutions for healthcare application development. Therefore we have served many in the healthcare industry, such as pharmaceutical companies, medical device sellers, etc.
Our healthcare software development services will include the entire development process, from defining a concept to implementation and maintenance. We aim to provide the best and most secure solutions for better engagement of patients.
We serve by adhering to safety standards and complying with the industry's regulations. Our applications have all the necessary security arrangements to avoid patient data issues. Leverage our expertise to develop your healthcare application now.
Conclusion
If you are concerned about developing healthcare applications, this text might have given a brief overview. To conclude, there are two broad divisions of healthcare applications. One is for patients, and the other for doctors. Hence, first you have to decide which one you will go for. On the other hand choosing a dedicated healthcare application development consulting firm for developing the best application is essential.
There are a few things that you have to take into consideration before you start the process. Therefore ensure that the central idea of this application should be data security and interoperability. And your app should comply with HIPAA standards and legal and privacy rules. If not, then it could be problematic. Hence obtain the necessary compilations before you start.

FAQ
What features should a healthcare application possess?
Experts that have been since long in the field say that users find apps interesting that provide accurate and straightforward information. Hence,they use these applications mostly to track their health.
What is the need to develop a healthcare application?
Healthcare application development is necessary for those who need it and caregivers. It can streamline those unnecessary processes and make them use that time meaningfully. Professionals could use that time to diagnose better.
How to develop the best medical application?
It is necessary to have a collaborative and product mindset to develop effective applications. A complete approach with a design, product and development team can lead to fulfilling user needs.
What time will it take to create and launch a healthcare application?
The period it might take to develop a healthcare application can be five to six months. It can vary as per features, size, design, and experts engaged in the process.
How to protect a patient's data in an application?
It's crucial to protect patient data in an application. Hence ensure that your app follows security standards. It should have security measures like encryption, access control and data backup. Therefore conducting regular security checks and risk assessments might work.
https://www.bigscal.com/wp-content/uploads/2023/06/The-Ultimate-Guide-to-Healthcare-App-Development.png
532
1200
Pankaj Vaghela
https://bigscal.com/wp-content/uploads/2018/03/bigscal-logo1.png
Pankaj Vaghela
2023-06-08 10:00:00
2023-06-08 09:10:21
The Ultimate Guide to Healthcare App Development: Boosting Medical Access with Mobile Apps