How to Identify and Hire Top Healthcare App Developers in A Step-by-Step Guide
Quick Summary: Discover the ultimate guide to healthcare app development !! Get valuable insights on hiring healthcare app developers who can create professional and amazing applications for your business. Read this article to get more useful information.
COVID-19 has provided several opportunities for the healthcare industry to deliver services digitally. Healthcare businesses are now focusing on hiring healthcare app developers to meet the global demand for innovative solutions in healthcare.
Technology plays a significant role in healthcare, yet many changes are still to come. Artificial Intelligence, Blockchain, and hybrid app development are the major technology players following this trend.
In recent years, healthcare management has emerged as one of the trending industries due to technological advancements, devices, and network connectivity.
It is not only hospitals but also local clinics that are leveraging technology. Application development in healthcare is on the rise and offers immense potential for improving patient care, enhancing efficiency and revolutionizing medical practices.
This guide to healthcare app development can be a great help if you are considering developing your next healthcare app. Furthermore, it offers insight into how to work with top Healthcare app developers to create a professional and unique app. Before deep-diving into this article, take a look at some vital stats.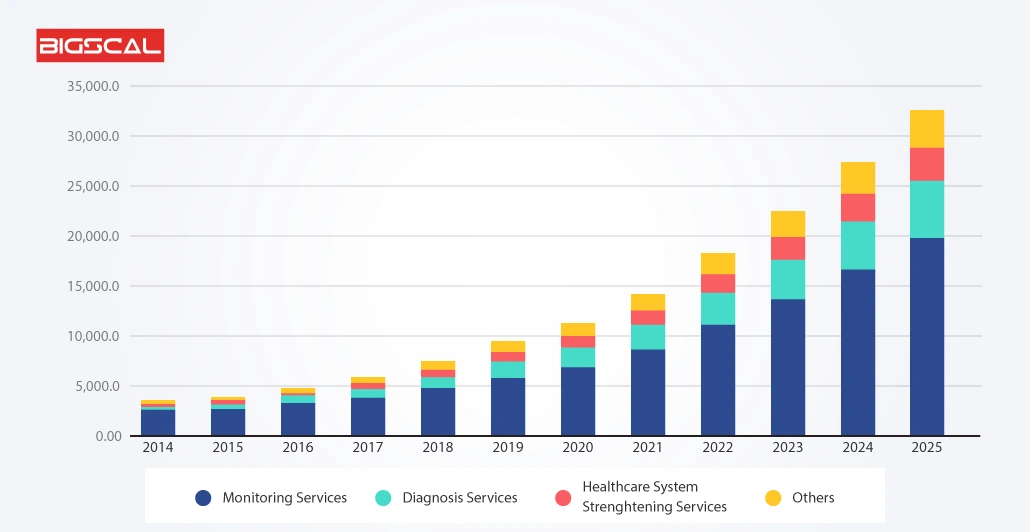 In 2025, $189 billion is projected to be the global market for mobile health.
Among total apps, 84% are free and do not have in-app purchases.
Wearable technology is one of the trending technologies in the healthcare industry.
The global wearable healthcare market is anticipated to reach $30.1 billion by 2026.
More than 80% of healthcare professionals and doctors use mobile healthcare devices.
What are Healthcare apps?
A healthcare application is a mobile app that delivers various services like scheduling appointments, checking patient medical records, symptom tracking, and health monitoring etc.
Furthermore, healthcare applications are designed for both healthcare professionals and patients.
For example, billing, telehealth, practice management, and medical coding apps help healthcare professionals or doctors handle and organize their medical operations more efficiently.
The emerging healthcare apps help patients and doctors work together to monitor, diagnose and treat illness. This increases the importance of virtual health every day.
Steps to Build a Healthcare Mobile Application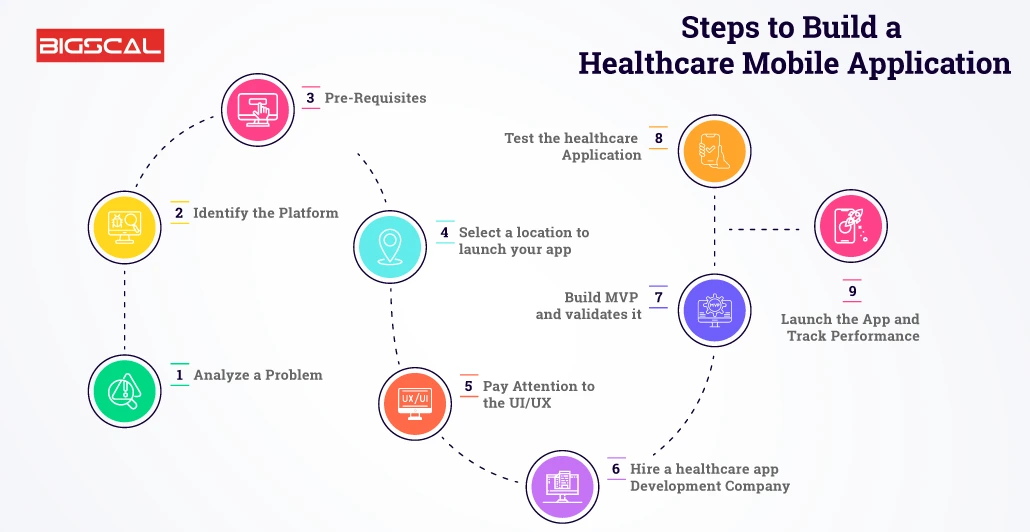 Here, we will unleash a few steps to build innovative healthcare app solutions:
1. Analyze a Problem
The first step to solving a problem with your app is to analyze it. Patients, Providers, and Pharmacies are three typical areas where mobile healthcare applications address issues.
2. Identify the Platform
For Android, you should know Android components, work with Google APIs, and consider Android development. Furthermore, the iOS platform will not require much Java experience but a good understanding of Objective-C and the Apple frameworks.
3. Pre-Requisites
Understanding the design of mobile application patterns before attempting healthcare application development is crucial. Furthermore, healthcare app developers should be proficient in HTML and JavaScript, as these technologies help developers to create dynamic websites.
4. Select a location to launch your app
Launching in a global market requires you to select a location first. Furthermore, you can choose US and UK locations as they have an excellent user base.
5. Pay Attention to the UI/UX
A good user interface and user experience enhance the performance of the app and retain users for the long term. Furthermore, to ensure a positive experience when making purchases on a healthcare app, it is crucial to have a user-friendly design that meets the need of all users. Therefore a good UI/UX design is essential.
6. Hire a healthcare app Development Company
Hiring a reliable healthcare outsourcing service will ensure your application has all the essential features and functionalities that fulfill the user's needs. Furthermore, By hiring a talented healthcare app developers team, you will get a complete idea of building scalable healthcare applications.
7. Build MVP and validates it
Building an MVP is one of the vital elements that ensure the success of healthcare application development. Instead of building a complete application, healthcare mobile app developers will test the application and validate it before getting it into the market.
To ensure the success of MVP creation, first, ask your healthcare software development solutions to examine the core functionality of apps and plan application development accordingly.
Additionally, the MVP model helps users to share their experiences with the healthcare app and point out which functionality they need to add to the application.
8. Test the healthcare Application
Application testing is another crucial element that cannot be neglected when constructing a healthcare software application. Furthermore, healthcare app developers should check each and every feature of the application and make changes accordingly.
Additionally, conducting proper testing of telehealth apps will streamline the app development process and decrease the cost to build an app. Also, developers should be able to recognise the bugs and problems of the application and boost their reputation as a healthcare app development service provider.
9. Launch the App and Track Performance
When you have tested the application, all you need to do is welcome your users. Pay attention to the tracking of your application's performance after it has been launched. Additionally, analytics tools can assist with app development by addressing users' concerns, and requests, and then implementing updates to maintain user engagement.
So, these are the few steps that healthcare app developers must follow to build various types of apps such as telemedicine app development, online medical app development and fitness app development and more.

Why hire healthcare app developers?
Below we highlighted a few reasons to hire a dedicated healthcare app developer:
1. Latest technology and good knowledge
Healthcare apps take a lot of work to develop. Furthermore, there are various factors that healthcare app developers need to focus on to design and build it accurately.
To ensure successful outcomes developers should have good expertise and knowledge to use the latest technology. You don't worry about healthcare software development if you are seeking assistance from reliable healthcare app development companies.
Additionally, these healthcare outsourcing companies can measure all the requirements of the application beforehand. Thus, they save your time, cost and deliver high-quality results.
2. Professionals can save on cost
The development of healthcare apps is likely to involve a lot of expenditure. But, professionals can help you save some money on that huge expense. Do you want to know how?
Well, professionals charge differently than freelance developers. Depending on your needs and expertise, they will make a proper estimation.
With the help of professionals, you also have a better chance of getting top-quality results right away!!!. Hence, you do not have to hire them again. You will save time by doing this.
3. Expect good post-development support
Healthcare software development is a long-term process. Sometimes, Healthcare apps may begin to malfunction or need updating or maintenance. Furthermore, you cannot rely on freelancers to fulfill these requirements all the time.
Thus, it is important to hire reliable healthcare app developers who can deliver top-notch maintenance services and ensure the smooth functioning of apps.
Therefore, assigning the task to someone who already has experience in all the phases of healthcare app development will simplify your work and saves your expense and time.
4. The ability to perform on multiple platforms
To survive in the current digital market, you must discover every part of app development. Smartphones are becoming increasingly popular among people today, according to studies.
So, if you only build healthcare web apps, you will lose a major portion of the market. Professionals can solve such problems. Healthcare software development companies have expert developers for different platforms.
So, these companies can build mobile and web-based apps for your healthcare needs. This will help you to stay competitive in the current market trends.
So these are the reasons to hire a healthcare software developer. Hopefully, you have understood the importance of hiring the best healthcare app developer for your work.
Must-have skills for healthcare app development
Before you hire a healthcare app developer, make sure to check the necessary skills:
1. Interoperability in Healthcare
a. Integration standards
Integration standards are recognised as the glue of the healthcare sector. In addition, Health Level-7 2. has the most widespread interoperability standards, due to the popularity of HL7-FHIR. Healthcare software developers, however, may also be required to know other standards, such as NCPDP SCRIPT, ANSI X12n 5010 DICOM, and HL7 v3 CDA.
b. Semantic vocabularies
In the previous skill, we discussed syntactic standards. Semantic vocabularies complement those standards. Furthermore, these clinical data must be interpreted according to these vocabularies.
Some of the widely used vocabularies include LOINC, ICD9/10, RxNorm, and SNOMED-CT.
c. Integration frameworks
Existing interoperability standards are compelled to comply with integration frameworks. In addition to providing syntactic and semantic interoperability, they cover the complete clinical procedure.
HITSP (Healthcare Information Technology Standards Panel) and IHE (Integrating the Healthcare Enterprise) are popular frameworks. Furthermore, healthcare app developers should learn the standard used by major EHR vendors. It will help to understand and work effectively with these vendors.
Furthermore, EHR collects and saves patient information from different healthcare providers. Also, it stores all the patient data associated with a specific healthcare facility. By integrating EHR with EMR, healthcare mobile apps store and update patient data in real time.
2. Technical Skills
Below we highlighted a few technical skills that healthcare app developers should be familiar with:
a. Big data AI
It is important to focus on analyzing both structured and unstructured healthcare data with the emergence of the health management population.
b. Data security
Ensuring data protection is the most crucial aspect of the healthcare industry. Therefore, healthcare mobile app developers should have good knowledge and expertise in encryption tools, coding practices and libraries.
c. Third-party integrations
All players in the healthcare industry, including large EHR vendors, are realizing that they can provide solutions for the entire care delivery workflow. It is now becoming more common for EHR vendors to promote niche players to join their platforms and partner with them.
In marketplaces, all major players such as Practice Fusion, Allsscripts and Athenahealth offer what they want.
So, it is crucial for health mobile app developers to discover integration standards such as SOAP, HL7 FHIR, and REST framework.
3. Domain Concepts
a. Health Insurance Portability and Accountability Act (HIPAA)
Healthcare app developers should be well-versed with HIPAA compliance and regulation checklist. Furthermore, it helps developers to implement security approaches that adhere to the regulatory framework.
b. Food and Drug Administration (FDA)
The FDA is researching how they can enhance relevance in the core delivery of healthcare. It is not as popular as HIPAA. Additionally, software developers in the Mhealth industry need to know when their apps fall under FDA standards.
FDA approvals follow a specific process that acknowledges the intricacies of the FDA. This process is designed to ensure regulatory compliance and safety for healthcare products and technologies.
c. Revenue Cycle Workflows
Healthcare app development solutions should have a good understanding of revenue cycle workflow. Furthermore, they should have good knowledge and expertise in payment models, billing schedules and denial operations. Also, this proficiency depends on the domain of healthcare software developers.
d. Other standards & certifications
Healthcare technology services should adhere to functional completeness standards. Furthermore, these standards can be mandated by regulatory authorities like ARRA, Hitech or established by industry-standard bodies such as CCHIT. Healthcare mobile app developers should be aware of and comprehend these standards to ensure compliance and quality.
Also read: Understanding the Role of Machine Learning in Medical Imaging
4. Soft Skills
a. Planning & Coordination
As discussed before, the healthcare sector focuses on interoperability. Furthermore, It includes coordination with multiple stakeholders and involves various moving parts.
Therefore, a healthcare mobile app developer should have these crucial skills to determine dependencies and collaborate with other stakeholders.
b. Interpersonal
As a healthcare software developer, good interpersonal skills are essential for effective planning and coordination.
Furthermore, these skills enable smooth communication and collaboration with team members, ensuring a successful outcome in the development process.
c. Usability
While usability features in big projects are typically handled by usability experts rather than software developers.
However, it is still valuable for healthcare professionals to understand usability and its relevance in healthcare solutions.
This knowledge allows them to contribute effectively and ensure user-friendly experiences for healthcare software users.

Top 6 Steps you can follow to hire healthcare app developers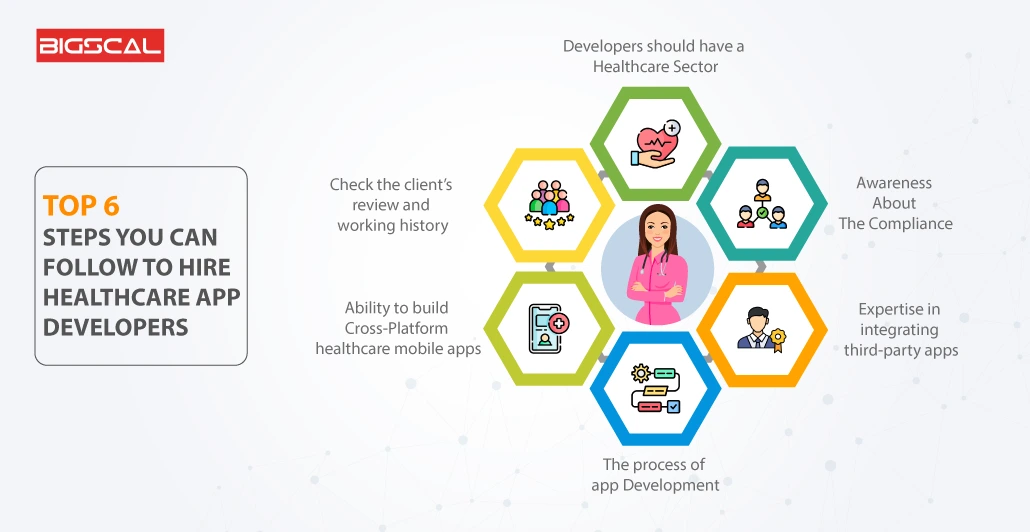 Hiring healthcare software developers provides several benefits, but reaching experienced healthcare app developers is a challenging task. Below we highlighted the 6 best steps that help you to hire the right candidate for your organization:
1. Developers should have a comprehensive understanding of the Healthcare Sector
Every developer possesses coding skills, but very few have an in-depth understanding of healthcare domains. So, before you hire a healthcare app developer for the long term, make sure they have an in-depth understanding of the healthcare domain or not.
Furthermore, developers with in-depth knowledge and experience working with multiple clients will add value to your money and fulfil all your industry needs.
2. Check the client's review and working history
The review and working history of the client are very helpful when developing feature-rich, professional, and fully functional mobile healthcare applications.
Furthermore, it helps you to understand whether the shortlisted healthcare app developers have in-depth experience in completing a similar project earlier or not.
Additionally, you can check out all the previous healthcare projects built by them. Furthermore, this will help you to understand their expertise and skills in handling healthcare application development.
3. Ability to build Cross-Platform healthcare mobile apps
Building a cross-platform healthcare application is a great move and helps you to save your budget and reach a wider audience. So, before you hire a healthcare mobile app developer for your next project, check their abilities to build a cross-platform app.
4. The process of app Development
To stand out from the competition, you need to create an extraordinary app with innovative features that leave a long-lasting impression on users. Furthermore, you should ask the shortlisted app developers about their process and the results they have achieved so far.
5. Expertise in integrating third-party apps
Usually, healthcare or medical software requires a lot of third-party integration apps, such as in-app chat, payment APIs, calls, video calls apps etc to provide a good user experience.
Furthermore, you also need to check whether developers have good expertise in integrating these third-party tools or not.
6. Awareness About The Compliance
HIPAA compliance(Health Insurance Portability and Accountability Act, ) is a crucial requirement of every healthcare app.
Furthermore, all healthcare developers should have knowledge about this act. So, check whether your shortlisted developers are aware of these HIPAA compliance acts.

Common mistakes while choosing a healthcare app developer
Below we highlighted a few mistakes that you should avoid when hiring healthcare app developers for your project.
1. Not confirming their credentials
Never hire a healthcare software developer without checking their credentials. Furthermore, ask questions such as "How many mobile applications have professionals used at the time? Check their clients.
2. Choosing cost over skills
Choosing an app developer is largely influenced by cost, especially for a small business. However, that doesn't mean expensive developers are the best for your project. Hence, it is crucial to avoid the mistake of hiring good professionals based on price instead of skills.
3. Going too fast is a bad idea
Building a successful healthcare application is an intricate approach. Furthermore, It requires a developer, designer and software tester to work on the same goal.
As they have little knowledge about the ecosystem, they assure you that they will build an app over the next few days. So, hiring the right healthcare app developers is paramount to get successful outcomes.
4. Not focusing on the application development life cycle
Healthcare mobile app development is a continuous procedure as the application requires consistent maintenance and update.
Furthermore, when hiring healthcare software developers for your project, it's important to consider the complete mobile app development lifecycle. Neglecting its future can lead to overwhelming challenges for healthcare organizations.
So, make sure to prioritise a thorough understanding of the development process to ensure success.
5. No previous experience in Niche
Not asking about previous experience in handling healthcare projects is the most common mistake employers usually do.
Furthermore, employing an experienced software developer who has an in-depth understanding of the healthcare domain and user behavior leads to successful project completion. Lastly, avoid these mistakes to get the best medical app developers for your project.
How Bigscal can help you with healthcare application development?
Bigscal offers top-notch healthcare application development services. We empower healthcare businesses to create robust and scalable apps. We deliver reliable solutions tailored to fulfil the specific needs of the healthcare sector.
Our primary aim is to go beyond patient engagement and deliver healthcare mobile applications that provide a superior level of service. With our expertise, we focus on creating solutions that enhance patient care, improve operational efficiency and elevate the overall healthcare experience for both patients and providers. With our strategic approach to healthcare app development, we ensure our solutions meet all your business needs!!!!
Conclusion
There are a variety of healthcare applications available in the market that have been created and executed. With the adoption of fitness and health-oriented apps, the world is in need of ultra-modern solutions. You can read this article to get some compelling ideas about how to hire healthcare app developers in 2023.
If you are seeking assistance with healthcare app development for your business, then contact Bigscal!!!
Share your project ideas with us and let's get started!!!! Our team will assist you in all the phases of healthcare app development.

FAQ
How mobile app development can empower the healthcare sector in the upcoming future?
Healthcare Mobile apps help healthcare professionals to simplify their administrative work like scheduling appointments and billing, and provide real-time patient data. Furthermore, this ability improves the productivity of the healthcare industry and helps them to make informed decisions about patient care.
What are the benefits of healthcare mobile apps?
Medical app development has considerably empowered the healthcare sector by providing easy access to medical records, increasing patient engagement, and improving the healthcare experience overall. Healthcare professionals, doctors and nurses can use healthcare mobile apps to access the patient remotely.
How AI can transform the healthcare future?
AI can make a significant difference in patient outcomes and patient satisfaction in healthcare and hospitals. Drug discovery, data analytics, robot-assisted surgery, and virtual nursing assistants are just a few of the areas where the company has already made significant advances.
What is the cost of healthcare mobile app development?
The cost of building a healthcare app can be as per the technology utilised, the app's functionality, feature, design, and post-launch assistance. The basic price of healthcare app development can vary between $50,000 to $100,000. Furthermore, a more complex app with more features and functionalities can go up to $350,000 or more.
How is programming used in healthcare?
A C++ programming language app can access the internal workings of important healthcare instruments and devices, particularly for imaging systems. On the backend, C++ is used to code various EHRs and data associated with healthcare.
https://www.bigscal.com/wp-content/uploads/2023/07/An-End-to-End-Guide-To-Hire-Healthcare-App-Developers-in-2023.png
532
1200
Pankaj Vaghela
https://bigscal.com/wp-content/uploads/2018/03/bigscal-logo1.png
Pankaj Vaghela
2023-07-25 10:00:58
2023-07-28 03:09:00
How to Identify and Hire Top Healthcare App Developers in A Step-by-Step Guide