A Comprehensive Guide to Logistics App Development
As the global logistics industry progresses at an unstoppable pace, international trade is being strengthened. An effective logistics development strategy can boost your transportation business in such an environment.
In the wake of the COVID-19 pandemic, the logistics industry experienced a brief downturn. It is expected that the global logistics market will surpass 13.7 billion euros in 2027.
Logistics mobile apps handle supply chains more efficiently. These apps allow you to monitor warehouse statuses, truck spaces, location tracking, and other functions.
You can implement an app into your logistics workflow for more efficient and controlled processes. Proper optimization can positively impact a logistics operation's productivity and efficiency, while also increasing its costs.
Logistics is primarily competitive due to its speed of delivery. In transportation and warehousing, all innovations and improvements aim to reduce delivery times and improve storage and shipping safety.
This blog aims to give you an overview of how logistics app development works, including its types, key features, costs, etc.
What is logistics app development?
The logistics app development process involves building apps for tablets and phones. Furthermore, these apps are designed to help businesses organise and manage the transportation of goods from one location to another. They ensure things are delivered smoothly and on time, making it easier to move items around efficiently.
Types of Logistics Apps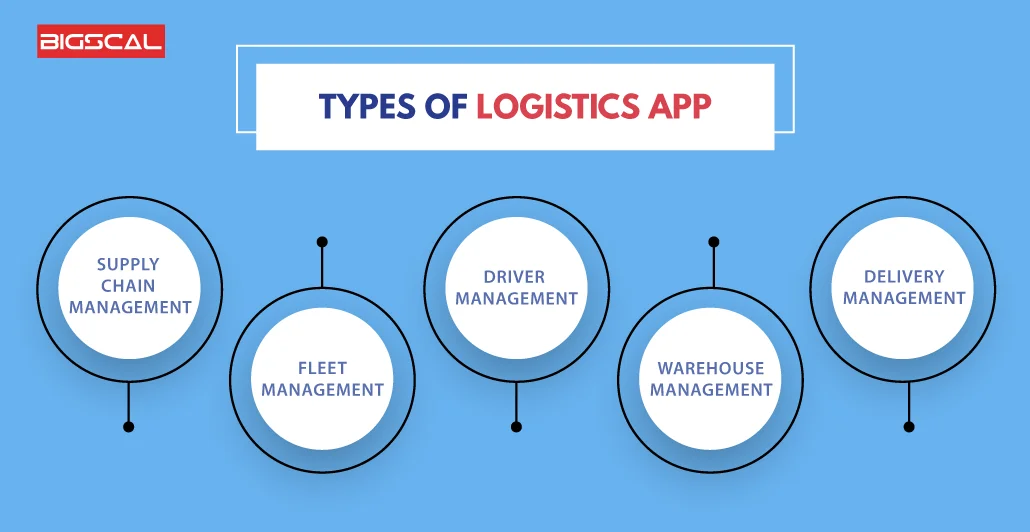 Logistics Applications depend on the area in which logistics are applied.
1. Supply Chain Management
The supply chain application developers create special apps for businesses to keep track of their inventory and how things are done. Furthermore, these apps help find any issues in the supply chain process by tracking the workflows. Also, it boosts the efficiency of the business.
2. Fleet Management
With fleet management apps, you can handle all your transportation data easier and faster. Additionally, these apps help businesses to optimize their overall fleet processes and ensure all the work get completed smoothly. Fleet management apps put all the necessary information at your fingertips, making it simple for anyone to use and understand.
3. Driver Management
These apps ensure efficient logistics processes by managing drivers' data and meeting their needs. Using driver management apps, you can track the driver's location, monitor their stock, and maintain their profile.
4. Warehouse Management
A warehouse management app helps you organise and keep track of items in the warehouse. Furthermore, it streamlines all the processes and makes managing a warehouse easier and more efficient.
5. Delivery Management
Delivery management apps help businesses handle their delivery operations. Furthermore, they provide features like tracking packages, assigning drivers, optimising routes and updating customers about delivery status. These apps make it easier to manage and streamline the process of delivering goods to customers efficiently and effectively.
Benefits of logistics app development
Here we highlighted a few benefits of the logistics app. Let's explore in-depth:
1. Creates a good company reputation
The logistics app's easy-to-use interface engages customers and leaves a good impression of the company. Furthermore, it simplifies tasks, enhances user experience and boosts the company's reputation. With its user-friendly design, the app ensures an excellent user experience, ultimately creating a positive impact on the company's overall image and customer satisfaction.
2. Minimize Paperwork
A logistics app development process eliminates the need to manually fill out paper forms and place service orders. Using e-bills, you can make online payments, confirm delivery proof electronically, and track delivery. Thus, it provides easier access to data and saves time and wastage of money & paper.
3. Decrease Delivery Time and Cost
Real-time data updates and easy tracking of vehicles will make your business more transparent and controllable.
A reliable data source can be used to optimize the routes, schedule freight deliveries, and predict fuel expenses. Thus, logistics apps make the process more transparent and reduce costs.
4. Simplify the Supply Chain Process
A logistics app simplifies the supply chain process, making it more efficient. Furthermore, by using blockchain technology, the app ensures secure and transparent transactions throughout the entire supply chain, creating a strong and reliable infrastructure. It's like having a smart tool that helps businesses deliver goods faster and with greater trust.
5. Manage Warehouse accurately
Warehouse inventory is one of the core areas of the logistics industry. Furthermore, it gives detailed information about the goods shipped and has remained in the warehouse.
It is important to make sure that any trucks that leave are not half-empty or overloaded, and that the inventory does not run out before the delivery is completed.
Using AI-based logistics mobile apps, you can optimise warehouse space and get alerts about inventory statuses.
Must-have -features to look for when building logistics apps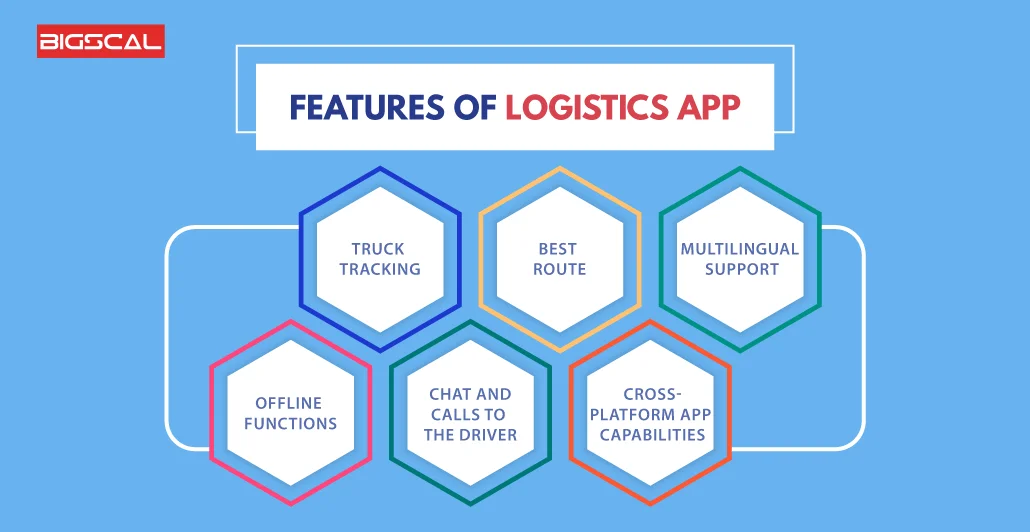 Here we curated a list of a few features that are crucial for logistics app development:
1. Truck Tracking
Using GPS location, apps provide information on vehicle location. Furthermore, these app system helps to track vehicles, optimize the delivery of goods, and provide complete details about cargo.
An application displays the GPS coordinates transmitted by the sensors on a map and stores the data transmitted by truck GPS units.
Additionally, It was developed using C++, QML, JavaScript, the Qt framework, and the Kalman filter, which is useful for improving the accuracy of GPS positioning.
2. Best route
The best route feature in the logistics app helps optimize the delivery process by finding the most efficient path for transporting goods. It considers factors like distance, traffic, and delivery time, ensuring drivers take the quickest and smoothest route possible, saving time and reducing cost.
3. Multilingual Support
Taking quick decisions can be difficult when there are errors in understanding and translation.
A multilingual logistics application can increase customer loyalty and attract more customers.
4. Offline Functions
There is sometimes a problem with the web connection. Using an offline mobile app, users can access reports and enter data even without a network connection.
5. Chat and Calls to the Driver
Drivers, shippers, and managers can communicate using the built-in messaging and calling features.
Logistics managers can adjust routes in case of accidents or breakdowns. The driver can provide the customer with the necessary delivery information.
6. Cross-Platform App Capabilities
A cross-platform logistics application can run on iOS, Windows, and Android platforms on mobile and desktop without requiring any UI changes. There are several ways to use the app, so users can select the one that is most convenient for them.
A step-by-step process for logistics app development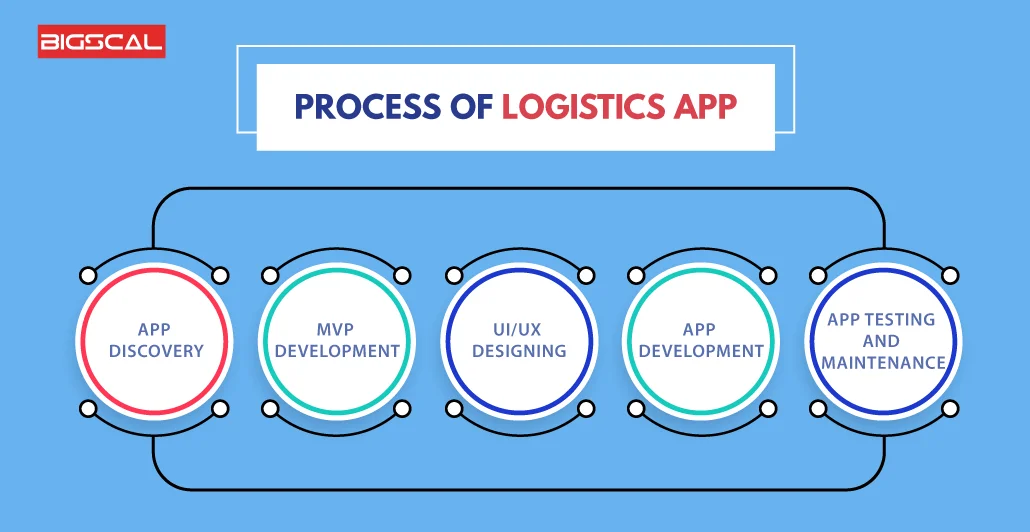 Let's explore in depth the process of logistics app development:
1. App Discovery
Firstly, understand your business objective and scope and build strategy accordingly. A complete understanding of the requirement will provide you with explicit ideas of the type of logistics application. Additionally, app features and its technology stack helps to establish a strong foundation for logistics app development.
2. MVP Development
Once you discover your app's idea, now it's time to implement the ideas in the market. Furthermore, hiring an MVP app development company is the best option to build a product and bring it to the market. This method helps businesses to experiment with their product and present it to customers in less time and money.
3. UI/UX designing
After you have defined your app idea and its feature requirements, it is time to create an intuitive and high-class design that appeals to your end users. Furthermore, your logistics app developers must follow the right path of app development with a user-friendly UI/UX design.
4. App Development
Once you finalize the app design, the next step is to execute the code of the logistics app development process. Furthermore, you can introduce all the features and screen transitions using a proper tech stack and third parties applications.
5. App Testing and Maintenance
The next step is to check the application function and correct all the bugs to ensure the best results. Therefore, mobile app testing is the most crucial step before bringing the product to the market.
Additionally, you can maintain or update the app according to the current trends prevailing in the industry and ensure it executes seamlessly.
What is the cost of logistics app development?
Due to the various functions and needs of logistics apps, it is difficult to determine how much logistics app development will cost. However, we will help you to get an estimate by considering the following key factors:
1. App Complexity and features
The estimated cost to make a logistics app greatly depends on the app you required for business. Let's check out.
A simple logistics app with minimum functionality will cost you around $25000 to $100000.
The logistics app development cost for medium applications with average complexity and features will cost you around $100000 and $180000.
A fully-fledged logistics app with all the advanced functionality and interactive features will cost you $180000 or above.
2. Backend and Frontend Development
The backend and frontend frameworks of logistics apps and technologies stack play a significant role in deciding the cost of logistics app development. Additionally, if you choose a framework for microservices as opposed to monolithic architecture, you will pay more. Also, you can scale your app, if your business needs to increase.
3. Tech Stack
Determining the technology stack is also a key factor that creates a significant impact on the cost of logistics app development. Furthermore, If you want to use Swift or R, you'll have to pay more than if you use VBA or Assembly, which are the least-used programming languages. Apart from this, you need to determine the complexity of the application before picking the technology for app development.
Your app will become complex as you add more features, requiring a more advanced technology stack to meet the requirements. Ultimately, it will increase the cost of logistics app development.
4. Platform Selection
The cost of logistics app development also depends on the platform you choose to run the application. Furthermore, the cost to construct apps for the Android platform is more expensive than IOS. As android platforms require a huge amount of fragmentation's.
Also, a cross-platform application will also work exceptionally well on both platforms if you choose this option. Additionally, it is a budget-friendly platform.
5. App Development Team Size
The size of the development team impacts the cost of logistics app development. A larger team typically requires more resources, such as salaries and equipment, which boosts the overall expenses. Conversely, a smaller team may have lower costs due to fewer people and resources involved in the development process. The best option is to hire a logistics app development agency to get successful results.
How Bigscal helps in Logistics app development?
Using logistics mobile apps, logistics processes and supply chains have become more streamlined and easy to manage thanks to advanced technological solutions.
However, it is challenging to implement these technologies to get the best out of it. Therefore, it is crucial to take help and suggestion from experts to get positive results.
In such a case, an excellent option is to partner with a top logistics app development company having good expertise and skills to deliver high-quality products.
Bigscal is a leading software development company that contributes to the development of high-performing logistics apps that excel your business to new heights. Our team ensures that every stage of development is strategically planned, from implementing ideas to designing logistics management apps.
Conclusion
Logistic app development does not have an endpoint; it is an ongoing process of advancement and innovation. Working with an adept logistics app development company will ease this process and allow you to build an enticing app to meet your specific requirements.
So what are you waiting for? Start your logistics app development journey today!

FAQ
What is logistics app development?
Logistics app development refers to creating a mobile application that helps manage and optimize the processes involved in the transportation, storage and delivery of goods, making logistics operations more efficient and streamlined.
What is the future of logistics mobile app development?
The future of the logistics mobile app development looks promising as advancements in technology like AI, IoT and blockchain continue to revolutionise the industry, offering enhanced tracking, real-time data analysis and automation for seamless chain management.
What are the benefits of logistics app development?
Logistics and transportation app development bring several benefits, including improved efficiency, streamlined process, real-time tracking, optimised route planning, enhanced communication, cost savings and better customer experiences, resulting in increased productivity and profitability.
What are the challenges of logistic app development?
Some challenges include integrating with diverse systems, ensuring data security, addressing scalability issues, adapting to changing regulations, managing complex logistics networks and meeting customer expectations for seamless functionality and user experience.
How to improve logistics business operations?
To improve the logistics business functions, focus on optimising supply chain process, implementing, advanced technologies like AI and IoT, adopting data-driven decision-making, enhancing communications and improving operational efficiency.
https://www.bigscal.com/wp-content/uploads/2023/06/A-Comprehensive-Guide-to-Logistics-App-Development-1.png
532
1200
Pankaj Vaghela
https://bigscal.com/wp-content/uploads/2018/03/bigscal-logo1.png
Pankaj Vaghela
2023-06-05 10:00:25
2023-06-07 10:14:18
A Comprehensive Guide to Logistics App Development