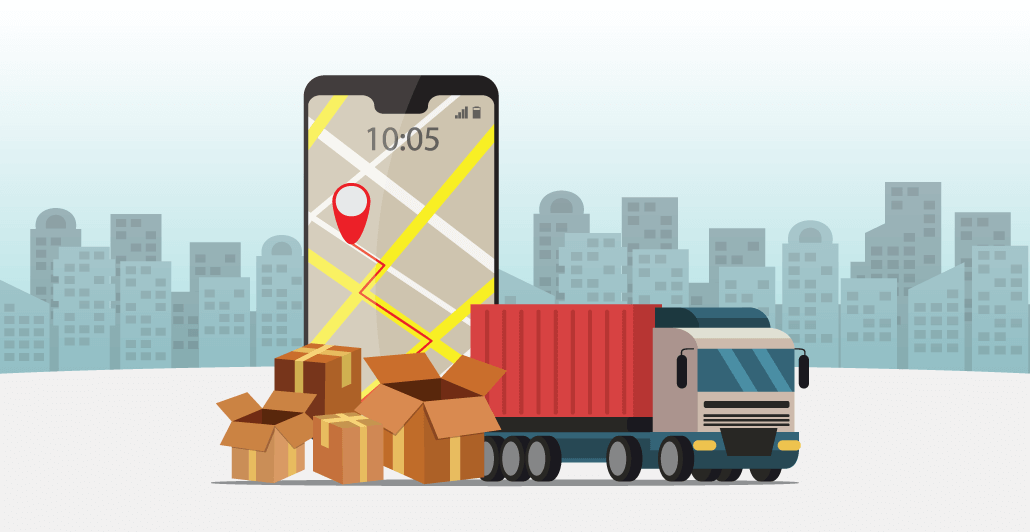 How To Develop A Transportation & Logistics Mobile App?
The logistics industry is a booming industry and there is no doubt more and more people are investing in it. If you are someone who is looking forward to starting your logistics company there is a need for you to get a transportation and logistics mobile app as well.
So many people are there who have heard about the advancement in the logistics field with the help of technology. But still, there are some people who have no clue about it. They still consider logistic processes to be hectic, and long and include chaotic paperwork along with manual labor and constant monitoring. They somewhere forgot that technology has become so advanced there is no need for manual labor. If you are unaware of it, keep on reading till the end.
Here we will help you to know about the transportation and logistics application along with the step-by-step process. So that when it is about choosing a Logistics Software Development Service you can choose it and keep track of everything.
About Transportation and logistics App:
Transportation and Logistics Apps are mobile applications that provide helpful services to the transportation and logistics industry. These types of applications enable companies to cost-effectively track, manage and automate their supply chain processes while increasing the efficiency of their operations. These apps integrate different aspects of the logistics and
transportation industry, such as transportation management systems, fleet management systems, fleet-to-fleet monitoring, GPS tracking and route optimization, freight cost management, shipping rate calculation, and many more.
By using Transportation and Logistics Apps, companies can effortlessly track their supply chain data and accurately pinpoint delays or areas of inefficiency in their operations. In addition, the apps allow users to stay connected with customers and vendors, in real-time, and quickly respond to their needs. The data collected by the apps is valuable for assessing current performance and projecting future scenarios. This enables businesses to decide wisely on their logistics networks, route optimization, and inventory levels.
Moreover, Transportation and Logistics Apps make it easier for transport companies and logistics providers to coordinate with each other and optimize the use of resources. By utilizing route optimization tools and better distribution networks, companies can reduce their transport expenses greatly and increase their overall performance. Other advantages of these apps include improved customer service, increased analytics, increased efficiency, and improved safety. You can seek services from Logistics Software Development Service and get the best app for your business.

Features the Transportation and logistics app must have: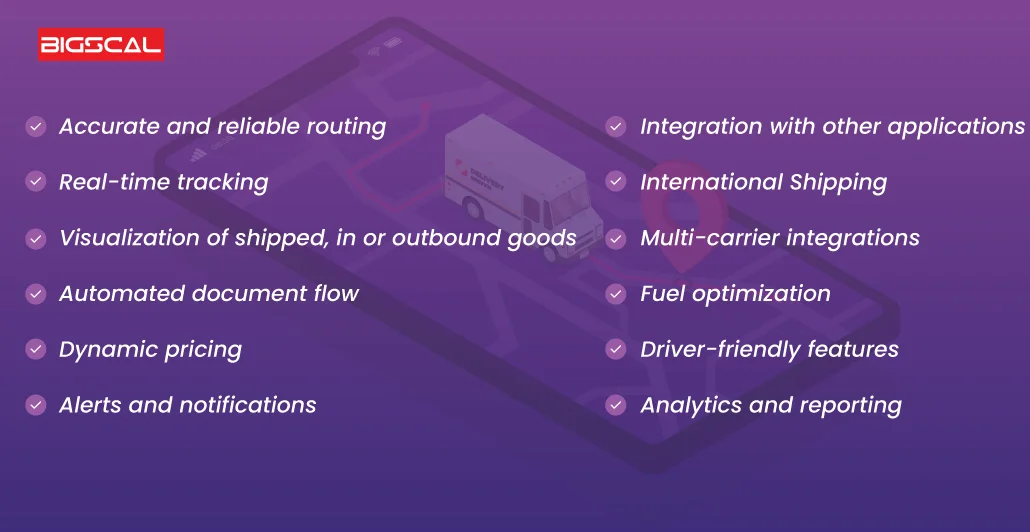 There are so many features that must be there in Transportation and logistics app and these are as follows:
1. Accurate and reliable routing:
A transportation and logistics app needs to offer accurate and reliable routing to ensure that drivers are getting from point A to point B efficiently. The app should include features to avoid heavily trafficked roads, giving drivers the best route for their needs. Additionally, the app should include updates about road construction or detours so that drivers can be aware of it before taking the wrong turn.
2. Real-time tracking:
Real-time tracking enables drivers and transport companies to monitor trucks, trailers, containers, and cargo in transit. This feature should be available through the app so that shippers and receivers can keep track of their goods and get status updates by logging in to the app.
3. Visualization of shipped, in-or-outbound goods:
The app should be able to provide a visual representation of in-or-outbound goods, to make it easier for operators, shippers, and receivers to get a quick grasp of the location of their goods.
4. Automated document flow:
This feature should allow the shipper, receiver, transporter, and any other stakeholder in the supply chain to share, store and manage all their documents in a secure and digital way. By automating this cycle, the procedure may be made more efficient while also saving time and effort.
5. Dynamic pricing:
The app should provide a way for shippers to compare different carriers and their rates for the service they require. This will make sure that the best prices available in the market are offered to the shipper.
6. Alerts and notifications:
This feature will make sure that any changes pertaining to the shipments are quickly communicated to the shipper, receiver, or transporter. This will keep everything on schedule by preventing delays and miscommunications.
7. Integration with other applications:
Transport and logistics apps should be integrated with other applications, such as customer management databases, customer support systems, customer relationship management systems, and accounting software, in order to provide a complete solution to the customer.
8. International Shipping:
To meet the needs of a global customer base, the app should offer features to support international shipping. The app should include features that allow customers to track shipments across borders, obtain customs clearance forms and pay any necessary taxes or duties.
9. Multi-carrier integrations:
The app should enable customers to compare different carriers and select the most suitable one for their needs. It should also be able to integrate with different carriers to ensure timely delivery and payment of freight and transport charges.
10. Fuel optimization:
This feature is especially useful for truckers who want to reduce their fuel costs. With this feature, the app can provide the best route, along with suggestions on where to stop for more fuel or get cheaper fuel prices.
11. Driver-friendly features:
To ensure the satisfaction of truckers, the app should offer features like electronic logs, which track driver hours and help them comply with regulations, as well as tools that help report incidents and roadside assistance.
12. Analytics and reporting:
This feature should help shippers and customers analyze the data obtained from their freight and transport activities in order to optimize their operations and develop more effective strategies.
Advantages of having a Transportation & Logistics Mobile App: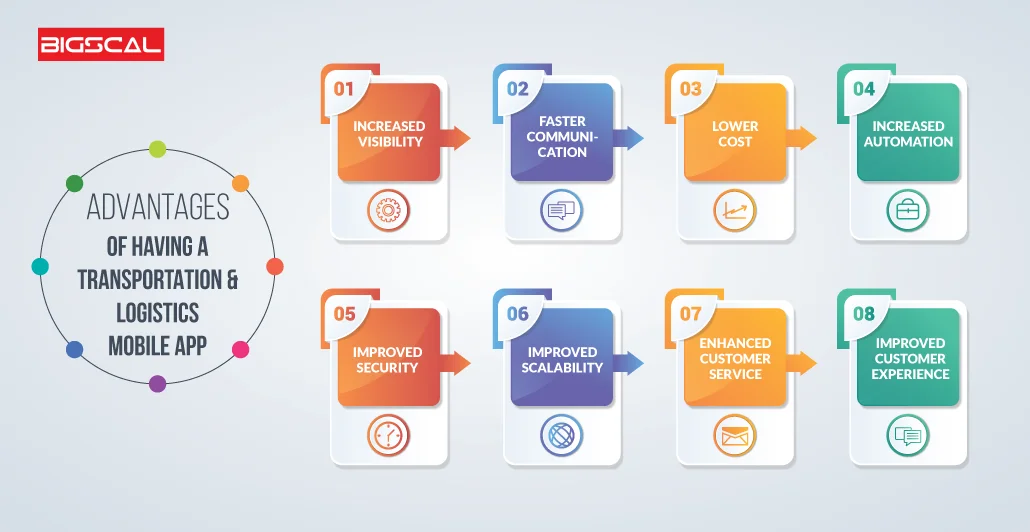 There are so many advantages available to people in 2023 while they are choosing Logistics Software Development Service and these are:
1. Increased Visibility:
A transportation and logistics mobile app increase the visibility of shipments by providing up-to-date tracking and reporting capabilities. This can help identify problems quickly, decrease disputes and reduce customer service complaints.
2. Faster Communication:
Transportation and logistics mobile apps offer real-time visibility between logistics providers, customers, shippers, and receivers. As a result, information can be relayed faster and communication is improved.
3. Lower Cost:
By running an efficient mobile-based operation, companies can reduce their operating costs. They can avoid manual tasks, reduce the need for manual data entry and minimize billing errors.
4. Increased Automation:
Mobile apps provide the opportunity to automate workflows, such as automated orders and invoicing, and easily store data for future access. This can save time, improve accuracy and lead to increased productivity and profitability.
5. Improved Security:
Mobile apps offer higher security than standalone systems and an added layer of encryption for more secure communications.
6. Improved Scalability:
Businesses may simply and swiftly grow their operations by using a mobile app. This makes it simpler to provide for client demands and timely delivery of items.
7. Enhanced Customer Service:
Having a mobile app allows the transportation and logistics industry to provide better and faster customer service. Through real-time notifications, companies can keep their customers informed of any and all changes, thus improving customer relations.
8. Improved Customer Experience:
By providing customers with a platform to access their information, such as viewing shipping schedules and tracking orders, customers are able to modify orders or make changes quickly. Better user experience and higher customer satisfaction may result from this.
Steps to follow for developing Transportation & Logistics Mobile App:
There are some simple steps that are a must to follow for all people looking forward to designing Transportation and logistics mobile apps and these are as follows:
Step 1: Select the Type of Logistics App:
The first step in developing a logistics app is to determine the type of app that you want to develop. There are several kinds of logistics applications, including those for fleet management, warehouse management, shipment tracking, route optimization, and freight management. You need to identify which type of app will be suitable for your business idea.
This solely depends on the sort of business you intend to create the application for. Have a clear discussing with Logistics Software Development Company for the same and they will recommend the best type.
Step 2: Quote from Logistic Mobile App Developers:
Once you have decided on the type of logistics app you want to develop, you need to start searching for app developers. You can reach us to find developers who specialize in developing logistics apps. We have a team of experienced individuals who will help you in getting the best apps as per your business plan.
Step 3: Sign NDA and Explain Your Business Idea:
Before sharing any details about your business idea, you need to ensure that you sign a non-disclosure agreement (NDA) with the app developers. This agreement will ensure that your business idea and data are protected. Once the NDA is signed, you can explain your business idea and the logistics app's requirements.
Step 4: Receive a Rough App Estimate:
After explaining your business idea, the app developers will provide you with a rough estimate of the app's development cost and time. This estimate will help you understand the app's feasibility and make necessary adjustments to your business plan.
Step 5: Launch the Discovery (Inception) Phase:
After receiving the rough estimate from Logistics Software Development Company, you can proceed with the discovery (inception) phase. This phase involves defining the app's scope, identifying the target audience, and developing the app's wireframe. You can also create a project plan that outlines the project's milestones and deliverables.
Step 6: Build and Launch Your Logistic App's MVP:
Once the wireframe and project plan are developed, you can proceed with the app's development. During the development phase, you should focus on building the app's Minimum Viable Product (MVP), which includes the essential features required for the app's launch. The moment has come to release the software onto the market once it has been created.
Step 7: Empower Logistics App with Advanced Features:
After launching the MVP, you need to focus on adding advanced features to your logistics app. These features may include real-time tracking, route optimization, automated alerts, and analytics. You can prioritize the features based on customer feedback and market trends.
How to find a Transportation and Logistics App development company?
The parameters that are a must to keep in mind while searching for the company are as follows:
1. Research potential vendors:
Before selecting a Transportation and Logistics App development company, take time to research potential vendors. Check online reviews and contact clients of each vendor to assess their reputation and experience in the industry.
2. Define your requirements:
Clearly defining the project's needs is essential before choosing a vendor. Consider what features you need, what transportation technologies you would like the app to integrate, and the type of user UX you hope to achieve.
3. Review vendor portfolio:
Once you have defined your requirements, review each vendor's portfolio. Assess how well the vendor's past work aligns with your project needs.
4. Read case studies:
Take a look at case studies from the vendor's past customers to see how they provided added value in their solutions. Are there any features the vendor included that you could incorporate into your own app?
5. Assess team knowledge:
Assessing the knowledge of the vendor's development team is a critical step in determining which vendor to hire. Make sure the development team is experienced in creating Transportation and Logistics apps.
6. Look at the pricing structure:
Understand the Logistics Software Development Service pricing structure and offerings. Be aware of any hidden fees associated with the project and ensure that the vendor is transparent about their pricing.
7. Ask questions:
Ask the vendor questions about the development process and timeline. What technologies do they use? How quickly can they complete the project?
8. Look for references:
Ask the vendor for references and contact them. This is a great way to evaluate the vendor's experience and performance in their previous projects.
9. Double-check their credentials:
Check the vendor's credentials and ensure they are certified/licensed and up-to-date on the latest industry trends. Make sure the vendor is experienced in app development and understands the regulations governing Transportation and Logistics apps.
Where to go for seeking Transportation and logistics app development services?
When it is about seeking Logistics Software Development services, everyone wants to have the best developer on their side. For the same, Bigscal can be your choice. Here we will offer the best services at reasonable prices. You will not face any problem after seeking services from us as we have the best services in the town.
From offering quotations to the actual app we are with you at every step. For sure after seeking services from us you will not regret any decisions.
Our Logistics Software Development Company developers are having years of experience in helping people to know about the types and other services in detail. You will surely have the best talent addition to your project from us!
Conclusion
Without a doubt, the transportation and logistics business benefits greatly from the use of apps. They enable businesses to more effectively monitor, manage, and automate their supply chain processes, which reduces costs and enhances customer service. Moreover, the information gathered from mobile applications assists businesses in evaluating the effectiveness of their operations and in making choices regarding their future operations. All this contributes to creating a more efficient and profitable logistics network.
In conclusion, developing a transportation and logistics mobile app can help streamline tasks, increase efficiency, and save time and money. With the right development process and technology, you can create an app that meets your unique needs, reaches your target audience, and makes the logistics process smoother for all involved. By focusing on user experience, scalability, and performance, you'll be able to create an app that provides a world-class transportation and logistics experience. With us, you will be able to get an app that will cater to your logistics and transportation needs and offer the best features as well!

FAQ
What services do you provide for the creation of mobile applications for logistics and transportation?
From initial idea and design to continuous support and upgrades, we offer end-to-end mobile app development services for the logistics and transportation sectors.
What characteristics do you employ while developing mobile applications for logistics and transportation?
We specialize in providing the latest features for transportation and logistics mobile applications, such as route optimization, real-time tracking, shipment monitoring, 3rd-party integration, multi-platform support, and more.
How much would the creation of a mobile app cost in terms of logistics and transportation?
The project's scope and the degree of complexity of the features it includes will determine the anticipated cost.
How long does it take to design a mobile app for logistics and transportation?
The time frame can vary depending on the project scope, but typically it takes anywhere from 2-6 months to develop an app.
How do you test the mobility app to ensure it works?
We use a combination of manual testing and automated testing tools to ensure that the app is performing as expected.
What kind of platforms do you create mobile apps for logistics and transportation?
We can develop for both Android and iOS platforms.
Do you offer post-development services for transport and logistics mobile apps?
Yes, we also provide post-development services, such as ongoing maintenance, app updates, and customer support.
https://www.bigscal.com/wp-content/uploads/2023/03/How-To-Develop-A-Transportation-Logistics-Mobile-App.png
532
1030
Pankaj Vaghela
https://bigscal.com/wp-content/uploads/2018/03/bigscal-logo1.png
Pankaj Vaghela
2023-03-29 14:37:33
2023-03-30 16:34:56
How To Develop A Transportation & Logistics Mobile App?