6 Top Celebrity Look alike Apps in 2023 [Find What Celebrity Do You Look Like]
Quick Summary: If you are a startup or an entrepreneur who aspires to build something unusual for the market, this web blog is for you. Celebrity look-alike apps are trending, and you may benefit from it. Hence to know more details on these find my celebrity look alike apps keep reading.
You might have sometimes thought, "What celebrity do you look like?" Or does your face match with some renowned person? Well, you can halt your thoughts now. As with the virtue of technology, you have power in your hands. You can easily find celebrity matches with these find my celebrity look alike apps.
You must submit a photo of yourself to know which celebrity you resemble. Later choose the filters, and you are done.
These apps will analyze the features of your face and find your twin. Currently, plenty of such apps are on the market. Therefore if you want to find the best app to know your celeb twin, you are at the right place. Read the blog to learn more about apps that can help you find your celebrity doppelganger.
Growing Popularity And Usage Of Celebrity Look-Alike Apps: Market Overview
As interest in social media increases, people have been rushing to find my celebrity look-alike apps. Therefore these apps have been heavily used by people recently.
Millennials and Gen-Z employ these applications to showcase their celebrity counterparts.
In 2022, there were about 4.59 billion social media users. This amount will rise to 5.85 billion by the end of 2027.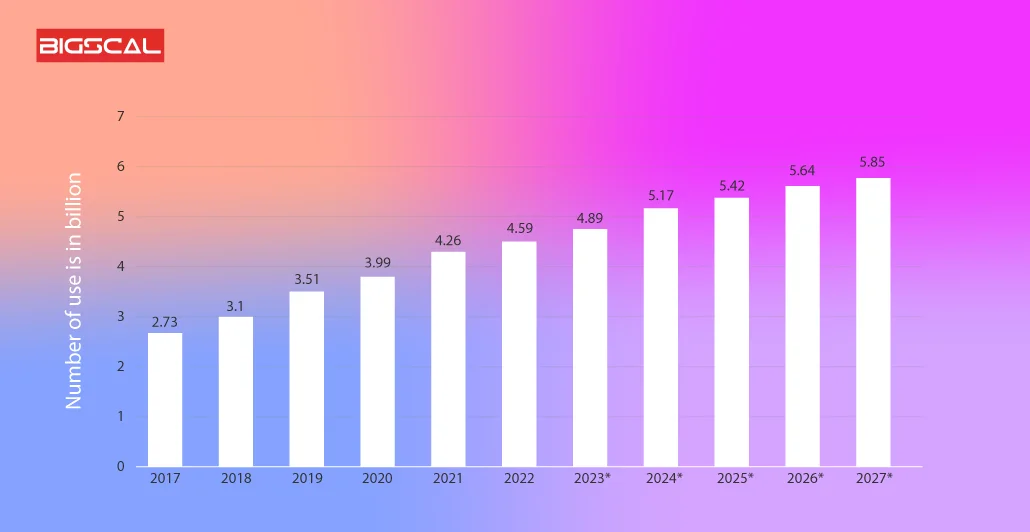 The technology that facilitates these celebs like me is facial recognition. Since the past few years, the accuracy of this technology has evolved a lot. Hence making it popular among people.
As per Statista, facial recognition apps should have a market projection of 12.67 billion USD by the end of 2028. Earlier in 2021, the amount was 5 billion USD.
If you are active heavily on social media applications such as Instagram, you might have seen celebrity look-alike filters. These filters function just like mobile applications. And surprisingly, they have received amazing responses from users.
For instance, a celebrity look-alike filter now has around 22 Million views across the globe. Hence stats helps you understand the craze of people for celebrity matchup.
The Top 6 Accurate Celebrity Look-Alike Apps Are Worth Trying
1. Gradient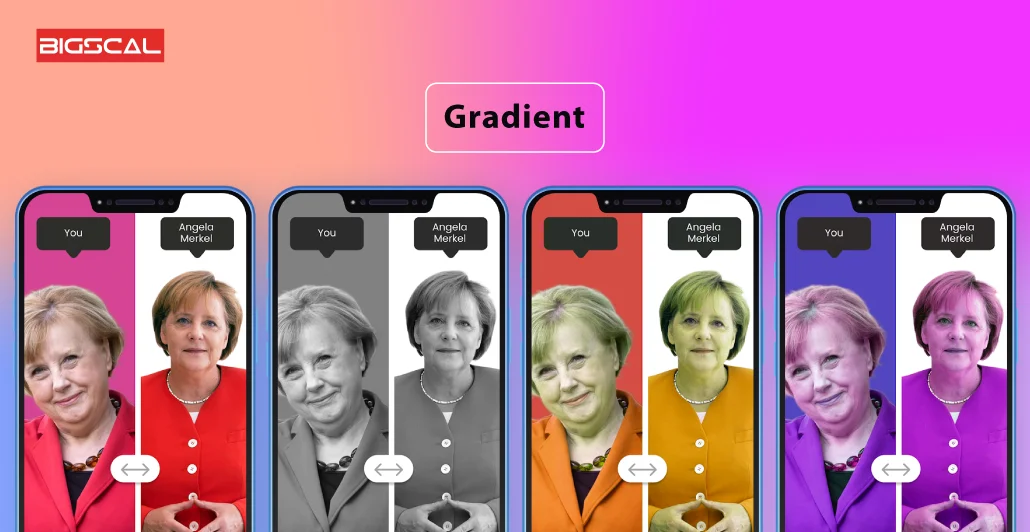 The Gradient is a popular app backed by artificial intelligence. It has photo editing features along with the ability to recognize that your face matches which famous personality. Therefore, working as a celebrity look-alike finder also helps you come across your ethnic background as per your facial features.
This application also helps users to edit their images and glorify them. Hence it is an app that serves two purposes at once. It has about 100+ filters and 50+ unusual textures. These textures and filters make your picture look more beautiful.
The app has more than ten million downloads on the Google Play Store.
Features of Gradient include:
Finding accurately the celebrity look alike
Facilitating estimate of ethnicity
Helping you match with the animals that you resemble.
Ratings and stats of Gradient
Google Play Store: 4.5 star
iOS App Store: 4.2 star
2. Celebs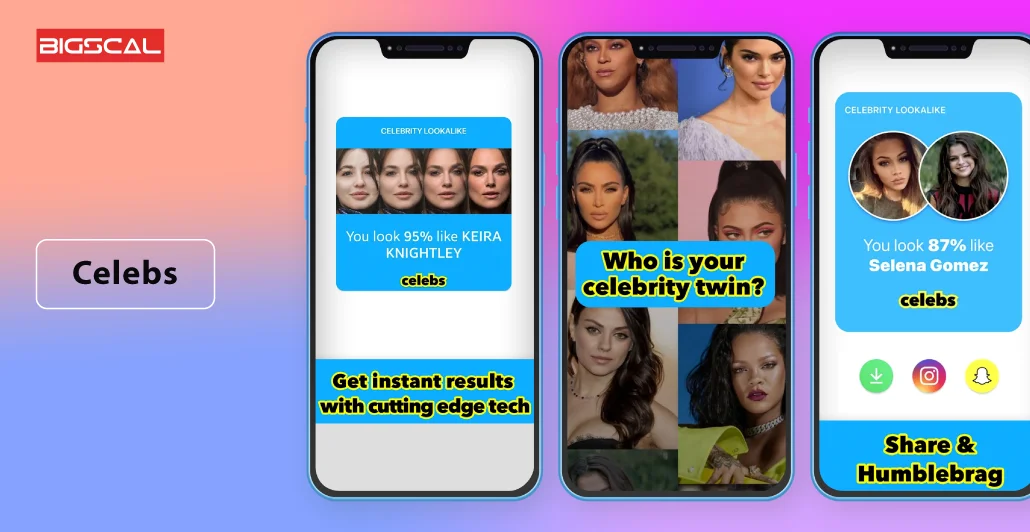 Celebs is one of the most renowned applications to find what celebrity you look like. It is a no-cost app powered by machine learning and can provide accurate results without issues. It is faster at providing comparisons.
This application contains a huge database of celebrities across the globe from all sectors, such as Hollywood and Bollywood. Hence if you want to know which Bollywood celebrity you look like, Celebs can be a great choice.
You can easily connect the Celebs app with your social media and share the results. Therefore convenience is an advantage of this app.
Celebs have reported more than 1 million downloads on Google Play Store.
Features of Celebs:
Easy recognition and matching of celebrity face
Better and hassle-free social media integration for sharing
Rating and stats of Celebs:
Google Play Store: 4.2 Star
iOS App Store: 4.3 Star
3. Star by face
The name Star by the face of the application tells you a lot. It relies upon face recognition technology and asks users to upload their pictures. These pictures must be of high quality. And within a fraction of a second, it will recognize which celebrity you look like.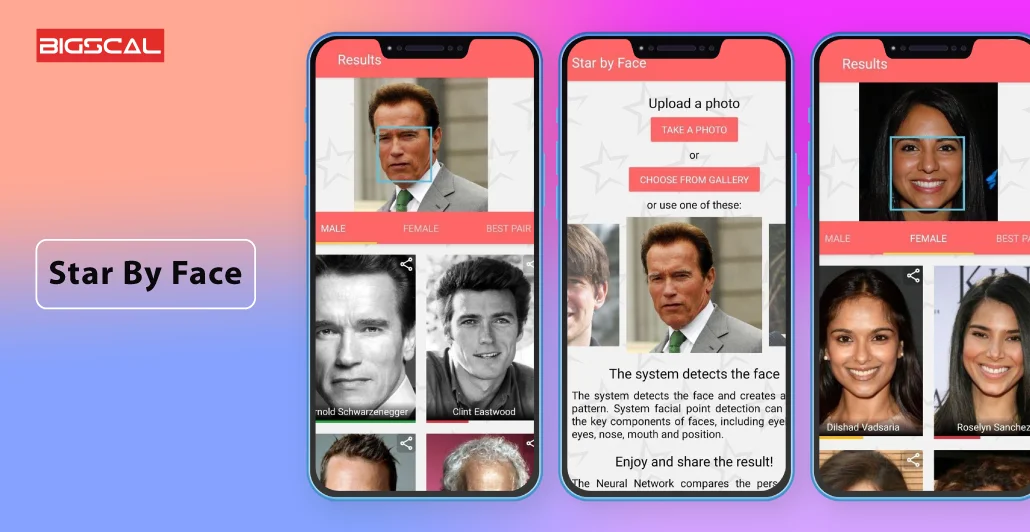 This application evaluated each face component, such as the nose, mouth, and face, to develop a pattern. Later it positions that pattern to develop an exact match.
It has reported more than 100K downloads on Google Play Store.
Features of Star by Face:
Better technology for face recognition
Finds the best match through the neutral framework.
Ratings and Stats of Star by Face:
Google Play Store: 3.9 star
iOS App Store: 3.6 stars
4. Y-star
Y-Star is also among celebrity look-alike finder apps that can process data within a few seconds. After you just upload your photo, it will analyze facial features and determine which celebrity it matches.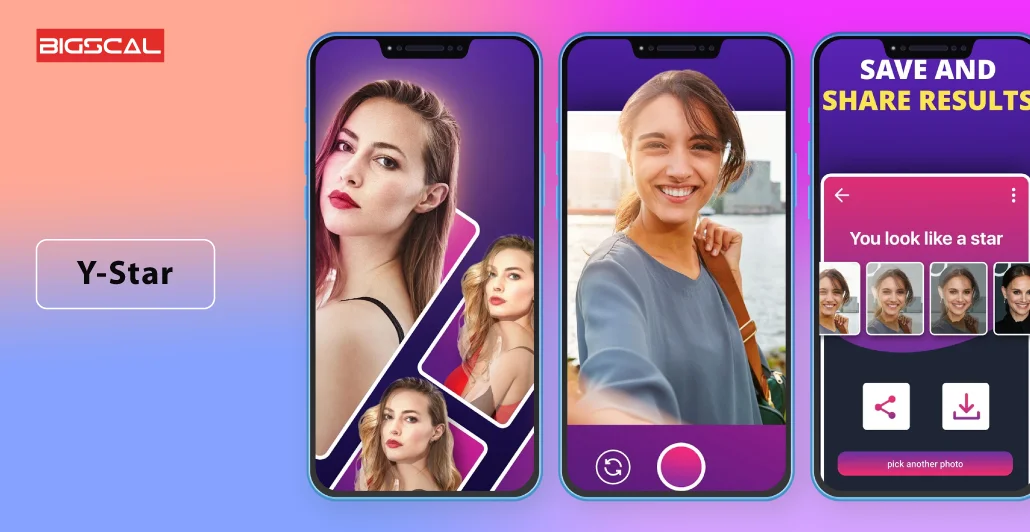 Hence within just a matter of seconds, you will have results in front of your eyes.
Also, sharing your results can be easily done with the integration facility of this app. It could help you share on platforms like Facebook, Instagram and others.
Y-Star has reported above 1L downloads on Google Play Store.
Features of Y-Star:
It maps your face pattern and then compares it with the celebrity
Integrates flawlessly with social media platforms
Provides a list of all celebrities with whom your face matches
Ratings and Stats of Y-Star:
Google Play Store: 3.4 Star
iOS App Store: 4.7 Star
5. Celeb Twin
Celeb Twin is an application that is available for iOS users. It has innovative and amazing features similar to other celeb look-alike apps. With Celeb Twin, you can easily find out which famous person your face matches.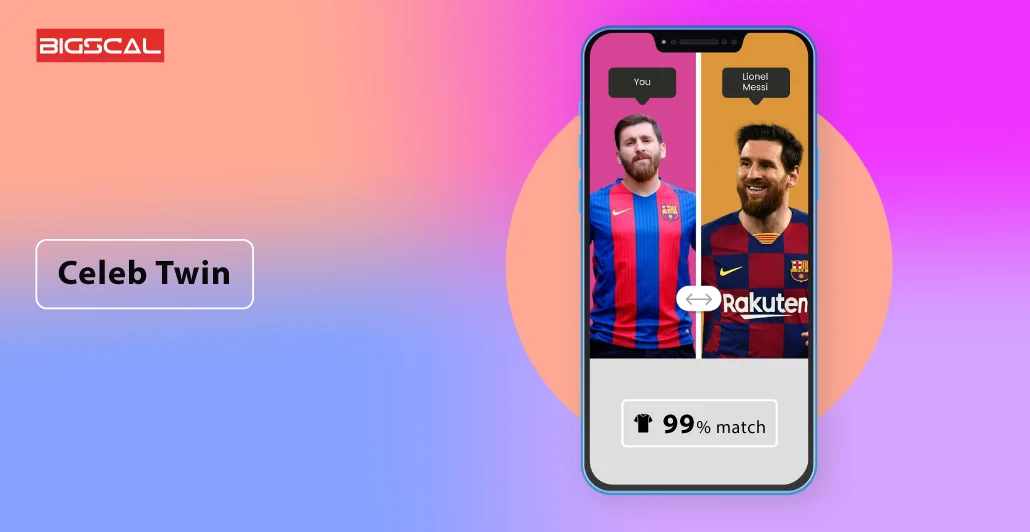 An exclusive feature that makes this app different is that it provides one match and three more resemblances. Hence just take your photo to get results.
Features of Celeb Twin
Feasible to share images and pictures on social media
It helps find compatible celebrities within a few seconds
Employs face recognition technology
Ratings and stats of Celeb Twin:
Google Play Store: 3+ Star
iOS App Store: 2.3 star
6. My Replica
If you want to add a professional touch to your picture, My Replica can be a good choice. It has filters that can make your photo look realistic. It is an application that provides many features under one roof, like filters that provide the best retouched and even look alike celebrities finder.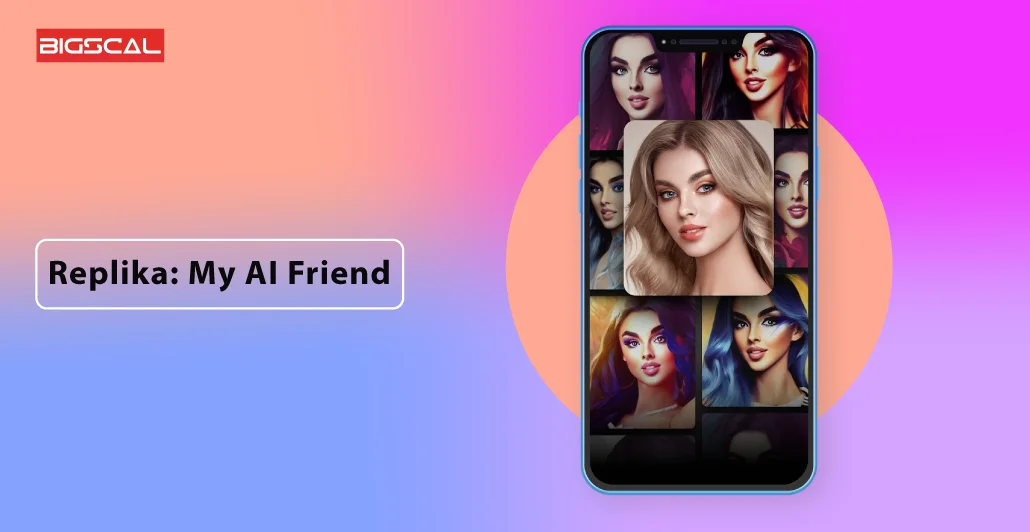 Using the My Replica app can help find what celebrity you look like with facial recognition technology. Also, it has advanced machine learning technology to help you edit pictures at best. Hence My Replica can serve all your needs.
Features of My Replica
Employs advanced machine learning
Simple procedure to find a celebrity match
Better accuracy in terms of results.
Ratings and stats of My Replica:
Google Play Store: 4.4 star
iOS App Store: 4.5 star
Also Read: A Complete Guide To Building An AI-Based Chatbot App Like Replika
How Do These Celebrity Look-Alike Apps Work?
Facial recognition is the leading technology used by each find my celebrity look-alike app. A developer uses APIs such as Kairos, Microsoft Face API, etc., to develop this application. Hence hire app developer who is comfortable with all these latest technologies.
Each program follows three steps: input, processing and output. Hence the working procedure of celebrity twin finder apps is the same. Here's what procedure these apps follow;
Detection of face and analysis:
The detection camera will analyze the picture that you have uploaded. The picture should be in 2D as the images of celebrities stored in databases will be in the same format.
The human face has many distinguishable marks called nodal points. This facial recognition technology will measure these nodal points. Some of the nodal points are the distance between the eyes, the length of the nose and much more.
Just like fingerprints, the human face also has its unique print. After analyzing the face features, it is converted into numerical value using a formula. It will help you obtain a Facial signature.
Later at the end, it compares your face print with the celebrities as per data stored in the database. Hence this is how you get your final results.

How Do These Celebrity Look-Alike Apps Make Money?
1. Advertising
The mobile marketing market is estimated to reach $57.85 billion by the decade's end. Hence it is safe to say that advertising is one of the best ways to monetize mobile applications. Celebrity look-alike apps can start to display advertisements within the app. Also, if they go for affiliate marketing, they can get a good amount from third-party networks.
Ads can be displayed in both iOS and Android applications. The application owner will receive an amount for each advertisement displayed on his app. However, the earnings might fluctuate and can depend on various considerations. Having plenty of advertisements can irritate users forcing them to uninstall apps. Hence delivering optimal ads is necessary.
2. In-app purchases
With in-app purchases, the app owner can directly deliver users premium virtual features and services. Additionally, in-app purchases will charge fees for using those unique features.
Hence customers that want to use those features have to pay for it. This idea will provoke customers who want to stay ahead and are eager to be impressive.
3. Subscription
One of the many methods to monetize these apps is providing the best services to customers for a short period. In many celebrity look-alike apps, some celebrities are only included in paid versions. Hence if they want to access resemblance to those celebrities, they have to pay.
You might have heard about subscriptions for tutorials, audio or cloud services. Hence, adding informative content to your celebrity look-alike application for revenue generation is a good idea.
4. Sponsorship
Advertising your application is another method to earn through your mobile application. But before you employ these methods, you must ensure that your app receives enough traffic daily. Later try to establish contact with these businesses as yours. There are two ways to monetize your app using sponsorships:
Divide your total revenue equally
Provide monthly sponsorship fees
Some well-known brands utilize sponsorship advertisement methods to generate good revenue. Hence you can use it with your app too.
Future Demand For Celebrity Look-Alike Apps
According to recent statistics, it is thought that by the end of 2025, the amount of Americans using social media platforms will increase above 243 Million. They might use it to post photos and more. People are always on their toes to engage in fun activities and share them through social media platforms. It is a fact supported by the rise in usage of these platforms.
Statista says the facial recognition technology market is also growing by leaps and bounds.
Even though it is a trend now, the future of these celebrity look-alike apps will depend on the development partner you choose. Hence, ensure you go for a partner that can develop a fun and safe app, such as Bigscal technologies. Bear in mind that people abstain from using apps that harm privacy.
People find it entertaining to exchange their looks with celebrities and enjoy sharing them with their friends. Devices that use face unlock features are regularly in use now. Hence this technology can be a blessing in identifying criminals and solving thefts easily.
Need Help With Launching Your Own Celebrity Look Alike Apps? Discover How Bigscal Can Help
Bigscal stands among the top mobile app development service providers. We facilitate incredible experiences for our clients to meet their business goals. Our focus is on delivering customer-centric app solutions. Hence we have gained a great reputation and have been the best mobile application development services option.
Our developers are familiar with all the recent technologies and help you develop top-notch solutions. When you choose Bigscal, you get cost-effective solutions that sustain the best in the market.
Therefore, contact us if you want to develop a celebrity look-alike app. Our team at Bigscal will be more than happy to assist you with your query.
Conclusion
These were some worth trying celebrity look alike apps for 2023. I hope these apps can help you find your celebrity doppelganger. This article might have covered everything from the best apps to the methods used for generating revenue.
If you are searching for the best celebrity look-alike app, we are sure you might have found the perfect one in this guide. Therefore go now to experiment with your findings.
But when making an app for your business, you might want a partner with a great hold over mobile app development.
Bigscal is the best mobile app development partner that understands clients' needs and provides apt solutions. Hence you can contact us for a celebrity look similar to app development.

FAQ
What are things to take care of when developing celebrity look-alike apps?
Initially, recognize the best company as a partner to develop your app.
Later carry out a detailed and proper consultation with experts.
Communicate the ideas and thoughts that you have in your mind. Describe what your specific requirements are.
Which is the most accurate celebrity twin finder app?
To date, people have found Gradient to be the most accurate one. It uses modern edge facial recognition technology and AI for the best results.
Which apps do celebrities use mostly?
Celebrities tend to use social media platforms frequently. They use platforms like Instagram that have different filters.
Which app will show your celebrity doppelganger?
Well, there are plenty of apps and filters in the market that you can use. However, people generally rely upon Gradient, Celeb Twin and many more apps to find accurate results.
How much does a celebrity app cost?
Many celebrity look-alike apps exist on App Store and Google Play Store. Most of them are free, but you might have to pay fees for premium features. Hence it depends on the feature you want to use.
https://www.bigscal.com/wp-content/uploads/2023/07/6-Best-Celebrity-Look-alike-Apps-in-2023.png
532
1200
Ashish Manani
https://bigscal.com/wp-content/uploads/2018/03/bigscal-logo1.png
Ashish Manani
2023-07-07 10:00:12
2023-10-04 01:39:51
6 Top Celebrity Look alike Apps in 2023 [Find What Celebrity Do You Look Like]