Creating an App Like Instagram Threads Step-by-Step Guide
Quick Summary: This article highlights the power of thread application. Read this blog to explore the thread features, development process and cost breakdown. Uncover how to bring thread application ideas to life.
The Threads app is a groundbreaking social media platform similar to Twitter that has been tightly integrated with Instagram. Likewise to Twitter, a thread allows users to share their ideas and multimedia across the online social network.
It is no secret that Threads has taken over the social media world since it was released on July 5, 2023. Till now, the thread has 100 million downloads.
Threads was embraced by 30 million users within two hours of launch, according to Statista.
Threads is often referred to as the "Twitter Rival" and the "Twitter Killer." This app was created by Meta and offers a new way to engage with other people in a social network.
With threads, we can connect and collaborate more effectively online. Threads' massive popularity may encourage you to create an app similar to it.
But how much would it cost? Let's try to figure it out!!!!
In this blog, we will emphasise thread applications and their features, development process and cost to build the thread applications. Before we delve deep into the article let's understand Instagram threads!!!
What Is Instagram Threads App?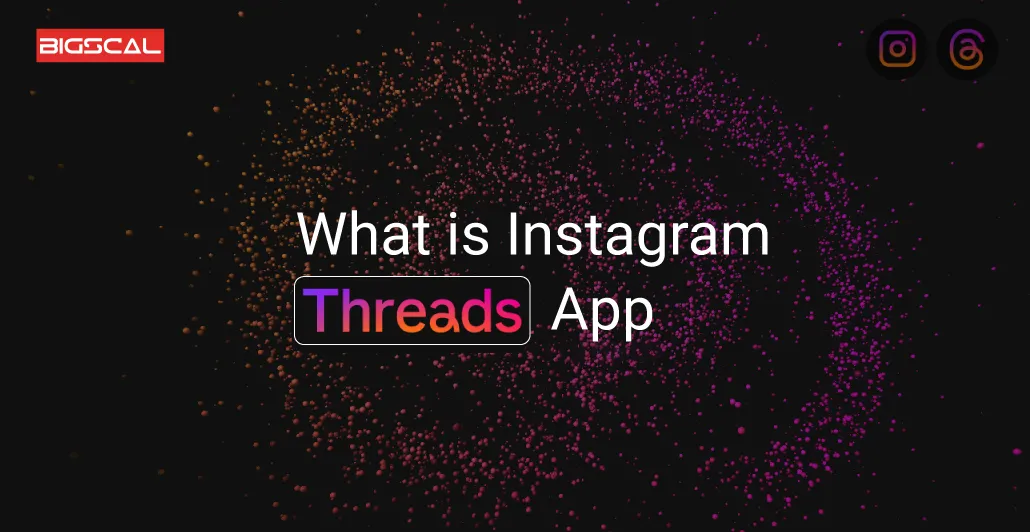 Thread is an enticing app invented by Meta, the parent company of Facebook. Furthermore, the thread app helps users to join a huge audience via real-time messaging and conversations. The maximum character limit for Instagram threads is 500 characters, along with photos, videos, and links up to 5 minutes in length.
Must-Have Features To Create An App Like Instagram Threads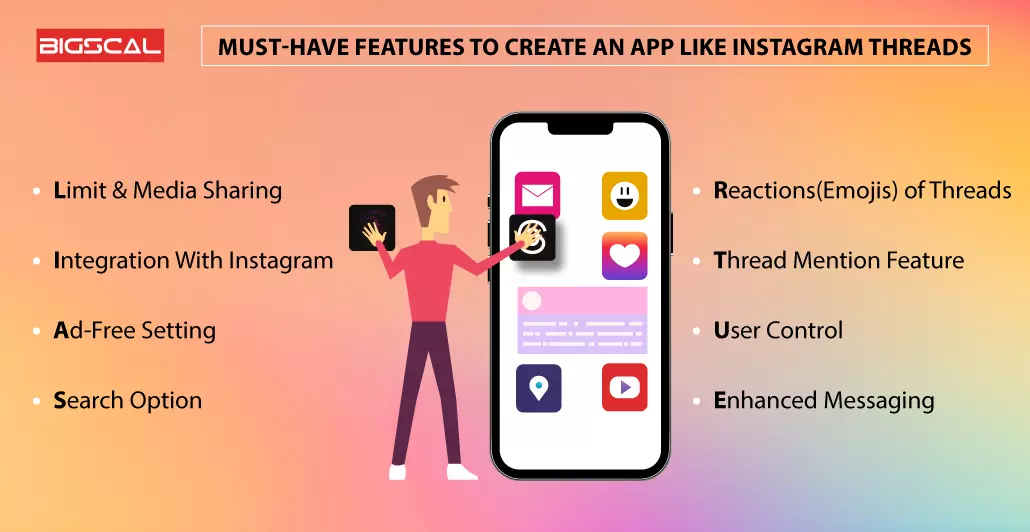 Below we highlighted a few features that you must consider:
1. Limit & Media Sharing
Threads apps are similar to Twitter and allow users to use up to 500 characters in a post. Furthermore, this feature of the thread allows users to convey their opinions, thoughts, and updates in a clear way.
Like Instagram, users can share their images/photos and long videos ( up to 5 minutes ) to engage with a huge audience.
2. Integration With Instagram
Threads has an outstanding feature that enables integration with Instagram seamlessly. Furthermore, users can use their existing Instagram credentials to log in to the app directly.
After downloading the app, the user's Instagram details appear automatically, allowing them to log into Threads easily.
3. Ad-Free Setting
Currently, Thread does not allow advertisements to make it easier for users to use. Furthermore, as the company proliferates, it may introduce a new feature that allows advertisement. But as of now, users can enjoy uninterrupted services.
4. Search Option
With the search feature in the Threads application's menu bar, users can find user profiles and posts using search terms.
5. Reactions(Emojis) of Threads
The thread should enclose a variety of emojis to respond to particular emotions of every message. Furthermore, let your friends know what you think about their communication without interrupting them.
6. Thread Mention Feature
Are you trying to get someone's attention in a crowded thread? The @mention feature helps users to alert specific people. Furthermore, you will notify them, so they will never miss an important message again.
7. User Control
By limiting or allowing another follower's activity, users can easily manage the interaction between themselves and their followers.
Also, the user can use specific filters to delete replies which don't seem appropriate for them.
8. Enhanced Messaging
The Threads app provides a text-based interface with short messages, likes, and reposts. Furthermore, it is also possible to quote those text-based Threads just like a Twitter retweet.
How To Kickstart An App Development Like Instagram Threads?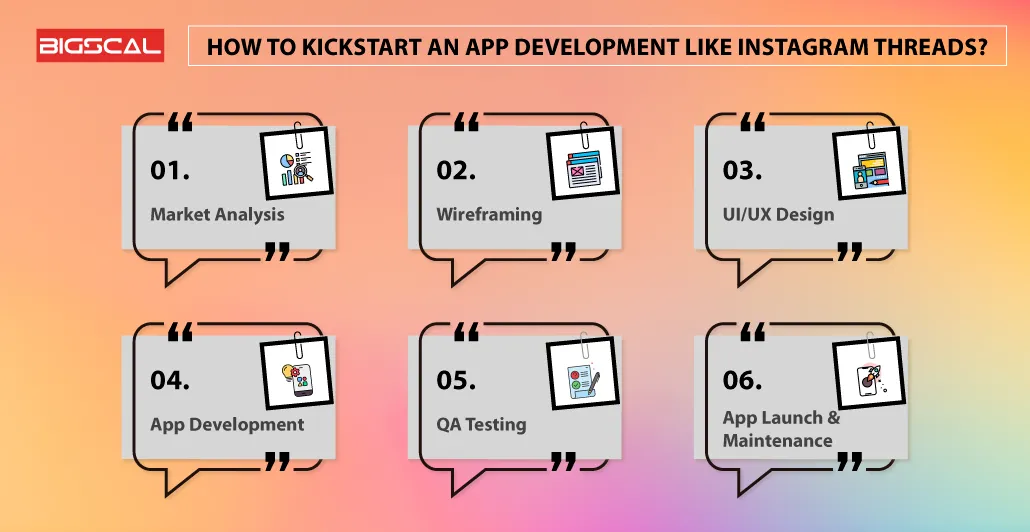 Here we highlighted a few steps to create an app like Instagram threads.
1. Market Analysis
Before you embark on this journey of thread app development, it is crucial to analyse the current market situation and understand stats both in value and volume.
Furthermore, look at crucial factors like engagement patterns, market competition, regulations, user insights, barriers to market entry, customer preferences, and current trends prevailing in the market.
2. Wireframing
After completing the research part, move to the next step, and start creating a blueprint of the Instagram thread app including visual layout and storyboard design.
Furthermore, explain the app screen specifications clearly, navigation, and feasibility to describe the user interface and experience.
3. UI/UX Design
After getting an idea of all the crucial components of the thread app, the UI/UX team will start working on designing a user interface to give an attractive and elegant look to the app. Furthermore, designers mainly focus on the app's usability and make the app visually appealing by aligning with the brand voice.
4. App Development
Once you are done with the design part, the app developers take up the project and decide the tech stack and framework that best fits your project.
Furthermore, developers incorporate various APIs and databases server and build necessary components to ensure better scalability, usability, performance, and compatibility of the app.
5. QA Testing
When you launch an app in the market, it is crucial to conduct various software testing to ensure the app works as per the given requirement.
Furthermore, testing helps you to check the compatibility, performance, bugs, and user interface of the app and helps developers to resolve all the problems in the initial phase saving your cost and time.
6. App Launch & Maintenance
Once the testing process is completed, your can launch your apps on multiple platforms with appropriate descriptions, categories, app titles, keywords, icons, and app store screenshots.
After the deployment of the Instagram thread app, developers will take care of the performance, updates and user feedback and check bugs and overall functioning to deliver uninterruptible services to users.
What Is The Cost To Create An App Like Instagram Threads?
Mobile app development costs are not fixed. As we will discuss in greater detail, there are some influential factors that can affect pricing.
Developing an app like Threads, however, starts at around $40,000 and goes up as per requirements including additional functionalities and features.
| App Type | Cost Estimation for Threads Development | Time Frame |
| --- | --- | --- |
| Simple | $40,000 to $80,000 | 3 to 5 Months |
| Medium Complex | $90,000 to $125,000 | 6 to 8 Months |
| Most Complex | $150,000 to $250,000 | 9+ Months |
Below few highlighted factors that impact the app development cost includes:
1.App Complexity
The development process gets more expensive when exclusive features are included, as they increase the complexity of the app.
2. Number of Features
Adding more features to the app leads to an increase in overall app development time, which in turn leads to an increase in the development cost.
3. App Size
There is a significant impact on the development cost when the app size varies. As compared to a full-fledged feature-rich app, MVP development will be relatively inexpensive.
4. Development Platform
If you are planning to construct an application that works on multiple platforms, then you would need a proficient developer which in turn increases the cost.
5. Developer's Location
The developer's location plays a significant role in determining the cost of the application. Therefore, it is imperative to consider the location of the developer before taking a long-term agreement.
How To Monetise An App Like An Instagram Thread?
When you are planning to build a thread, there are many opportunities for monetization and you can create a social media app that makes millions.
However, you can glimpse at the some of below-mentioned thread app monetization strategies to boost:
1. In-app advertising
In-app advertising helps businesses to advertise and increase their market reach through paid campaigns.
2. In-app Purchases
Similar to Twitter, you can offer in-app premium services, including account verification (blue tick mark), access to exclusive content, etc.
3. Data Licensing
Social media platforms collect vast data that helps brands to conduct thorough research and analysis. Furthermore, you can provide premium access to data without breaking privacy rules and adhere to industry standards and regulations.
4. E-commerce Integration
Instagram has an excellent e-commerce feature that allows users to integrate into the app. Furthermore, brands can leverage this feature to link their e-shops to urge customers to engage with their products.
However, there are a number of other ways to monetize your website, but these are the best ways to make money.
How Bigscal Can Help In Creating An App Like Threads?
Building a thread app is a challenging task and requires a lot of effort to handle the complex features of the app such as user data storage, user authentication, content moderation, privacy concerns and other technological challenges.
However, partnering with a leading and renowned mobile app development company like Bigscal helps businesses cope with the challenges of thread app development.
We have a high-expertise team who have long years of experience in creating a thread app. Bigscal helps your step into the social networking world by building an app like Threads.
Conclusion
Do you feel excited about launching such an exciting app? The tech experts at our company can help guide you through the process of creating a popular app like Instagram-Threads. Give your target audience the opportunity to share their daily thoughts, emotions, and experiences, and you'll entice them.
Create a game-changing app Instagram -Threads to help your users connect and communicate with the ones they love.

FAQ
What is the Threads app?
It is owned and operated by Meta Platforms and is an American social networking and social media platform. Furthermore, Thread apps allow users to post text, images, and videos, reply, repost, and like others' posts.
How does the threads app work?
In just a few taps, users can sign up with their Instagram account and their username, profile picture, and bio will be transferred automatically. Furthermore, the app allows new users to follow everyone they follow on Instagram automatically on threads.
How long does it take to create an app like Instagram threads?
Apps like Threads take different amounts of time to create, depending on how sophisticated they are. Furthermore, it takes 9 to 12 months to build a complicated app with a long list of features, whereas it takes 3 to 4 months to build a basic app with a shortlist.
Are there any ongoing costs to build the thread apps?
As far as ongoing costs go, they include hosting, maintenance, upgrades, and any new features or integrations added after launch. Furthermore, our developer team provides you with ongoing support and maintenance at a reasonable price.
Why choose Bigscal for social media app development?
Our end-to-end development services make us a leading social media app development company. Furthermore, with their extensive experience in developing mobile apps, our app developers can build robust, high-performance, and top-notch social media applications tailored to our client's needs.
https://www.bigscal.com/wp-content/uploads/2023/07/instagram-threads-step-by-step-guide.webp
532
1200
Ashish Manani
https://bigscal.com/wp-content/uploads/2018/03/bigscal-logo1.png
Ashish Manani
2023-07-28 10:00:16
2023-07-28 09:09:29
Creating an App Like Instagram Threads Step-by-Step Guide