Real Estate App Development Guide: Features, Process, & Cost
Today, smartphones have made real estate even more popular, making it a lucrative business.Online property searches are more popular, increasing competition between buyers and sellers.
The real estate industry is constantly evolving, and cutting-edge technologies are poised to change the way business is conducted.
It is estimated that real estate markets are worth over $7196 billion worldwide, making them one of the most significant components of the world's economy.
Previously, people used to look for a house in newspapers, and then view it in person once they found one they liked. But now the time has changed. Now the modern world has changed the perspective and enables us to check the availability online. Thus, it is time for businesses to grab this opportunity and build successful real estate apps.
In this article, we will provide you with some valuable insights into real estate app development. Stay tuned!!!!
Why Does Business Need Real Estate Apps?
Having a mobile app for real-estate business is crucial for several reasons:
Firstly, it allows potential buyers to search and view properties conveniently on their smartphones. Furthermore, it offers a seamless user experience and accessibility.
Secondly, the real-estate app enhances customer engagement and satisfaction, providing features like property notifications and personalised recommendations.
Thirdly, it helps real estate agents to manage leads, track sales, and communicate with clients efficiently.
Lastly, a real-estate mobile app can boost visibility, brand recognition and sales for real estate businesses in today's mobile-centric world. Therefore, hire mobile app developers for real-estate app development, ensuring high-quality and customised solutions for your business.
The Steps You Need To Take To Build A Real Estate App
Here we highlighted three steps that will help you to build your real-estate mobile apps:
Step 1: The discovery phase
During the discovery phase of real-estate app development, the main goal is to gather information and understand the project's requirements.
Furthermore, it involves conducting research, analysing user requirements and defining the app features and functionalities.
It lays the foundation for a successful development process and ensures alignment with client expectations.
Step 2: MVP development
As soon as the discovery phase is completed, we recommend you create a real-estate mobile application rather than jumping into a fully-featured product development the right way.
It is important to note that an MVP only includes the core features, but the product must have enough value to be represented in the marketplace.
The purpose is to quickly launch the app and gather user feedback to validate the concept, identify improvements and refine the app before moving into additional development. Furthermore, Mvp development services help businesses by providing a cost-effective way to validate ideas, gather user feedback and iterate quickly.
Step 3: Scaling and Upgrading
Once you have launched the real estate app, you can focus on its upgrade. Furthermore, it collects user feedback that helps to understand more about the missed parts and what improvements are required.
After resolving all the problems, you can think about the app scaling. Make sure you have a solid user base, achieve all your previous business goals, have a stable cash flow, and minimise all your risks before scaling.
Must-Have Features To Build An Enticing Real Estate App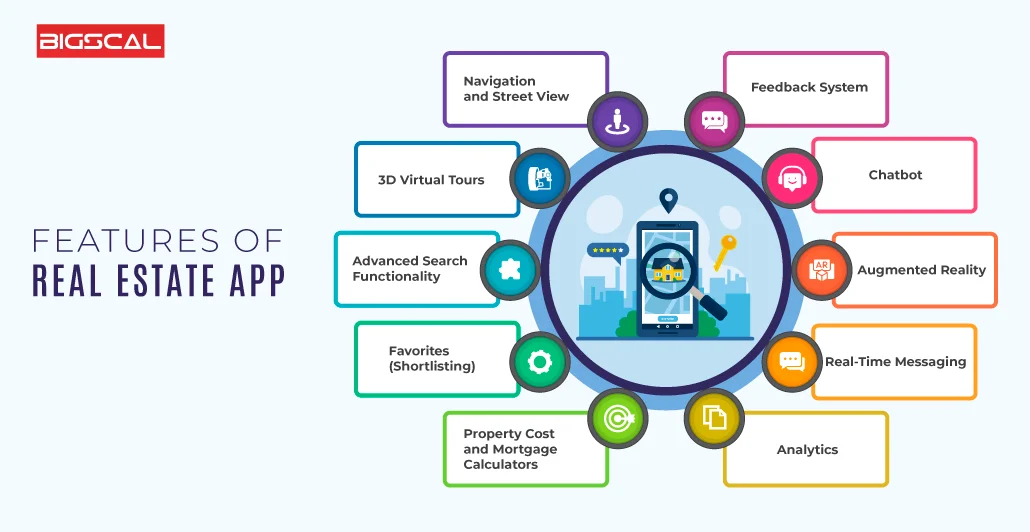 Before implementing real estate app features, it is crucial to recognise your audience. It is essential to research the functionality. Below we highlighted a few must-have features to look :
1. Navigation and Street View
The navigation and street view features in the real-estate app assist users in finding properties by providing clear directions and visual representation of the surrounding area.
2. 3D Virtual Tours
Virtual tours build more appealing listings for homebuyers. Additionally, it can provide a fuller picture of the property and a more accurate understanding of its layout, which is often lacking in descriptions.
3. Advanced Search Functionality
Advanced search functionalities in real estate apps allow users to narrow down the property search based on specific criteria such as price, location, amenities and property type, making it easier to find their ideal home.
4. Favourites (Shortlisting)
The real-estate app should help users to shortlist and save their favourite properties. Also, this allows them to make the decision easier and faster.
Users can view their favourite properties list and other details that display in their profile.
5. Property Cost and Mortgage Calculators
The mortgage calculators in a real estate app help users estimate the total cost of a property and calculate potential mortgage payments, enabling informed decision-making when purchasing a home.
6. Feedback System
Ratings build trust and faithfulness among users. Furthermore, Users can rate neighbourhoods and leave feedback for agents or landlords on an app, making it more trustworthy and transparent. Additionally, this is another significant feature that is useful in real-estate app development.
7. Chatbot
Chatbots resolve all the queries of the customer without delay with online chat. By receiving automatic answers to frequently asked questions, users can gain more knowledge about a particular topic without in-depth research.
8. Augmented Reality (AR)
The use of AR provides immense benefits to both consumers and sellers. Furthermore, it delights the user by providing customisation options such as wall paints, furniture, and renovated interior plans.
9. Real-Time Messaging
Real-time messaging in a real estate app allows users to communicate instantly with agents, sellers or other interested parties, facilitating efficient and convenient communication for inquiries, negotiations and property-related discussions.
10. Analytics
Data about clients' preferences and behaviours are imperative to the business's success. However, you can make finding a house or apartment effective by using the analysis results.

Innovative Technology Trends For Real-Estate Apps In 2023
Below we highlighted some emerging technology trends that are helpful for real estate mobile app development, including:
1. Artificial Intelligence
Artificial Intelligence plays an important role in real-estate apps. Furthermore, it enhances the user experience and provides valuable features.
AI provides property recommendations based on user preferences and historical data. Also, it simplifies the property search process by automating tasks such as property valuation and document processing.
It improves efficiency, accuracy and convenience in real estate apps. Overall, it helps the user to make informed decisions by streamlining the search process.
2. Augmented/Virtual reality
In real estate apps, AR and VR bring amazing benefits. With AR, you can use your phone or tablet to see virtual objects overlaid in the real world, helping you visualise how furniture or decorations would look in space. Furthermore, VR takes you to a completely virtual world where you can explore properties and imagine living with them. These technologies make house hunting more exciting and convenient for everyone.
3. IoT Technology
In a real estate app, IoT(Internet of Things) technology adds a touch of magic!!!!. Furthermore, it connects devices in your home, like lights, locks and thermostats to the app. With a tap on your phone, you can control them from anywhere. Imagine turning off the lights or adjusting the temperature even when you are not home. It's like having superpowers to make your home smarter and more convenient.
4. Big Data
In real-estate apps, big data plays a powerful role!!!. Furthermore, it collects and analyses a massive amount of data about properties, prices and trends. This helps you to make smarter decisions when buying or selling a home. You can find accurate market data, compare prices and even anticipate future trends. Additionally, it's like a treasure trove of knowledge at your fingertips, helping you to make the best real estate choices.
5. Blockchain
In real-estate apps, blockchain technology brings transparency and security. It creates a decentralised and unchangeable record of property transactions. Every step, from buying to selling, is recorded and cannot be changed. Furthermore, it reduces the risk of fraud and builds trust between parties. Overall, it keeps all the important details safe and verified, giving you mental peace in all your real estate transactions.
What Is The Cost Of Developing An App For Real Estate?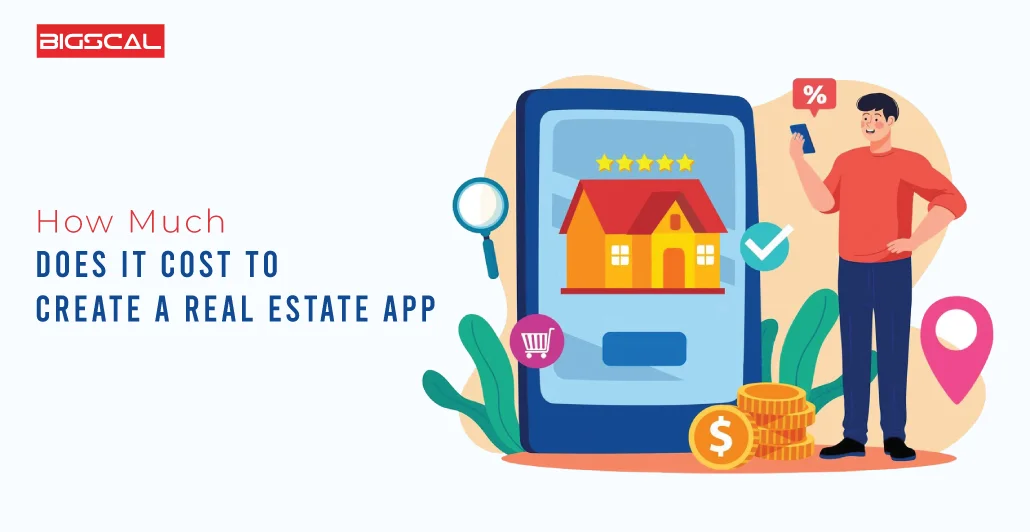 The cost of building a real estate app relies on several factors. These factors include:
The complexity of the app's features
Type of platform(IOS or Android).
Design
User interface requirement
On average, a basic real estate app costs around $20000 to $500000, while a more advanced app with additional features and customisation will cost you $100000 or more. However, it is essential to consult with a real-estate app development agency to get an accurate estimate for your specific app project.
Is Your Real Estate App Staying Ahead Of The Market?
When more and more real estate players enter the app market, their ability to do things better is more than enough to get them ahead of their competition.
To add value and profit to the user experience, you may want to consider adding various features to make it more valuable and profitable.
With our experience as a top real estate app development company, we have identified these features that can give your app brand a competitive edge.
1. Use blockchain
Blockchain technology is changing the perspective of the real estate industry worldwide. Furthermore, this technology is poised to become a high-impact solution for building real-estate apps. Blockchain has brought significant benefits to the real estate industry.
Integrating blockchain technology into your real estate app helps you to stay ahead in this competitive market. In the app, Blockchain technology allows you to decentralize several aspects, such as property verification and name transfer.
2. Give thorough information
By providing detailed information about the location, security, mode of transportation around the area, market valuation, potential growth of the area, etc., your app can become one of the most popular destinations for people seeking to buy, rent, or sell properties.
3. Low listing fees
The listing apps are a primary reason realtors and advertisers switch to real estate apps. Although keeping the listing fees low would not be profitable, they should be kept low compared to other applications currently on the market. In addition, you can offer inauguration waivers, where users are not charged anything for a certain period.
How Bigscal Helps You In Real-Estate App Development?
Bigscal is a leading real-estate app development service that helps businesses by providing a robust and scalable infrastructure for the app. We offer powerful solutions that can manage a huge amount of data and user traffic. Also, Bigscal provides tools and services for seamless integration with other technologies and APIs enabling developers to build feature-rich real estate apps with ease.
Conclusion
Building a real-estate mobile app is a complex process that requires careful planning, expertise in app development, and an understanding of the real estate industry. It is important to collaborate with an experienced real estate app development company that can help you to design a user-friendly interface and integrate essential features seamlessly.

FAQ
What is real-estate app development?
Real estate app development refers to the process of creating mobile or web applications that provide services related to buying, selling, renting, or managing properties.
What are the benefits of a real-estate app?
Real estate app offers convenience, accessibility and efficiency in the property transaction. Furthermore, they provide users with easy property search, virtual tours, secure transactions, quick communication and real-time updates, enhancing the overall real-estate experience.
How to do real-estate work?
Real estate apps allow users to search and view property listings, communicate with agents, schedule viewings and even complete transactions. Furthermore, they provide a convenient platform for buying, selling or renting properties.
How many types of real-estate apps are there?
There are various types of real-estate apps, including property search apps, rental apps, Home variation apps, mortgage calculators, property management apps and real estate investment apps, catering to different aspects of the real estate industry.
What is the future prediction of the real estate industry?
The future of the real estate industry is expected to be influenced by technological advancements, such as increased use of virtual reality, artificial intelligence, and blockchain, improving efficiency, transparency, and customer experience.
https://www.bigscal.com/wp-content/uploads/2023/05/REAL-ESTATE-APP.png
532
1200
Pankaj Vaghela
https://bigscal.com/wp-content/uploads/2018/03/bigscal-logo1.png
Pankaj Vaghela
2023-05-27 10:00:21
2023-06-08 10:35:13
Real Estate App Development Guide: Features, Process, & Cost