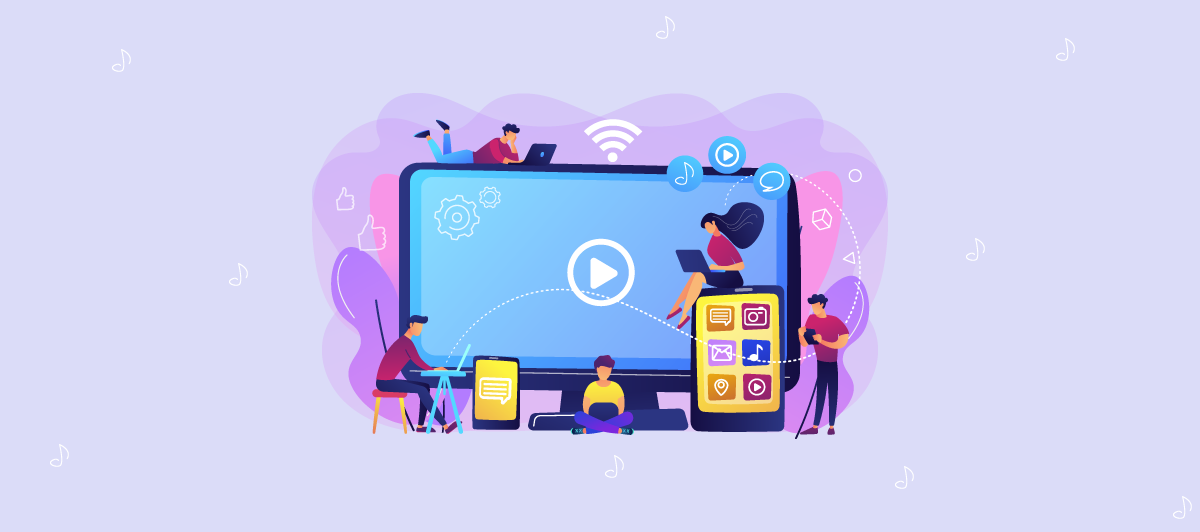 Entertainment App Development Innovating the Entertainment Industry through Digital Transformation
The covid 19 pandemic resulted in a significant surge in the online video-streaming market as people were confined to their homes due to lockdowns and social distancing.With technological advancement, the entertainment industry continues to undergo a transformation in various aspects such as content creation, distribution and consumption.
As the digital transformation progresses and demand for interactive experiences increases, entertainment apps have become increasingly crucial in driving digital transformation. These apps enable businesses to engage with their target audience by stimulating the environment, providing insights and improving customer satisfaction.
In the digital landscape, entertainment app development has become essential for businesses to connect with audiences and stay competitive.
In a report by Inmobi, 18% of 18-25-year-olds reported spending more on entertainment and 40% on games.
This article will help you to discover how entertainment app development delivers digital transformation and changes the face of the entertainment world. Let's get started!!!!
What Role Does Entertainment App Development Play In Digital Transformation?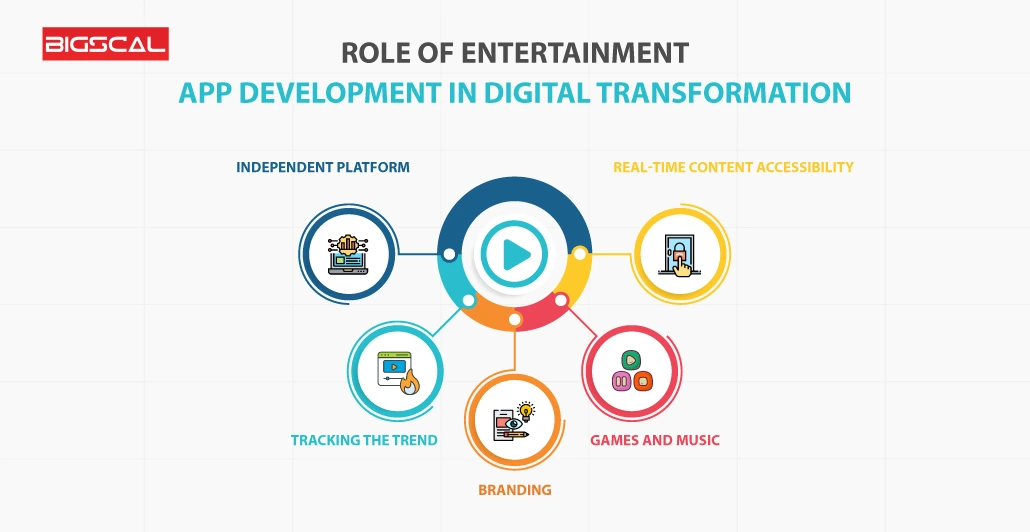 Let's explore this in-depth:
1. Independent platform
In just a few years, entertainment app development has evolved into an independent platform and provides a huge spectrum of content such as music, tv shows, films and many more. Furthermore, these apps have revolutionized the way of media consumption and made it more accessible and convenient than ever before.
As a result, it has provided people with a break from hectic schedules. Also, it has provided artists and budding talents with easier access to a reasonable audience, leading to glory and financial gains.
2. Tracking the trend
As social media continues to gain popularity, there is a growing focus on better understanding target groups and tracking critical patterns. The entertainment app development industry has significantly benefited from this trend. By exploring social media trends, businesses gain insights into the audience's interest.
Furthermore, this helps them to tailor their content and curation according to audience interest. Overall, this enhances user engagement and drives growth in the entertainment app development industry.
3. Branding
Digital transformation in media outlets is becoming increasingly popular among brands as it offers a prime platform for entertainment app development. With a wider target audience, brands can promote their products and philosophy through these channels.
According to a Google report, 55% of people who use entertainment applications do so while relaxing, giving brands a chance to pass along their message in a more engaging manner.
4. Games and music
Games and music are crucial components of entertainment app development solutions. Furthermore, they played a significant role in contributing to the success of such apps. With media app solutions, gaming has moved beyond just gaming parlors and control centers. Additionally, gaming apps allow users to chat with other players, share real-time competitive scores and deliver more immersive experiences. Along with gaming, music streaming apps are also gaining popularity, offering a personalized and on-demand listening experience.
5. Real-time Content Accessibility
It can be highly beneficial to develop an entertainment app with real-time content accessibility. Furthermore, these features greatly enhance user experience. Such solutions include closed captioning, audio descriptions, and easy-to-use accessibility settings. These features ensure that all users, regardless of their abilities can enjoy the content offered by the app.
Latest Use Cases in Entertainment App Development Market
The internet evolution has led to the development of digitally transformative and independent resources in the media and app development industry. Personalized tools with feature-rich mobility have increased demand for potential technology-led solutions, allowing faster and more versatile consumption of content.
1. NFT
Non-tangible tokens (NFTs) are emerging as a new method of owning, trading and storing digital assets like music, artwork, and collectables. Furthermore, using blockchain technology, NFT provides a secure and transparent way of these assets. Marketplaces for NFTs are becoming more popular. In this way, artists and collectors can display their work to a broader audience.
2. Audio Streaming
Cloud-based music streaming has been around for some time. The industry has evolved with the incorporation of innovative features and revenue models. To meet diverse customer needs and preferences, music streaming apps offer varied business packages.
3. Video streaming
By the end of 2028, revenues from video streaming apps are expected to total $932.29 billion. Entertainment app developers use AR and VR to create advanced personalization features in entertainment applications.
You can hire an entertainment app development service to bring your project vision to life with the help of a professional development team.
Entertainment app development business models
There are several ways through which businesses can execute their workflows. To thrive in a competitive entertainment industry, implementing business models can fuel growth and success for your app.
Let's discover a few prevailing business models that are helpful for an entertainment app:
1. Over-The-Top (OTT)
Using cloud platforms to deliver content has become a trend. Different service providers are relying on these mediums to provide different types of content. These services are delivered on various electronic devices such as smartphones and tablets.
2. Music
Users use lightweight resources to create music playlists on mobile apps for a personalized and engaging experience. A few examples of online music streaming applications are Apple Music, Spotify, YouTube Music, etc.
3.Pay-TV
The increasing demand for high-quality video content has made TV subscription plans less attractive to consumers.
Through pay TV, users can avail television services via the Internet. Moreover, this business model disrupts the market of traditional cable service providers.
4. Advertising
The entertainment industry has a vast audience, making it an ideal platform for businesses to showcase their offerings to potential customers and enhance their brand value.
Furthermore, business enthusiasts have options for monetisation models like freemium, premium, or subscription to charge their users for accessing their services.
As the entertainment industry transforms digitally, business owners are seeking entertainment app development services to leverage this fast-growing market.
Technologies Trend in Entertainment App Development Market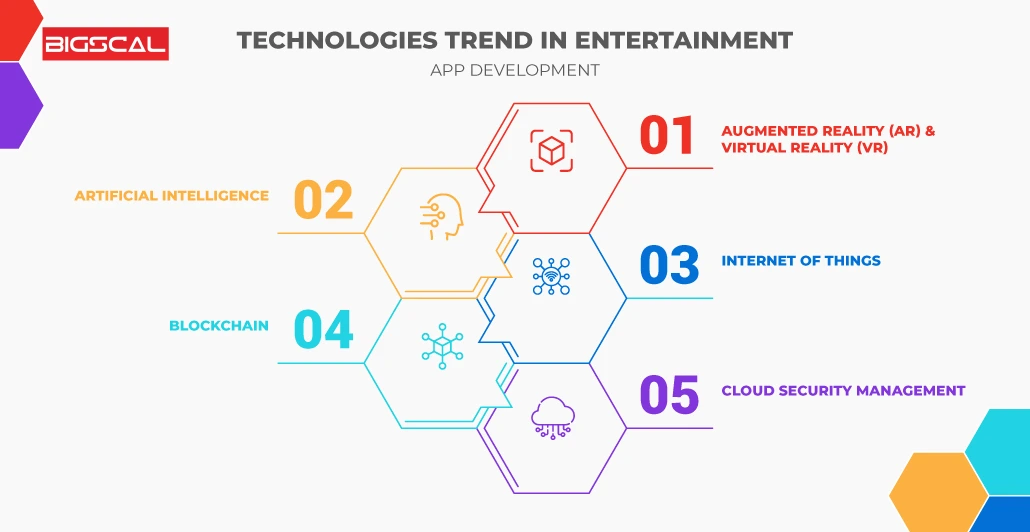 Entrepreneurs must understand their target audience and their interest to cater to their needs in multi-platform applications. The entertainment industry is undergoing rapid change, and modern tech innovation has become the center of attention.
Below we highlighted a few technologies and trends that have revolutionized the entertainment industry.
1. Augmented Reality (AR) & Virtual Reality (VR)
Augmented reality and virtual reality have remade the entertainment industry by creating an immersive and interactive experience for viewers. Furthermore, these technologies have enabled content creators to enthrall audiences in new and exciting ways. These two prominent technologies have broken down the barriers and enhanced the connection between the viewers and content creators.
Businesses like Google and Facebook are considering AR/VR as a way to improve accessibility, mobility, and pricing. Pokemon Go has set an example that elevates AR and VR power.
Overall, it offers a new level of engagement and storytelling that is changing the way we experience entertainment.
2. Artificial Intelligence
Artificial intelligence is transforming the entertainment industry by revolutionizing media consumption. Furthermore, AI algorithms are being utilized to create movies, music, and TV shows as well as to generate personalized recommendations for viewers. With the ability to analyze vast amounts of data, AI streamlines streaming services to understand viewers' preferences and create content that resonates with their interests.
Overall. AI is shaping the future of the entertainment industry by understanding customer behavior and digital media consumption trends by estimating and retrieving emotional changes.
3. IoT
With the Internet of Things, viewers and content creators can interact and engage in new ways. IoT has transformed the movie and gaming industries by improving the technology used for development and implementation. It makes the gaming experience more interactive through the use of various IoT sensor devices.
Furthermore, IOT-enabled devices such as smart speakers and wearables are used to create interactive live events for augmented reality games.
Additionally, IoT collects data based on viewers' preferences and behaviors and allows content creators to create personalized recommendations.
4. Blockchain
Blockchain has changed the entertainment industry with its ultimate features by breaking down conventional barriers. This technology holds the potential to reinvent the revenue sharing, royalty payment, pricing, and publicity systems. In addition, the developing technology provides benefits such as an optimized payment model for paid content and an efficient and secure way to distribute royalty payments.
With blockchain-based applications, the content royalty distribution process is more efficient, efficient, secure, and automated. Compared to traditional systems, the technology makes payments faster and more secure.
5. Cloud Security Management
The entertainment industry is unaffected by security threats and cyberattacks. To protect the entertainment application from hackers and security breaches, a cloud security management system is used. Additionally, it also eliminates illegal online content streaming by authenticating and authenticating online content.
In the cloud management system, production networks are monitored, customer data is protected, access controls are enforced, and IT rules are adhered to. A number of entertainment bodies will be migrating to the public cloud, bringing factors such as cloud workload and data encryption into the spotlight.
How To Decide the Entertainment App Development cost?
The cost of entertainment app development depends on a number of factors. Here we emphasized a few key components that determine the app development cost:
1. App Features
When building an app, cost increases with more features. If the budget is limited, prioritize integral features and customize them later to serve the audience's interests. Furthermore, this approach allows for flexibility and cost management while still providing a solid foundation for app success.
2. App Design
Complex apps deaden user interest. Ensure that your application has interactive and appealing visuals and UI/UX that keep the user engaging. Furthermore, keep your app user interface simple and captivating that captures user engagement. It's not just the design that impacts users, it's also the price!!!
3. App platform
iOS
You can reach tech-savvy customers with iOS applications. If you want to target iPhone users, you need to develop iOS apps. Also, iOS has robust security features.
Android
Android apps have a large customer base, but you need a high budget for Android app development. These apps require numerous Android devices for testing purposes.
Hybrid
With hybrid app development, you can offer both iOS and Android features and functionalities in one application, allowing you to target a wide audience.Based on your business demands, you can select an appropriate platform. The cost and app development approach varies for different platforms.

How Bigscal helps in entertainment app development?
Bigscal is a leading entertainment app development company that helps businesses with every aspect of app development from conceptualization to deployment. We have a team of experienced developers who can create engaging user interfaces, initiative navigation and seamless functionality for your app. Additionally, we use the latest technologies and programming languages to ensure your app is cutting-edge and future-proof. With expertise in entertainment app development, you can be sure that your app will meet your business goals and satisfy your user needs.
Conclusion
The rise of app development has significantly impacted the entertainment and media industry, allowing for greater innovation and accessibility for audiences worldwide. With technology advancing and reaching even the remotest parts of the globe, app developers and entertainment business visionaries can look forward to a bright future.

FAQ
What is the role of the entertainment industry?
The entertainment industry refers to a vast and diverse range of businesses that produce and distribute creative content for the purpose of entertaining audiences, including films, television, music and live performance.
How is digital transformation impacting the entertainment industry?
Digital transformation has revolutionized the entertainment industry, creating new distribution channels, personalized content, and improved user experiences through technologies like streaming, social media, virtual reality and AI.
What are the benefits of digital transformation in the entertainment industry?
Digital transformation has brought numerous benefits to the entertainment industry, including increased accessibility, global reach, audience engagement, data-driven insights, cost-effectiveness and a new revenue system.
What is entertainment in mobile applications?
Entertainment in mobile applications refers to the various forms of content and activities designed to entertain users on their mobile devices such as games, streaming services, social media and other multimedia content.
Why are mobile applications critical in the entertainment industry?
Mobile apps are important in the entertainment industry as they provide a convenient and accessible way for users to access a wide range of entertainment content and activities anytime and anywhere, driving engagement and revenue for the entertainment business.
https://www.bigscal.com/wp-content/uploads/2023/05/Entertainment-App-Development-And-Digital-Transformation.png
532
1200
Pankaj Vaghela
https://bigscal.com/wp-content/uploads/2018/03/bigscal-logo1.png
Pankaj Vaghela
2023-05-10 10:00:37
2023-05-10 10:00:37
Entertainment App Development Innovating the Entertainment Industry through Digital Transformation