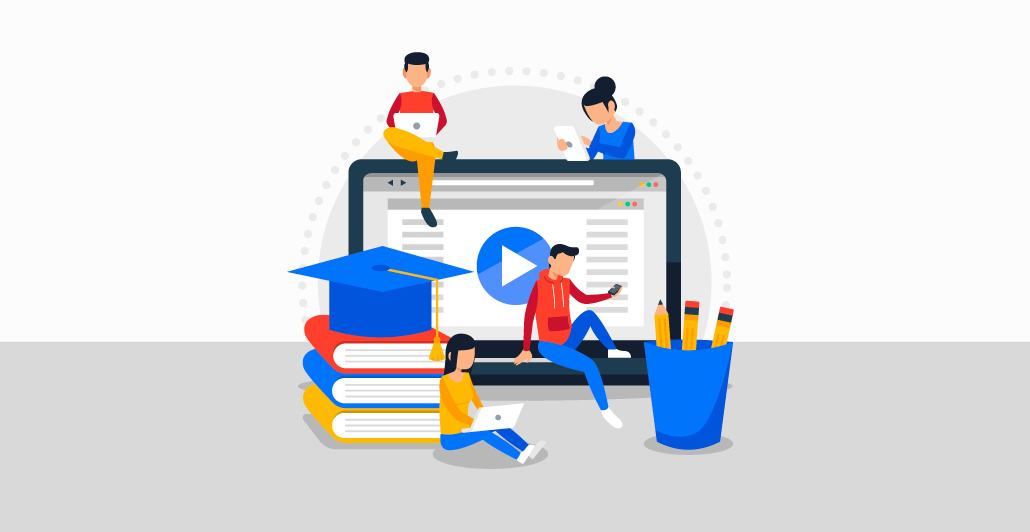 Innovative Ideas that Educational Startups should consider in 2023
"Education is the most powerful weapon which you can use to change the world." – Nelson MandelaA quote uttered so long ago still holds true today. The quote from Nobel Peace Prize winner Nelson Mandela is truly motivating and inspiring to learners around the globe. In this modern world, education is becoming a weapon that is changing the world through more advancement, modernization, and transformation.
With advancements in technology and shifting social needs, education has taken a new direction in the form of e-learning. The conventional way of teaching and making students learn has now been replaced by innovative educational app development.
Today, every educational institute and university is equipped with apps for learning to keep learners excited about education and make them learn things smartly. Hence, businesses today are quickly investing in e-learning and developing educational apps.
The expected growth of the education app market through 2024 is $46.88 million, with a CAGR of 26% every year from 2020-2024.
What is the Importance of Educational App Development?
The modern world has apps for everything, and education is no exception! In fact, after COVID-19, the demand for education apps has increased significantly. The creation of educational applications has gained importance as it provides a novel method of learning that is both accessible and entertaining.
Educational applications aim to give users a personalized learning experience that caters to their unique requirements and interests. These apps provide various educational resources, such as interactive tests, movies, quizzes, gaming, and simulations, which can improve learning.
Moreover, as a cost-effective substitute for conventional classroom-based learning, educational apps are also flexible and convenient. In this sense, creating educational apps is fundamentally changing how we learn and improving accessibility, engagement, and effectiveness for learners of all ages and backgrounds.
Read more: Build Educational Apps: Your Complete Guide to Engaging Learning Experiences!
7 Unique App Ideas that Educational start up should considered in 2023
If you want your education startup to stand out in the market and stay one step ahead of the competition, your educational app ideas should be distinctive. The needs of the modern education industry are distinct and ever-evolving and require quick solutions to learners' difficulties and concepts that are simple to comprehend and adapt to their learning.
Hence, it is essential to consider app user age, needs, requirements, and purpose of educational software development. Moreover, organizations can consider following trending app ideas to target audiences and curriculum requirements to build an educational app.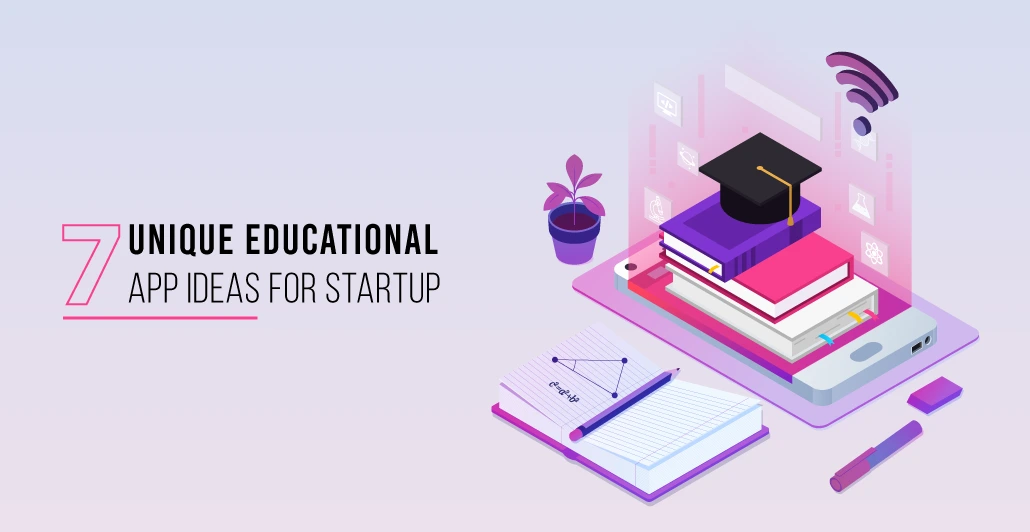 Apps Loaded with Virtual and Augmented Reality
Virtual and augmented reality (VR/AR) have significantly gained popularity in educational apps because they can improve learning and engage students in a manner that conventional techniques cannot.
The Virtual and augmented reality (VR/AR) apps give students a hands-on, immersive experience traveling to various locations worldwide or experiencing multiple spaces. From the comfort of their classroom, students could visit multiple cities, landmarks, historical places, virtual planets, space, and more. Students may glance around and explore their surroundings thanks to the app's 360-degree panoramic images of various sites.
The app would have educational content and quizzes to assess pupils' understanding of the names of the planets, various places, and other topics. Adding audio recordings of local native speakers in each area might also present language acquisition opportunities.
A Technavio analysis predicts that between 2022 and 2027, the global market for AR and VR in education will expand at a CAGR of 52.37%. Furthermore, according to a Pearson survey, 59% of teachers think VR/AR technology will become a standard learning environment component within the next ten years.
Hence, AR-based educational apps have capabilities that can make your app unique and make learning easy for students. More than that, AR/VR capabilities can make learning for students seamless and enjoyable, which brings transformation and more engagement to your educational solution.
Apps for Handicap Students
Educational apps that can meet the needs of students with impairments are becoming increasingly necessary. The World Health Organization estimates that more than 1 billion people, or 15% of the global population, live with some form of disability.
Creating educational apps for students with disabilities can help bridge the achievement gap and guarantee access to the same educational opportunities as their peers.
Using the most recent technology, educational app development companies can create tailored educational experiences for students with a range of disabilities, such as visual impairments, hearing impairments, or cognitive disabilities. The learning experience can be tailored by the app to the individual requirements and skills of the student using adaptive technology.
Moreover, Education enterprises can include Innovative Education App Ideas with features like text-to-speech functionality for students with vision impairments or audio descriptions for students with hearing impairments. Incorporating features like rewards and progress tracking, it could also use gamification techniques to make learning more exciting and interactive.
According to a report by allied market research, the global market for assistive technology, including educational apps for students with impairments, is anticipated to expand at a CAGR of 6.9% between 2021 and 2030. Additionally, according to a National Centre for Special Education Research study, students with disabilities who used educational technology outperformed those who did not on tests.
Therefore, to transform the educational system for disabled businesses can approach to mentioned unique ideas to grab market attention. Moreover, the scope of the competition is low in disabled educational apps compared to other fields; hence it is worth investing in Education app development for people with disabilities.
Career Education and Training App
The demand for career education and training is growing as the competition in the global job market increases. According to a report by Cision, the global corporate training market is anticipated to expand at a CAGR of 8.77% between 2021 and 2026. An excellent method to give students and job searchers the skills and knowledge they need to succeed is to create an educational app focusing on career education and training.
Considering Unique App Ideas For Students, this app should provide users personalized guidance on career paths and training opportunities based on their interests and skills. The app should include resources for job searching, career assessments, and connections to mentors and industry experts.
Moreover, the app should also provide a collection of tutorials, webinars, online videos, training materials, and courses. Users could keep track of their progress and receive badges or certificates for finishing training courses.
This unique educational idea can succeed if technology is used correctly and the right features are integrated into apps. Due to the lack of competition in this area, creating agile software with a significant impact can revolutionize the education industry.
Education Apps for Mature
The education market is not simply for young pupils. Additionally, there is a rising need for educational tools and resources for mature students. According to a report by Global Newswire Insights, the global e-learning market is anticipated to reach $457.8 Billion by 2026, with a significant chunk of this increase driven by the mature learner sector.
It can be a great idea to create instructional apps specifically for adults who are learning.
An organization can create an educational app for mature users that gives users access to lessons and resources on various subjects, from science and technology to history and literature. The app can offer quizzes, online forums, and interactive video lectures to encourage user interaction with the content.
Users of the app might also have access to tools for job searching, materials for creating resumes, and mentorship possibilities. Users could keep track of their progress and receive badges or certificates for finishing programs or courses.
Additionally, including some features for people of all ages can help your educational app stand out, boost your startup, and maximize your ROI. The app's ability to cater to all users' needs can increase app engagement and set your school apart from the competition.
E-learning Apps with Native Language
The demand for educational tools and resources in the user's local language is rising. According to a report by Ambient Insight, the global market for e-learning in non-English-speaking nations is anticipated to expand at a CAGR of 23% between 2020 and 2025. This growing demand can be met by creating educational apps that provide resources and courses in the user's native language.
Users can access a range of courses and materials in their local language, from fundamental language acquisition to complex themes in science, math, and literature, thanks to administrators' ability to build educational apps with native language support. The app can offer interactive video lectures, tests, and exercises to encourage user interaction with the content.
Additionally, the app can integrate access to a community of teachers and native speakers who can offer direction and feedback on their language learning progress. Users could keep track of their progress and receive badges or certificates for finishing programs or courses.
Building a native-language app can revolutionize the educational sector, particularly in developing nations. These apps can teach users how to create software, improve their skills, create unlimited opportunities, and more. Given that fewer people speak English than other languages, investing in creating such apps is one of the top ideas for educational apps.
Game-based learning App
Creating an educational app that focuses on game-based learning is a great option to provide kids with a fun and engaging educational experience. Since it has been demonstrated that game-based learning increases student engagement and motivation, it is becoming a more common teaching method. The global market for game-based learning is predicted to expand between 2021 and 2028 at a CAGR of 15%, according to a Global Market Insight report.
A game-based learning app's original concept is to offer users a selection of educational games that span subjects like arithmetic, science, language arts, and social sciences. The app might have games, challenges, and interactive tests to aid learning and memory in students.
The app can also have features like leaderboards and achievements to encourage kids to play and learn more. The program also allows teachers to design games for their students depending on their hobbies and unique learning needs.
Creating a game-based learning app is a great approach to give students a fun and interesting educational experience. A good addition to the education industry can be game-based learning apps, which give users access to a wide range of educational games and materials to aid in learning and memory while having fun.
Quiz and General Knowledge App
An increasing number of people are looking for educational apps that let them test their knowledge and discover new material pleasantly and engagingly. Creating an educational app with a quiz and general knowledge focus can be a great method to satisfy this rising need.
It is an innovative app idea for students that offers students a selection of quizzes on subjects including history, science, literature, pop culture, and more. The app might have multiple-choice, fill-in-the-blank, and true/false questions to assess users' knowledge.
Along with these features, the app might integrate leaderboards, achievements, and timed quizzes to encourage users to keep playing and learning. Users could even design their quizzes and distribute them to the neighborhood.
A great method to satisfy the rising demand for educational applications that assist students in testing their knowledge and learning new material is to create a quiz and general knowledge app. Quiz and general knowledge apps can be a great addition to the education market as a fun and engaging way for users to learn and retain information while testing their knowledge.

How can Educational App Development Ideas Make a Difference in Educational Industries?
Ideas for educational app development can potentially alter the educational sector significantly. Here are a few examples:
Access to education improves:
People from all backgrounds may learn more easily thanks to educational apps. Thanks to educational applications, students may access educational resources anytime, anywhere, even in places with few traditional educational resources.
Learning that is personalized:
Educational apps can build to accommodate each student's unique demands and learning preferences. Allowing students to learn at their own pace can improve learning and make it more interesting and valuable.
Enhanced student engagement:
Gamification and interactive elements can be used in educational apps to boost students' motivation and engagement. Better learning outcomes and enhanced academic achievement may result from this.
Better teacher-student communication:
Educational apps can help teachers and students communicate more effectively. Such apps are useful for sharing educational resources, submitting assignments, and giving feedback.
Data-driven insights:
Educational applications can offer educators valuable data insights that can be used to improve their understanding of the learning process and better adapt their teaching strategies.
In general, educational app development concepts have the power to completely alter how individuals interact with and learn from educational materials. We may anticipate seeing more cutting-edge educational apps as technology develops, which will improve the educational process and support the industry's expansion.
How Bigsacl can Help you in Educational app Development Concepts?
With a seething revolution in technology and advancement in the education industry educational organizations need the aid of seasoned education app developers like Bigscal.
We have profound knowledge and experience in developing customized education apps and software. Moreover, our experts are skilled and trained to deliver unique ideas for educational apps. We are equipped with all required back-end and front-end app developers who craft a solution that satisfies customers' needs.
Conclusion
The powerful weapon: Education has become more powerful than ever before and is anticipated to get more powerful. Hence educational institutions need to be ready with the right tools to transform the educational industries. Developing educational apps with unique ideas will make a difference and bring transformation.
Moreover, the success of educational apps is not limited to their unique ideas; businesses need to hire dedicated developers for app development. Organizations can also look for seasoned Educational App Development Companies to get trusted and profound education app development services.

FAQ
What are some interesting education app ideas?
There are many interesting education apps ideas that organization can consider while developing an education app:
Vocabulary building games
Math problem solvers
Flashcard apps for various subjects
Educational trivia games
Foreign language learning apps
Reading comprehension exercises
Science experiment simulations
Time management and organization tools
Career exploration resources
Coding and programming tutorials
Critical thinking games
Music theory lessons
Virtual field trips and tours
Mind mapping and brainstorming tools
Note-taking and study aid apps
What are the benefits of an education app?
Education apps can transform the way of learning today. The apps with the help of technology makes the learning interesting, easy, and flexible. Moreover, it provides the learner a cushion to learn different things from anywhere, anytime.
What is the trending technology for mobile app development?
Flutter, AI, 5G technology, React Native, Internet of Things (IoT), Augmented Reality (AR) and Virtual Reality (VR), and more are a few of trending technologies that are in use for mobile app development.
What are the best technologies for app development?
The selection of technologies for app development is influenced by a number of variables, including the app's specific needs, target platforms, the skill level of the development team, and the project's timetable. However, the following well-known technologies are regarded as some of the best for app development:
Native App Development
Cross platform App Development
Progressive Web Apps (PWA)
Hybrid App Development
IOT
How to hire a developer for an education app?
To hire a developer for an education app the organization should look for a seasoned app development consulting company. They can help with dedicated education app developers that provide organization round the clock app development services. Moreover, organizations can also look for freelance developers that can help organizations with app development. However, if an organization is looking for high-quality, robust, and sustainable app development then organization should hunt for app development consulting company.
https://www.bigscal.com/wp-content/uploads/2023/05/Educational-App-Ideas-That-Startups.png
532
1030
Pankaj Vaghela
https://bigscal.com/wp-content/uploads/2018/03/bigscal-logo1.png
Pankaj Vaghela
2023-05-09 10:01:20
2023-09-22 10:21:07
Innovative Ideas that Educational Startups should consider in 2023