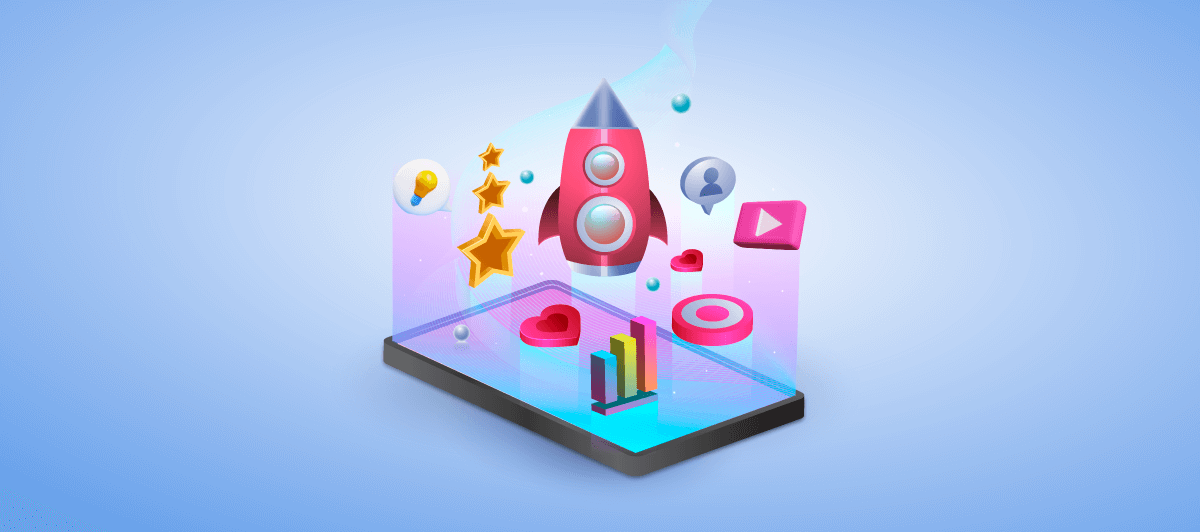 Skyrocket Your Business With Media & Entertainment Apps
The rapid rise of entertainment app development solutions is redefining the future of media and entertainment. Users are interacting with media in new and innovative ways thanks to these apps, which provide more authentic, inclusive, and user-generated content.To stay ahead in the ever-evolving landscape, media and entertainment companies must embrace the power of apps to cater for the demands of a larger consumer market.
With the cutting-edge app development solution, media and entertainment businesses can create, share and engage with captivating content.
The purpose of this post is to discuss the media and entertainment industry trends that are shaping the future, how digitization is playing a key role in it, and why you need an app development company.
"Don't miss the opportunity to satisfy the ever-evolving demands of today's consumers with a groundbreaking app!!!!"
Few Compelling Reasons to Adopt an App
Business owners can benefit greatly from media and entertainment apps in several ways:
Firstly, it helps businesses stay competitive by providing a platform for creating highly-engaging content and reaching a broader audience.
Secondly, it provides you with new and innovative ways to monetize content including in-app purchases, subscriptions and advertising. In addition, you can render recurring earnings.
Thirdly, media and entertainment apps provide valuable insights into consumer behaviour that help businesses to make informed decisions to scale their profit. Also, optimize their product and services according to customer needs.
Additionally, adopting media and entertainment apps help business to step into the global market and access wider audiences.
Top-notch entertainment apps worldwide 2023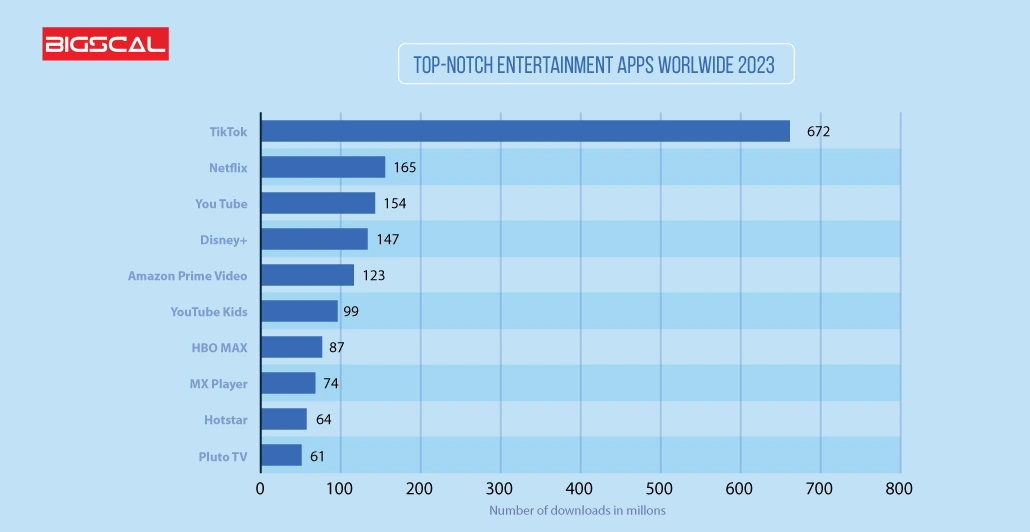 The entertainment app market is constantly evolving. Some of the leading entertainment apps worldwide are Netflix, Spotify, Tiktok, Youtube etc.
To successfully compete with established media and entertainment industry leaders, it is imperative to conduct thorough market research and personally test the existing apps' features.
In addition, this will allow you to understand consumer behavior better, identify potential market gaps, and develop your own product with innovative and competitive benefits.
The Impact Of Gen Z On The Media And Entertainment Industry
Gen Z is transforming media and entertainment with digital technology. Currently, media and entertainment content are consumed mostly online. As a result, digital platforms such as TikTok, Instagram, and YouTube have emerged.
Due to Gen Z's increasing demand for authenticity and transparency in media, genuine content is expected from content creators. This has put immense pressure on the media and entertainment industries to be open and honest about what they believe and value.
As a result, there is an increasing demand for entertainment app development solutions to meet the unique needs of Gen Z. Therefore, it is crucial to design contents that foster transparency, user-generated content and provide an interactive experience.
Overall, It is imperative to fulfill the demands of Gen Z to stay competitive in the rapidly evolving media and entertainment landscape.
How Brands Can Leverage Media And Entertainment Apps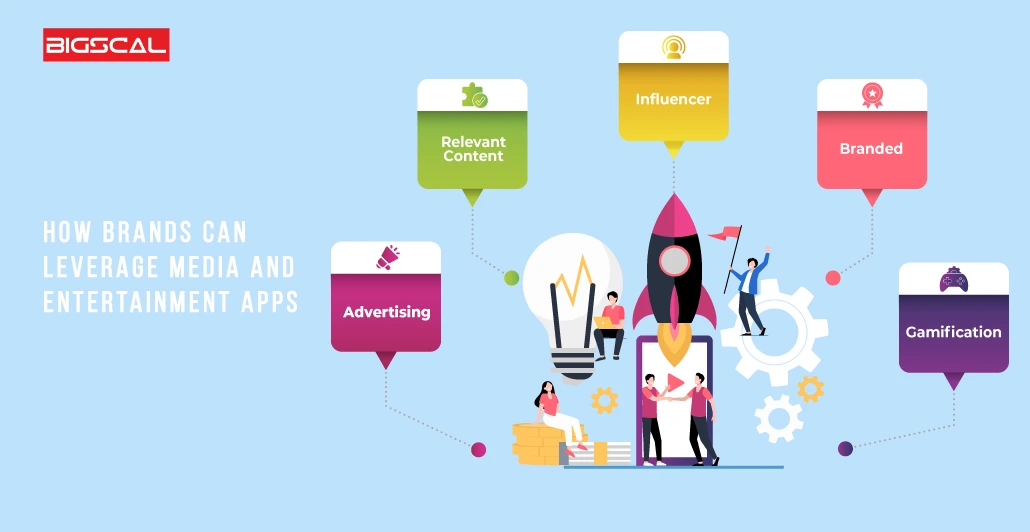 Media and entertainment app development solutions offer an incredible opportunity for brands to access a wider audience across the globe. Brands can leverage media and entertainment apps in the following ways:
1. Advertising
Brands can access a larger audience by leveraging apps for advertising. Moreover, media and entertainment apps offer brands an extensive user base for in-app advertising. Using programmatic advertising, brands can reach the right audience by displaying ads tailored to their interests. Additionally, this approach allows a brand to optimise its advertising efforts. Thus, enabling them to reach the desired audience with these highly-engaged apps that boost engagement, conversions and brand exposure.
2. Relevant Content
By sponsoring podcasts and live events, businesses can increase their visibility and integrate their brand with relevant content. These platforms also help brands reach a targeted audience and engage them more personally and authentically. Additionally, help companies to boost their brand awareness, drive sales and achieve their marketing objective.
3. Influencer marketing
Brands can amplify their advertising efforts by collaborating with influencers who boast a significant following on media and entertainment applications. Furthermore, these influencers have a wide reach and can encourage people to buy our products and services. Influencers help the brand to create buzz, generate excitement and drive sales.
4. Branded Content
Businesses can leverage their production capabilities to create engaging films and articles tailored to their target market. This assists them to enhance their brand value. By generating compelling content, the business can captivate its audience, build brand recognition and foster customer loyalty. Additionally, strategic content creations are an effective way for businesses to establish their presence in the media and entertainment industry.
5. Gamification
Using gamification, businesses can create interactive games and features for media and entertainment apps. These features offer fun and create an engaging user experience and promote the brands effectively. In addition, businesses can utilize it as a powerful advertising tool by strategically integrating their products or services. Gamification enables businesses to connect meaningfully with their customers in the dynamic landscape of media and entertainment apps by leveraging the power of play.
‍Leveraging Ai And Machine Learning To Develop Entertainment Apps
Artificial intelligence and machine learning offer immense benefits to entertainment app development. Furthermore, by leveraging these technologies businesses can analyze user data such as history, preferences and behaviour. It also enhances user experiences by providing personalized recommendations, optimising content delivery and automating content moderation.
ML and AI also enhance search capabilities by understanding the patterns of user searches and delivering more accurate search results.
Leveraging AI and Ml in Media and entertainment app development provides accurate data for user behaviour prediction. These technologies predict user needs and provide personalised content and features. This enhances user engagement and satisfaction, increasing app usage and better retention rates.
In addition, automated content management can improve app performance and enhance the user experience by keeping up-to-date with user preferences.
A Look At How Entertainment Mobile Apps Will Develop In The Future
Media and entertainment app development will thrive through continuous innovation, shaping the future of how we consume and interact with content. Media and entertainment apps will create innovative and immersive experiences as technology advances and user expectations increase. Below we emphasized some major development:
1. AR/VR technology
Augmented and virtual reality have revolutionized media and entertainment applications. It provides users with an immersive experience. Furthermore, AR/VR allows users to interact with the apps in a natural and intuitive way. As AR/VR technology advances, the media and entertainment industry is poised for further expansion, offering even more exciting and realistic experiences for users.
2. Personalization
The integration of AI and ML algorithms is transforming the way media and entertainment applications are delivered. With these advancements, apps can provide personalized content and recommendations based on user behaviour, preferences, and even emotions.
3. Integration of social media
By integrating social media functionalities, users can share content with others. Furthermore, this fosters social connectivity and meaningful interaction. This integration empowers users to interact with others and create a more vibrant user experience. Overall, it enhances user satisfaction and engagement.
4. Streaming Services
The advent of streaming services has transformed the entertainment industry. With their convenience, affordability, and vast content libraries streaming services have revolutionized media consumption. In addition, streaming services have contributed to innovation in technology, content delivery, and user experience, influencing app development.
5. Mobile-first strategy
In today's mobile-driven world, media and entertainment applications must prioritise mobile-friendliness. With the increasing popularity of using mobile apps, it is crucial to optimise the apps to provide enjoyable and seamless user experiences. Ultimately this drives more engagement and retains users in this competitive landscape.
How Can Bigscal Help The Media And Entertainment Industry?
Bigscal is a leading mobile app development company that offers everything you need to succeed in the media and entertainment industry. Firstly, Bigscal implement exceptional digital marketing strategies that help clients to increase their brand awareness and engagement with the users.
We specialize in creating custom solutions that fulfill all the needs of the media and entertainment industry.
Our solutions are aimed at building your brand name, ensuring that it stands out amidst the competitive landscape of the entertainment app market. We are committed to creating cutting-edge mobile apps that are optimized for user engagement and provide a seamless and immersive experience to the user.
Trust Bigscal to keep your brand at the forefront of the ever-evolving landscape of entertainment apps. We deliver an innovative solution that captivates your audience.
Wrapping Up
In the future, a variety of trends and innovations will shape the media and entertainment industry. Building a media and entertainment app is an excellent tool to accelerate business growth. With the increasing reliance on digital platforms for content consumption, an app can provide an immersive and personalized experience leading to increased user engagement. As technology continues to evolve, hiring a mobile app developer will be a strategic move for businesses to stay ahead of the competition and thrive in the ever-changing landscape of the industry.

FAQ
How will the media and entertainment industry evolve in the future?
The media and entertainment industry will continue to grow as technology advances. This provides personalized and interactive experiences to users across numerous platforms.
How do streaming services impact the entertainment industry?
Streaming services have transformed the entertainment industry by changing the way people consume and access content. Consequently, the media industry has had to change its revenue models, production methods, and distribution channels.
What are the media and entertainment industries?
The media and entertainment industries encompass a wide range of sectors including film, television, music, gaming, publishing and more that create and distribute content for mass consumption across various platforms and channels.
What is the role of entertainment apps?
Entertainment apps provide digital platforms for users to access and consume various forms of content such as movies, TV shows, music, games, media and more for leisure and enjoyment on their mobile devices or digital platforms.
What are the benefits of media and entertainment apps?
Entertainment apps provide several benefits such as audio and video streaming, increased audience reach, push notifications, in-app purchases, providing data insights and fostering user engagement.
https://www.bigscal.com/wp-content/uploads/2023/04/Skyrocket-Your-Business-With-Media-Entertainment-Apps.png
532
1200
Pankaj Vaghela
https://bigscal.com/wp-content/uploads/2018/03/bigscal-logo1.png
Pankaj Vaghela
2023-04-28 16:29:58
2023-04-28 16:57:59
Skyrocket Your Business With Media & Entertainment Apps