A Complete Guide On Hiring Offshore Development Teams In 2023
Quick Summary: This comprehensive guide offers valuable insights into hiring an offshore development team. It covers essential factors to consider, benefits and challenges, tips for successful collaboration and key steps in the hiring process to help businesses make informed decisions when outsourcing their development needs.
The outsourcing of developers has grown increasingly popular around the world in recent years. Offshore developers are in greater demand every day. Choosing the right offshore development teams is crucial for any business looking to develop software.
Whether you are a startup or an organization, thorough research and due diligence are necessary to ensure a successful and cost-effective outcome.
What factors are essential to consider before hiring offshore development teams to meet your project requirements, what offshore software development companies to seek out, and how to find an offshore team?
It is crucial to take these factors into consideration when making a decision in order to ensure a successful project.
This comprehensive guide will provide some valuable insights on hiring offshore development teams. Let's get started!!!
What Is Offshore Software Development?
Offshore software development is the practice of outsourcing software development tasks to a company or team located in a different country. In addition, this gives companies access to a larger pool of talent and helps them reduce costs.
Today, offshore development services extend beyond mobile and web app development. There are a variety of services businesses hire offshore software developers for, including website maintenance, software development, training and consulting, front-end development, UI/UX design, and cloud app development. Thus making them valuable in fulfilling all business requirements.
The most preferred offshore development destination in the offshore market is India. Countries like the USA, Australia and new-zealand hire offshore development teams from these locations due to lower wages.
Offshore Software Development – Pros Vs Cons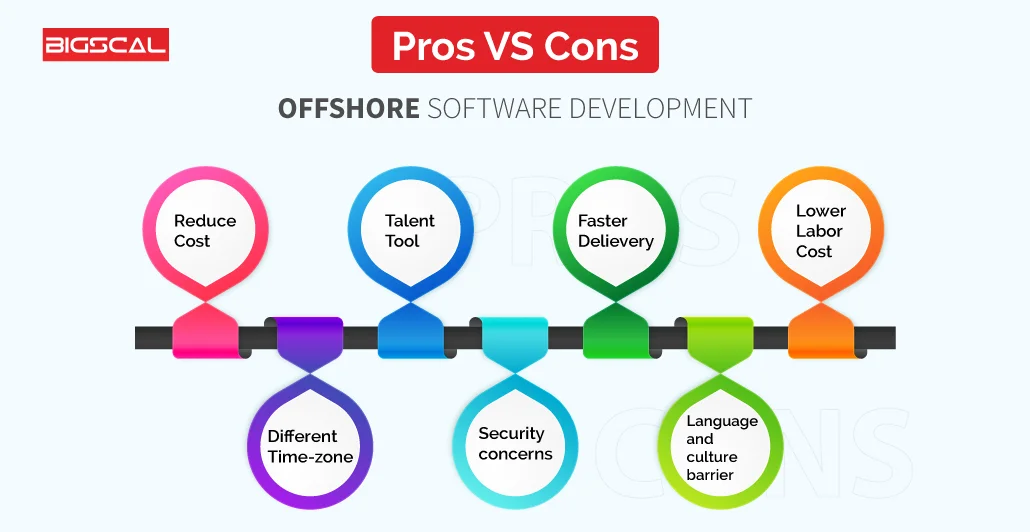 Before you hire an offshore software development company, It is important to consider the pros and cons of the offshore model.
Pros Of Hiring Offshore Development Teams
Below we highlighted the benefits of hiring offshore development teams:
Reduce cost
Offshoring allows startups to hire software development teams from countries like India at lower wages, resulting in significant cost savings. Furthermore, this is an effective model for startups looking to reduce labor costs and save money without compromising quality. With this model, startups can access highly skilled developers at a lower cost than they would have to pay in their home country.
Talent pool
A vast pool of adept workforce is available at offshoring locations such as India. In most cases, U.S. companies prefer to recruit offshore software development teams from Indian locations.
Software development companies in India are easy to find, as they have a large pool of domain experts, college degree holders, and skilled workers.
Faster Delivery
By partnering with a software development company, you can leverage the skills of skilled developers. Furthermore, they are experienced in delivering software applications and ensure a faster development approach by leveraging agile methodology.
Moreover, this helps businesses to build a reliable offshore app development team and delivers the product faster in the market.
Cons Of Hiring Offshore Development Teams
Hiring offshore development teams has significant advantages, but it also has some drawbacks:
1. Different Time-zone
Working with an offshore development company is challenging due to the time difference. It is sometimes difficult to communicate between different geographical locations, which delays product development.
Solution: If you want your in-house and offshore teams to work together seamlessly, pre-scheduled calls can be set up with the offshore team.
Also read: Mastering Time Zone Challenges Strategies for Effective Collaboration with Offshore Development Teams
2. Security concerns
Choosing an offshore development company without a security audit can be risky. In order to protect private data, regular audits are essential before handing over.
Solution: Get their signature on the NDA policy before starting the project. By doing so, you will be able to ensure that sensitive data or ideas will not be divulged.
3. Language and culture barrier
Offshoring can expand a company's reach beyond geographical limitations. But cultural and linguistic differences can pose significant challenges. These differences can lead to misunderstandings and a lack of cohesion, making it difficult for teams to work together effectively and achieve common goals.
Solutions:
Establish clear communication channels and protocols.
Encourage open and transparent communication.
Leverage technology and tools for collaboration and knowledge sharing.
Promote a culture of respect and understanding.
Difference Between Onshore Vs. Nearshore Vs. Offshore Software Development
Based on the client's demographic location and the partner's software development services, these three service models look different. Let's discover the difference between onshore vs. nearshore vs. offshore software development.
How Do Offshore Software Development Services Benefit You?
Increasingly, startups and large corporations are turning to offshore software development services for mobile and web application development. Check out the reason: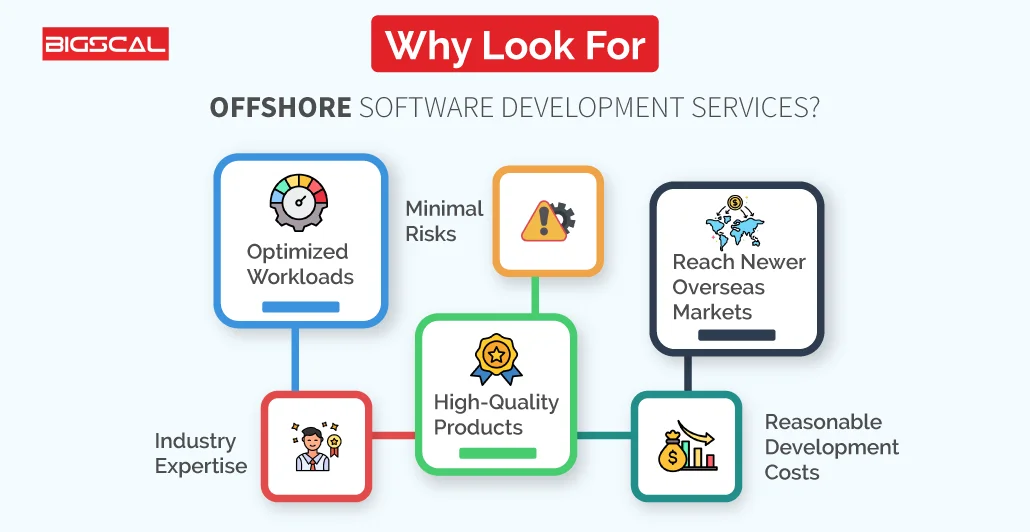 1 Optimized Workloads​
A dedicated offshore software development company handles all the responsibilities of the project and ensures successful outcomes. Additionally, you can focus on the core activities of your business and on interacting with clients while we handle the development.
2 Industry Expertise
You can hire offshore developers teams with good industry experience Furthermore, several offshore software development companies build well-trained offshore development teams with a robust technology stack. This is the core advantage of hiring dedicated development teams that adds significant value to the entire development workflow.
3. High-Quality Products​
When one takes into account all of the benefits discussed above, one can conclude that offshore development teams are capable of producing high-quality software products. These offshore development companies offer web development, product design and other services to meet your business goals cost-effectively. But still, check references and portfolios before taking long-term decisions.
4. Minimal Risks​
The best offshore software developers are a valuable asset to your project, as they mitigate inherent risks. It will be the responsibility of your offshore software development services to implement the best approaches to optimize flexibility and minimize downtime.
5 . Reasonable Development Costs
In general, offshore development companies offer competitive pricing models and the best services in the industry to their prospects and clients. Many IT companies prefer India because it has a high availability of skilled IT professionals, limited resources, and low tax rates.
6. Reach Newer Overseas markets
Having an offshore software development company in another country enables you to explore new markets in different overseas locations with the help of your offshore team. Your offshore software development teams better understand their regional markets & trends, and business risks that you may not be able to identify soon. They can help you carry out your business at profitable offshore destinations.
Also read: The Strategic Benefits of Offshore Development Services for Startups
When Should You Hire Offshore Developers Teams?
Below we curated the list of some critical factors that help businesses to make tangible decisions when hiring offshore development teams.
When in-house resources are limited or unavailable.
Cost savings are a priority.
When specialized skills are a priority.
To Use cutting-edge technologies and resources.
When scaling quickly or on a tight deadline.
A high level of competition.
To speed up the application development cycle
When seeking to expand global reach and expansion.
Also read: How to Find and Hire the Perfect Dedicated Development Team for Your Project
Checklist For Hiring Offshore Development Teams
Below we have curated a list that helps businesses in hiring offshore development teams:
1. Determine your needs:
In order to get the best fit for your business, you need to be clear about the skills you need and how they align with your goals.
2. Specify the technical skills needed:
Find out which languages, tech stacks, tools, frameworks, and experience are required. Comprehend the 'must-haves' skills.
3. Consider cultural fit:
It might be the case that they have technical skills, but what about their cultural compatibility? It only works if you share the same values and vision.
4. Build a clear job description:
In the job description, include items 1 to 3 to convey a crystal clear idea of what's needed and why remote developers should be interested in working for you.
5. List Your Priorities:
Are budget, technology capabilities, time zone differences, faster delivery, and quality your top priorities? Based on that, you will be able to write down your preferences more easily.
6. Seek recommendations:
Make sure you do your homework before hiring. Examine their background via testimonials and reviews.
Also read: Essential Steps for Collaborating with a Dedicated Development Team
Reasons For Hiring Offshore Development Teams
It is the most reliable and economical method of growing a business and meeting customer demands for software startups and scale-ups to hire offshore developers.
1. Flexibility
Offshoring allows businesses to quickly augment their workforce size without a long-term commitment. Furthermore, this eliminates the cost associated with hiring and maintaining long-term employees. It provides flexibility and scalability, making it an ideal option to respond to the ever-growing requirements of the business.
2. Scalability
An offshore team assists you in adjusting capacity to accommodate fluctuating demand while saving time and money by handling recruitment processes. Furthermore, this enables the company to focus on their core competencies while having the resources they need to accomplish their goals. As development ramps up, you don't need to recruit in a highly competitive market frantically; you can use an on-demand offshore team.
3. Cost-effectiveness
If you search outside your own country or continent for software developers, you will gain a competitive advantage. Furthermore, it helps businesses to access a huge pool of pre-vetted talents. Remote development teams provide a more cost-effective solution.
4. Broader talent pool
The benefits of hiring offshore development teams include access to a global pool of creative and talented IT professionals. Furthermore, your business can benefit from their assistance in clearing backlogs and being able to adjust to future changes. Also, a team of agile-trained developers can quickly jump on board and assist you with your next sprint.
5. Hiring offshore developers are cost-effective
The cost of hiring offshore development teams can be much lower than hiring a local team within your country. Additionally, if you require more than one offshore developer, then you are better off hiring an offshore development company.
How Bigscal Helps You In Hiring Offshore Development Teams?
Bigscal helps in hiring offshore development teams by providing a platform that connects businesses with experienced and skilled developers from around the world. With our vast network of tech talent, we help companies find and hire developers who possess the specific skills and expertise needed for their projects.
Moreover, Bigscal project management and quality assurance tools ensure that the development process is streamlined and the final product meets the company's expectations. We help businesses to access top talent from around the world and complete their development project in a timely and cost-effective manner.
Conclusion
The purpose of this article is to explain the benefits of hiring offshore development teams for a tech startup and why this is the best choice. Choosing a reliable offshore software development services provider like Bigscal is an excellent option for businesses looking to reduce costs, accelerate time to market and achieve quality markets.
You can ensure your end product meets your needs with Bigscal's customized software development solutions and round-the-clock working model. Partnering with Bigscal helps the business achieve its software development goals effectively.

FAQ
How to handle offshore developers?
Managing offshore developers requires clear communication, expectation setting, guidance and regular feedback. Furthermore, use project management tools to track progress, establish trust, and maintain communication. Ensure deadlines are met and establish a strong working relationship to maximise productivity and successful outcomes.
What are the risks associated with hiring offshore development teams?
Risks of hiring offshore development teams include cultural differences, communication barriers, time zone differences, potential for miscommunication, lower quality work and difficulty with managing remote workers. Therefore, It is recommended to hire a reliable and reputable outsourcing company and conduct thorough background inspections.
How I can find an offshore team?
LinkedIn, freelancing platforms, and offshore development outsourcing companies are some of the portals to find and hire offshore developers.
What are the benefits of hiring offshore development teams?
Offshore development teams offer cost savings, access to a larger talent pool, increased productivity, 24/7 support, and faster time-to-market for software development projects.
Why should I choose Bigscal as my offshore development services partner?
Bigscal provides high-quality offshore development services with a focus on meeting client needs, timely delivery, and cost-effectiveness. Our experienced team ensure efficient communication and project management.
https://www.bigscal.com/wp-content/uploads/2023/07/A-complete-guide-on-hiring-offshore-development-teams-in-2023.webp
532
1200
Bharat Godhani
https://bigscal.com/wp-content/uploads/2018/03/bigscal-logo1.png
Bharat Godhani
2023-07-31 10:00:17
2023-08-01 05:29:50
A Complete Guide On Hiring Offshore Development Teams In 2023