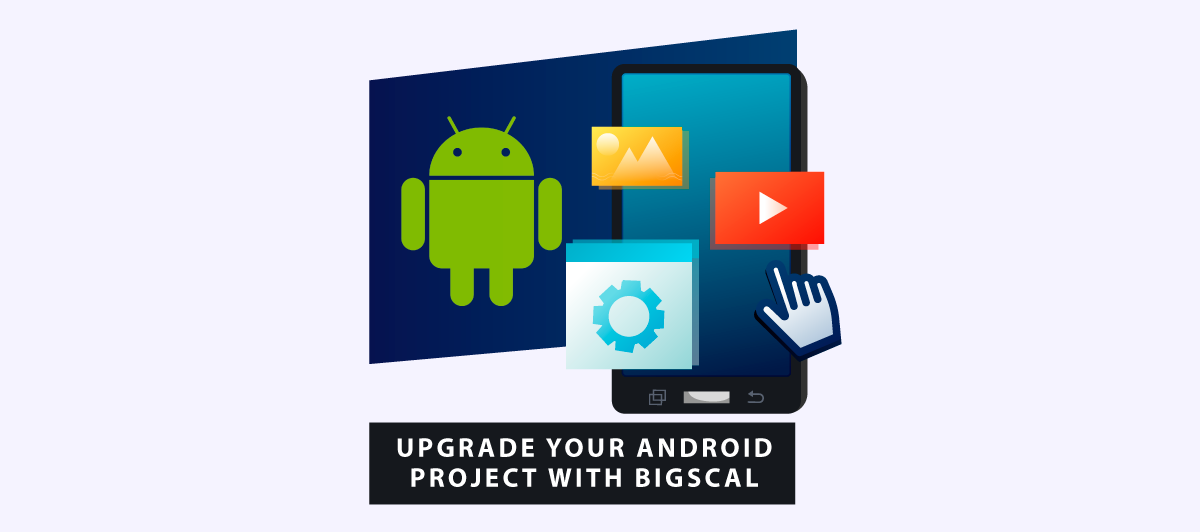 Reasons To Select BIGSCAL For Your Upcoming Android Projects
Quick Summary: Choose Bigscal for your upcoming Android projects and unlock a world of possibilities. Bigscal has a track record of providing first-rate solutions; we stand out as a trusted partner. Experience seamless integration of innovative features, robust performance, and impeccable UI/UX design. The dedicated team's expertise ensures timely delivery, cost-effectiveness, and a collaborative approach to realizing your vision. Elevate your Android projects with Bigscal and redefine success.
Introduction
In the emerging era, every business unit transforms into intelligent technology. As human needs increase, the use of technology drastically changes. In such a situation, you need a trusted app development partner. Here, BIGSCAL Provides the service per your requirements and your business needs.
Additionally, We are an outstanding example of innovation and knowledge that invites you to explore a world of unmatched possibilities. We stand out because we combine the expertise of our seasoned Android developers with a steadfast dedication to customer success.
Furthermore, Our strategy integrates technical skill and creativity to create cutting-edge features and seamless user experiences. In addition, our dedication to on-time delivery ensures that your project has a competitive edge even when you run out of time. Besides, you do not need to worry about Cost To Make An App because we can provide services at highly reasonable costs.

What is an Android project or Android software development?
Android software development is the process of creating new applications for devices running the Android operating system. Additionally, Java, C++, or Kotlin come under Android software development kit.
Reasons to choose Bigscal For Android Projects
Here, we usually consider a few points while developing an Application.
We Keep Updated With The Latest Market Trends
It is essential because that's how you'll know what users usually expect about the features of an app today. As technology advances, you must contemplate all your options and be aware of some winning ideas for mobile app development.
Passionate About Design Making
"Your app must impact on users the moment they first see it on Google Play."Nearly 2.2 billion apps are on Google Play; to stand out first, you should build a product as visually appealing as possible.
We Listen To The User's Requirements First
It is the best way to earn customer trust and loyalty; it can even grow your user base. Every time you pay attention to what they say about your app, you can make some adjustments and offer them a better product.
Constantly, We Build Our Portfolio
The importance of building a robust portfolio is undeniable, as this is how you get to practice and show all the things you can do. It is crucial, especially when you are a first-time user of the Android developer service. That helps you to gain ideas from our samples of work.

Conclusion
Understanding all these elements is very important to plan a strategy that builds the best suitable applications for your projects. We at BIGSCAL Technology Pvt Ltd offer the best Android App development services in Surat. Additionally, we have a team of highly specialized and experienced Android and IOS App developers who put your imagination into reality. We let our work speak for us.
When you choose Bigscal, you're not just partnering with a development team but aligning yourself with a shared vision of success. So, as you embark on your Android journey, remember that the pathway to achievement is paved with intelligent choices. Choose Bigscal and elevate your project into a place where success is the norm and ingenuity has no boundaries.
FAQ
Does Bigscal provide cost-effective solutions?
Yes, Bigscal offers cost-effective solutions by optimizing resources and scaling according to specific needs. Their services aim to minimize unnecessary expenses while providing efficient and scalable solutions for various business requirements.
Does Bigsacl provide the best software development services?
Bigscal is recognized for providing top-notch software development services. Their expertise, skilled teams, and track record of successful projects contribute to their reputation for excellence in the industry.
Can Bigscal help me develop an iOS app?
Bigscal specializes in iOS app development. Their experienced team can assist you in creating customized and feature-rich iOS applications that cater to your specific requirements and target audience.
Does Bigscal provide customized software solutions?
Yes, Bigscal offers tailored and customized software solutions to meet the unique needs of businesses. They understand that each organization has distinct requirements, and their expertise lies in creating software that aligns perfectly with those needs, ensuring optimal functionality and user satisfaction.
Can Bigscal meet deadlines?
Certainly, Bigscal is committed to meeting deadlines. Their efficient project management and experienced teams allow them to deliver projects on time, ensuring that clients' timelines and expectations are respected while maintaining the quality and functionality of the delivered solutions.
https://www.bigscal.com/wp-content/uploads/2023/09/Reasons-To-Select-BIGSCAL-For-Your-Upcoming-Android-Projects.png
532
1200
Ketan
https://bigscal.com/wp-content/uploads/2018/03/bigscal-logo1.png
Ketan
2018-05-24 03:34:05
2023-09-19 09:12:15
Reasons To Select BIGSCAL For Your Upcoming Android Projects