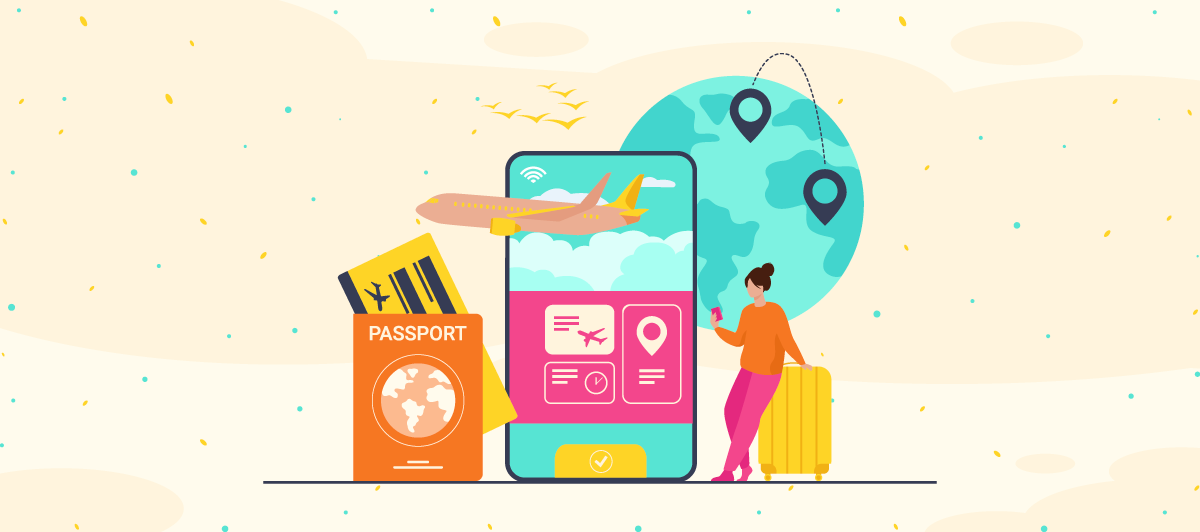 A Comprehensive Guide to Travel App Development 2023!
Are you someone who is looking forward to entering the travel market? Are you someone who is focusing on creating niche-specific businesses and exploring how things work? Well, if this is the case, it is advisable for you to research more and get more insights in detail.Likewise, if you are entering this field, you should be aware of how things work. In this article to help you in getting a broader prospect of the travel market. Here we are discussing how can you Build a Travel App. You might be wondering why is it essential to create an app.
Well, don't worry and keep on reading as this Guide to Travel App Development will put a full stop to all your doubts. Let's have a look!
What is Travel App Development?
Before exploring any other detail, primarily do know what travel app development is all about. Travel app development is a set of steps in need to follow for developing an app helpful in planning travel in a better way. There are so many different types of travel apps that are in consideration. Each of them has a different role to play.
Some applications are in consideration for booking tickets and some are in need to check the itinerary. It entirely depends on the business for which the app is created. After the successful creation of the app, it is ready to use. One can simply consider that under travel app development the steps are the same for creation. But the only thing that varies is the aspect for which the app is created.
Furthermore, there are some other features integrated into these apps. This includes weather forecasts, expenses for a particular trip, and so on. As soon as the details are available one can plan the trip accordingly. But as a business owner who is entering into this market, do know the type of app that suits your business needs and plan things accordingly.
Travel App Development: Market Size and Statistics:
As we all know every industry is currently on the boom. Among all these travel industries, online booking is experiencing a sudden rise. As per the research done, in 2022, it is 475 billion U.S. dollars. Well, it is expected to be 521 billion U.S. dollars by the end of 2023 and rise to over one trillion U.S. dollars by 2030.
In these reports, this revenue has been generated only by the online booking market. But the rest of the other niches also experienced a sudden growth and turned out to be one of the growing markets!
Why Should You Create a Travel App?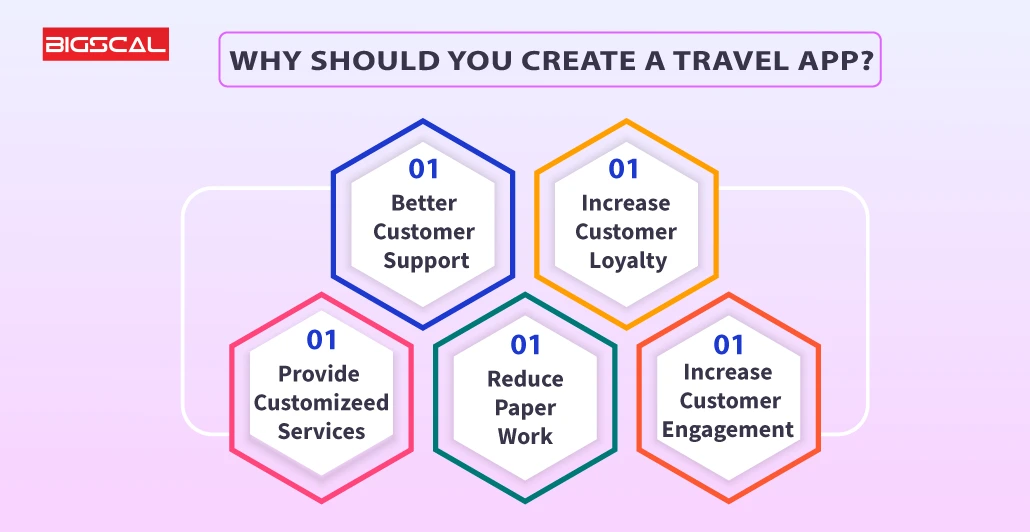 There are so many reasons that indicate that there is a need for you to create a travel app for your traveling business and these are as follows:
To offer better customer support:
Customer support is also very integral when it about designing any app for any business. Especially in the travel segment, the app you design is important to offer better customer support. Always design an app that is responsive and offers all the services to the customers as needed by them.
Improvement in customer engagement:
Customer engagement is something that cannot be neglected and that's why it is important to create a portal that helps customers to feel engaged. Whenever you are creating a travel try to integrate all the features that let customers engage more over it. You cannot end up with something which is contributing to a low retention rate. From offering bookings to integrating options that help them to customize their travel experience integrate every feature.
Do not confine the app to bookings only. Instead, add on all such features which help individuals to use the app during their traveling experience as well. The major features that you can add include forecasting a particular destination, places to visit nearby, and so on.
Reduction in paperwork:
The best part about travel booking apps is they contribute to a reduction in paperwork. There is no need for individuals to visit any cyber cafe to get the tickets booked because they can do it directly from the application. Also, right now the travel partners at the airports and Railway stations also consider the bookings done by the application. There is a QR code available which helps other parties to know that the service has been booked. This reduction in paperwork is a savior for the environment because in earlier times paper consumption was very high and right now it is at a low rate.
Improve customer loyalty:
Customer loyalty is important to look out for and being in such a market that fluctuates at a great pace, maintaining loyalty is important. By interacting with one of the best travel app development companies, you can simply look out for options helpful in maintaining customer loyalty. Discuss with the app development company about your agenda and not the methods they will follow to get customer loyalty. If they are able to provide you best answers as per your need you can rely on them for app development. If customer loyalty is not there no customer would like to retain the application and as a result, it will turn out to be a waste for you.
Offering 24/7 services to customers:
After having the travel App available a customer will be able to avail the services 24/7. In earlier times no such services were available where customers can get the services 24/7 and they have to wait to get the store open. But now the scenario has been changed and these applications are accessible 24/7. It doesn't matter in which area of the day they are planning to book the ticket or plan the itinerary; they will be able to get the details accordingly. Also in case they need to get in touch with customer support most applications have the same option as well. The businesses are focusing on providing a seamless interface to all the users around so that they can easily book services.
Types Of Travel Apps You Can Create In 2023:
After knowing about the important reasons, you might be curious to know about the Types of travel mobile apps that you can develop and these are as follows:
Travel Planning App Development:
The primary kind of app in consideration is a planning application. This application allows users to plan the itinerary in a way that there will be no problem at all. From choosing the destination to keeping things into consideration regarding the places they can visit and hotels they can stay they can plan each and everything with this type of application.
Travel Guide App Development:
Travel guide application is the application that allows users to have guidance throughout their journey. Some users are not aware of a particular destination and at that point in time they need a guide who can help them out. This kind of application turns out to be the same guide for them and they can have a hassle-free stay.
Ticket Booking App Development:
If you are in a business where you need to offer the option to users where they can book the tickets as needed then this kind of application is for you. As the name suggests this application is helpful in doing the booking accordingly. It doesn't matter whether you want to do the booking for railway tickets or airport tickets, this application is here for all your needs.
Hotel Booking App Development:
There are so many people around who have no idea how they will be able to book the hotels. In that case, the travel hotel booking app can help them out. If you are in a business where you have to tie up with certain accommodations at different locations link all these locations on your application. Whenever a user looks forward to a destination in the same location they will be able to access the same and as a result, they will gain more money. Just offer the option to do the bookings seamlessly.
Travel App Development for Car Rentals:
Car renting during a vacation is so difficult because people are not aware of how can they get the best car at reasonable prices. But when a Travel App Development for Car Rentals is there that can cater to their needs things are quite simple. Under that travel app development section, the car rental app also comes into and users can invest in it as needed.
Flight and transportation booking apps:
There are some applications available that are confined to flight and transportation booking only. If you are in the same business then considering this Travel App Development for Flight Booking type can help. This application is specially developed for all the travelers around who frequently book tickets for their journey.
Business Travel App Development:
There are so many businesses that are into traveling business and their application required so many features. For all of them around the business travel applications play a major role. These applications are loaded with all the features which are required by a business to operate with all the functionalities. There will be no problem for users when they wish to see the services from the same provider.
Travel Insurance Apps:
As you have seen there are multiple Agencies that offer insurance during traveling. This is important because you never know when the emergency situation will knock on the door. With the help of travel insurance people can have a sense of security at the backend.
Travel App Development for Navigation:
Last but not least the type of application in consideration is travel app development for navigation purposes only. Whenever you are heading towards a new destination it is important to have a local map available and these navigation applications help you out.
Core Features of Travel App Development to Attract Customers: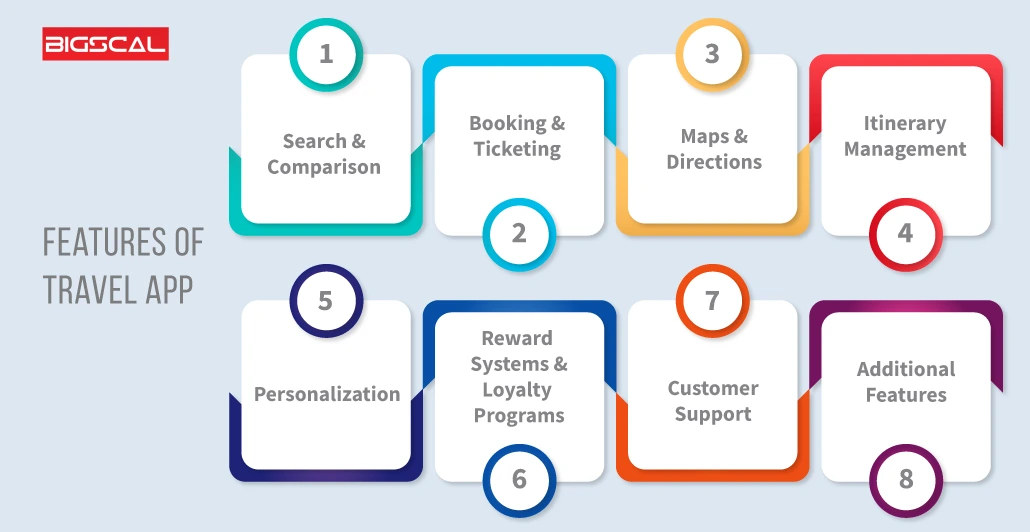 There are so many Core Features of Travel App that are important to consider when developing the travel application and these are as follows:
Booking options:
The primary feature that is ruling out the era is the booking option. If you are developing a traveling application that is helpful in doing the booking try to make it easy to access.
Provide all the necessary details regarding the booking services you are offering. For example, if you are offering services to book a railway ticket then you need to provide the schedule for all the trains on a particular Destination. Make sure that these options are easy to access.
Navigation must be easy:
Navigation throughout the app must be easy. In case a user is not able to navigate through the app they will not like to get into it. Trying to integrate all the features in a way that these are easily accessible and users can navigate through them easily. The navigation option is also important when users need to navigate through a particular location. For that instance as well keep every factor into consideration.
Payment gateway:
Do not forget to integrate the payment gateway over the application. If there is no payment gateway available then how the user will proceed toward doing the payment for the booked ticket? Thus, to have a high retention rate and let the customer trust you more integrated the payment option.
Security of the application:
Security of the application is also an integral factor of consideration because if the application is not secure no user will like to use it for booking. Try two-factor or multi Factor authentication over the platform so that all the details will be safe. For payment gateway as well do not forget to integrate securities.
Favorite list:
When a user starts browsing through the application they come across so many options and they want to save them into the list of favorites. In that case, you need to offer your favorite option. If the favourite option is not there users will not be able to save the options accordingly.
Steps Of Travel App Development You Must Follow: What is the travel app development process?
In this section, we will help you to know about the Steps Of Travel App Development important to follow for developing a travel application and these are as follow:
1. Gather Research & Analyze Market Trends:
The primary step is to analyze the market and understand what the market is up to. It is important to understand that at a certain time, there is a particular service in boom and you need to focus on the same. Do complete research on the topic so that there is no point of discrepancy and you will be able to get the application as needed.
This research must include all the market Trends and Statistics so that you can also conclude about the profit you will going to make. If you are facing any difficulty in doing the research and getting an idea about the market trends there are mobile app development companies available whom you can reach out to know about things in detail.
2. Decide your strategy and goals:
After analyzing the market this is your time to decide your Strategies and identify your goal. It is important that you are paying attention to each and every goal you wish to achieve and also focus on the strategy simultaneously. In case you are not deciding the strategy and focusing on the goals there are chances that you will not be able to get the services as needed.
You can create a roadmap for yourself and follow the same so that there is no point that you will get out of the trap during travel app development.
3. Identify Your Target Audience:
After setting up the goals this is the time for you to identify your target audience. The target audience does not only be identified on the basis of demographics. Well this can be identified on the basis of psychology and age. There is a segment of the population that is always ready to choose the services that are affordable and the other segment is not to so much concerned about the price. By keeping this segment into consideration you can simply figure out how you will be able to move ahead with them. You just need to focus on what is right.
This is important because, for example, you can consider a situation where you have launched an application that is too expensive to afford by the targeted audience. If it is expensive they will not like to get it at all and using it will turn out to be difficult for them. It will have a direct impact on your business as well.
4. Design & Prototype:
After you are sure that this is your target audience it is time for you to design the application and ready the prototype. During designing the application you need to focus on every feature that must be integrated in the same. Try whether or not the features you have integrated are working fine. In case the features you have integrated are not working there is no point in considering the same. The prototype has been developed by keeping every factor into consideration. You need to re-analyze the prototype to avoid any sort of discrepancy. During the development of the application make sure you are focusing at every step attentively. So that there is no point of problem in the launching phase.
5. Develop & Test the App:
When the prototype is ready this is the time for you to develop the app and send it for testing. During the testing, you need to be sure about two phases and i.e. alpha and beta phases. The beta phase is the primary phase where all the features will be introduced.
When you launch the application it will be available initially in the beta phase. In this users can have access to it. They can browse through the application and check out whether or not it is working fine. If you find out any recommendation from any user's side consider it seriously and integrate it in the application.
6. Release & Monitor:
When you are sure this app is perfect it is time for you to release the application and monitor the same. After releasing the application do pay attention to all the reviews that have been posted by a user. These reviews will not only help you to improve the user interface of the application. But also helpful in retaining more customers. When a customer is sure that this is the particular application, they would like to try it more. From time to time pay attention to the updates as well so that a user will not feel they are using outdated applications.
How much does it cost to develop a travel mobile app?
It is actually important to know the cost to build a travel mobile app you need to pay for the service of getting a travel mobile app developed. The amount that is needed to pay depend on the type of app and service provider. It can cost you from bucks to thousand dollars. So, to get a clarity have a clear discussion with the team.
How does Bigscal help you in 2023?
Well, now the question arises how are we helping you, well, here is the answer. At Bigscal, the web app development company, we are offering top-notch travel app development services that will cater to your needs like no other one can.
Our team of experienced professionals will not only help you with app development but will also help you to know how to start with things. From the basics, they will clear all your doubts and help you to understand more about your project.
Also, we understand every project has a different requirement. That's why we always focus on providing quality to the clients. When you reach us out for travel app development services, our professionals will listen to everything you are saying. They will suggest to you in case there is any change required in your idea.
After having a clear discussion we move ahead with project completion with all the transparency. Transparency and quality work is our USP and we never compromise with the same.
Conclusion:
Travel App is important for your business in 2023. As right now more and more users are considering using applications rather than visiting any particular website. When the application is available to them they can simply download the application and move ahead with booking and other services. Also for increasing revenue of the business as well, the travel application plays an integral role. We have shared everything with you regarding the travel mobile app development and let you know how Bigscal can help you out. Reach us just now and we are ready to see the best services.
After seeking services of the best travel planning app from us, you will be able to get your project's needs completed as needed. For sure there will be no point of problem as well. In case you feel like at any step there are some modifications needed then as well we are here to help you.

FAQ
Do I need to integrate the payment gateway with the travel app?
Yes. If you are offering services that require customers to make payments, integrating a payment gateway in the app is a must.
Can I embed the weather forecast feature by default in the travel app?
This condition depends on the app type and interface as well. There are some instances where it is necessary for a user to integrate the weather forecast feature and in some it is not necessary. For example, if the app you have created is focusing on providing services in areas with unforeseen conditions, this feature is a must!
Is travel app profitable?
Yes, the travel market is currently on the boom. Thankfully investing in such a business turns out to be profitable as well. If you are looking forward to starting with one, choose the type of app that is currently in boom and focus on how to get more of it. For sure with clear research things will be as same as you need them to be.
Is it possible that the booking apps make money?
Absolutely yes! The booking apps available make a lot of money. It depends on how much the margin has been set up and the retention rate of the customer on the portal.
Can I add multiple features to the travel app?
Yes absolutely. You can add as many features as needed by the app. There is no restriction in adding up the features required for app functionality.
https://www.bigscal.com/wp-content/uploads/2023/04/Travel-App-Development.png
532
1200
Pankaj Vaghela
https://bigscal.com/wp-content/uploads/2018/03/bigscal-logo1.png
Pankaj Vaghela
2023-05-01 19:27:42
2023-06-08 10:42:33
A Comprehensive Guide to Travel App Development 2023!