Future Trends in Software Outsourcing Services: What to Expect in the Digital Era
Many businesses are
hiring software outsourcing services
, especially in the digital transformation age to handle their software needs. The fast pace of technology and rapid growth of the market pushes companies to stay updated. By 2023, the global IT outsourcing market is expected to generate
US$430.50 billion
. Therefore, companies must know the latest trends and advancements to provide their clients with the best services. Furthermore, it helps businesses focus on their core areas while experts handle their development needs.In this blog, we will provide valuable insights into recent software outsourcing Trends in 2023 and how they impact your business operations. Stay tuned for valuable insights!!!!!!
What is software outsourcing?
Outsourcing takes place when a business hires another firm to fulfil its software needs. Furthermore, Companies can outsource several IT-related works such as software development, maintenance, web hosting, and technical support services.
By outsourcing these activities, a business can reduce its expenses, can get experts and improve the efficiency of the organisation.
The aim of software outsourcing is to improve efficiency while saving time and bringing a product or service to market as quickly as possible.
Software outsourcing can take place either domestically or internationally. Furthermore, depending on the location of the service provider, outsourcing can take three different forms:
Onshore: Onshore means hiring professionals in your local area or nearby, which helps to maintain control over the work and keeps costs reasonable.
Nearshore: Nearshore outsourcing means hiring developers in neighbouring countries within the same time zone, making communication easier. However, it may only sometimes be cost-effective.
Offshore: Outsourcing to different countries can save money as labour costs are often lower.
Why Do Companies Choose to Outsource?
Here we highlighted a few reasons for the use of this software outsourcing business model:
1. Significant Savings on Labour Costs
Companies are choosing to outsource to save money on workers and operations. Furthermore, they ask other companies to do some of their work, which helps them to spend less.
2. Eliminate Time-consuming tasks
When a company outsources their team to complete a project, it helps them save a lot of time. An Outsourcing company takes care of tasks that would take a lot of time to finish. Also, it avoids long processes and gets things done more efficiently.
3. Overburden of Work
Often, outsourcing is the best solution for software development companies when they are already overloaded with projects. A company overburdens itself with projects, so they outsource some and deliver quality projects to its customers.
4. Shortage of Suitable Resources
Many firms outsource development tasks to another company when they lack human resources. It helps them complete some small tasks without employing a special workforce.
5. Increased efficiency
Software outsourcing services can manage all your day-to-day project workflows which takes a significant time. Thus, leaving you free to focus more on core activities and increasing the efficiency of the organisation.
6. Scalability and flexibility
By outsourcing software, you don't have to hire new staff members; all you need is access to the IT professionals you're already paying for. By partnering with software outsourcing services, businesses can tap into the pool of skilled professionals, reducing the need for recruitment, onboarding and management of new employees while still getting the necessary IT support.
7. Peace of mind
With a trustworthy team to supervise all the business workflows from network security to daily backups, it gives you peace of mind. Also, to keep up with your changing needs, you shouldn't invest in redundant, stifling systems and procedures.
8. Access to the current trends and technologies
Software outsourcing service providers rely on the latest market trends and practices to fulfil the clients' project needs. Furthermore, relying on the latest technologies helps outsourcing companies gain a competitive edge and deliver quality results.

Software Development Outsourcing Models
There are three types of software development outsourcing models are-
Offshore Outsourcing
The process of offshore outsourcing involves a company hiring another company or individual located in a different country to provide specific services. Furthermore, offshore outsourcing is often done to take advantage of cost savings, access specialised skills or streamline operations.
It allows the company to tap into global resources and benefits from lower labour costs or unique capabilities that may not be readily available. For your startup, you have the option to hire offshore developers to implement automation in your current system.
Overall, hiring an offshore development team streamlines your operations and provides cost-effective resources.
Onshore Outsourcing
In onshore outsourcing, a company contracts or delegates duties or responsibilities to individuals or firms on its own territory.
However, you do not intend to hire them as permanent developers. Onshore software developers and your company can interact based on project requirements.
By working with remote onshore developers based in the same country, you can counter many disadvantages associated with offshore software development.
Nearshore Outsourcing
You should know about the nearshore outsourcing model when you are unsure which model to choose for your agile software development team. Furthermore, Nearshore outsourcing straddles the line between onshore and offshore outsourcing.
The nearshore development services are provided by countries with the capability of bridging the gap between onshore and offshore team management. By working with onshore partners, you will have a dedicated team of developers located nearby your headquarters, making communication and sharing requirements easy.
How to know which outsourcing model is the best for your business?
Software outsourcing has different types of models. After reviewing all the alternatives, your business should choose the one that is best suited to its needs. The different types of IT outsourcing models are: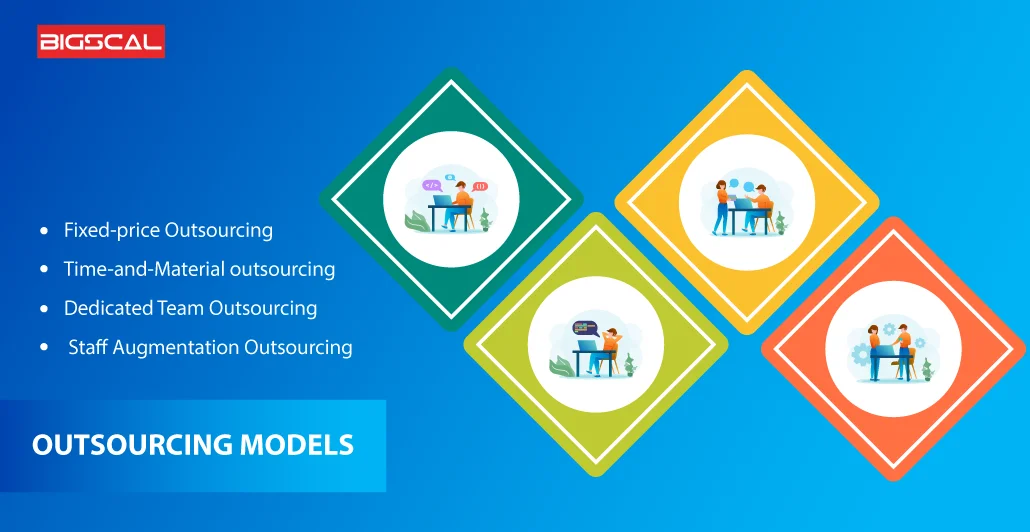 1. Fixed-price Outsourcing
In this outsourcing model, the main client and the service provider agree on a specific amount. They discuss everything needed for the job before deciding on a fixed price. This helps the primary client to know how much money they need to spend and allows the service provider to know how much they will be paid.
2. Time-and-Material outsourcing
In time and material outsourcing, the client and service provider agrees to pay based on the time spent and material used. They don't decide on the fixed price upfront. This allows for flexibility as the client pays for the actual effort and resources involved in the project.
3. Dedicated Team Outsourcing
In dedicated team outsourcing, the client hires a specific team of professionals from a service provider to work exclusively on their project. This team becomes like an extension of the client's own staff. The client pays for the dedicated team's service on a regular basis, usually monthly. It's like having a group of experts working for you. Just like having your own team, but they are hired externally. This model provides continuity, close collaboration and specialised expertise to ensure successful outcomes.
4. Staff Augmentation Outsourcing
In this model, the client hires additional professionals from a service provider to work alongside their existing team. These professionals are added on a temporary basis to increase the client workforce for a specific period. The client maintains control over the project, while the service provider handles the hiring, training, and management of the staff. It's like adding a temporary workforce to your own team when you need extra support. This model offers flexibility and cost-effectiveness while allowing the client to scale their team up or down as needed.
Factors to contemplate while deciding on an outsourcing partner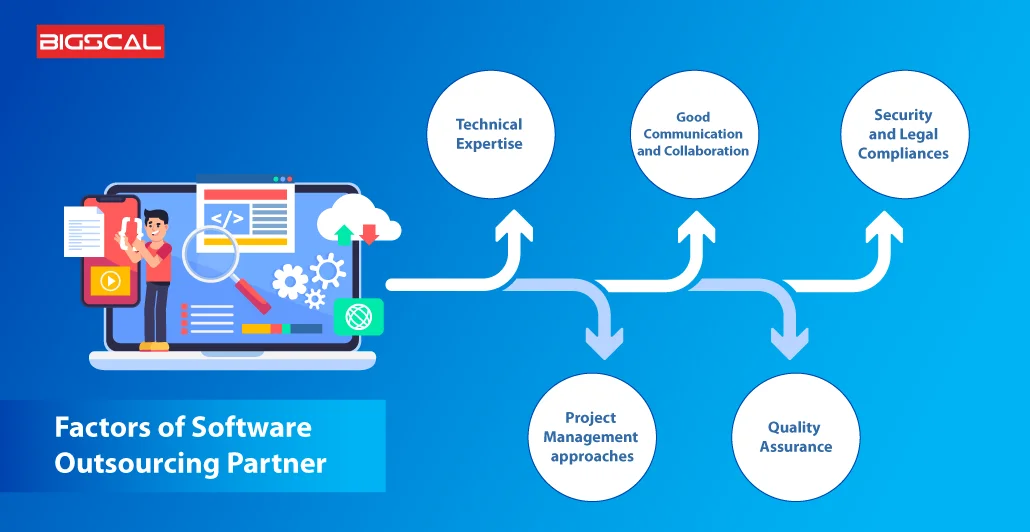 Below we highlighted a few factors to consider when choosing a software outsourcing company:
1. Technical Expertise
Technical expertise is the paramount factor to focus on. When hiring a software outsourcing agency, prioritise its technical expertise. It is the most crucial factor to consider. Ensure that they have the good understanding and skills to handle your project proficiently and deliver the desired results.
2. Project Management approaches
When outsourcing your project, pay attention to the project management process employed by the service provider. In determining the quality of a product, it plays an essential role. A well-structured and efficient project management process ensures smooth progress and successful outcomes throughout the project lifecycle.
3. Good Communication and Collaboration
If you plan to outsource your project, ensure your outsource partner maintains communication and collaboration with you. They will hire a project manager or hold periodic meetings to achieve smooth workflows. Good communication is essential to ensure success.
4. Quality Assurance
Check with them about how they conduct quality assurance before deploying the software. You should ensure they carry out several tests, such as unit testing, component testing, integration testing, end-to-end testing, performance testing, regression testing, system testing, sanity testing, etc. Also, you will be able to verify that all the software's functions are working correctly.
5. Security and Legal Compliances
To begin with, determine the type of security approaches they follow. Outsourcing agencies must be knowledgeable about modern security trends to ensure your product's privacy. Additionally, they need to understand the legal requirements for software to be deployed in the respective markets. Depending on the market, the product developed must adhere to legal requirements.
Is software outsourcing a good idea?
Let's understand it with the help of real-time statistics. According to Statista, software outsourcing revenue reached $430.5 billion in 2023. By 2027, the segment is expected to generate $587.4 billion in revenue, with a CAGR of 8.07%.
The software outsourcing model is increasingly preferred by businesses all over the globe.
Digital solutions have become increasingly popular among businesses in the 21st century. Outsourcing can provide many benefits in this situation while also helping to meet the growing demand.
It helps businesses save costs by hiring a software development agency. Similarly, it eliminates the need to train internal employees to get the project done. Moreover, businesses can access a vast pool of talent globally instead of depending on the internal workforce to complete the task.
What are the current software outsourcing trends in 2023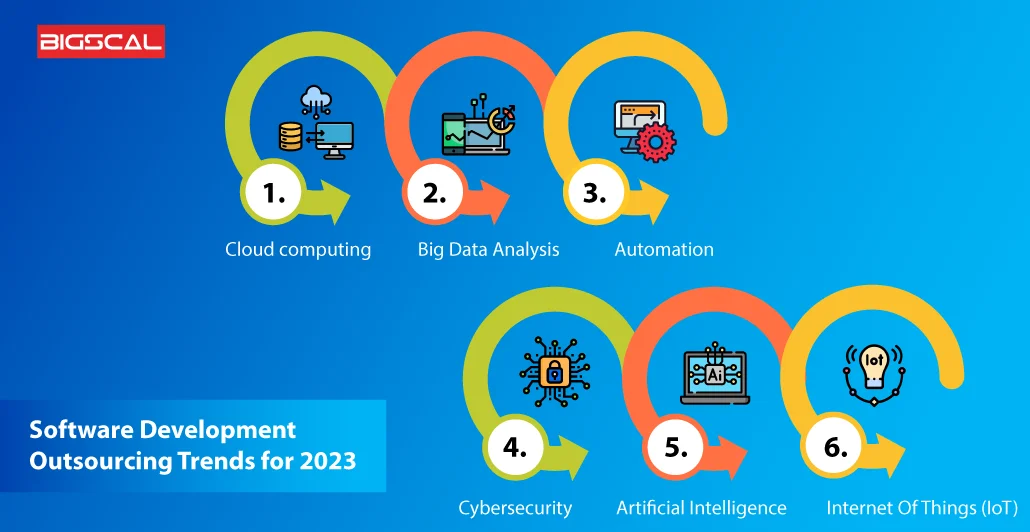 Let's take a glimpse at software outsourcing Trends in 2023 to see the recent trend in the market.
1. Cloud computing
Cloud is the latest IT Outsourcing Trend in 2023. Furthermore, Cloud outsourcing is essential to utilising modern technologies such as artificial intelligence, robotic process automation, and machine learning.
It helps businesses to collect, store, and use cloud-based services and assets.
Therefore, businesses are looking for IT service providers with professionals who are well acquainted with cloud infrastructure and management.
These cloud engineers will help companies to prevent cloud bill shock and ensure security.
2. Big Data Analysis
A large corporation keeps a large amount of customer data, allowing it to create a tailored experience for each user. Big data analysis provides valuable insights and helps businesses to make high-impact decisions. Business uses this capability to understand customer behaviour better and optimize customer service, pricing, and marketing processes.
3. Automation
Automation is the third technology in the list of software outsourcing Trends in 2023. Furthermore, it implies a collection of procedures and machines that allow systems to operate without human intervention. Devices, machines, apparatus, and equipment fall under this category.
It has become increasingly common for businesses to use automated tools for routine IT tasks such as system maintenance, software updates, and security patches. Hence, IT Outsourcing Providers can help companies automate processes more.
4. Cybersecurity
As the number of cybercrimes increases during a pandemic, businesses are putting more effort into preventing cyber threats. Therefore, companies are increasingly looking for software outsourcing service providers for advanced cyber threat solutions. Furthermore, this includes everything from handling security services to cloud-based security platforms, which provides an additional layer of protection against security breaches.
5. Artificial Intelligence
A significant IT outsourcing trend for 2023 is the use of Artificial Intelligence (AI). Artificial intelligence tools are capable of improving customer experiences, optimising operations, and reducing costs for organisations. Also, AI gives businesses greater control over their data and processes, allowing them to streamline all aspects of their business operations. In order to improve the user experience, companies are investing heavily in this technology. Business owners and managers often outsource this process to outside vendors specialising in AI rather than develop their own AI tools and strategies.
6. Internet Of Things (IoT)
IoT is a growing trend in software outsourcing. Furthermore, it involves connecting everyday objects, like cars or appliances to the internet to make them smart and enable remote control and monitoring. Many businesses are outsourcing software development to specialised companies that have the skills and assets to create these interconnected systems. This allows companies to concentrate on their core business processes while leveraging the benefits of IoT technology. It's a way to make our lives easier and more efficient by connecting devices to the internet and creating a more innovative environment.
The future impact of software outsourcing trends 2023
As more and more technologies and trends are rapidly changing, it becomes challenging for businesses to adapt themselves to the changing market need. It will take more time to analyse, invest and recruit candidates to work with this changing trend.
Fortunately, software outsourcing services help business to conduct their workflows seamlessly.
Also, Outsourcing provides several benefits such as lower costs, enhanced productivity and scalability, and access to the latest technology.
As a result, there is an improvement in customer support services, marketing and sales functions, and others.
Businesses can redirect their internal resources from mundane tasks to more important ones. It's beneficial for small companies that lack the expertise or personnel to execute the task effectively. This helps them to stay competitive in the market without the need to hire full-time employees.
In 2023, Software outsourcing is anticipated as the crucial component of the business. Companies that take advantage of this trend now will be in a solid position to thrive in the future. By relying on the knowledge of third-party providers, they can remain competitive in the market and keep improving their operations without investing a lot of time in discovering new technologies.
Why choose Bigscal as your software outsourcing partner?
Bigscal is the leading software outsourcing service provider. We have a highly skilled team of developers who can deliver high-quality software solutions on time and within budget. We also have a strong track record of working with clients from various industries and providing them with customised solutions tailored to their specific needs. With our customer-centric approach, excellent communication, commitment to quality, and dedication to meeting client expectations, Bigscal is an ideal choice for businesses looking for a reliable and efficient software outsourcing partner.
Binding up
In the IT industry, software outsourcing is revolutionising how things are done. In addition, the stakeholders stand to benefit greatly from this new idea. A software development team isn't necessary for the business. Also, outsourcing eliminates the long process of training employees for projects. Outsourcing IT services does not have any physical constraints.
Outsourcing software development to India helps businesses save a considerable amount of their budget. Also, they get full flexibility to augment the team, if they are not satisfied.
Bigscal, with its expertise and skills, is the perfect choice for you. We are excited to hear and create a strong online presence for it.

FAQ
What is IT outsourcing?
IT outsourcing refers to the practice of hiring external companies or individuals to handle IT services and tasks such as software development, technical support or infrastructure management, instead of relying on internal resources.
Why do businesses outsource software?
Businesses outsource software to reduce cost, access specialised expertise, increase efficiency and focus on core operations. Furthermore, it allows them to leverage external resources, save time, and adapt quickly to changing technology needs.
What is the software outsourcing trend in 2023?
In 2023, IT outsourcing trends include increased adoption of cloud computing, growth in cybersecurity outsourcing, rising demand for AI and automation solutions and the emergence of remote and distributed IT teams.
When a business should choose to outsource?
Businesses should consider outsourcing when they require specialized skills or expertise, want to reduce costs, need to focus on core competencies or seek to increase operational efficiency and flexibility.
What should I consider while selecting an IT outsourcing company?
The following factors should be considered when choosing an IT outsourcing firm: experience, domain knowledge, skills, cost-effectiveness, and customer satisfaction.
https://www.bigscal.com/wp-content/uploads/2023/05/Future-Trends-in-Software-Outsourcing.png
532
1200
Bharat Godhani
https://bigscal.com/wp-content/uploads/2018/03/bigscal-logo1.png
Bharat Godhani
2023-05-23 10:00:49
2023-09-22 10:29:53
Future Trends in Software Outsourcing Services: What to Expect in the Digital Era